As a kid, Hollie Ritter's life consisted of going out to Ewing's recreational facilities to play soccer, softball, basketball and any other sport available to her.
After starting at center-midfield for four years at Ewing High School, Ritter was set to play for William Paterson before knee issues forced her to the sidelines. After living in Pennsylvania for 15 years, Ritter returned to her hometown in 2017. She was startled to discover how low enrollment had gotten in the township's rec soccer program.
Well, maybe a tad more than startled.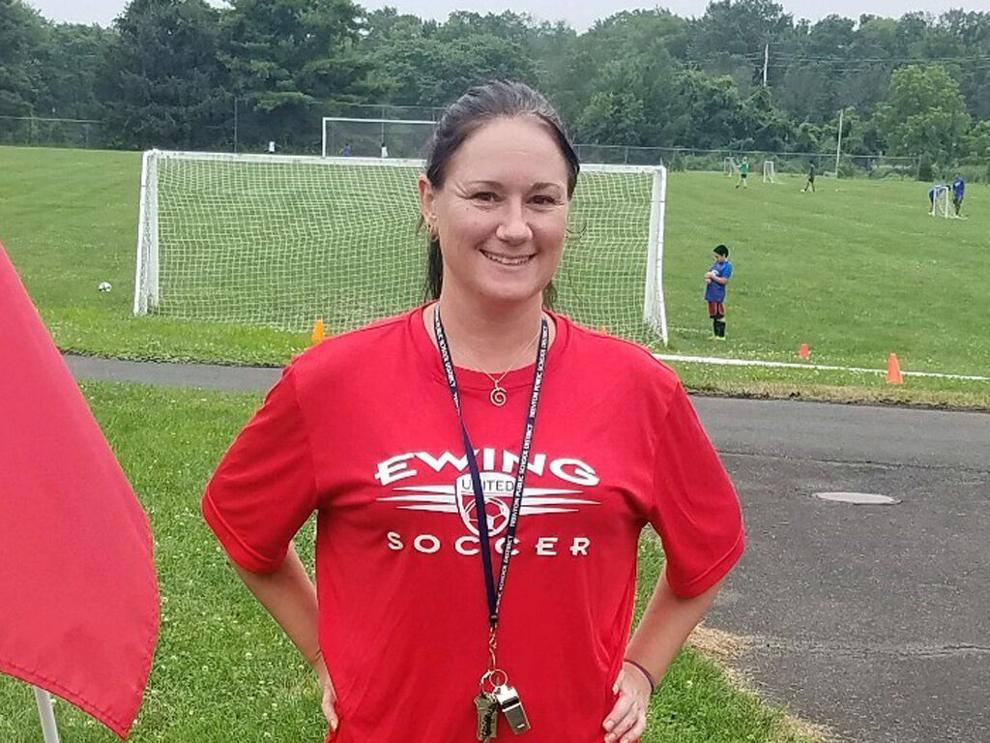 "Startled is a good word," she said. "Not necessarily the word I would use. Publicly, I would say the word was disappointed. I don't want to knock what was done between the 20 years I played and came back, because it's not easy by any means. But to come back and see 25 kids playing through the ages of 10 to 12, you can't even field a team. I was like, 'What in the hell happened here?' Something fell apart. So how do we rebuild?"
After asking that question, Ritter went about answering it, and suddenly, youth soccer is blossoming in Ewing once again.
Ritter coached a few teams upon her return, then joined the Ewing United Soccer Association Board of Directors in 2019. After the COVID-19-shutdown year of 2020, Ritter became board president in March and immediately dug in.
The 1999 EHS grad's hard work — with help from numerous other volunteers — has paid immediate dividends.
The spring season, which included an instructional league for 4/5-year-olds and an actual eight-team league for ages 6-7, had 132 participants after drawing only 60 in 2019.
The summer training session, which is currently being held at the municipal complex fields, is open to ages 4-18 and will run Tuesday/Thursday nights and Saturday mornings through Aug. 14.
That has also drawn 130 players, and there has been strong participation despite the oppressive heat and numerous thunderstorms.
"After an hour-and-a-half of play the kids are like 'Can we stay longer? Why do we have to go?'" Ritter said. "I'm yelling at them, 'You have to leave, there's lightning and we're in the middle of a forest!' It was 95 degrees out, their faces were beet red, they're dripping sweat and they're like 'We don't want to leave!' It was the same thing in the spring.
"To see their faces and see the smiles, the enthusiasm, it's just great. They love it. That's what it's all about. It's about the kids, that's why we're out there."
It's almost a return to the pre-internet and computer game days, when kids actually wanted to go outside and play during the summer.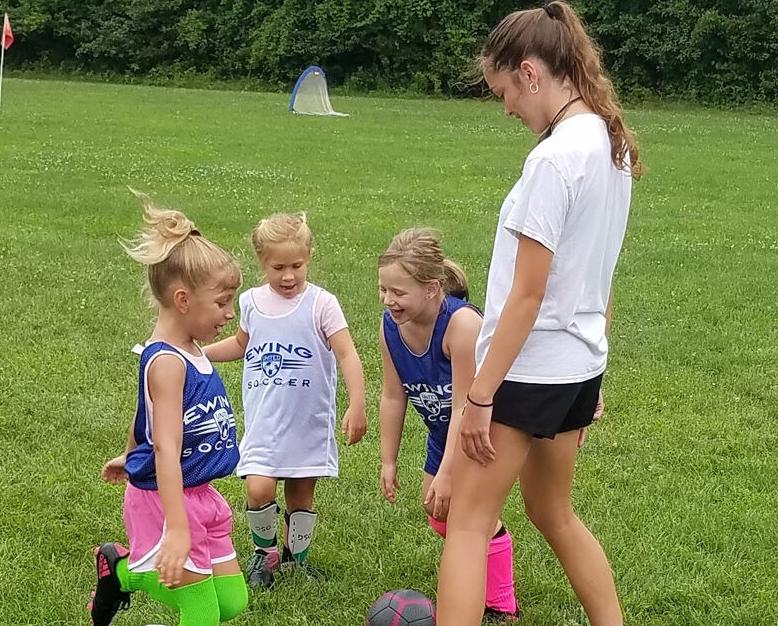 "Childhood for me was Ewing rec soccer. It was the same thing for most of my generation and some of the ones following," Ritter said. "To give back to a program that shaped a lot of the community really means a lot to me. It's 100 percent volunteer. It's a lot of time, a lot of work and sometimes a lot of frustration. But the payoff, to see the kids' faces and see how happy they are to be on the field, it's just so rewarding in that regard."
Ritter had three goals when she undertook the endeavor­­—rebuild the league, provide a haven for young kids to learn the game and help bring the community together at some level.
The last goal can be accomplished by achieving the first two, and Ritter worked tirelessly getting the word out to all the schools in the district either through old-school paper fliers or social media.
A fourth goal went unsaid but can be added to the list, and that is to provide a feeder system for boys and girls high school programs that have struggled lately. Fourth-year Blue Devil girls coach Shannon Pederson, a EUSA alumnus who played for Notre Dame, has joined the cause. She and Ewing boys' assistant Jeff Soto have encouraged players from both their teams to serve as instructors.
"Growing up in Ewing and going through the feeder system when I played, and knowing what it once was, to get it back to that is just more than exciting," Pederson said. "I can't express enough how much I appreciate all the hard work Hollie is putting into rejuvenating our feeder system. Just being a part of it is icing on the cake."
None of it can be done without help and Ritter has had plenty, including EHS Hall of Famer/athletic legend Shelly Dearden.
"She was a fantastic mentor; I've known her for 30 years," Ritter said. "She's been at the high school level and the Moody program in the summer and involved in AAU and all that. I told her I could really use her help, because I'd never been involved in stuff like this. I said 'I'm open to criticism; what do you think will work? What do you think won't work?'
"She'd come out and do sessions on Saturday morning, she would watch and observe and at the end of the session we'd be on the phone for two hours or we'd go out and talk about it over a couple of drinks and appetizers. She'd be like 'This is going really well, but you need to change your tone when you talk to these people. This could use some work here, try doing this here.' She was supportive, helpful in networking, resourcing. Everything all in one. It was absolutely fantastic."
Also helpful has been Shannon Pederson. "I can't say enough good things about her," Ritter said. "She was in charge of the trainers at first, and got 22 of the high school kids from the soccer teams to volunteer and coach the entire spring, along with her assistant, Angelina Gummel. She created a lesson plan for every level, for each coach and everything they are doing."
Pederson, who played for Kean University, sees it helping her program just by having the Devils players on hand.
"What's been fantastic, is it's forming a stronger bond between the girls themselves," Pederson said. "Being a part of something and buying into a program and having them mentor the future really kind of sets the tone; that we're here to make this more of a family, a cohesive, liquid family throughout the district, all the way through the age groups."
Soto is a third person who has been voital to the cause. "He's there every day, every session, helping set up, clean up, guiding other coaches," Ritter said. "He's been really fantastic. The summer nights program was his idea. He's phenomenal. He did a lot of reaching out to (schools superintendent) Michael Nitti as far as getting in touch with the schools, principals and phys-ed teachers to get the fliers promoting the league out."
Ted Forst, Ewing director of community affairs, has been another key contributor.
"Obviously it was very difficult with COVID," Ritter said. "We started our spring season just when things were starting to open. As far as basic things like making sure the fields are mowed and whatever we had to do regulation-wise, Ted was there. The fields are beautiful, mowed every week, and he's provided full COVID support in letting us know what we need to do.
There's also Gregg Kottas, EUSA vice president. "He's my right-hand man," Ritter said. "We would not be anything close to where we are now without him."
And finally there's Marisa Mahony, 6-year-old rec player. "Even my daughter is out here helping me at 6:30 Saturday mornings, helping me get everything all set up," Ritter said with a laugh.
The president also acknowledged her entire board, which includes Brian Janecek, Katharine Furda, Tonya Coston, John Podeszwa, Tom Buker, Kelly Smalling and Mercer County Soccer Hall of Fame member Bruce Angebranndt.
The rejuvenation of the program has been a win-win for all involved. "You can see the (high school) players embracing the little ones when they're coaching them," Pederson said. "They're just kind of making it an experience in an environment where it's okay to make mistakes and learn from them and have fun while doing it."
It is creating the bond Ritter seeks in developing that community closeness through youth sports once again, which is so important to the high school programs.
"It's not only getting the quality of players in Ewing but also keeping them," Pederson said. "If we continue to foster this openness and welcomeness in our program I can see that eventually trickling into the high school. We've gotta start from the ground up and Hollie has done a fantastic job, not only taking the first step, but the first couple of steps and getting that going."
Ritter has also done an outstanding job of increasing the sponsors, obtaining 25 as of the summer. They provide funding and EUSA spreads the word about their program.
And things should only get better in the fall season, which is the main campaign. Registration is now being held as Ritter continues going back to the future.
"My dad (Mark) was a coach for 15 years and a commissioner with the rec program for many years," Ritter said. "To give back as a thank you for everything my parents collectively did for us, I'm just playing it forward. A lot of us are still here with our own kids now. That's a whole other level of going out to the field and seeing all these people you grew up with and played with and graduated with. They're out there and now all our kids are playing together."
It's no wonder the program's hash tag has undergone a transformation.
It went from #EwingUnited to #EwingReunited.
And it will unite even stronger if the determined Ritter has her way.
For further information on Ewing United Soccer Program, including fall registration information, log on to ewingunited.com.