Recent Lawrence High graduate Hunter Rivera was always small as a child, and he seemed even smaller by playing travel ball with kids older than him. That, however, just gave him a bigger will to succeed.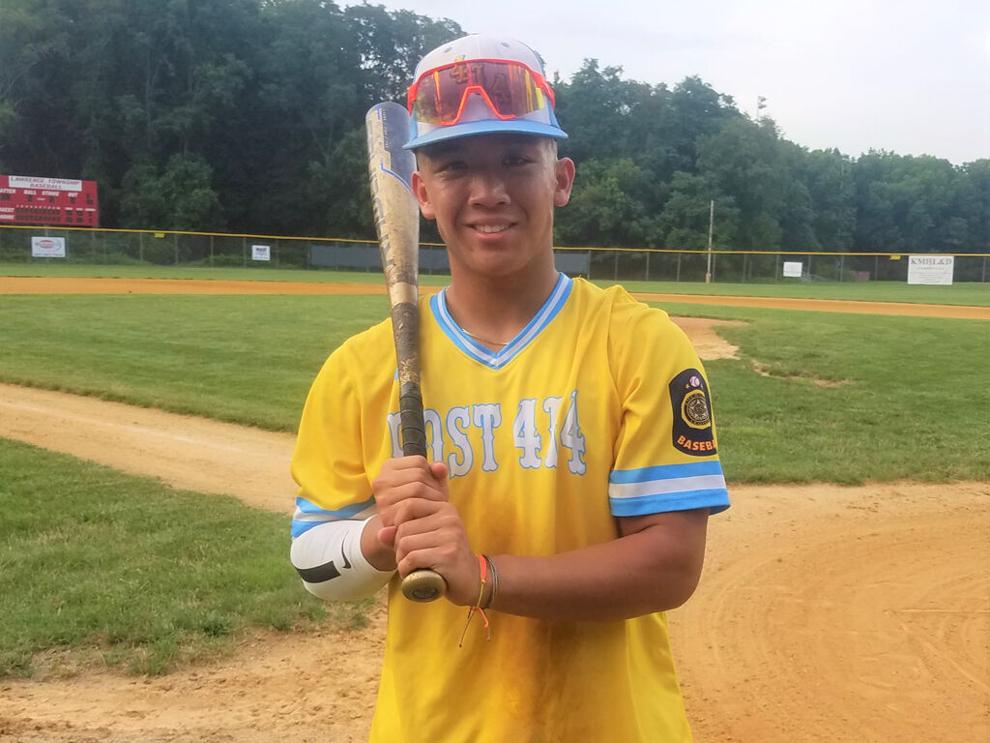 "I always played two or three years up, until we got on the bigger field, so I'm used to being overlooked and just proving it in the game that I can hang with these guys," said Rivera, who was still proving it at 5-foot-8 for Lawrence Post 414 this summer. "When I was seven that's when I turned it on and fell in love with the game. (Area youth coach) Brian Ciuffreda actually suggested to me playing on the team with them. He noticed my talents. So at seven I was playing with nine- and 10-year-olds."
He played well as the "new kid on the block" and it made things simpler for Rivera when he joined his own age group.
"I definitely developed my hand-eye coordination facing older kids," he said. "You're getting ahead of the game, seeing that faster velo (pitch velocity). Then playing competition your own age is like an easy breeze."
Rivera spent most of his career with the Central Jersey Lashers, as well as a few years with Lawrence Little League and Lawrence Babe Ruth. He was on the BRL 14-year-old All-Star team that won the league's first District One title in a long while. He spent three years on the Lawrence High varsity (missing last year due to COVID-19), played travel and American Legion as a sophomore and, this summer, played strictly legion.
Part of the reason for that was that he no longer needed to be scouted by colleges in travel ball, as he will be playing Division I baseball at University of Baltimore-Maryland County in the fall. And for the first summer in a while, he just plain enjoyed himself.
"I just wanted to take a little break from the intense summers," Rivera said. "I would be playing baseball every single day. Now I'm just taking cuts and staying sharp. It's very laid back, just do your thing, practice how you play and just translate it on the field."
With one game left in the regular season, Rivera was batting .371 (13-for-35) with 10 runs scored, six RBIs and four stolen bases. He helped Lawrence to an 11-6 record and berth in the New Jersey American Legion district tournament.
But there were still non-believers of the middle infielder/centerfielder.
"Just during the game you can hear people going 'That kid's going D-1?' and I'm sure hearing that stuff definitely puts a chip on his shoulder," Post 414 manager Jason Zegarski said. "Being a smaller guy myself, we always play like that. Then they see him make it happen. They see him run one down in the gap and it's like 'Oh, OK.' Or he'll make a nice play at shortstop."
Or, he'll rip a line drive, as he did so well for the Cardinals. Rivera batted .411 this past season and finished his career with a .341 average, 42 runs, 22 RBIs, seven doubles and 18 stolen bases.
"Hunter is the quintessential kid," Zegarski said. "You put the work in and it's gonna pay off at the end. He's always worked, he's always played travel baseball and now he works out 7:30, 8:00 in the morning with (Hamilton trainer) Joe DeMarco every day. He's one of those kids that works and works and it's paid off. Strength training, speed training, stuff like that."
The manager, who is also an assistant coach for the Cardinals, also likes how Rivera attacks the ball. At the plate, he truly is a hunter.
"I've always liked that about him, he's up there to get his hacks," Zegarski said. "You throw one down he'll definitely be ready. He's always aggressive. Being his size, you see that fastball you gotta hop on it because that's a pitch you're gonna be able to drive. That approach definitely works out for him.
"He's not a slap hitter. He's got very, very quick hands. He can turn on it but still go the other way if he has to."
Another reason for Rivera's success has been his selectiveness.
"Like most baseball players, they get a little older, they start to understand the pitching and the strike zone a little better," Zegarski said. "They start to understand their game and their swing. As the years have gone by you have seen him mature into a Division I baseball player."
This summer, Rivera was placed in the two hole to help spark the offense, and he has felt comfortable there.
"I get to see the pitcher warm up a little bit so I have a feel for how I set up in the box," he said.
"When our leadoff guy gets on, we have confidence in him to put the ball in play, do his job, get him over, get the bunt down, hit and run, do whatever we need," Zegarski said. "Him and Tucker Elder, our two and three hitters, when they go, we go this year, and we've been going pretty well."
Indeed they have, which has not been a surprise to Rivera despite how young Lawrence is this year.
"Honestly I thought we would have been a little over .500 just knowing the talents on other legion teams," he said. "I thought we'd definitely have a winning record, I wouldn't say dominant, but definitely very competitive with a lot of dogfights and very competitive games."
It was Rivera's last chance to enjoy competitive dogfights without feeling intense pressure. That will all change when he arrives at UMBC, which he chose after receiving interest from Monmouth, Marist and Rutgers.
"I fell in love with the coaching staff," said River, who reports on Aug. 26. "They've been there for a while, they provided great hospitality. I like their style of recruiting.
"There's a 50-max roster for the Division I level, they only roll with 35-40 guys. They really look to play you. They don't want you wasting your time there to sit on the bench until you get your shot. As of right now they see me battling a senior in the middle infield for a spot as soon as I get on campus."
He will actually provide the Retrievers with some versatility in the field thanks to being moved to outfield during the high school season.
"It's good to be able to play the infield play or the outfield," Zegarski said. "When the coach asks you where you want to play, you say 'Wherever you need me.' You just want to be available to play. They always say if you can hit, they'll find a spot for you."
Off the field, Rivera will major in Pre-Physical Therapy with hopes of being a trainer or therapist.
"If I can't be a player on the field," he said. "I want to be the guy that's helping them out."
But for at least another four years, he'll still be that player on the field.
And standing tall at 5-foot-8.