When Lisa Camillone was in fourth grade, her uncle had a stroke and she went to visit him at Kessler's Institute of Rehabilitation in East Orange.
Little did Camillone realize at the time, but her career path was set in motion.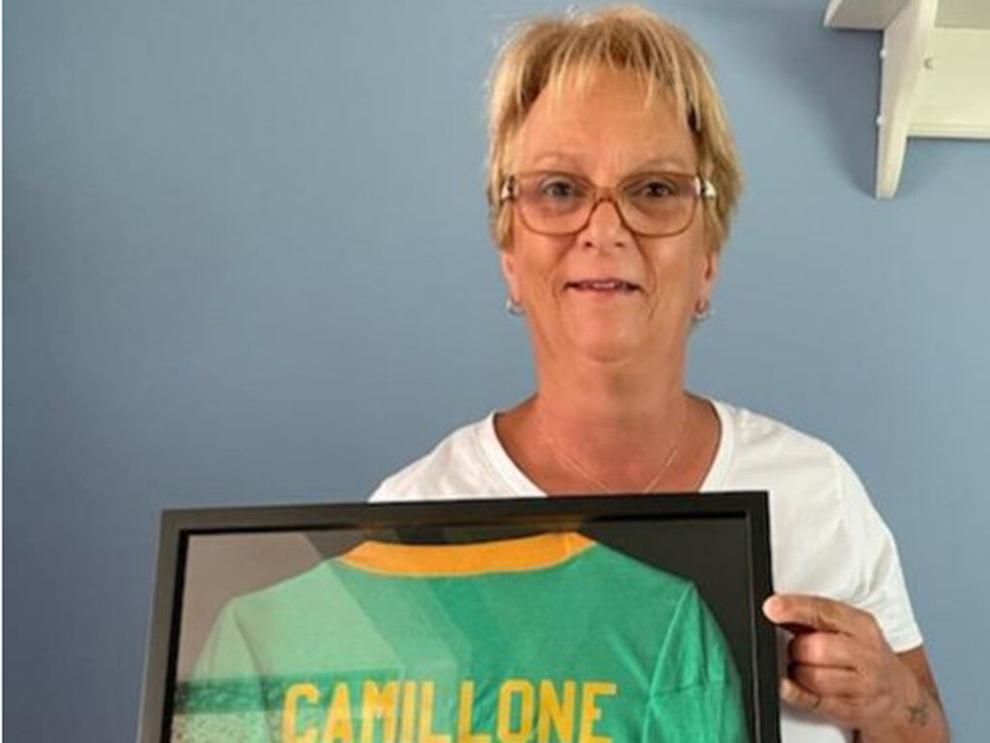 "I saw what the people were doing," the retired Mercer County Community College athletic trainer said. "They were moving him so he could learn to walk and move again. I said 'This is really interesting.'"
It stayed in the back of her mind. When Camillone began attending Hillside High School, she was introduced to physical education and another lightbulb went off.
"I thought 'Wow, I really want physical education.' But I also really wanted to help people," she said. "I still didn't quite know what an athletic trainer was when I went to Montclair University. And then someone said to me 'Why don't you work in the training room and see what it's about?' I did, and was like 'This is exactly what I want to do.'
"So I had a little taste of it as a little girl but I didn't understand what it was by definition. I just evolved right into it and to me, it was a perfect fit."
What is Camillone's definition of perfect? How about 33 years and 4 months at the same job, and having it culminating with induction into the inaugural MCCC Athletic Hall of Fame. The long-time Ewing resident was one of five coaches/administrators honored at the June 12 dinner at the Trenton Country Club, and one of a total of 18 inductees.
"That was one of the best nights of my life, it was so great," Camillone said. "I really, really am speechless. It was terrific to be recognized for what I thought was just my job."
It was so much more than just an athletic trainer's job, however. Camillone was also an adjunct professor in the Health and Physical Education Department, providing career counseling for students. And she could often be found helping athletic directors Al Leister and John Simone clean out bleachers after a fierce storm, or mopping the gym floor, or helping fix a door.
"There were so many behind-the-scene things that are just part of the job that you never expect to be thanked for," Camillone said. "Every single thing was just 'Whatever, it's part of the job.'"
Her proud husband, Joe, held the same position at Trenton State College/The College of New Jersey for 35 years, and never had such duties.
"She just did different things than I did," Joe said. "She would help fix things and she was almost more of a sport psychologist than anything else at Mercer. I was more about just taking care of injury and she was doing everything she could for kids, talking to them about four-year schools and just all kind of family things. Just two completely different jobs because of the difference in populations."
But it was the job's main function of helping kids get healthy that kept Camillone there for over three decades.
"The challenge of getting someone back from an injury never goes away," she said. "They need someone to speak for them and listen to them and they need someone to work with them. That was perfect. It was a great combination for me."
The Camillones met after Lisa graduated from Montclair and became a graduate assistant working with Joe at Trenton State. The two began dating at that time although Lisa wasn't sure it would lead to marriage.
"My mother did, but I did not," she said with a laugh. "My mother fell in love with him when she first saw him."
Joe was more than just a guy to hold hands with back then, as his impact fueled his wife's drive for athletic training even further.
"When I was a student trainer at Montclair, anytime there was injury evaluation we had to go find the head athletic trainer and it really wasn't a terrific learning experience," she said. "When I went to Trenton State I learned so much from him. He was the best. That really made me want to even study and do more. It's such an interesting field. I learned athletic training hands-on through him. I was thrown right into it. It was really good."
And Joe liked what he saw from his GA.
"It had a lot to do with a lot of things," he said. "She had a great quest for knowledge and she liked what she was doing, so those are two of the big things you had to have."
After graduating from TSC in December, 1980, Camillone's first job was at Rutgers-Newark, which is a Division III program but had Division I volleyball.
"That was pretty intense," she said. "Men's volleyball was crazy. There was a lot of high competition. They went to UCLA one year."
After two years at R-N she left for St. Peter's University and, as assistant trainer, was responsible for the women's basketball program. Then came 1983, the most eventful year in Camillone's life. She married Joe and got the job at Mercer.
The marriage has now lasted longer than the job, as Camillone retired in the fall of 2016. The marriage produced daughters Andrea and Nancy St. Hilaire and granddaughter Carmela St. Hillaire, while the job produced a lifetime of memories. Some good. Some bad. Like any job.
The bad is something most trainers are forced to deal with. They have to do what's best for an athlete's health, but neither a coach nor his athlete want to be told they can't play. Thus, the trainer is the bad cop.
"You've heard stories, 'She's this, she's that, she won't let me play, I can't practice,'" Camillone said. "This went on for 33 years. We had kids that went from being the star of the world in their universe and then they come to us. There were so many different egos and so many different expectations that when they were all treated the same, it was tough to get used to.
"A few people may have appreciated it as it happened. But as people mature and they see that everything was for their good and their health and their safety, people don't remember that other stuff as much."
Having two trainers in the family to bounce tough days off of certainly helped both spouses survive.
"That was part of the dinner conversation almost every night," Joe said. "We'd talk about something good that happened and something bad that happened that day and figure out how we would approach some of those things."
When it came to the talent of their athletes, it was mainly good. TSC/TCNJ long had one of the top Division III programs in the nation and MCCC is still going strong as one of the top JUCO programs.
Camillone has dealt with nationally renowned coaches such as Charlie Inverso, Stan Dlugosz, Bill Drake, Butch Miller, Mark Vecchiolla and, the biggest of them all, basketball coach Howie Landa. The incredible athletes are too numerous to start mentioning, but Camillone gave the last player on the bench the same attention she gave the superstars.
"Lisa took care of all of us on the field," said former Viking soccer goalie Tom DeStefano, who led the nation in goals-against and was in the top 10 in shutouts as a sophomore. "She had her ways for sure, but the thing is, if you just listened, she would respect that, and you."
DeStefano, who is now a Mercer softball assistant and also trains Viking goalies on occasion, went on to lead the Atlantic Coast Conference in saves and saves per game at North Carolina State. And he took a little piece of Camillone with him, as he echoed what Joe said about his wife's ability to communicate.
"Lisa's had such a big impact on my life," DeStefano said. "She was not only a trainer, she was a confidant, someone that would advise and someone who, to this day, will tell you how it is whether it's something you want to hear or not.
"I went through a lot at that time of my life and she was always right there to listen to me, to talk to me and to give advice. I honestly don't think she will ever know how much that meant to me and how much it still means to me. Even now, when I see her at Mercer we talk about my family, my wife and my son. She genuinely cares. She is a mentor and a friend."
A mass amount of other student-athletes also felt that way. But Camillone is the first to admit that they did a lot for her as well, especially those from foreign lands.
"When I first got there the international students were new to me," she said. "I came from a small town and a small school and here I'm meeting people from St. Lucia, Trinidad, Ireland, Germany and Chili. The first couple years were just unbelievably eye-opening to me with the variety of people in the world. I met kids from Israel and learned it's a gorgeous country with wonderful people. It was about learning about the world from these kids."
She learned about the world from the athletes and learned about the nuances of various sports from the coaches. She also learned about weather conditions whenever a Mercer team qualified for a national tournament in Hutchinson, Kansas.
"Oh man, the place where the alarms go off and we're all looking up in the sky and everybody's running for shelter, we didn't know what the heck was going on," Camillone recalled. "Sirens went off and all the Mercer people were like 'What the heck is that?' It was a tornado. It was classic."
It was one of countless memories one garners over a long career, along with shining moments. One of Camillone's proudest accomplishments was mentoring four students who went on to become athletic trainers. She volunteered for the Special Olympics and, along with daughter Andrea, once hand-knitted over 150 winter hats that they donated to the Needlework Guild of America charity.
Camillone served as the first female president of the Athletic Trainers Society of New Jersey (ATSNJ) and is a member of the National Athletic Trainers Association (NATA) Women in Athletic Training Committee.
She currently serves as a member of the Athletic Training Advisory Committee for the State Board of Medical Examiners; is a member of the ATSNJ Hall of Fame and received the NATA Service Award in 2006.
But in the end, the lasting memories will always be about the people she helped get better.
"There are kids that stand out, coaches that stand out, certain injuries that stand out," Camillone said. "That's the stuff that will never go away."
And it's the stuff that first grabbed her way back in fourth grade.