When Leyonna Robinson and her grandmother, Tuesday, spend time together, they like to turn off the devices and the TV and play some games.
So when they heard last November that the Bordentown City Creative Team was holding a Gingerbread House design contest, they had an idea for their design that nobody else would have come up with. They called their submission "Family Game Night," and it was one of 12 designs on display at various locations in Bordentown City throughout the month of December. The Robinsons' design was in the window at Mimosa Goods on Farnsworth Avenue.
Voting was open to the public, and when the winners were announced on Dec. 18, Leyonna and Tuesday were thrilled to learn that their gingerbread house had taken first prize in the contest.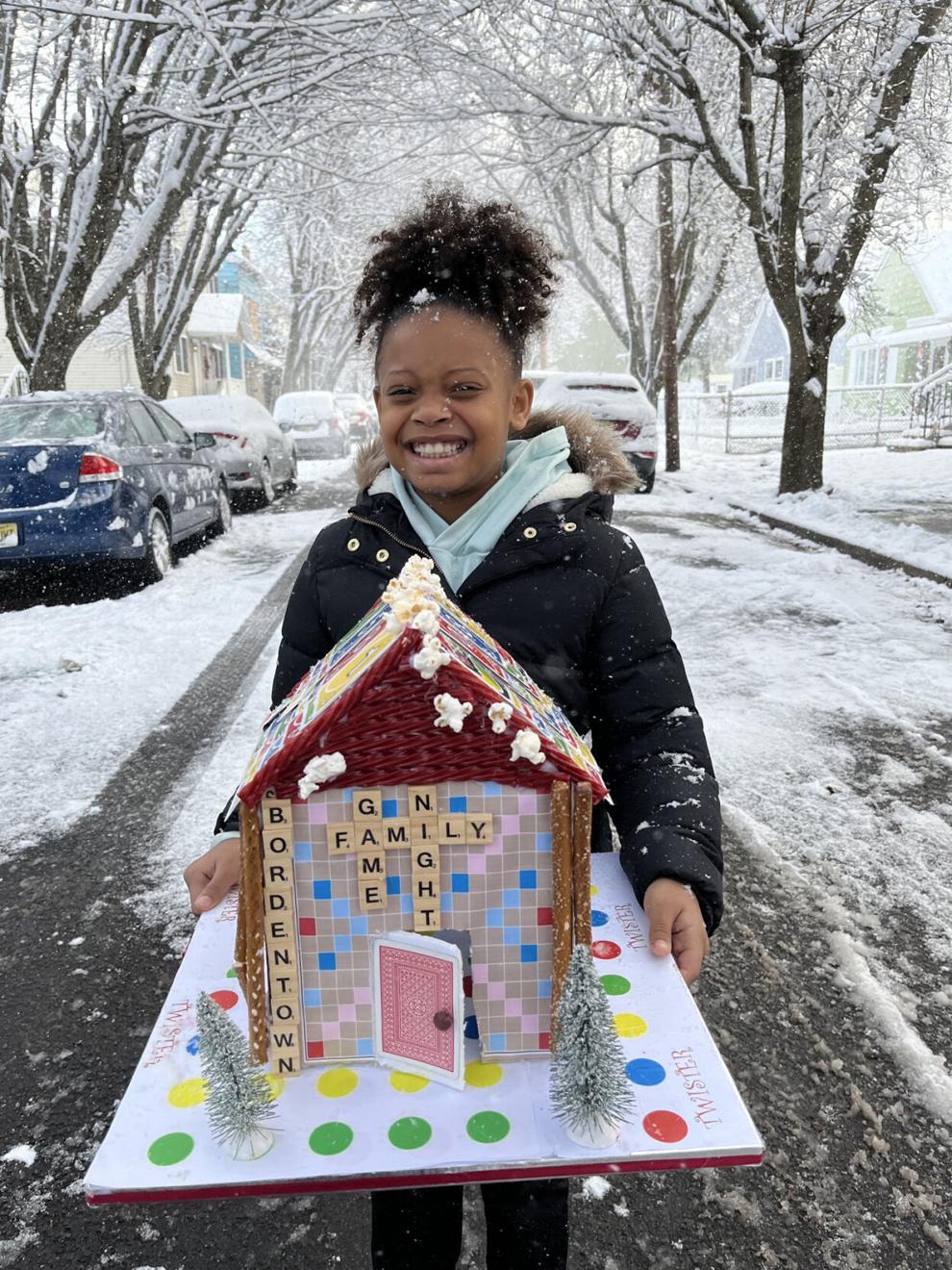 The house is shaped like a typical gingerbread house and has plenty of candy features, like pretzel beams, popcorn snow and gables made of Twizzlers.
But setting it apart from other competitors was the games-themed design. The front of the house was a Scrabble board with FAMILY GAME NIGHT spelled out in Scrabble tiles. The front door is a playing card, the yard is a Twister board, and the roof is made of Uno cards.
"We play Uno a lot, and when she goes to her other grandmother's house, they play Monopoly. I tell her, 'Hey let's turn off the TV and spend more family time together.' We looked, and the rules of the contest were that we could make it out of anything, and I thought, 'Family game night!' So we decided to go with that," Tuesday says.
Leyonna, 8, says she felt happy and proud about winning, and that her favorite part of making the gingerbread house was spelling out Family Game Night on the front.
"We were not looking for accolades. We just did it for fun," Tuesday says. "The day they announced that we had won, people were contacting me. Leyonna was excited about it."
Tuesday Robinson is a long-time Bordentown resident and an educator in the Bordentown Regional School District, where Leyonna attends school. Her son Jared is Leyonna's father.
She notes that she and Leyonna were the only African Americans to submit an entry into the contest, and she says that is one of the reasons she decided to do it.
"We were the only African Americans to enter the challenge, and that was kind of cool, because we're trying to be diverse and get more people doing things. That's another reason we entered," she says.
She jokes that they "argued" when they were making the house because Leyonna wanted to eat all the candy, and also because of their different sports team loyalties.
"She wanted to put something with the (Philadelphia) Eagles logo on it, and I said no, because I'm a (Dallas) Cowboys fan!"
The Bordentown City Creative Team announced the winners on Dec. 18. Robinson shared a message on Facebook after learning that she and Leyonna had won:
"WE DID IT LADYBUG!
Ley and I would like to thank everyone that cast a vote, shared the link, or made an encouraging comment. We truly had a blessed time creating this. With everything going on today, in the world of digital. It was a time to bond and create memories. If you don't have a "FAMILY GAME NIGHT," please make time for one. Love and hugs."