Nestled on a hillside on Crusher Road in Hopewell is a step back in time. A nostalgic place with no Wi-Fi yet. A place where area children learned to swim and parents brought picnic lunches to enjoy outside. A simpler time? Maybe. And maybe some residents were not ready to let go of these times or these memories.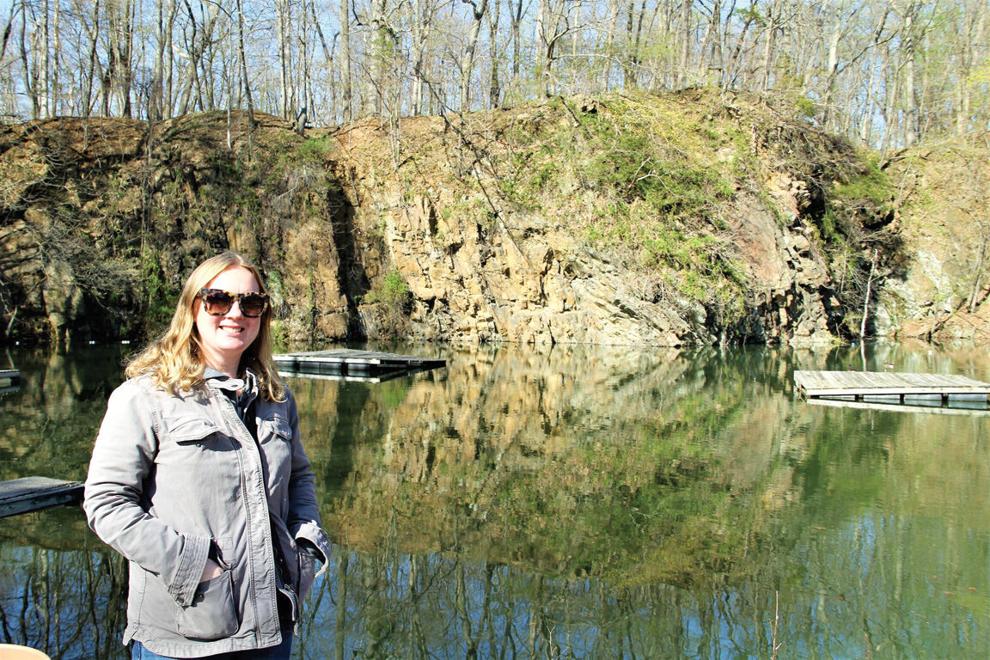 For nearly 100 years there has been swimming at a quarry in Hopewell. This Memorial Day weekend, after a one year hiatus, the facility, the Hopewell Quarry, will reopen as a public swimming venue.
In need of some tender care and upgrading to current standards, the Hopewell Quarry is a work in progress. On the eight acre site there are picnic grounds, a volleyball court, snack stand, a large conventional swimming pool and the quarry itself.
While in the ownership and care of Jim and Nancy Gypton for the last 31 years, the quarry was purchased by the Friends of the Hopewell Quarry, a nonprofit, in August of 2021. The nonprofit was founded for the purpose of keeping the historic venue open and expanding its reach to more of the community.
The quarry was formed at the turn of the 20th century, to excavate trap rock from the side of the hill. Trap rock has a variety of uses such as forming the base of roadways, railroad track beds and is added to concrete for strength.
The quarry operation ceased in 1916 and the quarry hole itself filled in from underground springs. The quarry is 55 feet deep. The quarry was incorporated as a swim club in 1928. The Gyptons for the last 30 years operated the club as a membership club, with the intention of limiting the size of the attending visitors.
The Friends of the Hopewell Quarry intend to have a fully open community swimming center that will eventually be open three seasons. Currently the plan is to offer season passes but also offer day, late day and weekend passes in an effort to be more available to the community. As of now close to 100 season passes have been purchased.
Melanie Staff-Parsons, the Friends, Vice President of Development is looking to the future. "We will be hosting camp trips from various YMCA locations, day camps from Rutgers programs, birthday events, we want to be accessible to everyone. We will to draw from further afield, to be more inclusive," she says.
"We have a beautiful spring and fall in this area and we wish to be able to extend our season to use the facility for a longer period. We have been brainstorming for a long time and are very excited for many ideas. Art programs, garden club, a volleyball league, yoga, tai chi, a community garden and nature education programs have all been discussed. Right now our immediate goal is to open and maintain the quarry in a safe and professional manner. One activity will definitely be offering swimming lessons for the young."
The Friends of Hopewell Quarry board consists of Staff-Parsons and four others; Scot Pannepacker, President, Treasurer, Mark Kirchner, Secretary, Jana Pika, Vice President, Operations and Charles Sickles, Trustee.
The board provided this statement regarding the funding that was needed to purchase and operate the quarry:
"The purchase was funded through a series of charitable donations and short-term loans from community members. These loans will be repaid from a combination of New Jersey Green Acres funds, municipal grants, and public donations. The necessary restoration and major repairs to the property are similarly being funded by donations, and so our capital campaign will result in a debt-free property with old charm and modern amenities that are necessary for compliance as well as ongoing usage by the general public."
"We are also being guided in our operations by experienced nonprofits in the area such as the D&R Greenway Land Trust and the Sourlands Nature Conservancy. They understand our mission and offer many years of experience." says Staff-Parsons.
The large sign on the interior gate refers to the funding from the New Jersey Green Acres program. This program was created in 1961 to meet New Jersey's recreation and conservation needs. Together with public and private partners, Green Acres has protected over half a million acres of open space and provided hundreds of outdoor recreational facilities in communities around the State. So working with the Friends of Hopewell Quarry was a good fit.
The Hopewell Quarry is also in fundraising mode. A fundraiser at Alchemy Mind and Body Spa, in Princeton on May 1, is one way the quarry is looking to build a nest egg to continue enhancing the facility. There is also Quarry merchandise available on the Hopewell Quarry website, which too is a fundraiser and proven to be quite popular.
There has been some work done already at the quarry as the weather has improved, but there is much left to be done.
Lindsay Young-Lockett is the Operations Manager for the quarry and will oversee day-to-day operations. She is already working with contractors and volunteer on improvements. There is a colorful new large sign on Pennington-Hopewell Road at the interception with Crusher Road. The sign has a large arrow pointing to the quarry, which is less than a quarter mile away.
"We have had a lot of tree trimming done. We will be renovating the snack stand kitchen and the bathrooms. The walkways, ramps, railings and fencing need attention too. We will be repairing the decks of the floating docks also. We are not yet, but our goal is to be ADA compliant." says Young-Lockett.
They have removed a number of invasive plant species, and will have community clean-up days on May 7 and 14 from 10 a.m. to 4 p.m.for any volunteers who want to help out.
"We wish the ground to be as natural as possible," Young-Lockett says. "It will be a good chance for students to get community service hours too. We want the whole community to be involved. The site will be preserved in perpetuity so we wish to have terrific participation and the community to feel some ownership."
The swimming area, which is just under one acre, has three diving boards, three floating docks and a huge rock wall as a back drop. The water temperature in July and August is 76-80 degrees. People use tubes and rafts to relax in cool shade of the trees drifting in the spring fed waters. There are also two life guard stands.
There is a large 2-to-4-foot deep wading pool for the smaller children along with a large partially shaded field suitable for sunbathing and picnics.
While the snack stand kitchen undergoes renovation, the Quarry plans to have food trucks on the weekends and bring in snacks from local suppliers. One vendor for snacks is Owowcow Creamery from Lambertville. They will be offering ice cream, snacks and drinks.
"We wish to use local vendors and really be locally focused. That is what this place is all about." says Young-Lockett, who lives quite close to the facility.
This band of community minded donors is looking to keep their town's nostalgic recreational facility open to the public and be more accessible to the surrounding community has large tasks in front of them. A facility of this age and size is need of attention, repair and upgrades.
The Friends of the Hopewell Quarry feel the open space, recreational appeal and uniqueness of the venue is well worth it.
Manager Young-Lockett states: "We have no doubt that the Hopewell Quarry will again prove to be a very popular spot for local community members and also a perfect day trip for the extended area. Many people learned how to swim here. We are aiming to continue that tradition."
The Hopewell Quarry is located at 180 Crusher Road, off Pennington-Hopewell Road.