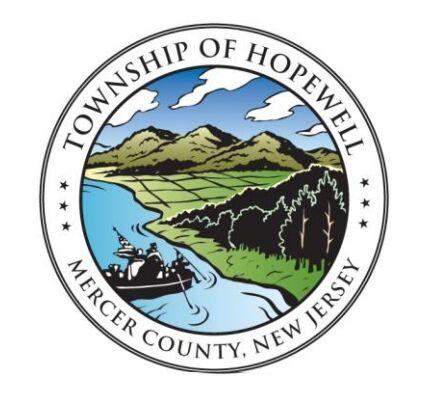 Hopewell Valley voters will not have many choices when they open up their mail-in ballots at home or step into the voting booths on Nov. 8 — Election Day.
That is not necessarily news in Pennington or Hopewell Borough, where local Republican or, in a few cases, Democratic committees have failed to advance any candidates for local races.
And it is not the case this year in Hopewell Township, where both Democrats and Republicans have two candidates apiece for the two seats up for election. Committee members and Democrats David Chait and Courtney Peters-Manning — the township's current mayor — are running against Republican challengers Jennifer DiDonato and Daniel J. Hanley, Jr. there.
But this year, the dearth of candidates willing to run for elected office has reached the Hopewell Valley Regional School District Board of Education — and one might say the situation there has things kicked up a notch.
There are nine seats on the school board, one each going to Pennington and Hopewell Borough, and the remaining seven being filled by Hopewell Township residents. This year, the Hopewell Borough seat and two Hopewell Township seats are in play.
Jess Grillo, the incumbent borough representative, is not running for re-election, leaving first-time candidate Mark J. Peters as the only candidate there.
In Hopewell Township, incumbents Bill Herbert and John Mason have not sought re-election. First-time candidate Michael Wilson is the only person running — one candidate for two seats.
That being the case, township residents have an unusual opportunity: to vote for a write-in candidate with a real chance of winning a place in elected office.
According to a spokesperson from the Mercer County Clerk's office, a write-in candidate would be required to have at least 10 votes to be eligible for election to school board. Among all write-in candidates with at least 10 votes, the one with the most votes would be declared the winner.
The scenario opens up the possibility that a person with fewer than a dozen supporters could end up being sworn in to serve on the Hopewell Valley Board of Education come Jan. 1.
* * *
In Hopewell Borough, Democratic incumbent David Mackie is running alongside newcomer Krista Weaver for two seats on the common council. Incumbent Chris Fossell is not running for re-election, and there are no Republican candidates on the ballot.
In Pennington Borough the situation is the same, with incumbent Democrats Charles "Chico" Marciante and Katrina "Kati" Angarone the only ones running for borough council.
Angarone is on the ballot for the first time, having been selected in February to fill the seat vacated in January by Beverly Mills.
Valley voters will have some opportunities to make choices further up the ballot. There are four candidates for the Mercer County Board of County Commissioners: Democrats Nina Melker (incumbent—Hamilton) and Lawrence Township council member Cathleen Lewis; and Republicans Andrew Kotula and Michael Chianese (both of Hamilton).
All 435 seats in the U.S. House of Representatives are in play, with experienced Rep. Bonnie Watson Coleman again hoping to represent New Jersey's 12th District, which includes all of Hopewell Valley even after the recent redistricting that was done after the 2020 U.S. Census. The redistricting takes effect in 2023.
Also running for Congress from the 12th District are Republican Darius Mayfield, of Helmetta, and Libertarian C. Lynn Genrich, of Allentown.