New state buildings in Trenton are now the home to new state-funded public art.
In late 2020 the New Jersey Department of the Treasury and the New Jersey Economic Development Authority announced the installation of artwork into the newly constructed New Jersey Department of Health building in Trenton — with 10 artists from the Greater Trenton-Princeton region.
The NJEDA calls the installation one of the final steps in the construction of the first new state office buildings in Trenton in more than 25 years.
The state building project is a partnership between the NJ Department of the Treasury's Division of Property Management and Construction and the NJEDA.
It was launched during the waning days of Gov. Chris Christie's administration, when the state treasury authorized the NJEDA to fund and provide development and construction services for the new Department of Health and Division of Taxation buildings in downtown Trenton.
The move bypassed normal legislative practices and resulted in unsuccessful lawsuits initiated by both legislators and community leaders who claimed the move put additional burdens on state taxpayers and deviated from state and city plans.
Nevertheless plans for the building continued and Department of Health employees have moved into the new building, located at 55 North Willow Street.
So too has the artwork installed as part of the State of New Jersey's 1978 Percent for Art Act that requires up to 1.5 percent of the total construction cost of a state-sponsored project be used for art
The Department of Health has been the first to install its work, which includes the following: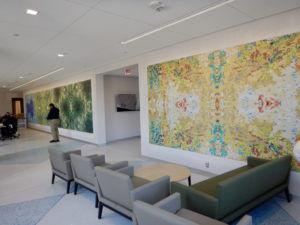 "Seasons,"
a lobby mural in mosaics by Penn Valley, Pennsylvania, public and studio artist Ava Blitz, who says she "is intrigued by the mysterious and sometimes humorous similarity of structures, from the microscopic to the macroscopic, found in biology, botany, geology, and anthropology. My work is symbolic of the cycles of life, of the elements, and of the forces of growth, change, and evolution. It alludes to the passage of time, petrified in stone or concrete. Lines become blurred and distinctions ambiguous between fossil and artifact, natural history and cultural history, and the present, past and future."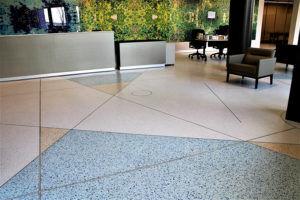 "Adagio" is the terrazzo floor designed by New York City sculptor Roy Secord. A former apprentice with Mexican muralist and sculptor Mago Orono, Secord says on his website that his "primary expressions are large-scale, colorful and contemporary, abstract paintings on canvas as well as large-scale sculpture in a variety of mediums (primarily in steel or wood)." He also works in tile, mosaic, glass, terrazzo, graphic design, and collage.
Although he works in a variety of size formats, he states, "I continue to work in larger and larger formats. Scale is such a very important component for the success of an artwork. My work sings best in larger formats. I continue to intensely explore the never-ending possibility of shape, geometry, line, color, and their complex interrelationships."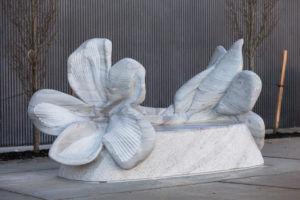 "Viola Sororia," a sculpted bench, is by English born, Hudson, New York, artist Jon Isherwood who says in a statement, "I want the work to be continually morphing in the viewer's mind. As one exists in this world you go through these mutations. We move through our experiences and assess them … We all own a body, but never really sense it … Making sculpture is an attempt to grasp complex feelings and emotions without interacting with other people. It's not particularly complicated, but it is not easy to do. I want people to feel a sense of reverence for the act of looking. Since the loss of power of religion, of the church, we have lost that everyday reverence for the artifact."
is a painting on canvas by Adriana Groza, who says in a statement, "I am a Romanian-American visual artist. I moved to the United States many years ago and currently live and work in Hamilton, New Jersey. I create abstract paintings using fluid acrylics manipulated directly on the canvas by various means, without a brush. My art is a means for my self-healing."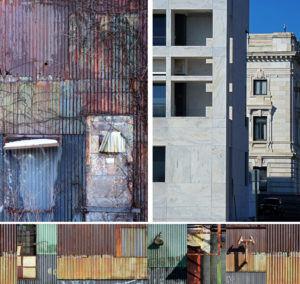 "Corrugated," "TTN Corrugated," and "Modern Tradition" are three photographs by Princeton's Alan Chimacoff. A past Princeton University lecturer and associate professor of architecture, Chimacoff notes, "My perspective as a photographer is shaped by my knowledge, as an architect, of real and illusory space, and a love of materials. Seeking abstraction in the constructed, natural, and ordinary, my photographs explore the explicit geometries as well as the faceted, ambiguous spatial characteristics of cubism —confounding the obvious in a push toward the non-objective. A unique underlying geometric structure unifies each photograph."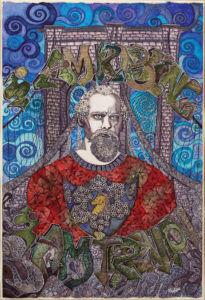 "I Am Roebling"
by Alia Bensliman of Robbinsivlle. The Tunisia-born artist says she starts a painting with a subject in mind that she develops organically through intricate symbolism and arabesque lines that weave tales, often using pens with different thickness and inks, to create drawings that are "detailed, with textures, lines, and dots—not light and shade — and many, many colors."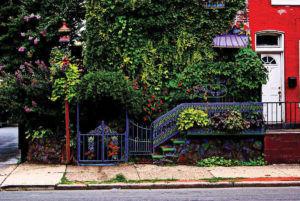 "Colors of Hamilton Avenue" is a photograph by Trenton's C.a. Shofed. Born at Fort Dix and raised in Hopewell, Shofed says, "Although my professional life has focused on technology, I maintained an interest in photography, always carrying my camera with me, taking photographs whenever the opportunity presented itself or whenever a particular scene or object inspired me. I had moved to Trenton, New Jersey, and the art scene in my new home town was raw, vibrant, and easy to access, unlike the small town I grew up in."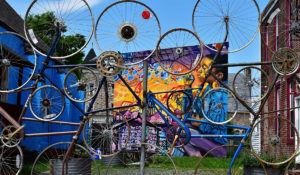 by Trenton photographer Patrick Compagnucci who also trained and practiced as an architect who says he "recently started to take my photography more seriously and have been working on developing contemporary digital photography skills, and a portfolio reflective of my work. For me, photography is similar to what Le Corbusier proposed in his definition of architecture. 'Architecture is the masterly, correct, and magnificent play of masses brought together in light.' I believe photography attempts to capture those masses and light, in the context of our visual world."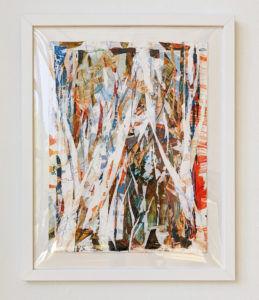 "Orange Crème"
is a mixed-media work by Hightstown-based Joyce Chen. Originally from the Adirondack region in upstate New York, the Rhode Island School of Design-trained artist says she primarily creates abstract works on paper and paintings inspired by nature. And that her "work remains open to vast possibilities of interpretation, inviting the viewer to make connections between their own experiences and (the) pieces."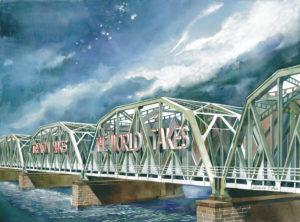 "Bridge 'Trenton Makes/The World Takes'" artist Marina Ahun of Princeton writes, "I was fortunate to have grown up in Russia and been educated at The Imperial Academy of Fine Art in St. Petersburg. There, I studied hard and learned much about techniques in both art and architecture which have given me the tools to create the work I do today. I do move back and forth between the two styles and two mediums.
"When I'm looking for urban street scenes that will become realistic paintings, I use watercolor. When I do abstract expressionist paintings I use oil, and I have no idea what the painting is going to look like when finished. The painting dictates its own course. The processes complement one another beautifully, and pure abstraction strengthens what I'm able to do when I paint realistically. What I'm forced to do with the realistic painting ends up being a technical contribution to the abstract painting."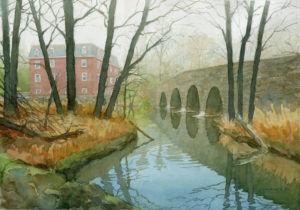 is by Princeton architect and painter Richard Chenoweth, a principal designer of the Washington Metro Area Transit Authority's Metro Canopy Program where he and his partner, Jon Lourie, under the auspices of Lourie & Chenoweth LLC, won the 2001 national design competition for the prototypical canopy design, which has been replicated across the city.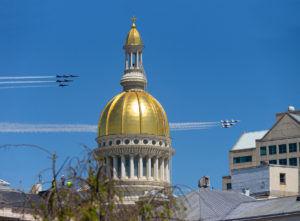 is a photograph by Hamilton's Rich Hundley, who says, "I've been in the photo business for over 15 now. I've done work ranging from modeling, fashion, glamour, editorial, weddings, commercial, sports, and actually pretty much anything you could think of. It's safe to say that there isn't anything out there that I haven't shot."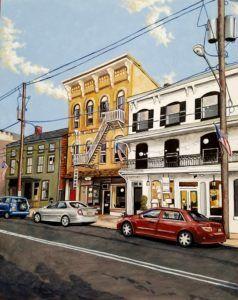 is a painting using wood stain on wood by Robbinsville artist Sean Carney. In a statement, the artist says, "I paint places I love. The buildings, the boats and shorelines are just place markers for memories that I share with special people in my life. I paint with Minwax wood stain and a Dremel, it is a process that is mine and mine alone. My paintings look like traditional paintings from a distance, but upon closer inspection you gain a realization that they are not traditional at all. It is that moment of contemplation that drives me to continue my growth and development."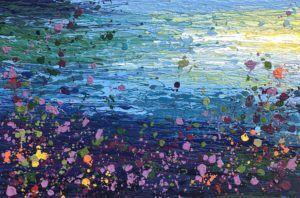 is an acrylic and latex painting by Princeton artist Sejal Krishnan who sees "pattern and design in everything. Every visual is a painting. Translated by me in the form of a splash and a drop. Tiny gold specks which bid farewell in the inky darkness of the midnight sky to the reflections of light which dance and illuminate the many still waters. I have been working as a textile and graphic designer for nearly two decades. My design journey started in a graphic design school in Mumbai, meandered through a textile design degree at the National Institute of Design, India, and continued at the Fashion Institute of Technology, New York."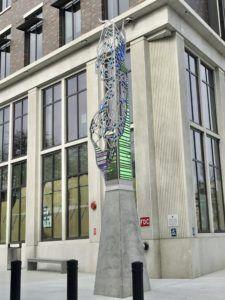 And outside the building is the sculpture
"State of the State."
About his art, Philadelphia sculptor Ray King says, "My medium is light and my art reflects my interest in geometry, science, technology, light, and color to create luminous, interactive sculptures that animate the environment and inspire the hearts and minds of viewers. My designs are site-specific, inspired by the location to create a unique sense of place. My art uses glass, metals, and laminating films to manipulate light in unexpected ways by projecting, refracting and reflecting light and color — to make the mundane magical."
The artwork was selected by a 10-person selection committee that chose the artwork for the building, along with representatives from the community, as well as arts experts, architects, building stakeholders, the New Jersey State Council on the Arts, and employees with NJEDA and the Department of Treasury.
The artwork was selected in coordination with the New Jersey State Council on the Arts, who issued a call for artists earlier this year, pursuant to the Public Buildings Arts Inclusion Act.