In terms of the bar set by Nottingham Little League, it could be considered a slump.
The boys from Hamilton Square had not won a District 12 tournament since the 11-year-olds took one in 2017. A three-year drought is a lot for NLL. It had not claimed Section 3 or New Jersey Little League State crowns since the 10s did both in 2016.
This year, a dynamic 10-year-old team checked off all three boxes by winning districts, sectionals and states in utterly dominating fashion. Nottingham went 11-0, winning every game by the mercy rule of a 15-run margin after three innings or 10 runs after four. The Sayen Sluggers outhit opponents 116-21 and outscored them 137-15 (only 10 runs were earned). They had a .492 team batting average, struck out just 18 times and scored in 41 out of 48 innings.
Defensively, the 10s committed just seven errors in 178 chances, turned five double plays and allowed just two stolen bases. The pitchers had a combined ERA of 1.67 as foes batted .142 against them and struck out 40 times.
This was merely a continuation of their 8- and 9-year-old seasons, when Nottingham went 11-0 in winning two tournaments as 8s, and 7-0 in winning two more as 9s. They mercy-ruled every team again as 9s.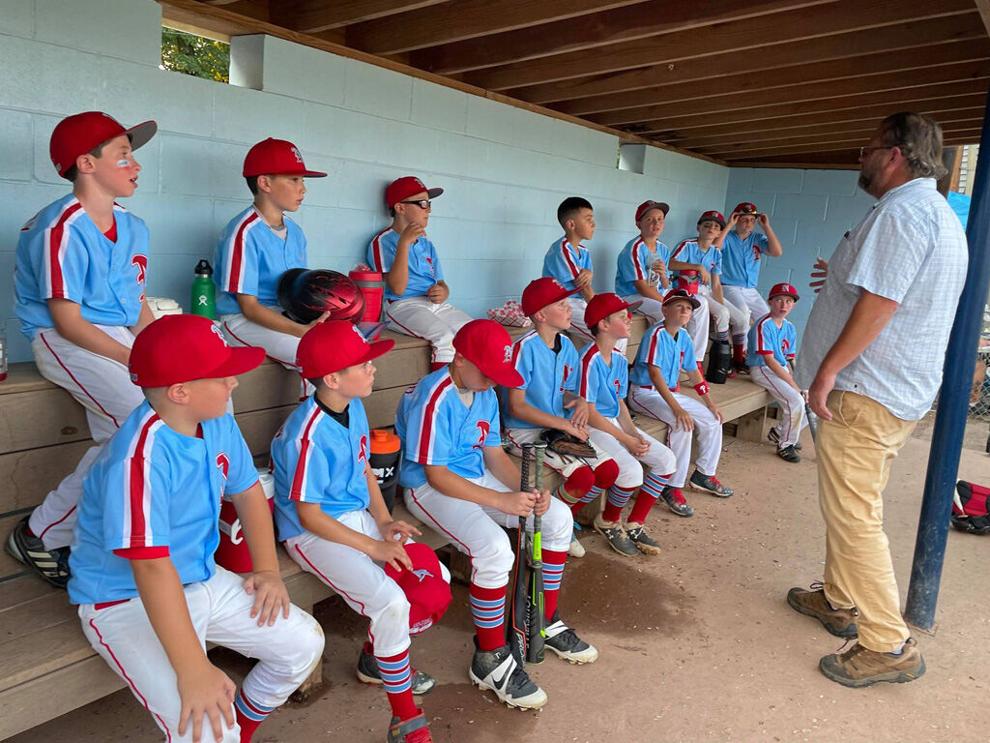 But the naysayers warned that such dominance would wilt once the pressure of district play took over.
It never happened.
"They've answered a lot," said manager Angel Bodon, who was assisted by Darren Pandolfini and Jamie Leder. "This year showed that we were for real, that we were a legitimate team. I'm proud of this team. This year I kind of got to close that book (of doubt) and say 'OK, we're a good team.'
"We had to go out and play well, it's the game of baseball, anything can happen. But we were able to say to those people that were thinking 'Oh, they're just not playing good competition,' that 'OK, we're good. We went to sections, we 10-runned teams. We went to states we beat those teams. Without sounding too crazy, we were that good. These kids deserved that. They worked their butts off, all of them. The coaches put whatever we had to in place, but the kids ultimately showed they wanted it more than anything."
It was a team with no weaknesses. It was able to hit, field and pitch with equal proficiency, although Bodon felt defense was the biggest key to success.
"We weren't striking everybody out," he said. "They put the ball in play and we made the plays. It wasn't just making them, it was how we made them and when we made them."
The squad consisted of Aidan Connell, Tyler Bodon, Brandon Leder, Brayden Wisniewski, JJ O'Donnell, Dom Carabelli, Matthew McCarty, Joseph McCarty, Lorenzo Pandolfini, Dom Stillitano, Noah Spak, Jack Reymann, Jackson Allen and Louie Manousos. Of that group, 11 have been with the team since they were 7-year-olds playing in coach-pitch games.
Even at that precocious age, they had an aura.
"We saw something special when they were 7," Bodon said. "We were that much better than the competition. When we started keeping score at 8, we were just right there — fielding, pitching, hitting. We checked all the boxes and there are no weak spots in our lineup."
While at least 10 players have the ability to pitch, Wisniewski and O'Donnell were the team's main hurlers, Connell was the closer and McCarthy, a left-hander, also got some work.
At the outset, when Nottingham was 10-running teams at an early age, there was some question of to just how talented they were.
"People were looking at each other saying 'Are they that good, or are other teams not as good?'" Bodon said. "But we would watch other teams play and they would be 7-6 games and 6-5 games. Everyone else played each other tough, and they were good teams. But when they played us, there was a big difference in the scores. That's when we really started noticing how good we were.
"I'm not talking bad about any other teams. I know a lot of their players and managers, and they are good teams. I can only talk about who we have and it's a special group. We said if everybody keeps their mouth shut and buys in, we'll do well. I tell them 'Give me six weeks of all-star baseball and we'll have a lot of fun.'"
Joining in the fun was NLL President Adam Bendas, who actually coached the 10-year-old state champs in 2016.
"He made most of our district, section and state games," Bodon said. "My players looked up to him for being there to support us."
There are still two more years to go before the 12-year-old tournament, which is when teams are grasping for the brass ring of going to Williamsport. A lot can happen between now and then — complacency, a feeling of over-confidence, defections, injuries. But Bodon feels this team will remain focused and united.
"We take every practice with a purpose," the manager said. "Darren Pandolfini is my right hand. I can't say enough about Darren. I manage the team and he coaches it. He comes out with a practice plan, he's on them. He really strives for perfection from these kids and drills them, and I do the managing. Him and I work great together. We have a great understanding of what this team needs.
"We know it's gonna get tougher as it goes on, so we're prepared to give these kids different looks, higher levels of practice. Darren played at Steinert and Rider. He knows baseball, so for him to pass on the knowledge to these kids and give them a winning mentality, it means a lot. He gets the best out of these kids. You should see these kids compete. They compete against one another. We have seven on seven scrimmages; Team A against Team B, and they really do push each other. Iron sharpens iron."
Bodon also feels his team won't fall victim to players leaving for travel ball, saying "For the most part we're all here, we're all together. We know what great things can happen if we just believe in each other and stay together. This team is very bonded. We've made a lot of memories this year and want to see where it takes us. I don't see our team breaking apart. I see us sticking together."
One of those memories is of getting District 12's most successful program back in a winning mode and building on the tradition. This was the 10th district title for an NLL 10-year-old team, the sixth sectional crown and the third state title.
"We tell them we're here to make history, add to the legacy, the trophy, the banners," Bodon said. "Darren and I walk into the (indoor batting) cage, and that's the first thing we told these kids. The first practice we had everybody in the middle and told them 'Look around you guys, this is history. You see all these trophies and banners. That's what we want. We're playing for legacy, for pride.' I think the kids really responded to it. They said 'You know what, I want to be part of this history.' They want to see their names on the wall. They want to cement their legacy."
They're off to a good start.