This article was originally published in the September 2018 Princeton Echo.
A bright smile suddenly flashes across the face of singer/actress Katie Welsh, who is being interviewed about her upcoming performance at the Arts Council of Princeton. The interview, over coffee in Princeton University's Frist Campus Center, has been briefly halted by the sound of Broadway-style piano music coming from an unseen performer elsewhere in the center.
Welsh is delighted. "We have some lovely underscoring going on here!" she exclaims.
The music's serendipity is so appropriate. Welsh, a Princeton native and graduate of the university's Class of 2015, is discussing her Broadway cabaret series, presented by the Music & Theater Collective at the Arts Council's Paul Robeson Center. The three-part series kicks off on Saturday, September 8, with "Women in the World of Sondheim." Welsh is especially pleased because that particular show "is what began this journey for me."
Katie Welsh was born in Princeton. Her mother, Sandy Welsh, earned a masters in media studies from the New School in New York, worked for 20 years at the major Young & Rubicam advertising agency in that city, and most recently has been director of accounts, research, and strategy at Dana Communications, the Hopewell-based ad company.
But the senior Welsh's serious advocation has been music. "My mom studied voice privately for 10 years, and she plays guitar," Katie relates. "She does a lot of folk but she also loves Broadway musicals. So her career has been in media, but music's been her love."
During Katie's first few years, she and her single mom (who had just started working at Dana) lived in Lawrenceville. When she was three, they moved into Princeton, living right on Nassau Street.
Welsh shares a fond — and formative — childhood memory of watching a videotape of a PBS production of "Into the Woods," Stephen Sondheim's imaginative musical retelling of classic fairy tales, with her mom. Little Katie was three years old at the time.
"I could watch the first act and the first act only," she recalls. Then her mother would take her into the kitchen for a juice box, deeming the Little Red Riding Hood-and-the-Wolf scene potentially too scary for a very young child. But the allure of musicals had beckoned the youngster early on.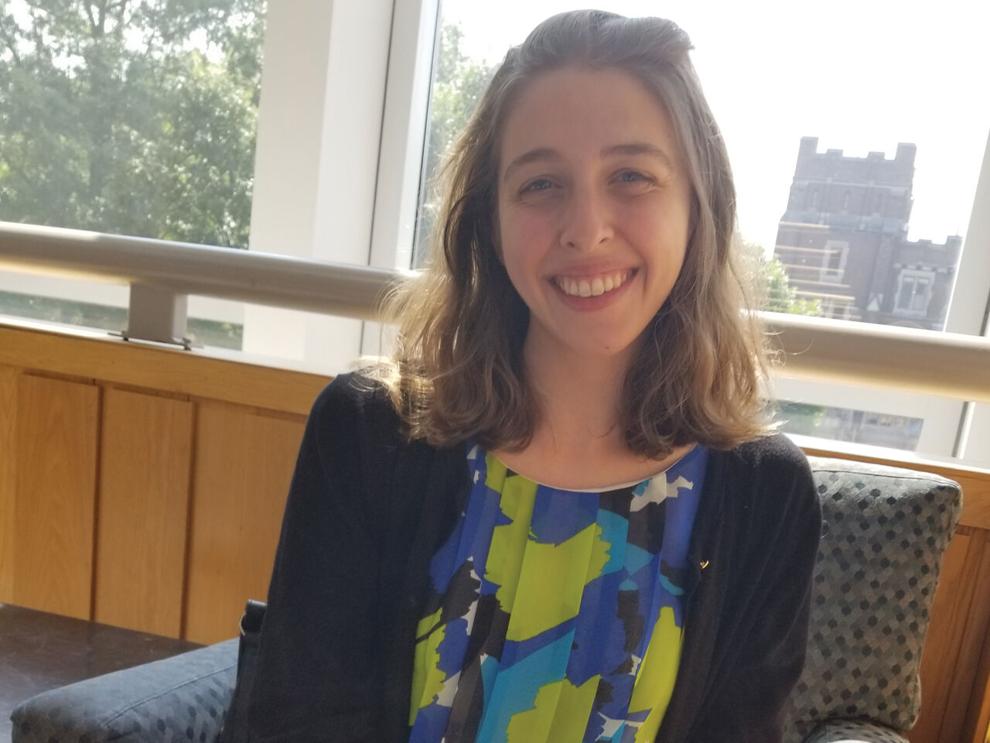 She attended Riverside School through the second grade. She started studying dance at the Princeton Ballet School when she was four. ("I ended up being there for 11 years," she laughs.) Around age seven, she began choir singing and then piano lessons at the Westminster Choir College conservatory.
When Katie was eight, they moved back to Lawrence Township. She entered third grade at Benjamin Franklin Elementary School, staying in the Lawrence public system through high school graduation. But she also started taking private voice lessons and, during her sophomore year, took a Westminster musical theater workshop during which students did scenes from musicals, receiving training in singing and dancing.
Soon the younger Welsh began experiencing milestones — and even "aha!" moments — along the way. She understudied the part of Ensign Nellie Forbush in a Lawrence High production of the classic musical "South Pacific." Although not the show's star, she performed the role several times during its run. "There was a moment when there was a feeling of, this is right, what I want to do."
When it came time for college, Katie Welsh ended up at Princeton University.
Why there? Why not Juilliard, Columbia, or New York University, or one of a dozen other highly ranked schools that, unlike Princeton, grant undergraduate degrees in theater?
"Why Princeton?" She explains: "From sixth grade on, there was something within me that said, I want to go to Princeton. I grew up literally on Nassau Street. This was a place I knew, the campus, the art museum, all these things."
Upon learning that there are different tracks to a Princeton undergraduate degree in English, she selected theater and performance studies: "Which meant in addition to foundational courses in various types of literature, I could really focus a lot of my work on dramatic literature."
Plus, she earned a certificate — the Princeton equivalent of a minor — in theater. She found herself studying musicals in a scholarly environment and performing selections from them in class.
Her spring semester junior year advisor was professor Stacy Wolf, who taught "Isn't It Romantic?: The Broadway Musical from Rodgers & Hammerstein to Sondheim" and soon became Katie's mentor. She also studied with award-winning New York theater directors John Rando and John Doyle, both visiting instructors.
"The Lewis Center for the Arts — even though the new facility wasn't built yet — was really thriving," she says. "So I was able to take all kinds of classes in theater and in English. That was huge. In addition, I took music theory and a course on the history of gender and sexuality in America."
Wolf, also the author of "The Feminist History of the Broadway Musical," became advisor to Welsh's pivotal — perhaps career launching — senior thesis and performance work, "Women in the World of Stephen Sondheim."
Sondheim is, of course, ranked by many critics as the greatest living writer/composer of musicals and among the best and most influential of all time. His early co-creations as lyricist (notably "West Side Story" and "Gypsy") and his wholly written and composed works (including "Sweeney Todd," "Sunday in the Park with George," "Company" and "Into the Woods") are indisputable classics. They enthrall theater-goers, inspire performers, and challenge scholars. Katie Welsh came to appreciate Sondheim as all three.
"He's an amazing writer for the actor-singer," she says. "He does a lot of the work for you. He crafts the story of the song within the song. You as a singer are informed by it."
"Women in the World of Stephen Sondheim" fulfilled both her theater certificate requirement and was part of her critical-creative thesis for her English degree. "The critical was the 100-page paper I submitted and the creative was this cabaret I'd created." Welsh won the English department's Alan S. Downer Senior Thesis Prize and graduated Phi Beta Kappa.
Another major "Aha!" moment came that summer. Welsh performed during a Princeton alumni night at the Duplex Club in New York. "It was only one song," she says, "but I realized, there are venues to do this in! This is my niche, this is what I can do!"
She has subsequently performed at such popular city spots as Feinstein's 54 Below, the Metropolitan Room, and Don't Tell Momma, as well the Princeton Club of New York. She has also presented at BroadwayCon, a major annual Broadway-oriented convention at the Javits Center.
Through all this, Welsh has been developing what she calls "The Informative Cabaret": one-person shows that draw material from Broadway hits and the Great American Songbook, but also provide the extra pleasures of insights and intellectual connection — "Aha!" moments for the audience, if you will.
For example, one song she will sing in the Sondheim show at the Arts Council is "On the Steps of the Palace" from "Into the Woods."
"You can't do it out of context," she says, stressing the need for the informative setups she presents for each song. "It's about Cinderella leaving the palace and leaving her shoe on the steps." During the song, we hear Cinderella's thought process as it evolved to her final decision to leave the shoe behind.
It's the difference, Welsh adds, between a character "working something out [psychologically] in song versus just making an assertion like 'I'm in love with a wonderful guy.' Sondheim gets inside the characters and how they would express themselves. That makes his songs so complex psychologically."
During her between-song remarks, Welsh gives context clearly and completely, informing through her scholarship into musicals, yet not lecturing so that listeners' eyes (and ears) start glazing over. (Her accompanist, New York-based David Pearl, provides a tasteful piano underscoring throughout the introductions.)
Of course, some prospective audience members might react skeptically to all this, thinking that dramatic characters with complex psychologies and intense love relationships must be outside the true comprehension of someone of Welsh's relatively young years.
"The Sondheim show focuses a lot on younger women," she replies. "When selecting the songs, I was conscious of what characters I was intrigued by but also aware of the songs in which I could find my own way. The Sondheim show has a lot of women on the edge of coming into their own, of finding their own way. And as an actor it's about finding my own way into their stories."
The second of the three cabarets, "New York on Broadway," is brand new and will have its premiere on Saturday, November 17. Its theme, says Welsh, is "how New York is represented in Broadway musicals: how characters sing about New York upon arrival, how relationships develop in a big city. And how does New York appear as a backdrop and an additional character in these shows?" Examples will be drawn from such hits as "On the Town," "Sweet Charity," and "42nd Street."
The final offering, on Saturday, December 8, is "Happy Holidays! From Broadway & Hollywood." It will be a second encore for this popular holiday show at the Arts Council.
Last December Welsh started bringing her shows into the homes of people wanting to host musical soirees. Some had attended one of her public performances and approached her about a private event. Others have visited her website, KatieWelsh.com.
In the great tradition of aspiring singers, she currently maintains day jobs: not waiting tables, but working part time at Princeton University as a research and editorial assistant for her academic mentor Stacy Wolf and for Dean of the College Jill Dolan.
She also keeps up with her performance studies. Judy Bettina, her longtime regular voice teacher, remains a major resource. "I've been studying with her now for at least seven years. She's phenomenal."
And she has gone the standard New York musical theater route of attending crowded, intensely competitive auditions sanctioned by the Actors Equity union, "waiting nine hours to sing eight bars. And sometimes that's worthwhile."
But right now, she says, performing her one-woman informative cabaret shows "is my passion. This is what gets me up in the morning."
Women in the World of Sondheim, Arts Council of Princeton, 102 Witherspoon Street. Saturday, September 8, 7:30 p.m. Tickets $15 at Eventbrite.com or cash-only at the door. www.KatieWelsh.com or 609-915-7889.
Richard D. Smith is a Rocky Hill-based journalist who frequently writes about music and history.