In the six seasons prior to Conor Hayes taking over the Robbinsville High boys basketball program, the Ravens' record was 39-109. As of Jan. 24 of this year, in his sixth season since becoming head coach, Robbinsville was 63-49. And since 2019-20, counting an 11-2 start this season, Robbinsville had gone 41-12 .
A true winning culture.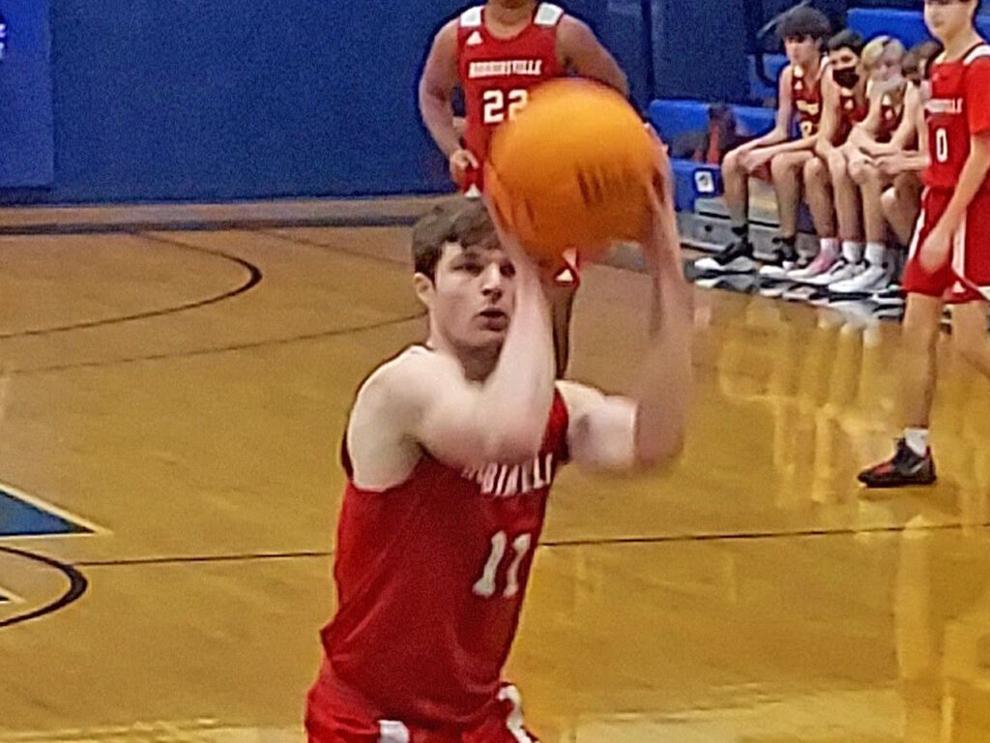 "We are confident in ourselves to compete with any team in the state," said senior forward Pratham Nadig, a three-year varsity performer. "We prepare ourselves to win and we give our 100 percent effort every time we walk out on the court."
This did not happen by accident or a sudden influx of superstars. Hayes realized when he came in, that things had to change.
He understood that in his first year – which was laden with seniors who had some talent and were used to a certain way of doing things—he could not not impose his will too strenuously. But to their credit, the seniors bought in to what the newcomer said, setting an example for the underclassmen.
The result was an 11-13 record and school record for victories.
"I texted those guys the night we beat Steinert two years ago (to win the CVC Valley Division title) and said 'Hey when you see that banner hanging in the gym, that belongs to you guys also. Even though you weren't on the team, it wouldn't be possible without you guys,'" Hayes said. "The Lucas Olshevkis, the Tyler Milchmans, the Brendan O'Connors. That whole group really set the tone for the next five years that have followed.
"We were able to make a mini-quick turnaround that first year. The next two years were kind of getting back to the start of the process."
That process constituted five steps. First, Robbinsville had to learn how to practice the right way.
"We wanted to learn how to practice with a certain amount of intensity, focus and discipline," Hayes said.
The next two steps were to understand how to compete in practice, and how to compete in games. Hayes and his assistants, Bob Boyce (Hayes' coach when he played at West Windsor-Plainsboro North), Eric Becker and Mike Jackson went to work on that by putting 15 minutes on the clock and having three four-man teams go at it in practice.
"It's just a war zone where there are no fouls called," Hayes said. "If you complain, it's a T and you get thrown out, and it's points for the other team. It's kind of just getting them in that mindset of focusing on things you can control. Focus on playing through contact, on finishing, on being strong on the ball, playing pressure defense, helping. The things that are in our control."
It took time for his players to adjust, but the coach was happy to report that only one technical had been called this season.
"We've been fortunate we've had really good leadership amongst our players the last few years," Hayes said. "They know they're responsible to bring the juice to practice and if the energy's not up, they get on each other from the start, They don't let it get 10 minutes into practice before they say something."
Nadig is one of those seniors who has embraced the attitude.
"I think the biggest factor to our improvement is coach Hayes pushing us and us pushing ourselves," he said. "We give our 100 percent effort at practice all the time. That has really transformed the culture of the Robbinsville basketball program."
Once competing in practices and games became the norm, Robbinsville had to learn how to win games, and finally, learn to win on a consistent basis.
"Fortunately, we're now in that position where we're trying to win the big games," Hayes said. "We can compete with Top 20 teams in the state, in the counties, in the sectionals, things like that."
The first two "process years" resulted in a 7-17 record in 2017-18 and 4-17 in 2018-19. A key piece of the rebuild arrived in 2017 with Ryan Smith, who would likely be the school's all-time scorer were it not for last year's COVID-shortened season. The Ravens' record dipped in Smith's sophomore year but another important player arrived in Brian Herbert, who is a CVC Player of the Year candidate this season.
With those two, plus seniors Keith Motusesky, Jack Billings, Brian Tierney and Darren Henderson, Robbinsville exploded for a school-record 20 wins in 2019-20 and just missed beating Bordentown in a Central Jersey Group 2 quarterfinal game while playing short-handed.
"I knew our team had the dedication and discipline to turn things around but it came down to coaching," said Nadig, who was a sophomore on varsity that year. "Coach Hayes had a plan and all we had to do was execute it."
Hayes felt much of the success came from growing pains the previous year.
"We lost seven games by six or seven points," Hayes said. "That became a matter of learning how to close out games, learning how to win those tight games. Once that happens, you can really start to focus on those next steps.
"Not that you're taking those first steps for granted, but those become the expectations. Instead of learning how to practice and coming to practice every day, which is the expectation, winning consistently becomes the expectation. Those seniors went through some tough times as juniors, it paid off their senior year."
Last season produced a 10-3 record and a telling game at Nottingham in the CVC Pod A championship game. With the varsity in covid protocol, the JV gave the heavily favored Northstars a pretty good battle, indicating the talent running through the program.
After that, Hayes lauded JV coach Jeff Torralba, who has been a lifelong friend. At WW-P North, Torralba was the point guard and Hayes the shooting guard; Torralba was the quarterback and Hayes was the wide receiver. Torralba joined the staff in 2019.
"I really feel like we have two varsity coaches on our staff," Hayes said. "I never had another assistant watch as much film, if not more film than me, like he does. And being able to bounce ideas left and right, and get new ideas from Jeff has been a huge blessing."
He has the same accolades for freshman coach Jeff Fisher, also the boys varsity soccer coach. All three levels were undefeated in CVC play at the end of January.
"Fish has to be one of the longest tenured freshman coaches in the county," Hayes said. "It's great having a varsity coach coaching your sub-levels because they know what it takes to run a practice, they know the expectations, and where the level of intensity at practice has to be. We know when those freshmen come into our gym as sophomores, they are going to be ready for what we do."
That attitude actually starts at Pond Road, where Hayes teaches and Blake Kilgore coaches the middle school team.
"He kind of shares the same kind of beliefs and philosophies that I do about attacking teams on defense, attacking teams offensively," Hayes said. "They've been in these situations and although it's not necessarily the same system it's the same mentality. So they have the same attitude from their sixth grade year up to their senior year now."
Another key for Robbinsville of late, is there has been no huge drop-off from one year to the next. The Ravens have integrated quality players onto the roster as underclassmen so there is always talent coming back. Last year, freshman Luke Billings started at point guard, this year he is the off-guard with sophomore Tyler Handy running the point.
"Hopefully, we have some younger guys coming up as well," Hayes said. "We have 11 sophomores in our program we like a lot, so whether they're getting varsity time or not this year, they're in that gym every day knowing what it takes to be successful at the varsity level.
"Each year we kind of chipped away to where freshmen through seniors there's a certain level of expectation when you come into the gym. It's really trickled down from the seniors two years ago to the seniors last year to the seniors this year. That effect fortunately, so far, has been everlasting for the past two years and hopefully that continues."
Another factor has been giving the team strong summer competition. Robbinsville plays in the Jersey City League, where it goes up against some north Jersey heavyweights and powerful non-public schools. That has carried over into the regular season, as the Ravens only losses in their first 13 games were to state-ranked Trenton Catholic Academy and Holmdel.
"I believe we have some great potential and can really make it somewhere in the tournaments," Nadig daid. "The non-conference games will help prepare us for those tougher games at the end of the season."
With the culture in place, Robbinsville hopes to challenge the school record for wins and make a deep run in both the counties and states. Aside from Herbert and Billings, who have gotten the lion's share of the headlines, there are key role players starting with Handy.
"He had a phenomenal summer taking on tough competition every day," Hayes said. "I really think he's the best point guard in the conference. He handles pressure, he's a phenomenal defender and he just creates and makes everything easy for other players."
There is also Nadig, who the coach feels is one of the best passing big men in the state at 6-foot-5. "He's unselfish around the rim but he can finish for us also," Hayes said.
Senior guard Anthony "Chub" Dottino is a tenacious defender who usually locks down on the other team's top offensive player. Sophomore forward Evan Bunnell is an aggressive offensive player off the bench who provides a physical presence underneath, and junior guard Pat Kapp is a do-it-all player "who always finds himself in the right spot."
With the right players creating the right kind of atmosphere, winning has become the rule rather than the exception.
"You see what coach (Chris) Raba does at Nottingham," Hayes said. "Once you have a culture intact it's a matter of sticking to those principles, and just carrying through with everything. If that happens and you have guys that can play – you always need the players – you're able to compete consistently. Things just seem to fall your way sometimes when you go on the court with the mentality of expecting to win instead of hoping to win."
Robbinsville has that mentality, but there is still more to accomplish.
"We want to get to that next step of winning championships, whether it's county championships, sectional championships or state championships," Hayes said. "We know we're still building. We're not necessarily happy yet, but we know we're where we should be right now."
And Hayes has done an impressive job of getting them there.