The Bordentown Middle School softball team outscored its opponents, 136-14 this year; so it wouldn't seem like it was rarely tested much.
Wrong.
The Bobcats were actually one inning away from having their undefeated season come to an end in the last game of the year. They entered the bottom of the seventh trailing Lumberton 2-0. Through its first 10 games Bordentown averaged 13.3 runs per game, and now it was being blanked.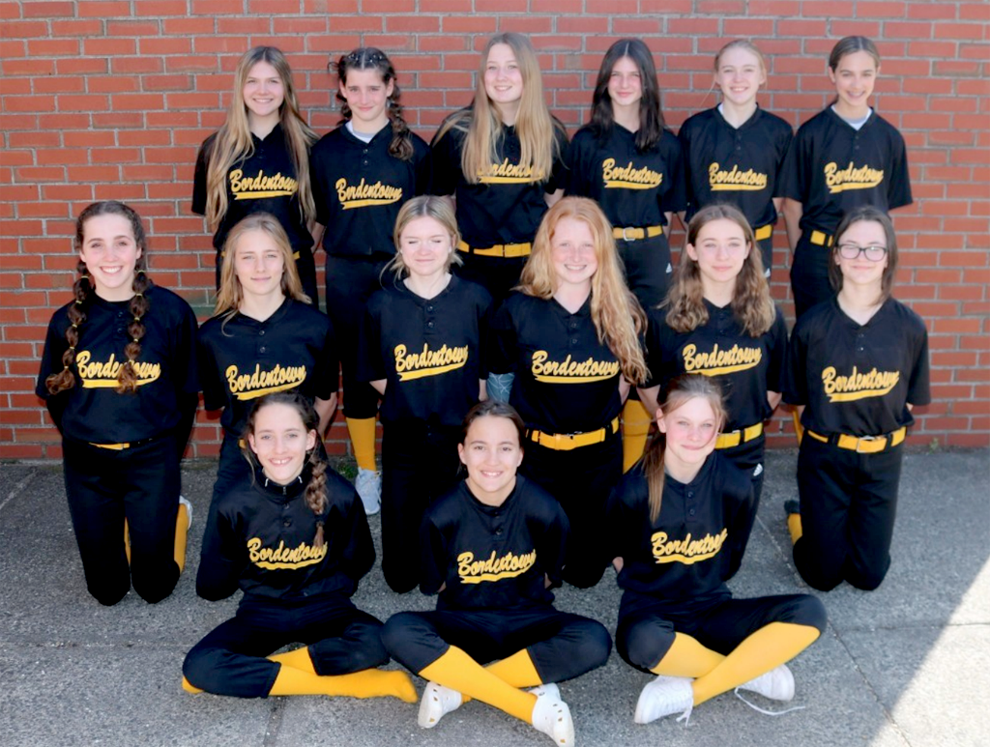 With three outs to do something about it, Avery Taylor dropped a bunt single, and Katie Kovac, Lia Flynn and Jules Morolda rapped out consecutive singles to tie the game. That brought up Kenna Fisher, who "saved her best hit of the season for last" according to coach Steve Blue.
The eighth-grader smoked a walk-off double to score Morolda and give Bordentown a 3-2 win and 11-0 record.
It was actually the Bobcats second walk-off win of the year, as they also defeated Easthampton in eight innings earlier in the season. Lily Glatz reached on an error and one out later, Addi Maloney and her twin sister Olivia both singled to end it.
The point here is, Bordentown won most of its games easily, but when the pressure was on, the Bobcats knew how to win.
"They were a great group," said Blue, whose wife Robin and daughter Alexa were standout players for South Brunswick High and Northern Burlington, respectively. "The cool part is they all supported one another. In the second game of the season I took a couple girls out and substituted a couple others. Instead of sulking, they immediately started supporting the girls I put in. It was a good group of girls. They were really neat."
The Bobbies had a nice balance age-wise, with eight eighth-graders, six seventh-graders and a sixth-grader. All got playing time.
"We had good depth from top to bottom," Blue said. "All the girls played a big role. From top to bottom we hit, we had a couple of really good pitchers and we played solid defense. They were a smooth operating bunch out there. Three eighth-graders were kind of the leaders and they batted one-two-three in the lineup."
Leading off was 8th-grader Kovac, who hit .500, struck out just once and played almost every inning at shortstop.
"She was real smooth, a real smart kid, a great fielder and fast," Blue said. "She hit a lot and walked 11 times. She was always on base."
Eighth-grader Flynn hit .529 and struck out just twice batting second. She was the team's No. 1 pitcher, striking out 61 in 41 innings.
Her batterymate, 8th-grader Morolda, hit third and batted a whopping .688 with a team-high 22 hits. She had 10 extra base hits and was a huge run generator.
It's worth noting that individuals could have gotten many more than 22 hits except Bordentown was just too good. Six games went four innings due to the mercy rule, leaving the starters with just two at-bats in a game.
Not to mention, Blue gave his reserves plenty of playing time. But no one was complaining as winning keeps everyone happy.
Seventh-grader Brianna Gallo, the team's No. 2 hurler, batted .333 without a strikeout in the cleanup spot.
"She had a lot of hard luck," Blue said. "She would hit the ball hard right at someone and they would make the play. And she was very dependable as our number-two pitcher with 31 strikeouts in 18 innings."
Carlene Matney, an 8th-grader, hit .500 with five extra-base hits and seven walks hitting in the fifth spot. Another great contact hitter, Matney fanned just twice.
Eighth-grader Kenna Fisher hit sixth and was the team's defensive whiz in center field.
"She had a super glove out there, tracked a lot of balls, made a lot of great plays," Blue said. "She was really dependable. She didn't hit for a high average but she was more skilled than her average indicated."
Seventh-grader Taylor hit .400 and switched off between third base and left field, flashing a strong glove at both positions.
Eighth-grader Lily Glatz was another .500 hitter while playing left field and backing up Morolda at catcher. "She was super dependable," Blue said. "She made a lot of nice plays in left field."
Addi Maloney, an eighth-grader, was "like a gold glove at second base," according to her coach, and she also hit above .300. "She had the most balls hit to her out of anyone on the field," Blue added. Her sister Olivia had eight hits in limited-at bats and was super steady in right field.
Seventh-graders Alyssa Crusen, Gabi Stout, Cassie Bryan and Alexa Kraus also chipped in. The versatile Crusen played third base, catcher and outfield and three of her seven hits were for extra bases. Bryan had seven hits and three walks while playing third base, outfield and first base.
Stout also had three extra base hits despite missing time due to Covid protocols, while Kraus was the third pitcher who also played left field and third base. She had five hits and three walks, and in the circle she struck out nine in just four innings of work.
The team's lone sixth-grader was Sami Brown, who "was real athletic, provided super coverage in the outfield and played second. She had four hits on the year and was also very good defensively."
With Bordentown High School's talented program losing just three seniors, it could be tough to break into the lineup next year. But Blue feels his bunch will help one way or the other.
"I could see some of them playing and making an immediate impact on the varsity and hopefully the ones that don't make varsity will also make an impact," Blue said. "Bordentown didn't have a JV team, so hopefully with our eighth-graders, they may have enough of a turnout to bring back the JV team and keep the program going onward and upward."