Coach Lauren Diaz lost 12 players to graduation from last year's Notre Dame High girls' soccer team, but she returns three players in one body when it comes to Bordentown resident Cam Beetel.
"She can play anywhere on the field," the second-year coach said during preseason workouts. "She has that soccer IQ where I can put her in midfield, put her up top or even put her at outside back. She's our wild card. Her ability to see the field is one of the reasons why she can go anywhere."
So, where will she go this year?
"I have a vision of where I think she'll go but we have to see where our pieces fall," Diaz said.
IQ alone, however, can only help in the broadcast booth where a person merely has to analyze the game. There's a little more needed to perform on the field and Beetel also possesses the physical skills and instincts necessary to move about the pitch.
"She has great ballwork skills, and she has the ability to make that right pass," Diaz said. "Where some players may be able to see the right pass, they're unable to make it. Her ability to see it and make that pass is another component she brings."
Beetel is predominantly a midfielder, but has always been versatile. When asked about playing all over the field this year she shrugged and said, "I've been doing that for a long time, wherever the coach needs me. I'm pretty comfortable with that."
Her comfort comes from having been in the middle of the field for so long.
"As a midfielder you need to know both positions," Beetel said. "On defense, I just have to leave the offense part of it out of my mind. I definitely like midfield the most; either outside or center because you're always in the action. But I'll go anywhere."
The player agrees with her coach that an ability to see the field helps make her effective.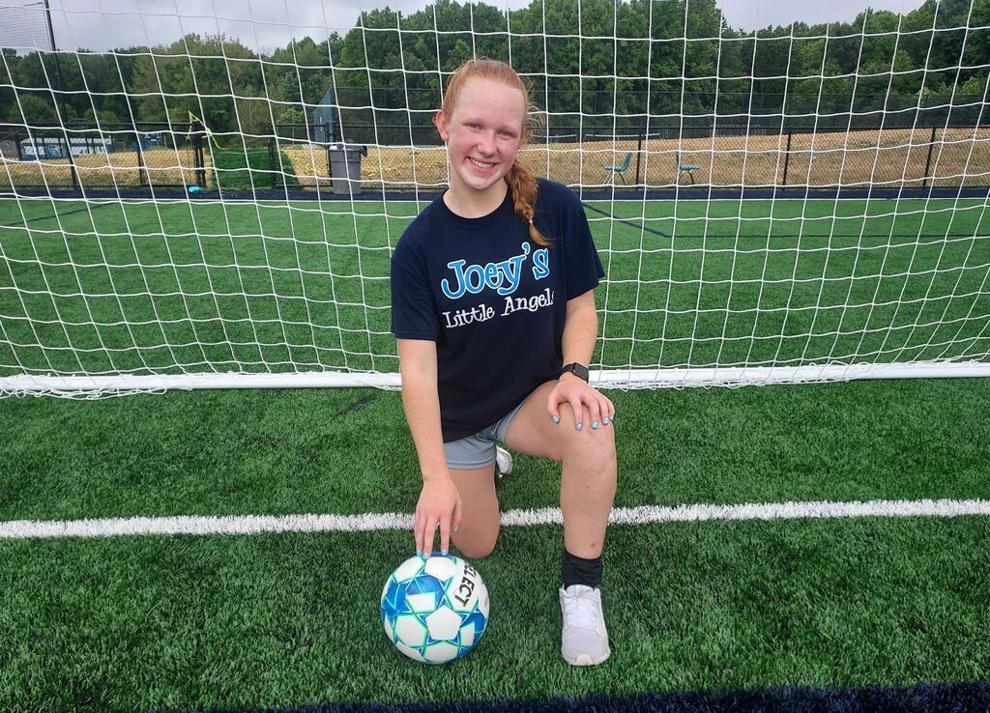 "I feel like I'm good at being able to play the ball through and seeing what's going on," she said. "Being in the center of the field you can see everything happening."
Beetel will be a key cog for the Irish, who are coming off an 11-5-2 season. Despite heavy graduation losses, Notre Dame still returns a strong core group from last year, including juniors Brynn Fitzpatrick, Emily Javick and Hannah Neville, who are also from Bordentown.
While the four didn't all join together in the same program until their freshman year, Beetel and Fitzpatrick have been lifelong friends.
Beetel began her career with the now-defunct Bordentown Banshees travel team in second grade and stuck with them until eighth grade before going to MatchFit. She started as a forward before being moved to midfield. The experience helped prepare Cam for Notre Dame, since she was playing against more experienced competition.
"It was definitely good because it was similar to the high school level," Beetel said. "I was playing up and playing older kids who were in high school, so it really made me step up my game."
The high-level competition paid off as Beetel made Notre Dame's varsity in ninth grade. Although she did not find her way onto the scoring sheet, she got valuable minutes.
"I was surprised, I was just hoping for JV at most," Beetel said. "I was really glad I made varsity. It was definitely scary at first but the team was really nice. They brought us together pretty quickly and it once again made me step up my game to match their level. So it was good for my game. I didn't play as much as I wanted to, but I would play occasionally, once every game."
Beetel also plays lacrosse, which is where Diaz saw her for the first time. The coach was immediately impressed by Beetel her freshman year.
"I had the opportunity to coach her that spring, and I saw that mentality and the skills she brought," Diaz said. "Then I saw she also played soccer, which was great. All of those skills transcended from one sport to the other. She's a three-sport athlete, it allows you to have different skill sets as opposed to just one sport where it's exclusive skill sets."
Beetel returned to the pitch last year and collected two goals, including an important one in a 2-0 victory over Lawrence. As her playing time grew, she was able to become somewhat of a team leader even as a sophomore.
"Cam is a fantastic player but more importantly a fantastic person," Diaz said. "She understands how to work really hard, get the best out of herself and her teammates. She's someone her teammates rely on in all aspects; so that aspect she brings to our program is invaluable."
Beetel's interaction with teammates could not be stressed enough by the coach.
"She's always smiling with a positive attitude and she's always there for her teammates," Diaz said. "She's someone they confide in; or she will go out of her way to help someone else. That's a great component to our program, we're trying to build that within all levels."
Senior defender Ryan Carr admires Beetel as both a player and person.
"Cam always steps up," Carr said. "She has great foot skills, and gives 110 percent. She's always there picking up everyone."
Beetel says she enjoys having so many girls from her hometown on the team with her, as much as Diaz also enjoys having them.
"Brynn is a defensive player and Emily is more offensive minded," the coach said of Fitzpatrick and Javick. "They'll be on opposite ends of the field but they are complete threats. Especially Emily up top, she brings speed, she has great touches on the ball, she has an offensive mind, and she's a very hard nosed player. Brynn is also hard nosed. In the back she will take anybody on, which is fantastic. There's no fear with her."
And then there is Neville, who is in the mold of Beetel with her versatility.
"Hannah is another returning varsity player who stepped up and played in the back for us as an outside back last year," Diaz said. "She's going to be a key asset in solidifying not only our defense but also our midfield as well. She'll provide another player who can play multiple positions on the field."