Player, coach, administrator, volunteer, friend, husband, father.
Those were some of the titles held in life by Steve Gazdek, not necessarily in order of importance. The list of superlative adjectives to place in front of them could go even longer – friendly, popular, energetic, loyal, unassuming, polite, tough, courageous; to name a few.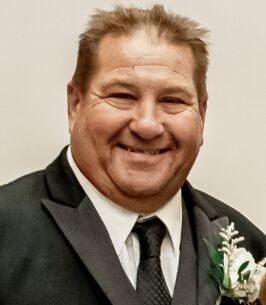 Although born and raised in Piscataway and residing in Cranbury and Jackson as an adult, "Gaz" was woven throughout the Hamilton Township athletics fabric for 26 years and made an indelible mark. He retired as Steinert Athletic Director in late 2021 and his untimely death at age 63 on Feb. 27 sent shock and grief through the Hamilton school district and beyond.
"Steve was an amazing person," said Notre Dame High Athletic Director Nate Webber, who was hired by Gazdek at McCorristin (now Trenton Catholic) as its head basketball coach in the 1990s and became his principal when Gaz worked at Steinert in the 2010s. "He was always willing to help anyone in any way he could. I never heard him decline a need to help others."
"We all are better people because we spent so much time with Gaz," said Dave McWilliam, who had Gazdek as his AD all 13 years he was Hamilton West's principal.
Former Hornet head football coaches Keith Hartbauer and Tom Hoglen had Gaz as their defensive coordinator and both felt his impact was felt beyond that of just an assistant.
"Steve Gazdek was one of the most humble, passionate, loyal and genuine people I have ever worked with in my 34 years of education," Hartbauer said. "He was so much more than a co-worker, he was a true friend."
Hoglen added "Steve touched the lives of many that he came in contact with. He would always put everyone's needs above his."
Area official Ron Hoehn worked with Gazdek to help produce the George Wah Scholar-Leader-Athlete dinner, hosted by the Delaware Valley Chapter of the National Football Foundation and College Hall of Fame. The two became closer while enjoying a weekly breakfast at the Broad Street Diner with a group of coaches, referees and reporters.
"The breakfast club allowed me to get to know him as a generous, nice guy, who would lend a hand or help any worthwhile cause," Hoehn said. "I will miss his company at our breakfasts and as a faithful member of the chapter."
It was at those breakfasts that one guy or another would moan about their latest health ailment. Gazdek, who was a cancer survivor and was patiently awaiting a kidney transplant, never said a word about his woes despite having more to complain about than anyone.
"Steve is one of the most courageous men that I have ever been around," Hoglen said. "He would only look at the positives in his life."
One of those positives was his long relationship with Eric Hamilton, whom he played for and coached with at Trenton State College (now the College of New Jersey) before working closely with him in the DelVal Chapter. Gazdek also coached his son Jeff at Hamilton West.
"Coach Gaz never complained. Why? Because there was always someone who needed help and he would be there," Hamilton said. "He didn't want anybody worrying about him. I was the lucky one – I got to coach, work with and have my family be coached by one of the finest persons I know."
After a standout career at Piscataway High in football-rich Middlesex County, Gazdek was steered toward Trenton State by a Chiefs assistant. In the late 1970s, he played for one of the youngest coaches in the NCAA at any level during that time, and the two grew together.
Hamilton saw Gazdek's coaching instincts right from the start.
"Steve was not only a tough player, but on the field he was very smart," said the former Hamilton Board of Education member. "He wouldn't beat you physically, he would outsmart you. As a linebacker it wasn't about going through the blocker, but how to get to the spot before the blocker. He coached the same way. He wasn't fast, but he would beat you to the spot because he knew where to go. In the huddle, he would not only call the defense but made sure everyone was lined up in the right spot."
And when he donned the gear; Gazdek's raw grit was always on display.
"One tough SOB," Hamilton marveled. "He played through pain and never wanted to come off the field. He played through a broken bone in his foot. He was loyal. He was a teammate who believed eleven played as one. He was the guy the other players looked to."
It was only natural that Gaz had a spot on Hamilton's staff after graduation; and then began his high school athletic career in the township by serving as AD and head football coach at McCorristin, where he was aided by Hoglen.
"Steve started and took great pride in the Mercer County Cheerleading competition, which gave those athletes the ability to showcase their talents and hard work," Hoglen said. "He also had a football clinic for women while he was at McCorristin, which would teach the basics of football and build a relationship with the McCorristin community. Steve was never afraid to start something if he knew it would be beneficial for the programs that he was involved in."
Gazdek eventually moved to West, where he was an assistant for Hartbauer before also becoming AD in McWilliam's first year as principal.
"We were able to get special permission to have Gaz continue to coach football and also serve as the AD when Ken Mason left," McWilliam said. "Gaz loved to coach football and made such a difference in the lives of so many in our football program."
He certainly had an impact on Hartbauer.
"We enjoyed a lot of success and that success can be directly related to people like Gaz," Hartbauer said. "Gaz's demeanor never changed, he always maintained that even-keeled personality."
Except with officials, of course.
"He usually led our staff with 15-yard penalties, all of them justifiable in his mind," Hartbauer said with a laugh.
But the head man could overlook that little issue since Gazdek brought so much more to the table.
"Steve and I just hit it off from day one," Hartbauer said. "Gaz ran our defense and I ran the offense. He instantly brought credibility to our staff and program. He was a football guy first and foremost. His understanding of the game and schematics was second to none.
"It wasn't uncommon for him to call me late at night or walk into my classroom in the middle of class and say 'I got them figured out.' Meaning that he had our opponent's tendencies down and a scheme to stop them. He never stopped drawing up blitzes and our players loved playing in his defensive system."
Hartbauer is certain that Gaz is talking smack to a football legend in Heaven.
"There is no doubt in my mind," he said, "that he has already met Vince Lombardi and told him how he would shut down his wing T offense with his strong dog, weak fire blitzes."
Gazdek was nicknamed "Dr. Blitz" due to his high-pressure schemes, and Hoglen was happy to inherit the Doctor when he took over for Hartbauer. It was soon deemed, however, that Gaz could not coach if he was the AD; but Hoglen still felt his positive impact.
"As an athletic director he cared about all of the school's sports and was always free to give advice in difficult situations," Hoglen said.
When he officiated, Hoehn encountered Gazdek as a coach and AD.
"When the whistle blew to start the game, he was out to win," Hoehn said. "Before and after the game, he was as nice as could be - even if he didn't like or agree with your calls."
After Gazdek and John Costantino exchanged jobs due to a school board decision, Steve was reunited at Steinert with Webber as his principal. This time, Nate was the boss; as opposed to when they were at McCorristin; but the mutual respect remained.
"Steve had a wealth of knowledge to share when making decisions that affected the athletic department," Webber said. "He organized our first football game under the lights. He would always offer to help me in any way he could to better Steinert."
When Gazdek retired, it was fitting that the final athletic event he oversaw was the Steinert-Hamilton Thanksgiving football game. It featured the two schools he worked for doing battle in his favorite sport.
"Steve Gazdek lived a life giving back to the game of football," Hartbauer said. "Gaz was instrumental in starting the summer seven-on-seven league in the early 1990s at the old McCorristin field. He also took the lead in starting the Mercer County All-Star game (the Sunshine Classic). He created the Hamilton West Hall of Fame and was extremely active in the Delaware Valley Football Chapter."
Hamilton supported Hartbauer's notion, assuring that "Gaz was a football guy. He loved to not only play, but watch the game. No matter if he was watching, coaching, scouting or charting, he always took something away to use for his players. He was 100 percent in every game, no matter the score. He did his homework and expected as much from his players. He would give them the shirt off his back."
The same could be said for Gaz's family. He leaves behind wife Kathy, daughter Kimberly Kinder and her new husband Christopher, and son Steven. Kim would attend countless Hamilton athletic events and McWilliam said "Our students loved her and so many of our kids became like brothers and sisters to her."
Gaz would bring Steven, an Albright College lacrosse player, to numerous Steinert games and was quick to introduce him to anyone who walked by.
"He was extremely proud of his kids," Hoglen said. "He took so much joy in raising Kimberly and Steven with Kathy. The joy that he had as a husband, father, coach, or athletic director were contagious to all that came in contact with him."
Hartbauer added that "Steve was a great family man. His love for his wife and children could be seen on a daily basis."
That love was returned, as Webber noticed the pride young Steven had in his dad when he came to Steinert events.
"His son admired his father in so many ways," Webber noted.
And of course, there was his wife of 31 years, who has helped save lives as an emergency room nurse.
"I'll never forget meeting his future wife Kathy after a Friday night McCorristin game," Hamilton said. "You knew she was a keeper – she would drive down every weekend to watch Steve coach."
Kathy's eagerness to aid people in poor health meshed perfectly with her husband's, who beat the Big C and then fought it.
"He was such a hero in dealing with cancer," McWilliam said. "He became involved with Gary Bushelli in starting the donations to the V foundation and the American Cancer Society during the start of each high school basketball season."
Gazdek had many positive qualities to discuss, but perhaps the most recognized was his ability to stand up to life's challenges in a distinguished manner.
Webber recalled a day Steve underwent a medical procedure and then had Kathy drive him to work to tend to a duty. The principal was so touched he immediately hugged a puzzled Gazdek, who was unaware of his boss's respect for him.
"Steve Gazdek is synonymous with the words courage, class, strong character and perseverance," Webber said. "I often attempted to tell him to go home if I thought he didn't feel well. He never would accept my directive."
Steve was finally set to receive his kidney transplant after a long wait; but it was canceled in late January due to a lung infection. A lesser man would whine to the world; but Gaz took it in stride; as always.
Soon after, he was gone.
"Many people didn't know that Gaz battled a lot of different health issues throughout his life," Hartbauer said. "The reason no one knew was because he never once complained about anything. He showed up every day and gave everything he had for others. The adversity this man faced was met with his internal competitiveness. His approach to life was that if the whistle hasn't blown, keep going."
Sadly, the whistle finally blew on Gaz. But as so many memories come pouring forth, it's obvious the crowd still cheers for him.