The Hamilton Township Board of Education building at 90 Park Ave. has a new name.
On Oct. 27, during a special meeting, the current Board of Education passed a resolution renaming the building the James E. Stevenson Board of Education Building in honor of Hamilton's first Black elected official and board of education member. Stevenson was first elected to the school board in 1976, and won re-election in 1979 and 1983, serving a total of ten years on the board.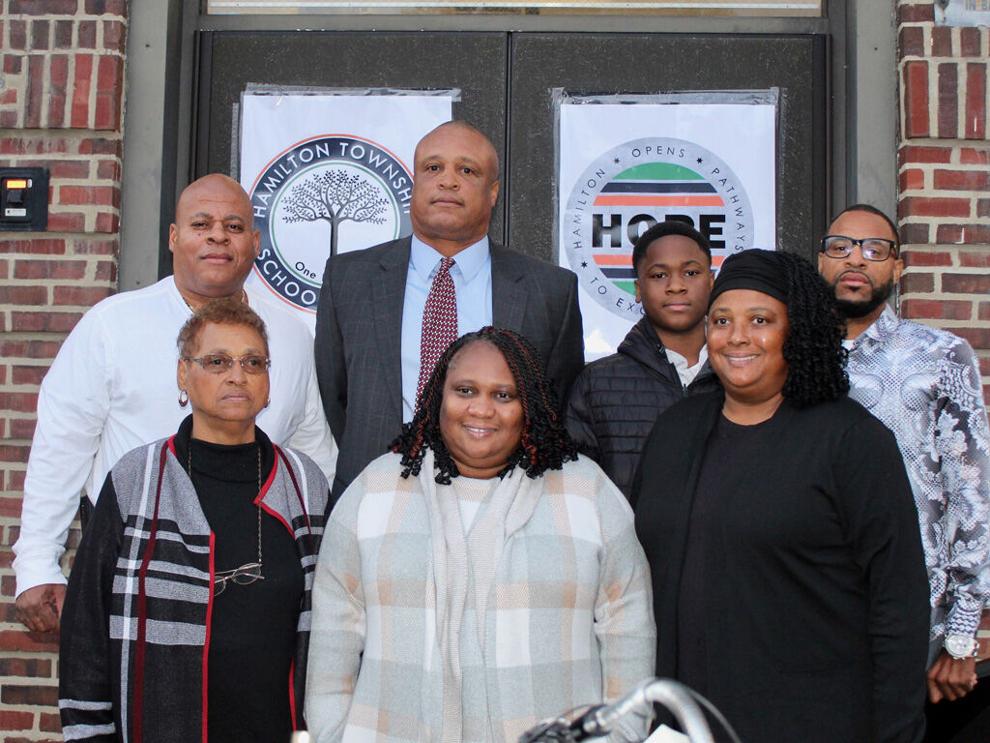 Stevenson died earlier this year after a long illness. He was 83 years old. His family, including his wife Jacqueline, and his four children, Troy, Jacqueline, Anthony (Tony) and Rochelle (Shelley) were in attendance, as were other relatives and many friends.
Others in attendance to watch the historic moment included local dignitaries such as Hamilton Mayor Jeff Martin, Mercer County Executive Brian Hughes, Sen. Linda Greenstein, Assemblyman Daniel Benson, members of the Hamilton Township Council and district personnel. The ceremony was held outdoors at the east end of the building.
Scott Rocco, superintendent of schools, told those gathered: "In our lives we count ourselves lucky if we have an opportunity to connect with someone who is a positive influence, an inspiration or a life changer for us. For so many in Hamilton Township, Mr. James Stevenson was that person."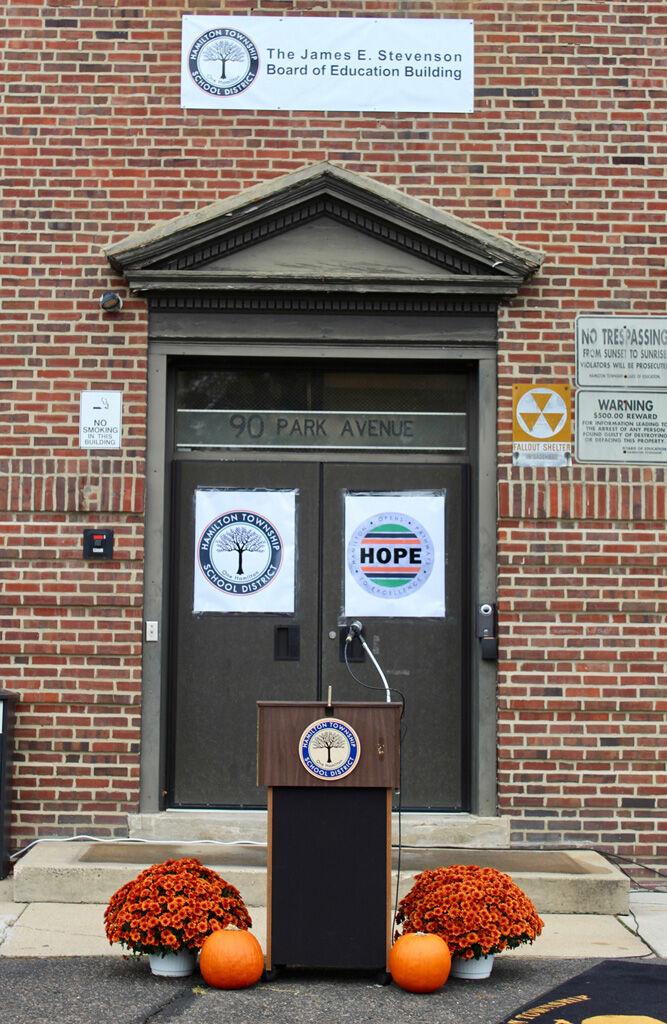 Stevenson was known throughout the community as a devoted family man who always had time to nurture students, teachers and even budding politicians. Quite often, those counseling sessions happened on the front porch of his Berg Street home. He was a big believer in education.
Stevenson's daughter Shelley said when she brought her friends home, she would plead with her dad not to interrogate them. But, she said, he always asked: What are you interested in? What do you want to do? What are your plans?
Troy Stevenson, Stevenson's eldest son who has also served on the school board, remembered how his father established a basketball team for the kids left out of local organized sports because of their race. With no funds or sponsorships, but experience in professional sports, Stevenson led his basketball team who called themselves "The Stevensons."
Stevenson attended Shaw University in Raleigh, North Carolina on football and baseball scholarships. In 1959, he was recognized by the American Baseball League and he was signed to play professional baseball in the Negro Baseball League with the "Indianapolis Clowns." He was also the Assistant Basketball Coach of "The Flames" who played in the Atlantic Basketball Conference.
A temporary banner adorns the building at the moment, but a permanent installment will be coming soon.
Rocco said the naming of the building was not an end to a life story, but a continuation of a life well lived.
"This day and this moment solidify Mr. Stevenson's legacy in our community. But it does not end at the conclusion of this ceremony. Just as those in the community would travel to his home for advice and inspiration... forever forward the same will happen with current and future Hamilton Township School District employees and members of our school community when they enter these doors to the James E. Stevenson Board of Education Building. This building and his name will be forever connected to bring positive change and inspiration to future generations."