When the the clock struck 12, it had the opposite effect on Rylee Michalak than it did on Cinderella. Her gown did not revert to rags, but a red and white Cougars uniform; and her carriage did not turn into a pumpkin, but a jet airliner to Texas.
By the end of the weekend, University of Houston head coach Kristin Vesely placed a red softball slipper on her foot. It fit perfectly, meaning Michalak would be part of the UH kingdom beginning in 2024.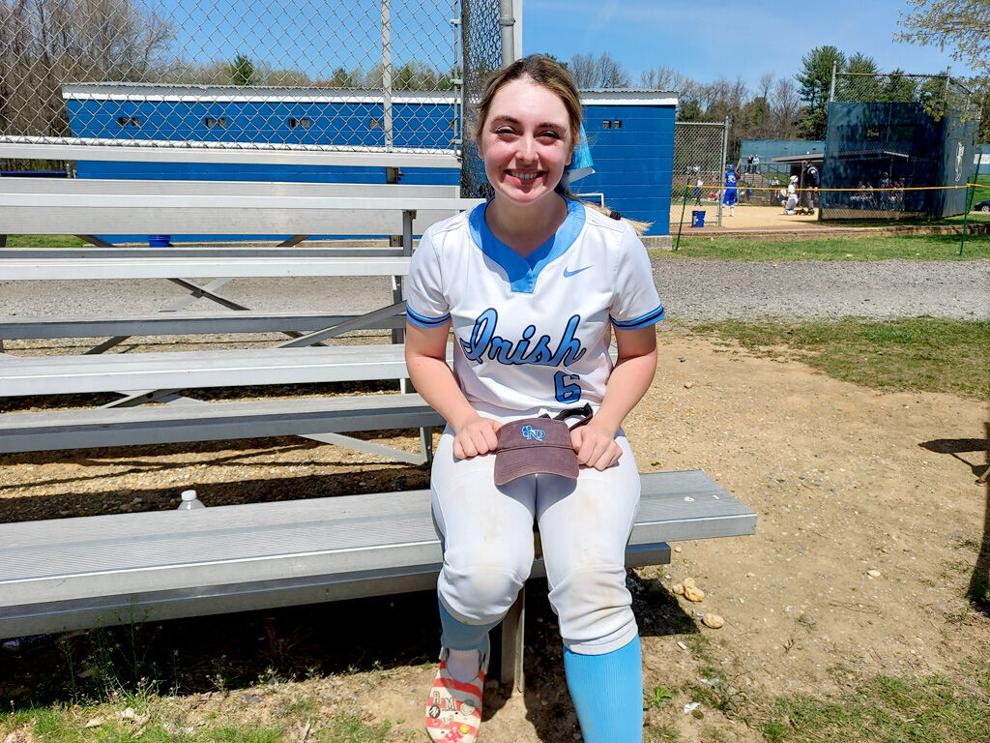 And that clock striking 12 thing is no fairy tale. When the official recruiting date for high school juniors began on Sep. 1, Houston had its phone locked and loaded at 11:59 p.m. Aug. 31, 2022.
"They were the first text I received, right at midnight," the Notre Dame High junior pitcher said. "It was their pitching coach, Lacey Waldrop, saying she was looking forward to getting to know me and talking to me more."
An on-campus visit was set up for Sept. 16. After a whirlwind weekend of tours, uniform photos, meetings with coaches and fellow recruits and a zoom meeting with her mom (who couldn't make the trip), Michalak committed. She had made one previous visit to Indiana and also had trips to Penn State, Iowa, Northern Illinois and Lehigh set up, but it didn't matter.
"I felt so at home there with the players, and the other girls on the visit, who also ended up committing," Mihalak said. "The coaches were amazing people; so easy to talk to. I didn't need to see other schools."
Thus, the Hamilton product will be playing high-profile softball in the Big 12 Conference which is where Houston is headed. It's pretty much what was expected of her when she first toed the rubber for ND as a freshman. Due to her famed exploits in travel ball as a middle school pitcher, Michalak had an incredible amount of pressure upon entering high school.
And man, has she responded, getting better each year. Through Notre Dame's 10-0 start this season, Michalak was 7-0 with a 0.18 ERA and 71 strikeouts in 38 innings. She had allowed one earned run and four overall, and had yielded just 20 hits and five walks.
As of Apr. 21 Rylee's career record stood at 33-6 with a 1.35 ERA and 405 strikeouts in 248 innings. Not one to let drama build, Michalak knew she needed four strikeouts against Robbinsville to reach 400 on Apr. 20, and she fanned the first four Ravens she faced.
"It felt so good," she said afterward. "Even during the day I was like 'All right, big game, I'm close.' So I'm glad I was able to get it done right away."
It's not surprising. For a young player, Michalak has a defense mechanism against tight situation that she began cultivating in ninth grade when some of the nation's most recognizable coaches were attending her games.
"It was so surreal," the flame-thrower said. "Especially my freshman year. We were playing one of the top teams in the country and Patty Gasso from Oklahoma was there recruiting girls from that team. I was like 'I'm pitching this game and she's here watching!' It was just crazy."
Not long after, they were coming to watch Michalak, and she knew how to adapt.
"I started to realize I'm still playing this game for myself and my team," she said. "So I just take a deep breath and realize I'm gonna find my home no matter what, so it's really not all about the coaches anymore. It's just me doing me, and they're going to find me just doing that."
Mihalak began playing t-ball at age 4 and was on the Hamilton Girls Softball Association 8U team at age 6. She was playing every position on the field and when the team needed a pitcher her response was 'It's worth a shot. I'll try it out."
The joy of pitching immediately grabbed the right-hander and she began to pursue it. After playing for the Central Jersey A's Michalak upgraded to the Jersey Flames and became their main pitcher at age 11.
"That's when it really hit me that if I kept with it, I could have a really big future with it," she said.
Rylee joined the New Jersey Intensity during her 14U season and is still with the acclaimed program, which once featured her future college pitching coach, Waldrop.
"I absolutely love it there," Michalak said. "They are the reason I've been able to play on such a big stage and I'm so grateful for the coaches."
Rylee also played two years for the 16U National team, whose coach, Brittany O'Donnell, is a former Notre Dame University and Red Bank Catholic star. O'Donnell has been Michalak's private pitching coach the past four years.
"She's done so much to help me with my movement and my control," the hurler and student of the game said. "Before her I was with another great pitching coach and she did so much for me fundamentally and just getting the mechanics down. But when I made that switch to coach Brit I was able to start working on gaining speed because she does a Power Hour for us. She helped me work tunnelling and controlling my pitches for different counts. I think that my control has just made so much improvement being with her."
Rylee now possesses a fastball, change-up, drop curve, curve, screwball and rise ball. She'll use the curve, screw, rise and change-up predominantly, and mix in the drop curve when ahead in the count. Michalak is confident in them all but noted it's an ongoing process.
"One day everything is there," she said. "The next day it's like "This isn't as good.' That's all part of it. I really learn to work with what I have at the moment, which is a great thing. It's all just coming with experience."
* * *
Michalak's first high school experience was a dream match-up, as she was pitching against the defending Group IV state champion Hightstown. The Rams won it in 2019, and there was no season in 2020 due to Covid, but numerous members of the championship team were still on the roster.
Michalak overcame some nerves and six walks to pitch ND to a 4-3 victory, marked by her 12 strikeouts. It was the first of 23 double-digit strikeout efforts through her first 39 games. She went 13-2 that year with a 1.62 ERA and her high school legacy had begun.
"She's got a great attitude," said former ND coach Marty Schafer, who stepped down after last season. "She brought it from day one. She stepped out there and the very first day of practice she established herself. She stood right in front of everybody and took over. She announced her presence and from day one it's been that.
"Everything as advertised came true — winner, phenomenal player. Most of all a better kid than she is a player. She is without a doubt one of the most special kids I ever coached in my life."
Michalak remembered back to that first year and admitted some tenseness.
"We had such a great freshman class (now a great junior class) and I definitely felt pressure coming in and taking the mound the first game," she recalled. "Right off the bat, I was thrown into it.
"It was an adjustment getting used to a different kind of play and all of that was a learning curve for me. But I think it had to happen because I think we're set to have a phenomenal next two years. There was definitely pressure, but it was great."
Schafer coached travel ball against Michalak when she was in middle school, and recalled her being fairly emotional.
"She's still emotional, which she thrives on," he said. "She gets into that circle and the presence just becomes bigger and everybody else feels that. She's grown so much on that mound and I think it's because of how she's grown as a person at Notre Dame. She's an ultra competitor, they all feel it and they thrive off of her."
* * *
Michalak's lone disappointment to date was last year's Mercer County Tournament championship game against Steinert, which the Spartans won, 13-1. Since Steinert is where Michalak would have gone for public school, the loss drew added negative attention.
Showing the kind of person and teammate she is, Michalak shouldered all the blame despite some shoddy play behind her.
"I was so in my head that game," she said. "There were some errors and I got even more in my head. We felt there were questionable calls and you combine that with the team we're playing.
"I need to stop doing this. But I always put extra pressure on myself when we're playing Steinert just because that's where I would have been. I've grown up with all these girls so I always put a little extra pressure, even (opening day this year, which Michalak won 3-2) I had a little extra pressure. I was putting too much on myself to do it alone when I had my whole team there. I think if I took a deep breath and stayed a little more calm and gotten out of my head it would have been a different game last year. It was very humbling."
Schafer scoffed at all that.
"I don't think that was the case," he said. "I think it had a lot to do with myself, what we didn't do and what Jen (Melker) and Steinert did. It wasn't on Riley at all. Riley is a competitor. She'll fire back. You saw what happened in the rematch this year."
Michalak actually knew Melker from attending Crockett Middle School, and admitted it was tough to tell the Spartan coach she was headed elsewhere.
"Yeah a little bit; I kind of just made my exit quietly," she said with a laugh. "Then it was like 'Hey where's Riley?' 'Oh she's at Notre Dame.' But there are no hard feelings. I have so much respect for that team. I love playing them. It's fun, it really is."
Almost as much fun as learning you are being invited to the Houston Cougars Ball at the stroke of midnight.