Students at Rider University now have the perfect on-campus opportunity to learn what it's like to run a business.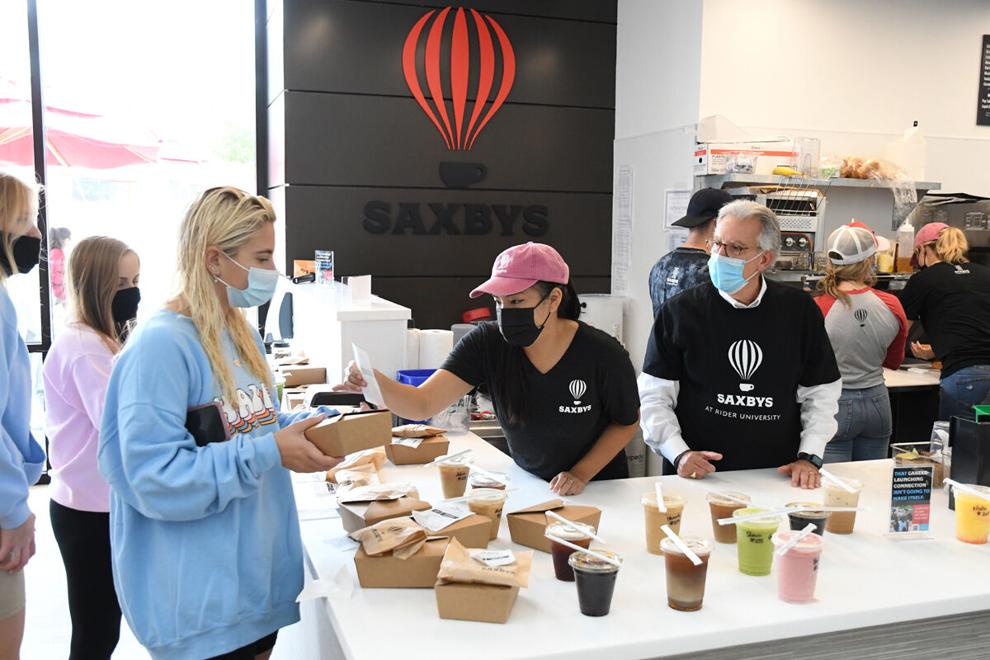 The university and Saxbys Coffee celebrated the opening of a new Saxbys café on Oct. 4. Philadelphia-based Saxbys owns or licenses 20 cafés, 17 of which are "experiential learning platform cafés" on college campuses, including Rider, Rowan University, Temple University, Drexel University and Penn State.
Each semester, Saxbys employs a student café executive officer, or CEO, to manage all aspects of the café. The Rider Saxbys first student CEO is Anna Corelli, a 2018 graduate of Hopewell Valley Central High School. Corelli is a senior with a double major of management leadership and human resources management.
All café employees are Rider students who report to Corelli. The café serves drinks such as coffee, tea and smoothies, as well as snacks like grilled cheese, burritos and bagels.
"It gives the students the chance to run their own business while not being micromanaged by anybody," Corelli says. "I always said I wanted to manage or run my own business."
Corelli is set to serve as student CEO for six months. During that time, she will have a full-time team reporting to her — 45 team members filling orders, scheduling shifts, producing profit and loss statements — everything a business manager would do.
At the end of Corelli's term, she will be asked to do a presentation for Saxbys HQ. For all of this, Corelli receives credit as well as a full-time salary. Her student staff members earn wages for their work. The starting salary is $12 an hour.
While Corelli says she appreciates that her bosses are fairly hands off, she also says that they are always available to her for consultation.
"I am a brand new cafe. I check in pretty much every day with my boss because I want to make sure I do everything correctly," she says. "With all the student CEOs, they make sure you feel comfortable with everything you're doing. They don't micromanage you, it's more like, 'Are you OK, is there anything you need help with?'"
She says her main focus as SCEO is making sure that everyone on her team feels confident and comfortabledoing their job. "I've got a great group of students my age and younger who really love coming to work every day. I want to make sure work is fun and exciting for everyone and not a job you hate coming to every day," she says.
Restaurant management might be in her blood. Her dad, Jeffrey Corelli, has been general manager of a number of area restaurants, including Teresa's and Mediterra in Princeton.
"I used to go with him on Bring Your Child to Work Day, and I always loved watching him work," she says.
She is set to graduate in spring, and says she does not have any post-college plans. "I'm just trying to figure out what line of management I want to go into," she says.
Corelli will have the position through the end of December. Then a new student CEO will take over for the spring semester. The café is located in Sweigart Hall.
"My friends and other guests who come to the café say it's something different that the campus doesn't have yet," Corelli says. "Yes we have Starbucks, but the way we make our coffee the way we make our coffees and teas, it just tastes different."