They are listed as the Hopewell Valley Central High School boys swim team, and the HVCHS girls swim team.
But as far as the coaches and athletes are concerned, they are just one big Bulldog team.
Boys' coach Dennis Atkinson and girls' coach Lauren Ashman are quick to note that when one provides a comment on the team, they are speaking for both. Senior captain Ava D'Alessandro says the bond between the boys and girls has been a lifetime in the making, and was integral to their success this season.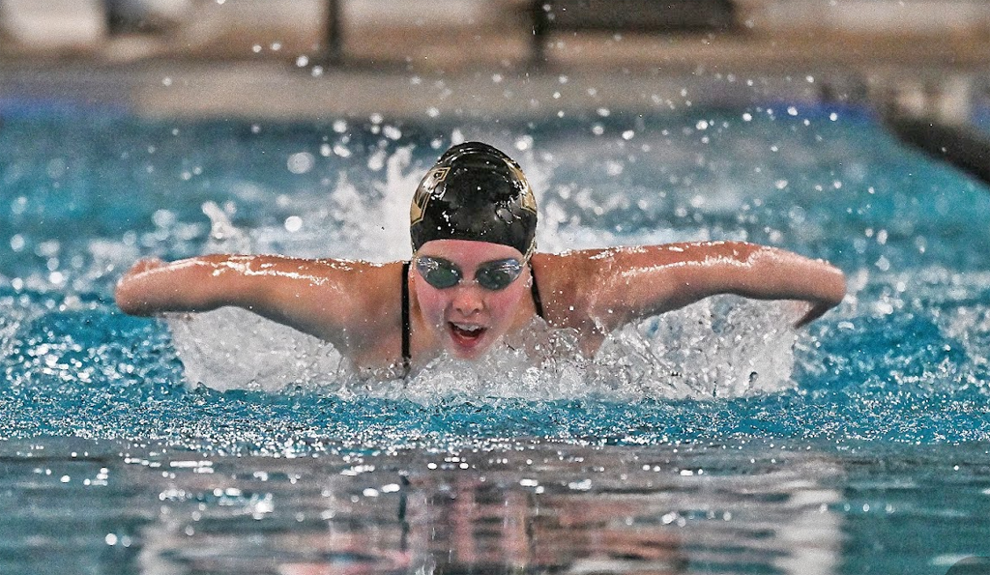 "Most of us have been swimming with each other for years," D'Alessandro said. "We all have the shared drive to be successful and a love for swimming. This bond helped us lead the team in unison. We all were on the same page. We wanted success.
"The bond helped us tremendously in competition. We were able to create an environment that was positive, supportive, and fun. We made sure to have a team group chat and send out motivational texts before meets. This helped get other underclassmen to chime in and eventually our supportiveness for one another just flourished.
"Meets became increasingly loud throughout the season and more swimmers were supporting each other behind the block. We found success quickly and it motivated all of us to work hard and be there for each other. I hope this environment that we established stays for seasons to come."
The end result of that chemistry produced the best combined season in 18 years for the Bulldogs. The boys went 8-6 and 5-0 in the Colonial Valley Conference Valley Division. The girls were 8-4 and 4-0 in the Valley (Ewing did not have a girls team). It marked the first time since 2005 that both teams won CVC championships in the same season, although Atkinson says that winning titles were just byproducts of performing well.
"This group of athletes was really focused on improving in the water while showing support for one another during both practices and meets," he said. "The division title wasn't discussed much throughout the season until the goal was in reach."
Adamson was quick to add that "Swimming is a unique sport. Each practice has a specific focus as well as each meet has a specific focus. We try not to look too far ahead, but keep our goals in the back of our minds. We set high expectations for our athletes whether we win the Valley Division or not. Each season brings different challenges and goals that are discussed early on in the season as well as throughout the year."
Leading the way this year were that tight group of seniors, which has had to endure some hardships over their four years, including changing practice facilities and times due to pool issues (HVCHS has no pool) and a season of just virtual meets due to Covid 19. When they did practice, it was off campus from 7 to 9 every night.
"They have been extremely influential towards the growth of our program," Atkinson said. "They have made a lasting impact."
The girls' seniors included D'Alessandro and fellow captains Charlotte Kavanaugh and Regan Sherman, along with Kelley Dwyer and Olivia Doherty. The boys seniors were Pavel Sverdlov and captains Alex Helmrich and Armaan Desai.
D'Alessandro, Dwyer and Sherman all reached the Mercer County Championship finals this year and were members of last year's 200 free relay Meet of Champion qualifiers. Helmrich was an MCT finalist in the 100 and 200 freestyles, while Sverdlov and Desai were members of the A relay teams that qualified for MCT finals.
D'Alessandro was sixth in the 50 free at MCTs, and Sherman was sixth in the 500 free. For the boys, Helmrich was third in MCTs in the 100 free, and was also part of the top-six MCT relay teams in the 200 and 400 freestyle. Junior Alex Nicolai and sophomore Tyler Mac were part of both relays, Helmrich was on the 200 free relay and freshman James Damron was on the 400 free relay. Nicolai, who qualified for the Meet of Champions in the 200 free last year, finished third in the 200 free at MCTs this season.
Junior Amelie Bass contributed to the girls' cause in a big way. She has qualified for the 50 free in the Meet of Champions for the second straight year, and holds the school record in that event. At MCTs she finished third in the 50 and fourth in the 100 freestyle. Junior May Hartog was fifth in the 100 back and sixth in the 100 free at the MCT, while the girls 200 free relay was second with D'Alessandro, Dwyer, Bass and freshman Grace Kunkel.
It started as a tight-knit group that grew even tighter as time went on.
"Our connection was pretty strong right away," D'Alessandro said. "I swam with Alex Helmrich, Armaan Desai, and Charlotte Kavanaugh over the summer at Hopewell Valley Golf. I also knew Regan Sherman because of club swimming. This special bond between us all was definitely there right away but throughout these four years, there's no doubt it grew even stronger.
"Especially with the seniors who started freshman year, we have been through so much together. We have all been through these challenges together, which strengthened our relationships."
The coaches were quick to point out that several underclassmen were important cogs to this year's success.
"Amelie Bass, Anna Wurtz and May Hertog have been integral members of our team," Atkinson said. "For the boys, juniors AJ Yadamiec (freestyle) and Jonah Corveleyn (distance) are both strong leaders that will step into an important leadership role next season."
They learned their lessons well from this year's seniors, who laid a solid foundation.
"Both team's seniors have helped build a positive and welcoming environment that allows everyone to work hard, improve in the water, and continue to support one another both in and out of the pool," Ashman said. "We've seen our numbers increase over the last three years due to the fact that the culture the seniors have created is such a positive one."
It was only fitting that they went out together as division champs, with the girls winning the Valley for the first time since 2010 and the boys taking it for the first time since 2005.
"The fact that this hasn't been done in over a decade for both teams and we were able to find a way to win means so much," said D'Alessandro, who felt the key to the girls' title was beating Lawrence for the first time in her four years. "All of us have worked so hard and have sacrificed so much time in and out of the pool. I am so happy and so proud that we did it. My freshman self would be blown away."
Ava felt the teams were undaunted despite losing their opening meets in the NJSIAA Central Group C tournament. The boys lost a heart-breaking 86-84 decision to Rumson-Fair Haven and the girls fell to Shore, 95-75.
"I would absolutely still consider this a successful season," she said. "Advancing in states would have just been the cherry on top for this whole season. Not only did we win the division, but I think the seniors greatly shifted the environment on this team."
It was an environment that D'Alessandro felt needed to improve.
"From freshman to junior year, it wasn't always positive," she said. "Before the season even began I went with other seniors to meet with our coaches to talk about what we wanted to bring to the team. It was important to us that every member of the team knew they were important. You don't have to be the fastest to make an impact. We wanted to emphasize this and that is how we beat Lawrence.
"This season was so successful because it was the first season I felt like we truly became a family. I think in creating this we were able to win the division and also leave a long-lasting love for swimming and each other."