In 1968, as he campaigned across the country for the job of U.S. President, then U.S. Senator Robert F. Kennedy would often say, "Some men see things as they are and say, why; I dream things that never were and say, why not." Kennedy never got to put his "why not" into action, but he certainly inspired others to try.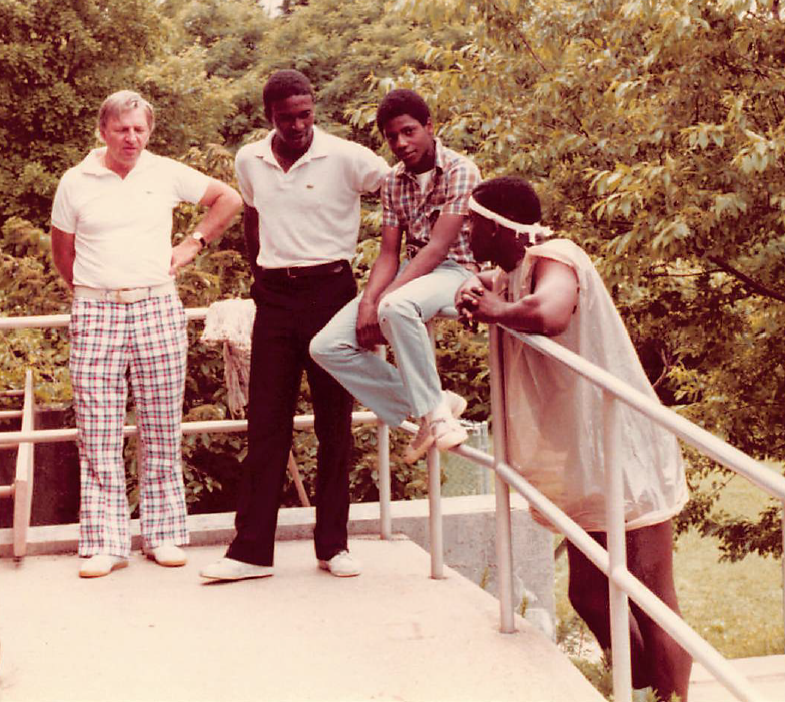 At the time of Kennedy's death in 1968, Professor Stephen P. Hritz was 41-years-old; and his "why not" was focused on teaching and learning for all students. But Hritz's "why not" didn't just hang in the air as "why nots" so often do. Instead, fifty years ago, his "why not" became a school for children needing different kinds of learning experiences. And this year, The Titusville Academy is celebrating the lasting vision of its founder.
In order to truly understand the significance of the 50th Anniversary of The Titusville Academy, located in Hopewell Township, one needs to recall (or learn) the educational landscape of 1971, the year Stephen P. Hritz opened the Princeton School for Exceptional Children, which ultimately became The Titusville Academy. PSEC was first hosted on the grounds of the Unitarian Universalist Congregation of Princeton.
According to the U.S. Department of Education, "In 1970, U.S. schools educated only one in five children with disabilities, and many states had laws excluding certain students, including children who were deaf, blind, emotionally disturbed, or had an intellectual disability." At the time, Hritz was heavily into a career which was dedicated to those students who fell to the ends of the educational bell curve.
According to his obituary, Hritz was well prepared for the task. He held a B.S. in education from Temple University, he earned his M.A. in education from New York University, and his Ph.D. in special education from Walden University. He did additional studies in education at Rutgers University, and special education at the Teachers College at Columbia University.
Hritz served as director of education at the Drake School at the New Jersey Neuro-Psychiatric Institute in Princeton and as associate professor and chair of the special education department at Trenton State College (now The College of New Jersey).
What Hritz and many others didn't see coming at the time, however, was an explosive report by a local WABCNews reporter about the conditions at Willowbrook State School located on Staten Island. The reporter was Geraldo Rivera and his documentary, "Willowbrook: The Last Great Disgrace" aired on WABC on Jan. 6, 1972. Americans learned of overcrowded conditions at the facility which was built to hold 4,000 children, but had a census of 6,000. There were stories of abuse and neglect of disabled children. It was a clarion call that America had to do better by children who were born with disabilities.
On Nov. 29, 1975, Congress passed, and President Gerald Ford signed, Public Law 94-142 known as the Education for All Handicapped Children Act, which when renewed in 1990 became known as the Individuals with Disabilities Education Act, or IDEA. The transformation of special education has been profound as evidenced by numbers from the U.S. Department of Education. Since the passage of the 1975 law, "the U.S. has progressed from excluding nearly 1.8 million children with disabilities from public schools prior to EHA implementation to providing more than 7.5 million children with disabilities with special education and related services designed to meet their individual needs in the 2018-19 school year."
And in the midst of all of this, the enrollment at the Princeton School for Exceptional Children (PSEC) quickly grew from one student to fifty.
By 1988, PSEC needed more room and the Titusville School, built in 1905 and owned by the Hopewell Valley Regional school district, was decommissioned by the district's Board of Education and sold. It became the perfect home for the Princeton School for Exceptional Children, which would have its name changed to The Titusville Academy.
Deborah Zerbib, the executive director of The Titusville Academy, is also Hritz's daughter. She says her Dad was moved to open the school by his education students — teachers who returned to his classes at The College of New Jersey with observations and questions.
"He would have a lot of his former students return to do graduate work," said Zerbib during a phone interview. She said Hritz's students "would complain about Ivory Tower teachings versus the reality of working in the classroom with kids who had challenges," she said. And so Hritz decided to open his own school to model what could be done with children who needed different approaches to learning.
"Education was sacred for my Dad," noted Zerbib. "Not only for kids who were struggling, but his own children too," she added.
"He had high expectations and believed all students were capable of learning." Zerbib said her father believed that "we all learn in different ways and we should all have the opportunity to learn in a safe, nurturing environment."
While Zerbib officially joined the school's payroll in 1981 as a teaching assistant, after graduating college, she really got to work as a preteen when all the school supplies arrived at the Hritz house. Her mother worked as the school's bookkeeper. Zerbib had to inventory the supplies. "I was learning purchasing as an adolescent," she said.
Fifty years out, The Titusville Academy currently serves 65 students, mostly from the school districts surrounding the academy. The State of New Jersey has designated The Titusville Academy an Approved Private School for In-State Students with Disabilities.
"Our focus is on students with behavioral differences and intense social emotional needs," said Zerbib. "Profound and prolonged emotional stressors,'' she noted, "interfere with a student's learning. And sometimes those problems are comorbid with learning issues," she added. In order words, a child could have challenges reading in addition to wrestling with emotional issues. California's first Surgeon General, Nadine Burke Harris, MD wrote about those emotional states which are called Adverse Childhood Experiences, or ACES, in her book titled 'The Deepest Well.'
"At Titusville," Zerbib noted, "we like to develop relationships with children and to let them know we are not here to harm them."
Students at the academy come from their home districts, called sending schools, via a referral. "Referred students visit the school, get a tour and get to meet other students," Zerbib said. The academy sits with parents and tries to understand not just the needs of students, but also the needs of the family. Zerbib stressed, "We serve the whole child."
The Titusville Academy is certainly not the oldest private school in New Jersey; that honor belongs to Rutgers Preparatory School which was founded in 1766. So The Titusville Academy is a mere private school adolescent in the mix. And Zerbib, while assessing her own time for retirement ahead, believes the school will continue for another fifty years and beyond.
"It doesn't seem like fifty years, she said. "Each year has its challenges, but they go by so quickly. I have a strong team. We're a non-profit, charitable association. I have staff that have been with me for twenty years. They have grown with the program; they themselves have grown by going to school and earning their own degrees," said Zerbib. She does have a nephew who is a special education teacher in Tennessee, and she said she has talked to him about returning to New Jersey one day to lead the school his grandfather started.
She reflects on her own journey with the school which officially started forty years ago when her Dad offered her that teaching assistant job, and then her mother taught her the business side of the school. ""I am really humbled that I can be a part of this legacy and that my parents had the confidence in me to continue the school for kids who have different needs," said Zerbib.
Her hope for the future of The Titusville Academy?
"As long as my father's legacy continues, which is: Kids first, no matter where they come from and their economic circumstances, they get what they need," Zerbib said, "then I am good."