Notre Dame Athletic Director Rich Roche felt that John McKenna loved God and family first, and Notre Dame High School second.
But when the long-time Hamilton Township resident passed away June 21 at age 67, all of Mercer County athletics wept.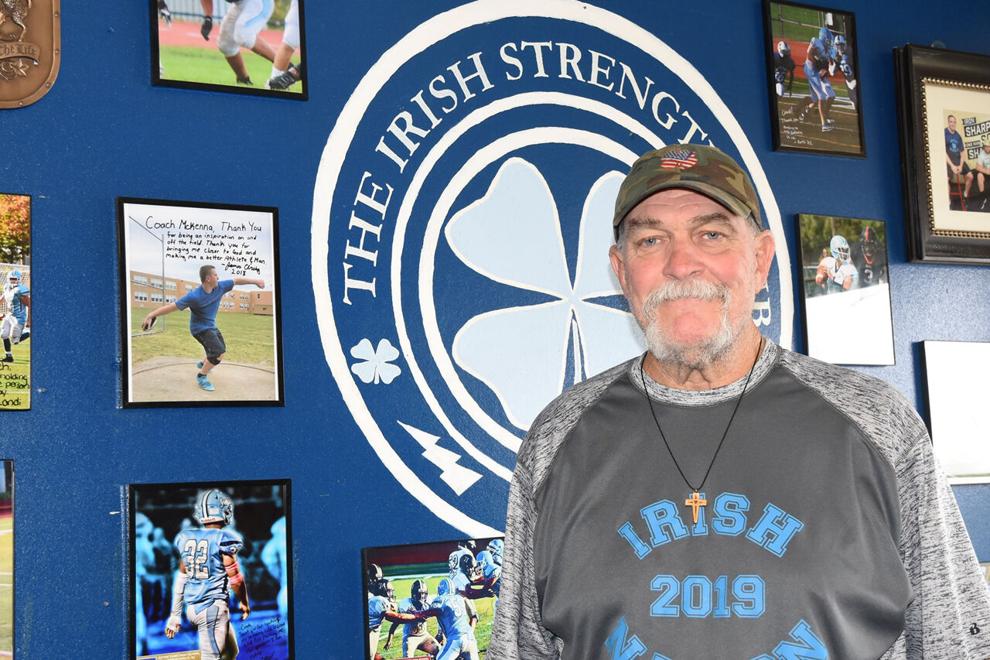 "If you were at his funeral, you saw the representation of Mercer County coaches there," said McKenna's daughter, Lindsey Diamond. "He didn't coach just Notre Dame, he coached the community. You had (Nottingham Athletic Director and close friend) Jon Adams bawling his eyes out. You had Steinert's coach (Dan Caruso) and Allentown's coach (Drew Lachenmayer), and people like that saying, 'Your dad impacted me as a coach.'"
That's only part of what made McKenna, who was simply nicknamed "Coach." His greatest legacy was the influence he had on people as people.
"I would argue that he had a much bigger impact on me as a person, as a young man growing up, kind of finding his way as an athlete," said 2019 ND grad Robbie Buecker, now playing for the Army baseball team at West Point. "Obviously he was an incredible strength coach and football coach; but when you spend that much time with someone, they start to have more of an impact on your life than just getting stronger and being a better athlete.
"He was the guy to talk to if you had an issue. If you needed someone to talk to during the school day, you always knew where you'd find him. He was always at his desk, making workout plans. There was never a moment in the day where you couldn't talk to him. He would always make that time for you. That's what made him such a special guy."
And not just to Notre Dame students.
"Our relationship started as coaches," said former Hamilton West football coach Tom Hoglen, a close friend of McKenna's. "As time went on it became about my relationship with John the man, what he would do for my family, what I would do for his family, and for what he would do for some of my players."
A couple days after McKenna died, former Hornet and Arena Football League player Reggie Paramoure called Hoglen from Florida. "He's one of those kids that John kind of took under his wing. He helped train Reggie and got Reggie to that Division I level (at University of Maine), and Reggie went back and worked for him at Notre Dame. That's how much respect he had for coach McKenna," Hoglen said.
"That's just one kid, there were many kids he helped out over the years. It didn't have to be a Notre Dame kid. He was there to help everybody and make everybody better."
Roche reinforced those thoughts.
"As much time as the kids wanted, he gave them," the AD said. "John wasn't a punch-the-clock and go home guy. Whether it was six in the morning or six at night, chances are you could find John in the weight room. And a lot of times it wasn't lifting weights, it was talking to kids; hearing about their problems and hearing about their successes."
Born in Philadelphia, McKenna was a long-time member of the Falls Township Police Department in Bucks County, Pennsylvania. He and his family moved to Hamilton in 2000, and McKenna coached football at Notre Dame while becoming more famously known as the school's strength and conditioning coach. Noticing that there were 7-on-7 football events for skill players in the summer, McKenna began the CVC Strongman Event for the linemen.
A man of monumental faith, he founded Notre Dame's Catholic Athletes For Christ group in 2013, and eventually became moderator for the entire Dioceses of Trenton's CAC organization. Xavier Lezynski, a 2016 NDHS product who recently graduated from Notre Dame University after walking on to the football team, felt McKenna taught religion with the same verve he instructed weightlifting.
"He was always the same guy, whether he was counting out reps of kettle bell swings or facilitating one of our Catholic Athletes for Christ meetings," Lezynski said. "There was no better title for him than 'Coach' because he was constantly teaching those around him. He taught us the defensive scheme we would use against an opponent the upcoming Friday and in the same breath, he taught us life lessons about refusing to be average."
When Buecker approached McKenna about starting a Bible study group for the football team, McKenna was thrilled.
"Coach McKenna took the most pride in developing his athletes to be champions in life," Lezynski said. "Coach carried out his own life's mission by challenging student-athletes at the highest level in the weight room and forcing us to go out of our comfort zones, while also encouraging those same athletes to attend Catholic Athletes for Christ meetings and Bible study sessions that provided us with opportunities to deepen our spirituality.
"Coach lived by the motto of 'Strong Body plus Strong Mind plus Strong Faith equals Strong Life,' and he truly epitomized it. He worked tirelessly to develop his players to be the best athletes they could possibly be, and conditioned us to be champions on the field. But it didn't stop there."
Buecker was quick to point out that McKenna stressed inclusivity, and that non-Catholic athletes were always welcome to the CAC meetings. The same held true for Bible study, at which a passage would be read before McKenna, ND Chaplin Father Jason Parzynski and several team members would give their thoughts. That was followed by 15 minutes of players talking to each other, perhaps about an upcoming game, the passage itself, or both.
"It began to turn into something you almost didn't want to miss out on because all your brothers were there," Buecker said. "That camaraderie was one of the large parts of why we had a great couple years, because of that culture coach McKenna fostered. Not only in the weight room but with all the spiritual things. He may not have been at practice every day but his impact on the team was far reaching."
As was the impact on his family, which included Charyl, his wife of 46 years, son C.J. and daughters Lindsey, Heather Homa and Kelly Darcey. Hoglen, who has been Diamond's softball assistant since she took the position, can see John's ability to care for other people in Lindsey. That's not by coincidence.
"My dad strived for me to be a better person every single day," Diamond said. "He called me every morning and I finished every day with a conversation about how my day was and how I could have made it better for other people and how I could impact other people. He always said to me 'It's not about me, it's not about you, it's about others. And what did we do today to help others out.'"
McKenna was his daughter's biggest fan. During softball season, Diamond would go straight from practice to the hospital and McKenna's first question would be "How's the team looking?" To which she would reply "Are you kidding me? How's your heart? How's this? How's that?"
Diamond's favorite story came on the day her team defeated defending Group IV state champion Hightstown. McKenna was scheduled for heart surgery that morning and just prior to it, he phoned Lindsey, who said she was "a hot mess" and told her she needed to show the world the team that she had. He promised they would talk later in the day, which Diamond felt was impossible considering what his day entailed.
Sure enough, she got a call that evening.
"He made the ER nurse put the phone to his ear," Diamond said. "It was right when we won the game. He was like 'Did you win? I had a dream you won.' And I told him and he goes 'Aaahhhh yes.' He tried to talk to me and he was a little off, but just hearing his voice I started to bawl and my players were looking at me like I was a crazy person. He wanted to know what all the players did. He knew about the girls off the stories I would tell him."
That's one of countless stories of how McKenna put others before himself. The fact he did it while fighting for his life comes as no surprise to anyone who knew him. His popularity was mirrored by a standing room only memorial service with over 1500 attendees, followed by a funeral procession in which members of the 2019 football team served as pallbearers.
"He just touched so many lives," Hoglen said. "Being at his funeral just showed how much love and respect there was for that guy."
Roche added: "When he came into this thing (at Notre Dame), long before I got here, I'm sure it wasn't his plan, but he morphed over time into kind of a larger than life personae."
Mostly because he wasn't about his own life, but those of others.
"Even though Coach had health issues and certainly had some bad days here and there, he never let you know about it," Lezynski said. "Each day, he brought forth the same determined attitude with an infectious energy that drove people to become better versions of themselves."
"It's not always about winning or losing," Hoglen said. "It's how you treat kids and help kids when they're in need. How many guys leave the house at five in the morning, go do morning workouts with the kids, stay in school all day and train other kids at nighttime. He spent so much time helping other kids get better."
And so often, they came from beyond the walls of Notre Dame.
"That's what made him such a special guy," Buecker said. "It spanned from all the way into Pennsylvania and through New Jersey. He was transcendent, he was just everywhere."
And if there's ever a guy that you would want everywhere, it was John McKenna.