There are times Hamilton West football coach Mike "The Meatball Master" Papero wishes he lived in a cartoon world.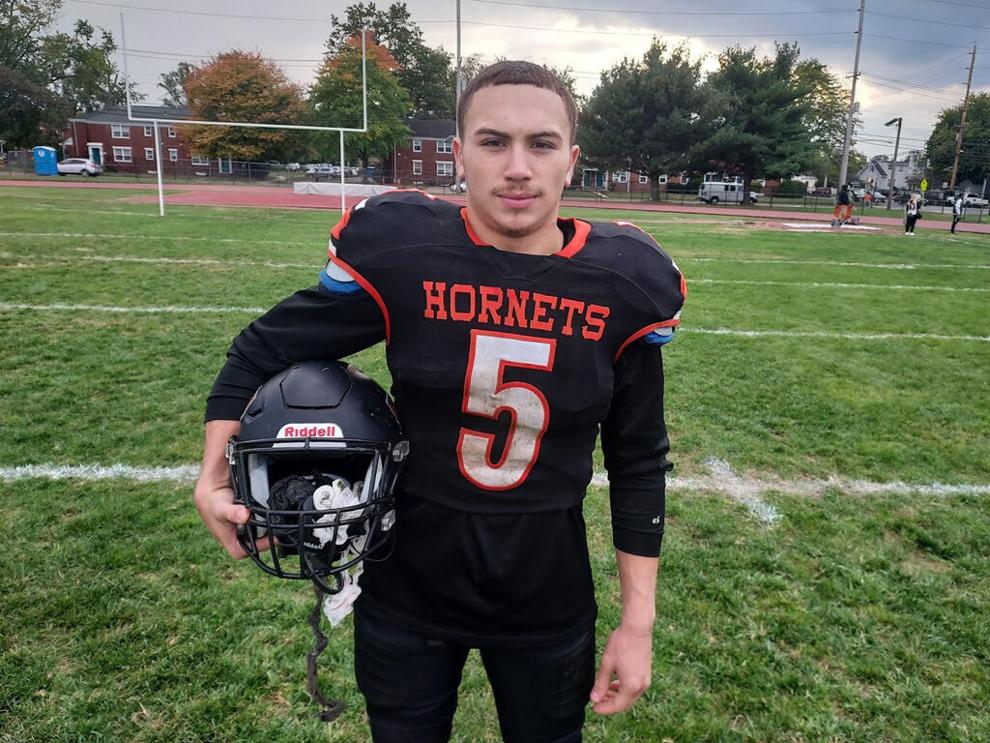 Specifically, a Bugs Bunny cartoon. Old-timers fondly remember the classic episode when Bugs single-handedly went up against the Gashouse Gorillas and won the game. (Those born this century can find it on YouTube or MeTV.)
Papero compares his senior do-it-all player, Andy Figueroa, to the "wascally wabbit," as Elmer Fudd used to call him.
"The last few years, we didn't necessarily need him offensively and we wanted to keep him fresh on defense," the coach said. "But when you lose 22 seniors and you have some holes to fill...he could probably fill all 22 of them.
"He's like that Bugs Bunny cartoon where he pitches, he catches, he hits and he plays the field. Andy is kind of the same way. Sometimes you wish he could hand it to himself and throw it to himself. We wish we had 11 of him playing on defense."
Figueroa has truly become the guy who does it all, and he does at breakneck speed whether on defense or offense. He's a whirling dervish as a running back/receiver, as his legs churn while he twirls and whirls away from would-be tacklers. As a safety, he loves hitting guys as much as defending passes.
"In the locker room, Figs is crazy; on the field Figs is crazy so he brings a lot to the team," receiver/cornerback Maurice Williams said. "He's the captain, we love him. He keeps going and keeps going, never stops. He's the engine."
It's hard to guess where the engine will be running from play to play. Although he's mainly a safety, Figueroa has also played cornerback and at times could be found lined up in the box. Offensively, he is a running back, a slot man and a wide receiver.
"Oh, and he punts too," Papero noted. "And he could play quarterback if we need him. I think that just about covers everything. And he does it all well. He's a good, tough, hard-working kid who just loves being out there."
His love is obvious just from watching him play and listening to him talk about it.
"I have been doing a lot this year," Figueroa said. "I've been playing football all my life, so I enjoy it. Football means a lot to me. I want to play at the next level. When I'm out there, all my cares go away. It's just a football game and whatever happens, happens. But I just go out there and give it my all."
Which he has been doing since he was 4-years-old, first in Hamilton rec, and then with the Hamilton Revolution in Pop Warner. He quarterbacked from ages 8 to 12 and his favorite receiver was Nottingham track star Shamali Whittle.
Figueroa said all he had to do was throw the ball up and "King Mali" would run under it but, in a text message exchange, Whittle gave Andy a little more credit.
"He was an EXTREMELY great quarterback," the Division 1-bound sprinter texted.
Figueroa enjoyed the experience.
"It was fun playing quarterback, I used to throw the ball to my boy Shamali a lot," he said. "After that, I switched to running back a little bit. That was fun for me too. Then I was mostly defense."
As a member of the Hornets freshman team, Figueroa played outside linebacker and a little bit of running back.
"I was mostly a defensive guy," he said. "It was a little bit of an adjustment. But defense is a little easier. I like hitting guys."
The following year, he made varsity and played at cornerback. Figueroa moved to safety during last year's abbreviated season and made 28 tackles.
"There's a lot more pressure at corner," said Figueroa, who's also a stellar wrestler. "I liked playing corner but I like safety better. You're just running around out there smacking people."
His time at running back was limited last year due to record-setting Kevin Boswell being in front of him.
This season, however, Figueroa is never off the field. Heading into Hamilton's NJSIAA consolation game, he had rushed 56 times for 395 yards and two touchdowns, caught 10 passes for 135 yards and a TD, and made 15 tackles with one interception that he returned for a touchdown on defense.
He does all that despite standing below 6-feet tall. And he could even do more if asked.
"He'd probably play offensive and defensive line if we needed him, he's tough enough," Papero said. "He can really play any position on the field. He's taken snaps at quarterback if we need him there.
"He's just a gamer. He's not necessarily the vocal leader type. Most weeks we send out one captain for the coin toss and it's him. He loves being out there, he's physical, he's fast. He knows the game, he's a very natural player. He just has a great feel for whatever position it is that he's playing."
Papero marvels at Figueroa's abilities wherever he is lined up.
"Defensively, he's probably our hardest hitter on the team," the coach said. "He loves filling on the run. He's very aggressive, he flies up in the run game. He's a leader back there. He knows what he's supposed to be doing and what everybody else is supposed to be doing.
"On offense he can hurt teams from anywhere on the field, whether it's in the slot, out wide or from the backfield. Any time he gets the ball in his hands he makes something happen. It's a shame we haven't been having much team success because if we were, he'd be getting more attention."
In a season laden with injuries, Hamilton won just two of its first eight games. It has not been easy after the Hornets went 11-3 during Papero's first two seasons as head coach. But that has not slowed down Figueroa.
"He just keeps doing the right thing every day in practice, every week during the game," Papero said. "He understands we're a very young team and that we've had some health issues this year. He sees that and it's frustrating but it doesn't change his mentality. He comes out having fun every day and he flies around on defense.
"When I say I wish I had 11 of him, it's not just because he's a good player. It's fun to be around him. We feel lucky as coaches just to watch him play. A one-hand catch for him is normal. We've gotten so used to it in practice that when it happens, it's like it's not a big deal because it happens so much."
Figueroa is hoping to play in college. Papero said he has gotten some interest but noted it's still a little early for Division III schools to come around. For now, Figueroa is focused on the Thanksgiving game with Steinert and enjoying his final high school days on the gridiron.
"I'm still just going out there and having fun right now," he said. "I want to go out with a bang."