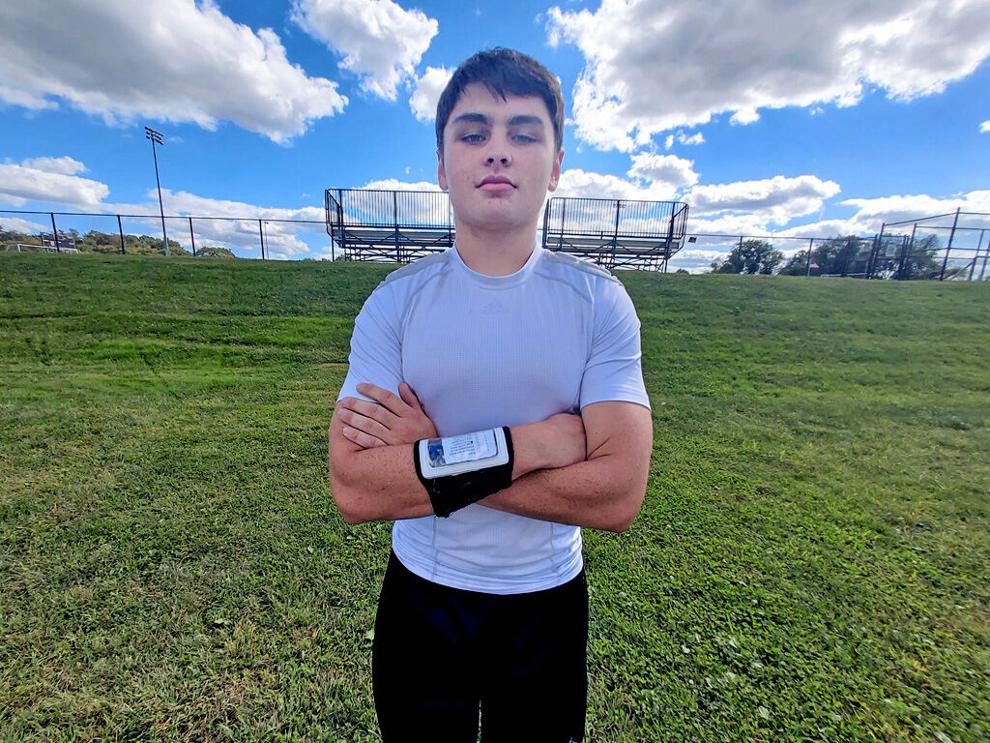 At 5-foot-8, 175 pounds, Mike Poinsett is often faced with much larger ball carriers barreling in his direction.
His plan of attack is direct and logical.
"Nobody can run without their legs," the Bordentown High linebacker said. "If I'm tackling a big guy, I just go for the legs."
If it's a bigger blocker getting in Poinsett's way, he opts for quickness over power.
"I know I can use my speed and my moves to get off the block to get the tackle," he said.
It is that kind of attitude that prompts Scotties football coach Skip Edwards to say "He is the backbone of our defense and doesn't get the credit he deserves."
"Mike is basically the quarterback of our defense," Edwards continued. "He just puts it all out on the field. The kids respect him, they like what he is, who is and how he is. You can't ask for a better leader. Even though he's not one of our captains he is a leader on the team."
Only a junior, Poinsett is already a grizzled veteran. In a winless 2019 season, when Edwards played a lot of freshman, Mike played special teams and saw some time at inside linebacker. He became the starting Mike linebacker as a sophomore and had a team-high 81 tackles as the Scotties improved to 5-3.
Through this year's 2-1 start, Poinsett had 21 tackles, five for loss, and one sack. He is also the starting fullback and pretty much never comes off the field.
"He has the bulldog mentality, the old school mentality," Edwards said. "He comes ready to play. You strap it on and you're playing 48 minutes. He likes contact, he loves to initiate contact. Against Palmyra we put him on the kickoff team because we needed somebody out there and he went down and made a big hit on our kickoff."
Contact is what makes Poinsett tick. He is a true student of the game, but it is the joy of hitting other people that has had him playing since age 4.
"Football is all I remember," he said. "I don't remember a time where I wasn't playing football or watching it. I always loved football. I remember the Eagles being on every Sunday. I always liked the contact. That was the best part."
Poinsett played for Bordentown's travel team in the West Jersey Football League and was predominantly a linebacker except for some brief time at defensive end. One of his fondest memories came when he was on the age 11-12, 115-pound team, which went undefeated.
"Our last game of the regular season we played another team that was undefeated and we beat them in overtime," he recalled. "That was great."
Upon arriving at Bordentown, Poinsett quickly discovered that playing good football meant more than just going mano y mano.
"I learned a ton my freshman year," he said. "In the youth league I just watched the ball. Wherever the ball went, I went. But once I got to high school it was all about reading the offensive line. I had to read blocks, there were a bunch of different keys I had to learn about.
"A lot changed from youth ball to high school. There's a lot more to think about and I learned a lot. It was definitely confusing but toward the end of last year I was getting the hang of it."
Mike was also entering a world in which the guys he was trying to bring down had a bit more strength than himself.
"My last year on youth league I was one of the bigger kids," he said. "As soon as I got to freshman year in high school I was one of the smallest on the team. It really changed. But physically, I was still able to hold up against the big guys. It was more physical but I could handle it."
He handled it to an extent, but Poinsett knew he had to increase his strength to get better. He began hitting the weight room hard, and can now bench 235 pounds, squat 300 and lift 385.
"After his freshman year he dedicated himself," Edwards said. "He went into the weight room, worked real hard, gained more size. He went to a couple camps before the Covid outbreak took place. He worked hard getting bigger while everybody was home with Covid."
It was Poinsett's answer to people saying he was too small.
"I've always heard it, that hasn't stopped me," he said. "I've always been shorter, smaller in high school than everyone else."
Edwards credits defensive coordinator Rich McGlynn for taking Poinsett's game to the next level, saying "he really worked hard with Mike. He taught Mike a lot about reads as a linebacker, filling as a linebacker and learning the game."
They were lessons that Poinsett took to heart.
"You gotta focus on your reads," he said. "It's easy to start looking in the backfield; and of course in the backfield there's a lot of misdirection teams will do. But if you just read the linemen they'll always show you where the play is going."
It is that kind of attention to the game's intricacies that impresses Edwards.
"I think one of the biggest attributes Mike has, is he recognizes plays," the veteran coach said. "He studies tape, he knows what our scouting report is and how to go about getting prepared for the game. He learns the mental part of it when he's off the field and puts the mental part on the field when it's time to react."
As for the physical aspect of things, Poinsett has everything but height when it comes to drawing attention to recruiters. But that's not discouraging him by any means.
"I really want to play in college," he said. "I do think about (my size) but there's nothing I can really do about it so I just have to play to my full potential."
Edwards isn't just looking to see Poinsett in college, he wants to see him at the highest plateau.
"He has good quickness, and we're trying to get him up to a D-I level," Edwards said. "He needs to get a little more size and height, but that's his body, that's not something we can do. I just know he has the ability to become a very good football player. One of the better football players in Burlington County."
Bordentown Regional High School football upcoming schedule:
Oct. 16: at Riverside, 1:30 p.m.
Oct. 22: at Pitman, 7 p.m.
Nov. 25: vs. New Egypt, 10 a.m.