When a school like Mercer County Community College — a shining star on the sports map of junior colleges —establishes an athletic hall of fame, it's a lock that the first class will include nothing but icons.
Thus, it speaks volumes about Hamilton's rich athletic tradition that four of the 15 individual inductees were produced by the township, and one of the three teams inducted was coached by a Steinert graduate.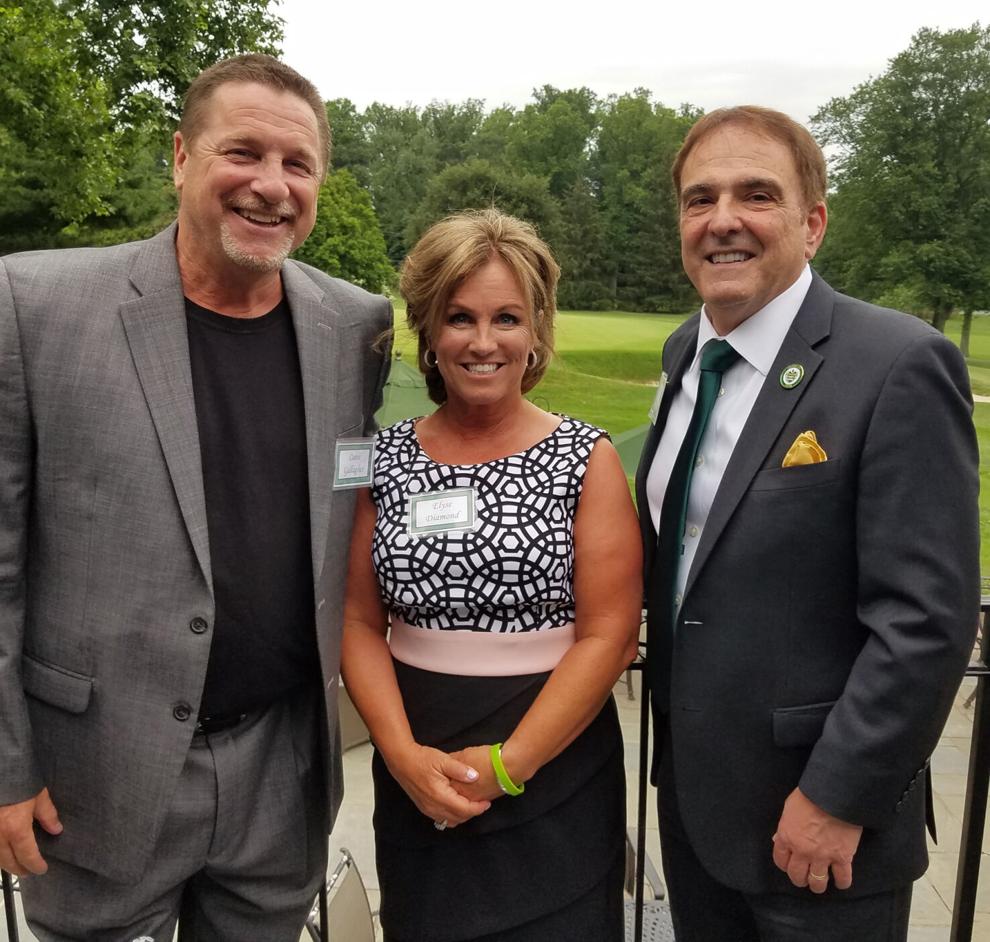 The inaugural event took place at Trenton Country Club on June 12 and drew a sellout crowd to honor a Who's Who of athletic greatness. Included were such names as the late Howie Landa, a three-time National Basketball Coach of the Year who won two national titles with fellow inductees Connie White and Mel Weldon.
There was Terry Dorner, who became an All-America at Rutgers, and Heath Fillmyer, who pitched for the Royals.
And then there was the Hamilton quartet: former Steinert baseball great Dave Gallagher; MCCC three-letterwinners Joanne Zola-Harrison from McCorristin (now Trenton Catholic) and Elyse Diamond from Hamilton West; and five-time national championship-winning soccer coach Charlie Inverso from Notre Dame.
For good measure, Steinert grad Mark Vecchiolla coached the inducted 1999 women's tennis team that won a national championship.
"When I was growing up, Mercer athletes and coaches were legends," Inverso said. "Guys like Mel Weldon and Connie White were idols to guys who were in high school at the time. I have to pinch myself when I think I am being inducted into the Hall of Fame with these guys."
Diamond felt the same way.
"I'm honored to go in with all these big names," said the current MCCC women's soccer coach. "You read about them in the paper growing up and now I'm part of that crowd, I'm very humbled."
Zola was just happy to realize her impact lasted this long.
"I am truly humbled by this," said Zola, who was unable to attend the dinner. "I'm a has-been, it was so long ago I can't believe it. But the fact that someone remembered me is so humbling. I'm so honored and so grateful."
The always insightful Gallagher, who played nine years of Major League Baseball after being drafted out of Mercer, was thrilled with the athletic honor but was more appreciative to MCCC for what it did for him as a person.
"I don't think so much about baseball when we're here talking about Mercer, because the school just meant so much to me just in my life," he said during the dinner's cocktail hour. "It came at a time when I needed baseball after American Legion. Mercer gave me some kind of direction that I was kind of losing. I don't think baseball at all, I just think what the school did for me. It did exactly what I think a community college should do. They grabbed a kid that was kind of on a wayward path and gave me time to figure some things out. They treated me like I was a kid in the community that needed help. And I did, and they gave me work.
"I didn't even have a car, I had to take the bus into school. I would have an 8 a.m. class. I would stay there all day waiting for practice but I was getting paid to do work study. They just helped me out in so many ways. Never did I know I was gonna be drafted and make a career out of the game at that point. They afforded me that opportunity."
Inverso feels guys like Gallagher typified the type of athletes Mercer got back in the 1970s and 80s. JUCOs have evolved from local recruiting to expanding their base around the state and beyond, but back then it was mostly local.
"Most of the players were blue collar kids from Trenton, Hamilton, Lawrence and Ewing," he said. "There were a decent amount of kids from Pennsylvania, Burlington County and many other areas but the framework of Mercer teams were kids from the county. A lot of kids who came to Mercer weren't good students but to their credit, a lot of the athletes got scholarships and graduated from four-year colleges. The teams had a local flavor and were all good, every year."
Diamond was typical of the local stars who appreciated what MCCC had to offer. Still the all-time leading girls soccer scorer at Hamilton West, she was highly recruited by four-year schools, but was drawn to Mercer's nurturing philosophy.
"I actually was looking at North Carolina and looking at Mitchell Junior College for basketball," she said. "I decided I wanted to play soccer and I really wasn't ready to go away. I was the third child, I was the baby. My mom and dad were very close to me and I really didn't want to go away."
Diamond scored a mind-boggling 118 goals in her two years, which is still a Vikings record. She became MCCC's first women's soccer All-American and earned a scholarship to Rutgers, where she set a school season record with 15 goals, that was recently broken by U.S. National Team star Carli Lloyd. Diamond also played softball and basketball at Mercer. She went on to teach at Nottingham for 30 years and coach varsity soccer for 25.
After retiring, Diamond took the MCCC coaching job three years ago.
"When I went there everybody was very welcoming and I felt comfortable there right from the first day," she said. "When Mr. (John) Simone approached me to come back as a coach, I felt I wasn't ready yet but I did eventually say yes and I really wanted to make it a comfortable, safe environment for my athletes, the way I felt when I was there."
After pitching McCorristin to the 1983 CVC, Mercer County and Non-Public Group B State championships, Zola followed in Diamond's footsteps as an MCCC three-letterwinner. In 1985, she became the Vikings first softball All-American and earned a scholarship to the University of Delaware where she played softball and soccer. Zola has been a teacher at West for 30 years and also coached the Vikings softball team from 2000-02.
"I had wonderful experience at Mercer," she said. "I made a lot of friendships that molded me into the person I am today. We had some of the best athletes right here in our hometown. I played at the Division One level and I have to say, some of the best competition I had in college came when I was at Mercer County."
Much like Diamond, Zola had Division I offers. But the legendary Bill Drake, who coached softball and soccer at MCCC, was relentless.
" I remember Bill Drake coming to all my games and hounding me and talking to me," Zola said. "I told him 'I think I want to go away,' but I saw it was such a family and he was like a second dad. With (Athletic Directors) Al Leister and John Simone it's a second family. I encourage kids, if they're not sure where they're going, go to Mercer and you'll be as happy as ever."
That was the case for Gallagher, who grew up watching Dorner and Weldon play, and was a regular attendee at the NJCAA National Soccer Tournament held at MCCC for 20 years, Thus, he felt pretty special when first contacted by baseball coach Butch Miller (a posthumous inductee).
"I got this letter from Butch saying 'We'd be interested in having you play baseball for Mercer County Community College,'" Gallagher said. "I was so excited. I'm thinking 'Wow, somebody wants me to come play baseball for them!' So I get there the first day, and I see a bunch of guys from my Steinert team who got the same letter, and guys from all the other teams around the county. He just sent a form letter out to everybody in the county."
But not everybody could do what Gallagher did. In January of 1980, he was taken No. 3 by Oakland in the MLB draft, the highest pick ever from New Jersey at the time. But the A's informed "Gal" that they were in the process of selling the team and offered him a pathetic $500 contract.
"I held a keg party at my sister's house to celebrate and I'm thinking back I'm gonna make 100 grand as a first-round pick," Gallagher said. "But when they called and said they were offering me 500 dollars, I said 'That's not even gonna pay for the keg party.' So I really didn't have much of a choice, I had to go back for my sophomore year."
He did so well that year, the Indians took him No. 7 overall in the June draft. After paying his dues in the minors, Gallagher carved out a respectable MLB career and eventually returned to coach Mercer from 2000-02. He guided the Vikings to the NJCAA World Series his first year.
Inverso was also no stranger to the national championship stage. Currently the Rider head coach, the Mercerville product guided the Vikings to a 434-46-14 record from 1986-2009. His winning percentage is the highest of any men's soccer coach in NJCAA history and two of his national championship teams went undefeated.
To have that success for a program that he idolized growing up is still special for Inverso.
"The most memorable event in Mercer athletics history was when they hosted the national soccer tournament," Inverso said. "There was a high level of soccer from around the country with teams from soccer hotbeds just like Mercer. It was during Thanksgiving weekend and the place was jam packed. Coaches came in from all over the U.S.. There were easily close to 100 college coaches there.
"The tournament was a happening. Maynard (Welsh, former Steinert player) called it 'The Woodstock of Soccer.' Those days were special. It may sound like a cliche but for me it was an honor to coach at Mercer. One of the biggest honors of my life."
And getting into the inaugural Hall of Fame class was just as big an honor for the Hamiltonians who were recognized.