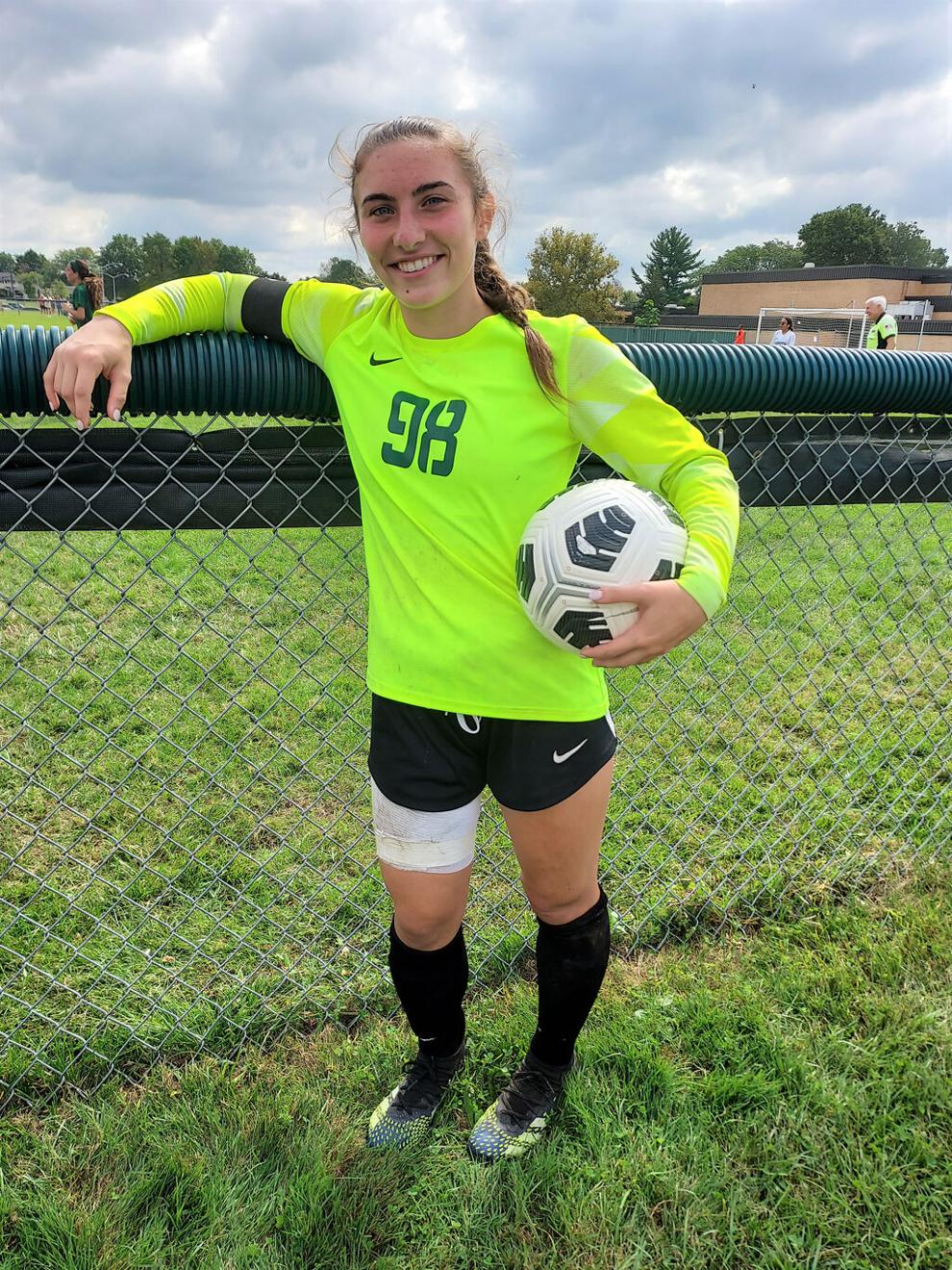 It's not Jenna, or Emma, or Gina.
It's Gemma.
And it was a name that was well thought out.
"My mom did not want anyone to have my name," Gemma Goldenbaum said. "As much as I hated that when I was little — my name wasn't on the things they sold in the stores — I actually really enjoy having a name nobody else has. There's only one of me, it's unique."
The name fits the person, as the Steinert High senior is as distinctive as it gets. Unless, of course, you consider a diminutive but still standout soccer goalie normal.
"Depending on your ask, I'm four-foot, 11-3/4 inches," Goldenbaum said. "But I say I'm five foot."
She has gotten every ounce of talent out of every inch of height since becoming the Spartans goalie midway through her sophomore year. Through Steinert's 5-1 start this year, she had 19 saves and two shutouts while allowing just three goals in five starts.
During her junior season, in which Steinert went 3-3-5 and every game was a pressure cooker, Goldenbaum made 95 saves and yielded 15 goals. As a sophomore, she had 43 saves and three shutouts while winning six of seven starts.
Take that, doubters!
"I really enjoy proving people wrong," Goldenbaum said. "People will doubt me, I'll walk on the field and they're like 'Oh, just chip it over her head.' And I'm thinking 'Well, I can reach the crossbar.' I like showing people 'Oh wow, our expectations were wrong."
When faced with vertical disadvantages, keepers need other attributes, such as athleticism, instincts, knowledge of the game and, most importantly, a belief in themselves.
"I think over time, understanding the game, understanding myself, knowing what I can and can't do have helped me," Goldenbaum said. "Understanding where I should go, trusting my instincts, working with people around me."
Goldenbaum's finest quality could be her work ethic, which is usually apparent in over-achievers. When Goldenbaum showed up at practice as a freshman, coach Mike "Stinger" Hastings took one look and was thinking "What the heck?" He had no idea the dynamo that lurked within.
"The first time you see her you're like 'Uhhhh, OK,'" Hastings said. "But then you watch her, she makes a couple saves and you're like, 'Oh I get it now.' She's aggressive in the box, she controls the box, and you all of a sudden get it. It didn't take long."
What truly impresses Hastings is his keeper's grittiness.
"She is probably the toughest kid I ever coached, either boys or girls," he said. "She's just a tough kid. She plays with that chip on her shoulder. Everybody looks at her and says 'You're too short to do this, you're too short to do that.' She uses that as fuel.
"You should see some of the saves she makes at practices. Unbelievable. She plays a lot bigger than she actually is."
Goldenbaum started soccer at age 4 as a right wing forward. When she was 8, her travel coach, Charlie Blain attended a family party, and made a fortuitous discovery.
"He saw me jump off a chair and said 'Wow, you need to get in the net, you're crazy!'" she recalled. "Anyone who knows me knows I'm full of energy. I'm all over the place all the time; always jumping around. It was kind of just 'We need to channel that in a different direction,' type of thing. Ever since then, I've been in goal."
Goldenbaum didn't just put the gloves on and start making spectacular saves. In fact, the fearless one had to overcome fear during her first few games in goal for the Hamilton Wildcats.
"It was very scary," she said. "I was afraid of the ball. I was afraid to be the last man back on the field. I was actually not very good when I started out. I didn't realize what I'd gotten myself into but by then it was too late."
It's a tribute to Goldenbaum's determination that she refused to give up on the position. Gemma works as hard in goal she does in the classroom, where she has a 4.3 weighted GPA. She steadily evolved into a strong keeper, dismissing scoffers throughout travel league stints with the Wildcats, Hibernians, GAK, Upper Freehold-Allentown and NLSA.
"I worked very hard to get to where I am now," Goldenbaum said. "Countless hours of extra training after my practices, before my practices. Working around the clock all the time."
Hastings is quick to confirm that self-assessment.
"She never takes a day off," he said. "She's always on. At practice she's pushing everybody else. That's what a leader does. She did it as a sophomore and won the spot. She's willing to come out here every day and work. She's that consistent."
The more Goldenbaum saw the outcome of her work, the more she wanted to work.
"It took a while, but I started getting my rhythm going," she said. "I started to love it because I started getting better. I could see the improvement and that made me want to just work and play even more.
Gemma also credits her various stops at travel ball for honing her game, saying she took a little bit from each coach along the way. Upon entering Steinert, Goldenbaum knew she belonged.
"I'm very confident so I think I did have the confidence as a sophomore," she said. "I was nervous, because it was a bigger stage, there's more people. But I knew I'd be able to do it because I did it every day in practice."
Goldenbaum needed that attitude in a big way last year, when it seemed every shot that came her way was a potential game-changer.
Not surprisingly, she thrived on it.
"I have so much fun in those nail-biters when it's coming down to that final couple minutes, where that one save can decide the entire game," she said. "Those are my favorite to play in. I feel like I work very well under pressure in every aspect of my life. So having that pressure makes me better. I think having all that last season, has really helped this season."
As for life outside of soccer, Goldenbaum enjoys helping others. She is a Peer Leader at Steinert, volunteers for the YMCA Miracle League and did some coaching of younger players at Bob Smith's Soccer Academy last summer. It inspired her to possibly want to coach in the future.
"I try to give back to the younger community," she said.
With her high school career winding down, Goldenbaum is hoping to play in college. She has gotten interest from Elizabethtown, but realizes schools may shy away due to her height.
"I think you have to take a chance and see me in action," she said. "If I don't get recruited, my plan is to try and walk-on, and if that doesn't work I'm definitely playing club. I'm not ready to give it up. I can't stop. It's been the biggest part of my life for as long as I've been able to play."
All anyone has to do is watch Goldenbaum come alive in goal to know exactly what she means.