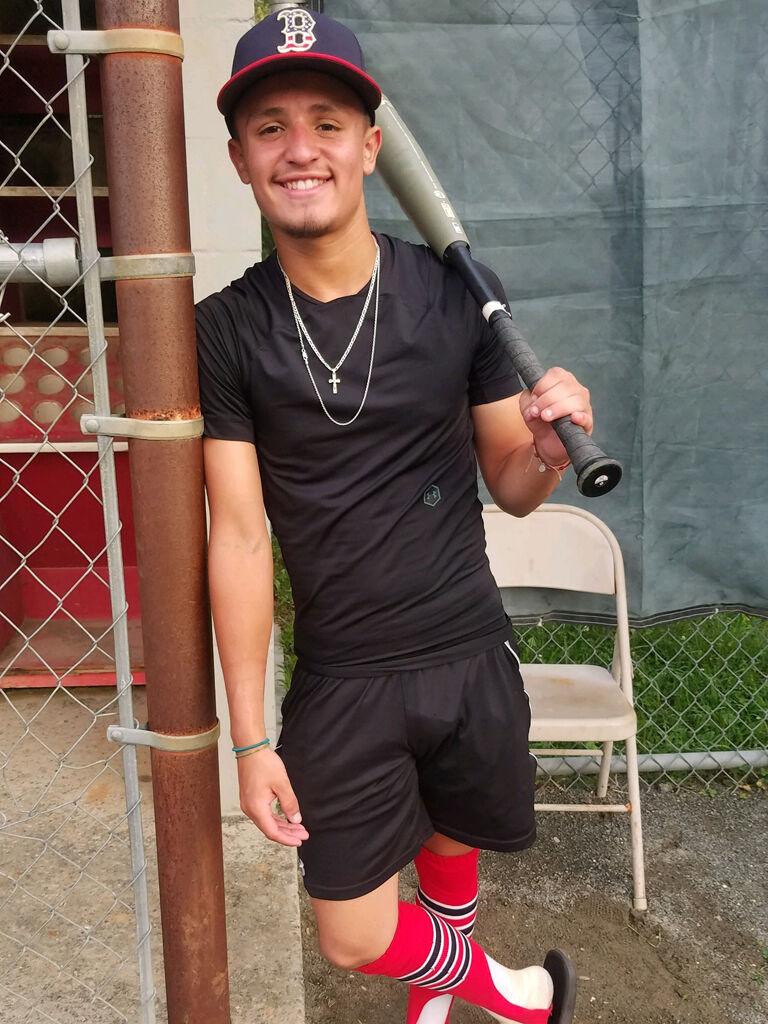 For Noel Olavarria, whose name is pronounced like "The First Noel" carol, every day is Christmas.
Well, at least every day when he meets someone new.
"I hear it all the time," the Broad Street Park Post 313 shortstop said. "Whenever people hear my name they're like 'Born on Christmas? I'm not born anywhere near Christmas. I was born in March. My parents just wanted something unique behind my name. I honestly should get a sign to wear saying I'm not born on Christmas."
And yet, Olavarria is the gift that kept on giving over the years for Hamilton West and Post 313.
In the spring, batting out of the number two hole for the Hornets, he hit .299 with 20 hits, 10 walks, 22 runs scored and six stolen bases. During the Mercer County American Legion regular season, Olavarria had a .260 average (13-for-50) with two doubles, seven RBI, 11 runs scored and four stolen bases batting leadoff.
Those are solid if not glittering offensive statistics, but throw in the fact that Noel plays shortstop with the same skill a North Pole elf makes toys and you have an extremely valuable player. He does it all in a small package, as Olavarria stands under 5-foot-10.
"Noel's just one of those kids, where you look at his size and he's a little bit underappreciated," Post 313 manager John Costantino said. "But he plays really big for us, he fills a big role as our shortstop. He's solid every single day. When I needed somebody to take over the leadoff spot he came in and did that job for us."
During the high school season, Danilo Perdomo led off for the Hornets while Olavarria batted second. With some additional players joining the legion fold, Costantino flipped the two.
"Leadoff wasn't a concern, it was just the way our lineup was configured and what I was trying to do offensively," the skipper said. "I switched him and Danilo so it put Danilo in more of an RBI situation. Noel is smart up at the plate. Sometimes he gets a little swing happy, but he sets the table for us. If you look at the amount of runs we've scored this year, the tone has been set with him in the leadoff spot."
For Olavarria, it was his first chance to lead off since playing for his dad Jose on Red Star Pizza in the Sunnybrae Little League.
"It brought back some memories of when I used to do it back in little league," he said. "I used to do it all the time and it's awesome, I love it."
He realized that his role would have to change and he would have to look at some pitches.
"To be leadoff you gotta be a little smarter," Olavarria said. "You gotta try to look out for your teammates and give them some information on the pitcher; let them see the pitches and what they should be looking for. It's a little bit more important job."
Equally important is the job Olavarria does at the key infield position. He consistently makes the routine plays and numerous times makes the spectacular ones.
"Not only does he make all the plays, he helps the younger kids," Costantino said. "You see him at practice, he's constantly working with the younger kids. He's constantly talking, just doing things that make us better. That's something that's probably not seen from the outside."
Olavarria has been an infielder all his life, from Sunnybrae to Hamilton-Northern Burlington Babe Ruth — where he was part of a district championship team — to high school. He never stopped trying to improve.
Olavarria has been an infielder all his life, from Sunnybrae to Hamilton-Northern Burlington Babe Ruth — where he was part of a district championship team — to high school. He never stopped trying to improve.
"I've always been a competitor, and I just keep working at it," said Olavarria, who credits Jose and his mom, Gladys, as his biggest influences. "I've gone to a lot of clinics, a lot of training to get me where I'm at today. I'm still not the best I think I can be. You can always be better than you actually are."
Both Costantino and Olavarria felt Broad Street Park could have been a little better than they were this season. Post 313 finished 12-6 and tied for third place with Lawrence, one game behind Hopewell and four behind league champion Allentown.
"I'm happy, not with where we finished, but how we played," Costantino said entering the districts. "We had two tough ones against Hopewell, and Allentown beat us pretty good two times. Against everybody else we scored some runs. I just needed my pitching to get a little more consistent in not walking so many batters."
The manager got his wish in the first round of the New Jersey American Legion District 3 Tournament as the pitching came through. But the offense was silenced in a 2-0 loss to South Harrison. The effort gave some credence to Olavarria's concerns.
"I think we're getting a little complacent," he said after BSP beat Lawrence in its regular-season finale. "We need to start playing a little harder knowing we've got a chance at winning something. If we start playing the way I know we can, I know we've got a shot."
The good news is, at least BSP and the rest of Mercer County was playing after being shut down last summer due to Covid 19.
"It's very unfortunate to think about that," Noel said. "I just feel blessed we were able to play in that Last Dance Tournament."
Little League was also shut down last summer and, while a district tournament was played in the fall, it returned full force in July and Olavarria was thrilled to see his alma mater win its first 12-year-old District 12 title.
"When I heard it I started cheering," he said. "That was so awesome they did that. I couldn't walk away with one so I'm happy they walked away with one now. We always lost to Nottingham."
Olavarria's baseball career is not over, as he will play for Salem Community College next year.
"I got had an offer from Fairleigh Dickinson and a few more," he said. "But I decided to go to the Junior College route."
Where he will get to meet a whole slew of new people wondering about his name. He better get that "not born on Christmas" sign printed pretty soon.