Sit and talk to Jayson Jenkins for a few minutes, and you will encounter a gentle, thoughtful, respectful, young man.
Put some pads and a helmet on him, however, and look out.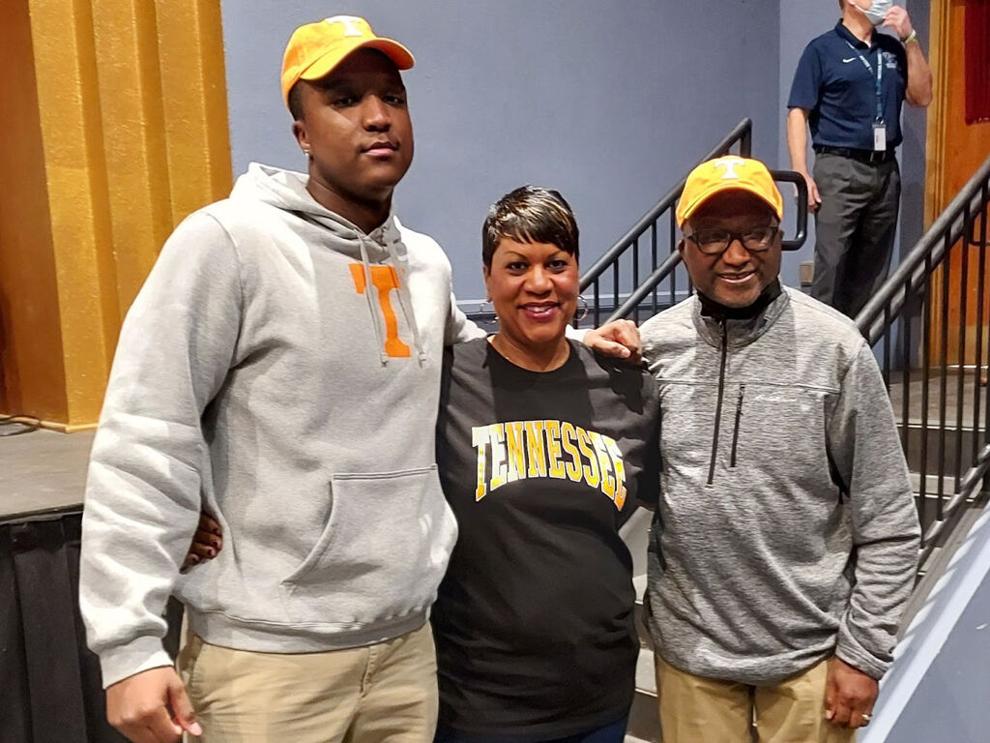 "As a little kid they called me wild man because I always just wanted to kill people on the field," Jenkins said. "I was just a wild person. Translating that on to high school, that's just the part of the game I love – the violence and the physicality overall."
It's part of what Notre Dame High School head coach Sean Clancy loves about the Bordentown resident.
"He's committed to the competition and physicality of football," Clancy said. "He really enjoys the physicality of it. I think that's a great thing. There are plenty of kids, in fact, there are guys who are paid millions of dollars who have fantastic talent, who don't enjoy the physicality."
Jenkins has combined his talent and physicality to hit the mother lode, as he will be playing football in the nation's top conference for the next four years. Jayson made it official on National Signing Day (Feb. 2) when he inked with the University of Tennessee.
The defensive end was recruited by such schools as Pittsburgh, Boston College, Indiana, West Virginia, Temple, Connecticut and Florida, but was sold on Tennessee by second-year head coach Josh Heupel; legendary defensive line coach Rodney Garner, who has molded numerous NFL players; and defensive coordinator Tim Banks.
Heupel inherited a program that went 3-7 in 2020 and guided Tennessee to a 7-6 mark and eight school records one year later. Jenkins, a three-star prospect, is one of five linemen recruited by Tennessee, and Rivals.com rated Heupel's recruiting class No. 12 nationally.
"A legend like coach Garner, coach Heupel coming in, coach Banks – the whole staff through my whole recruitment were just so inviting. They truly did believe in me and made me feel like I could play a big role on their defense. I wanted to be a part of that."
He especially wanted to be part of the Southeast Conference.
"I just feel that the competition requires hard grit and a lot of smack-mouth, hard-knock football," he said. "I really wanted to be a part of that as well. You just want to play the best of the best in college football and nothing compares to the SEC, so I was just naturally attracted to that."
Jenkins was considered New Jersey's No. 22-ranked recruit this year. He had 7.5 sacks, 54.5 tackles, two forced fumbles and a fumble recovery in being chosen to the state's Super 100 Team.
It culminated a long, hard climb for the faith-driven Jayson, who is Baptist but spent four years with ND's Catholic Athletes for Christ organization.
"The program truly exemplifies all the teachings of my savior, Jesus Christ – just helping people," Jenkins said. "We go out and help out everybody in the community – Foundation, Joey's Little Angels. We do all types of drives and all types of donations just to help out and see how we can impact other people's lives."
Football has impacted Jenkins' life in a big way. He started with the Bordentown Bulldogs and played through eighth grade before attending Notre Dame for its academics and athletics. Jayson actually played quarterback, where his desire to be physical was a bit ill-placed.
"I decided I wanted to take all that violence inside of me and put it toward mastering defensive end," he said.
Jenkins was a decent player his first two years at Notre Dame, but felt he was not getting the most out of his 6-foot-6, 260-pound frame.
"I needed to take my attitude and really take things seriously," he said. "I feel like I started to take that step coming into my junior year and I really just dedicated a lot of days being in the weight room and on the field, just getting faster, getting stronger. I think over the last few years I've made tremendous progress. The sky's the limit, so I'm just gonna keep working at it and just continue to master the craft."
Clancy felt a reason for Jenkins' late progression was that he had to grow into his body as a freshman and sophomore.
"He was growing so quickly that it was tough to tell what he could be," the coach said. "One thing about young men between sophomore and junior year; their bodies begin to grow differently, they tend to get into their bodies more. That was a challenge for him. Junior year you could see he had it and senior year he exploded.
"He's grown emotionally, he's grown physically. He's done everything we've asked him to. He's scaffolded his learning. He's become more of a leader, he has become eager in his faith. He has a very faith-filled family. He's grown in every way we could ask."
And his presence on Notre Dame's defense had every offense the Irish played looking to game plan for the athletic lineman. He was moved all over the field in ND's defensive scheme.
"He has a relentless motor, a fantastic first step," Clancy said. "He's very long, very coachable and he's very committed to his teammates. He likes the team aspect of it, and definitely helped out some of the younger kids this year."
Combining speed and physicality, Jenkins never took a play off and became a powerful force. As he began to hone his skills and intelligence about the game, big-time schools began to take notice. The fact Tennessee wanted to keep him at this natural position loomed large in his thinking.
"They feel like I can anchor that strong-side defensive end spot very well and I fit their scheme and what they're trying to do," Jenkins said. "It's their second year as a staff but just since coach Heupel's hiring, it's totally flipped the program and just the attitude everybody has. I really felt that was the place I wanted to settle down with and get right to work with."
Jenkins signing was done in the auditorium, and as Athletic Director Rich Roche introduced Jayson to the crowd, he echoed the feelings of so many others.
"I couldn't be happier for you because you're just a gentleman and you're a really good guy," Roche said. "It's a testimony that your teammates are here today to see you. This is our first football signing of this magnitude in quite a few years. I'm sure you're proud of yourself."
He sure is, as are his family, friends, coaches and the entire Notre Dame community.