As was the case with the champions that came before it, this year's Robbinsville High softball team was fueled by the desire and pressure to maintain tradition.
"We know this year was extremely rough on everyone because of the pandemic and all that," said senior second baseman Kenzie Martin, one of three seniors on this year's NJSIAA Group II state champions. "But just winning a state title and keeping that Robbinsville reputation despite all the craziness was so great and it meant so much to the seniors.
"As a program there's always something to live up to and for a long time we were compared to the girls who won the (Little League) World Series (and two state titles). It was so nice for us to win it ourselves and just keep the momentum going. Knowing that Robbinsville has that reputation it's so good to be part of it. Because now the next team can look at us and go "OK now we can take the tournament because of them.' I hope that tradition just keeps going and going because softball is kind of our thing in Robbinsville and I think the community kind of circles around our drive and passion for the game."
And yet, there were those who thought the glory days may be over after Robbinsville won back-to-back state titles in 2017-18. The Ravens lost a 10-0 decision to Bordentown in the 2019 Central Jersey Group II final and, after last year's shutdown, suddenly seemed like an afterthought. Coach Lisa Rich used that to her advantage prior to the state final against Verona.
"I told them 'Not even the newspapers were saying you were a team to watch,'" Rich said. "Literally no one talked about us, they thought we were totally done after Shea Walsh's class graduated two years ago. Everyone counted us out. I had parents from our old teams saying 'I don't know if you'll ever win it again.' I told them that before the state final and I think that really riled them up pretty good."
The Ravens stormed to a 2-0 lead in the first inning and built their advantage to 9-0 en route to an 11-5 victory at Ivy Hill Park in Newark on June 18. Senior Brynn Hopkins collected three hits, three RBIs and three runs scored, senior Alexa Klepper had two hits, an RBI and three runs, juniors Ava Goodman and Kailey Pacifico combined for five RBIs and Martin had four hits. Junior Shea Krebs notched the win, allowing just two earned runs.
It was Robbinsville's fifth state championship in 10 years, and third in five years under Rich.
And probably the most surprising.
"I'm just really still trying to absorb everything," Rich, whose team finished 22-5, said three days later. "I couldn't have told you that this is how the season would have ended, with how successful we ended up being. I really came out with a blank slate of not knowing who my shortstop would be, who my first baseman was. Actually, pretty much anywhere on the field based on how many graduates we had in the past two years."
Freshman Hailey Krebs turned out to be the shortstop, while Klepper took over at first after never playing there before. Pacifico went behind the plate after being mainly an infielder. Martin was a bit of an unknown as her only high school experience came as a freshman pinch-runner for the 2018 champs. She tore her ACL as a sophomore and sat out last year with everyone else.
Rounding things out were freshman Sorella Gallucci at third, Goodman in left, junior Sofia Papa in center and Hopkins, who was a standout infielder, in right. Junior Becky Blitz was an offensive force as an outfielder/designated player.
"There were just so many times throughout the year where you realize how many times kids stepped up individually to really make a difference," Rich said. "It was really fun to watch them do that. It was a 100 percent team effort. There were so many times I asked people to do something they hadn't done before and they stepped into that role and did their best. It really shows how athletic they are and how they can truly adapt to the scenarios they're in."
Martin paced the team in hits with 47 while Klepper led in homers (7), runs (43) and RBIs (38). The senior trio of Martin, Klepper and Hopkins combined to go 172-260 (.662) with 85 RBIs, 114 runs and 37 extra-base hits. They also provided the leadership expected of upperclassmen.
"The three of us have been friends forever, going to the World Series side by side," Martin said. "It was so great to spend the year with them. I think our chemistry on and off the field helped the team dynamic in a way. We are leaders naturally and I think our personal characteristics kind of contribute and fuel the team environment. I think it's so important to have a good connection with your teammates. It really does help."
The underclassmen served notice that the Ravens can still contend for future championships. Papa (.434, 32 RBIs), Blitz (.360, 5 triples, 3 HR, 25 RBIs), Goodman (.319, 18 RBIs) and Pacifico (.412, 24 RBIs) all swung hefty bats. Krebs hit a solid .297 with 14 RBIs and Gallucci had four homers and seven doubles among her 22 hits while driving in 14 runs.
"I never expected our team to have one of the most powerful offenses in the state," said Rich of a squad that had a .400 team average with 20 home runs, 22 triples and 57 doubles.
Krebs was the main pitcher, carving out a 2.59 ERA with 68 strikeouts in 102.6 innings. Junior Cheyanne Weigand and freshman Katie Ziliani also got time in the circle.
"I had a feeling of what my pitching staff was gonna look like but you don't know what kind of improvement they'll make in a two-year span from being freshmen to now being juniors," Rich said. "We went through a lot of ups and downs. We had some really challenging days."
Two of those days came in the Colonial Valley Conference Tournament. The Ravens had to hold off a late charge by West Windsor-Plainsboro South to survive an 11-9 victory in the quarterfinals. Robbinsville suffered major heartbreak in the finals. After taking a 6-1 lead on top-seeded Notre Dame, the Ravens allowed six runs in the bottom of the sixth to lose 7-6.
The loss could have devastated them. Instead, it did just the opposite as Robbinsville won nine straight before a season-ending loss to Clayton in the Tournament of Champions. Included was a win over Bordentown in the CJ II title game to avenge the 2019 setback.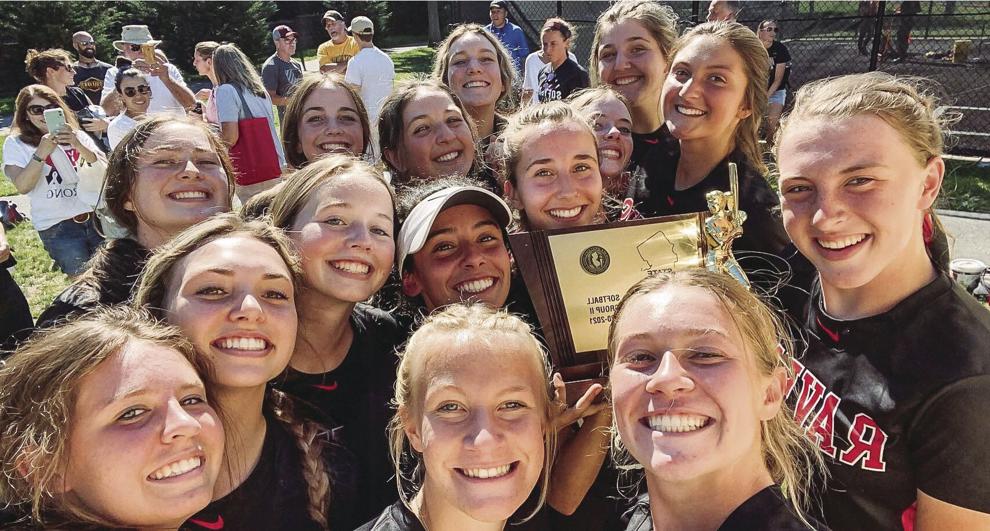 "I don't think we hung our heads after that Notre Dame loss," Rich said. "I think we were pretty mad at ourselves honestly. As I look back, I wasn't upset about that game. Yes I was upset that we lost, but we won the majority of that game and that's what I needed them to focus on to move forward. It just shows you how quickly things can turn around and you can't just assume you won when you're up five runs with a couple at-bats left."
Martin re-enforced that thought.
"I don't think that loss determined what we had inside of us," she said. "I don't think it determined how great we could be and what our potential was. Obviously any loss hurts but we just learned from that situation. We just decided to put our best foot forward and use that as fuel to gain confidence and drive us in the post-season tournament. I think that's where we found a lot of our chemistry. We decided 'OK we're gonna do this now.'"
They did it all right, proving the tradition is alive and well.