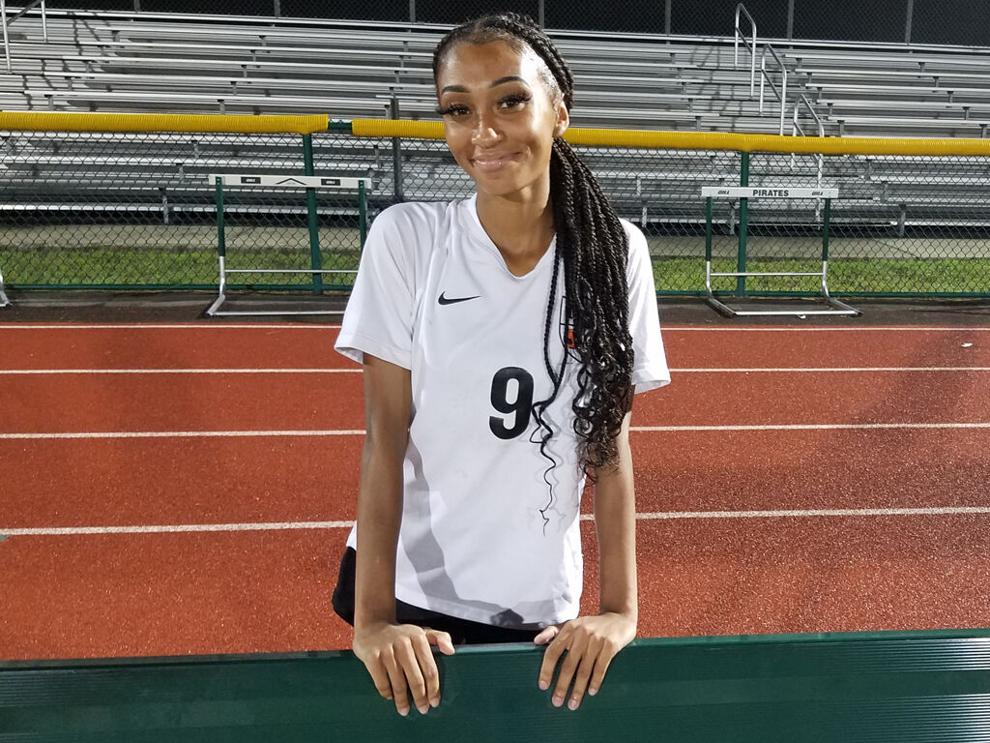 When Mikayla Hall gets sprung for a breakaway, it is a sight to behold with her blazing speed.
The only issue is, sometimes she's so fast, she outruns the ball.
"She has the potential," Hamilton West girls soccer coach Staci Priestley said. "Sometimes she doesn't keep the ball under control. She's so fast, it's tough to keep the ball close to her. She has a lot of opportunities, she just has to finish them."
And she's working on it.
"Yeah, I do run over the ball, sometimes," the senior forward said. "I learned to adjust by practicing and keeping composure by myself. I would go home and practice keeping composure, keeping the ball at my feet. Sometimes I do it at practice too, going one-v-one."
Looking at the big picture, however, that speed is more of an advantage than a problem, as Hall is nearly impossible for defenders to keep up with. If she breaks free and the ball comes to her, it's trouble as Mikayla knows how to pinpoint her shot.
"When she doesn't over-dribble, she's very good at placing the ball," Priestley said. "She doesn't always have a power shot, but she's very good at being able to place the ball in the corners. That's one of the things she really can do well.
"All it takes is one touch around the goal. She can take off and go around the defensive players. She doesn't have the big outside shot, we're not looking for her to take the shot outside the 18, but we're looking for her to be scrappy for us. She's aggressive and she'll try to get on every single ball that's there, use her body and put it in the back of the net any way she can."
Hall wanted to take corner kicks this year, but Priestley needs her scrappiness and talent when those kicks drop inside the box.
"She has the ability to put it in the back of the net no matter what ball comes to her," the coach said.
Hall began playing CYO soccer at age 5 before moving on to the Hamilton Wildcats and the Bordentown Jaguars. Her speed was apparent as a little kid, as she would race against her brothers and other boys in the neighborhood.
"Sometimes I would beat them," she said. "In elementary school I was like a tomboy. I've done sports all my life."
When the tomboy zipped into high school, she showed flashes of her ability by scoring three goals in ninth grade.
That spring, she decided to put her speed to good use and competed in the 100, 200 and long jump for the Hornets track and field team. Showing her athleticism, Hall reached the Meet of Champions in the long jump last year after finishing second in the sectionals and ninth in the states.
Not bad for what sounds like a hobby.
"I do track on the side," Hall said. "Soccer does bring a lot of joy. Track is mostly individual and I'm working on myself and my speed. But I do enjoy soccer a lot, playing with your teammates."
That has been apparent since Hall showed up at West.
"She's been fabulous for the last four years," Priestley said. "She continued to grow every year for us. She's one of our captains this year so she has been a leader on and off the field. She's someone I can always rely on and constantly count on communicating with the team, with keeping the girls up, pushing everybody and motivating them in the off-season. She shows up all summer and she will continue to push these girls to get more victories. She's a great asset to our team."
After her modest start as a freshman, she exploded for a team-high nine goals her sophomore year. Unfortunately, last season's Covid issues limited Hamilton to just five games, so the speedster was unable to build off her sophomore success.
And while that could cause a young player to take a step back, it seemed to fuel Hall even more.
"It's definitely deflating; but this was still the best she ever looked when she came out to preseason," Priestley said. "I was surprised by that; considering how last year went. I thought that would hinder her a little bit but she has come back looking her best ever.
"I talked to (athletic director John) Costantino before the season, and I told him this is the best by far that I've ever seen Mikayla in all four years. She's obviously improved each year but it was drastic this year. It was by far the best I've ever seen her coming out in preseason with her footwork, with getting shots on goal and just being a leader for us."
Hall showed her leadership on opening night this year, when she scored an unassisted goal 12 minutes into the second half to give Hamilton a 2-1 victory at West Windsor-Plainsboro South.
After the score, her 5-foot-1 frame – most of which seemingly consists of legs – leaped happily into the air.
"It's definitely an advantage being my size," Hall said. "That gives me my move, to try and sneak around the defender."
Priestley feels Hall could be dangerous this year with the addition of sophomore Morgan Bressler and freshman Ava Riley up front with her.
"Morgan obviously has the talent that can keep up with Mikayla," the coach said. "You have the two of them able to work well up top and we have Ava, our new freshman for us who is able to keep up with them. It does give us opportunities. When she takes off the girls
know everybody's gotta get up because she's gonna blow by the defense and she needs help.
Hall concurs with her coach, saying "It's a great advantage to have both of them. We talk a lot, try to move the ball quickly. Having them is really helpful. Sometimes it's hard to go by myself and I need my teammates and they're always there."
And they are happy that Hall is there for them as well.