They are not just best buds. After one season of college baseball, they are also major building blocks for the up-and-coming Stockton University baseball program.
Steinert grads Jordan Nitti and Gio Sciarrotta arrived in Pomona last fall just hoping to get some plate appearances. By the time the spring season ended, they were fixtures in the lineup and .300 hitters. And Nitti was a record-setter.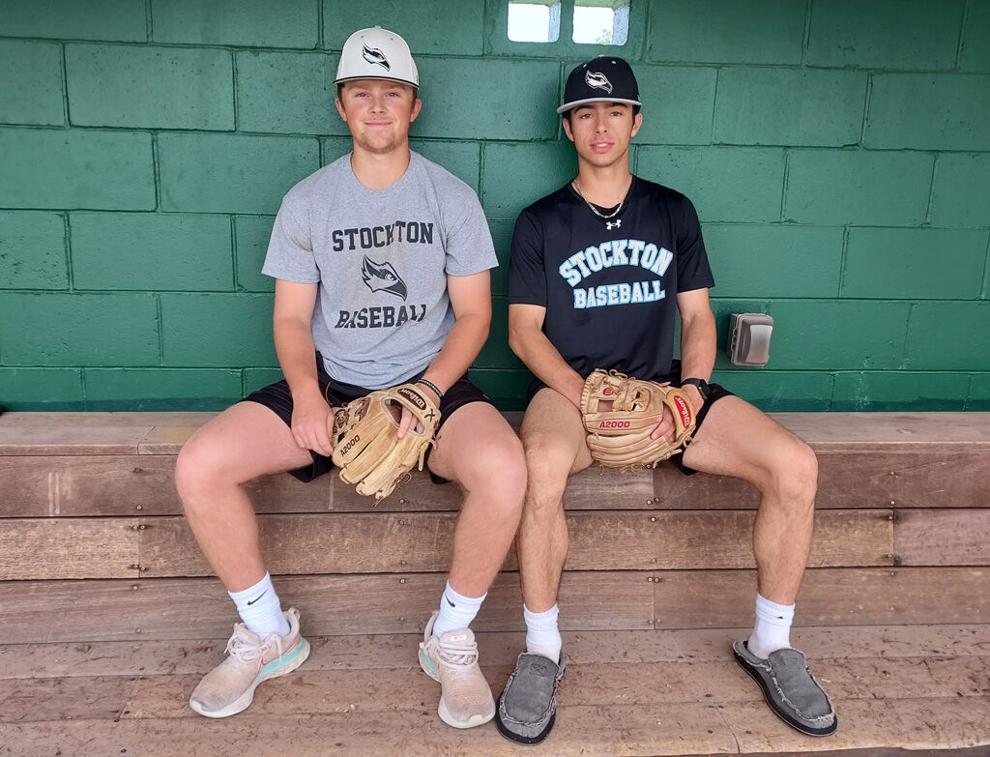 "It's not often that freshmen come in and make an immediate impact," said Ospreys coach Rich Gawlak, a former standout at West Windsor-Plainsboro South and The College of New Jersey. "We were fortunate enough to have a talented young class, highlighted by Jordan and Gio. They share a special bond, and we are looking forward to watching their careers these next few years."
The bond is strong and six years in the making. The two became pals as Reynolds Middle School sixth-graders and have been teammates ever since. They are now college roommates.
"We're like brothers," Sciarrotta said. "We do everything together. I definitely look to him a lot. He's like a role model to me."
And Nitti takes comfort in knowing Gio is still with him.
"Even with school, just knowing he's there if I have questions about anything," Jordan said. "And on the baseball field, seeing his face that first day helped."
It must have really helped, as Nitti took Stockton by storm. He led the team in batting at .379 and collected 66 hits, which broke the school record by one. He also set a new Osprey standard for at-bats with 174, and was 13th in the New Jersey Athletic Conference in hitting.
As a freshman!
The low-key Nitti admits that he surprised himself. "I didn't think I was gonna get that many at-bats; like, even close to that many at-bats. I just wanted to play my role if I didn't start, and just do my job when I got in," he said.
Nitti earned the starting third base job after having a strong fall campaign. He went 2-for-4 in his first collegiate game against Penn College, and took the collar in game two of the doubleheader. From there, he hit in six straight and 15 of the next 16. Nitti will carry a seven-game hitting streak into next season.
"Jordan certainly had a special season for us," Gawlak said. "We expected him to come in and have an immediate impact on offense and as a defender for us, but I don't think you ever anticipate a freshman having the year he just enjoyed."
Gawlak felt Nitti's background of playing for Brian Giallella at Steinert and under a plethora of good coaches with the NJ .9ers travel club helped his development. He batted third in the lineup and produced 10 doubles, a triple, home run and 28 RBI, which tied for the team lead.
Gawlak feels Nitti's success stems from having a balanced approach at the plate, and being able to adjust to counts and understand how pitchers are attacking him.
"He's really displayed an advanced understanding of his strike zone and pitches he can do damage with in hitters counts," the coach said. "He is very level-headed and can slow the game down during the tensest moments. His willingness to hit the ball to all fields makes him tough to pitch to and makes it difficult for defenses to shift on."
Probably the biggest challenge Nitti faced all year, came when he learned he had a shot at the hits record. With seven games remaining, a teammate told him he needed 18 more to break the mark. That was certainly no gimme, as Jordan would have to average 2.6 hits per game.
"That freaked me out for a second," Nitti said. "I would rather have not known about it."
Armed with the burden of that knowledge, the former Nottingham Little League standout responded by hitting safely in every game and going 18-for-33 during that span to become Stockton's single-season hit king.
"That means a lot," Nitti said. "I was in shock when I did it. I thought of just going back to hitting with my grandpa (former Notre Dame coach Vince Ardery) and working with my coaches; all the hard work I put in."
The historic hit came in the nightcap of a doubleheader at Rutgers-Newark, when Nitti delivered an RBI single to right field in the fourth inning for number 66 on the hit parade. It just so happened that hit moved Sciarrotta from second to third.
"I was on second base, and I got to see it happen from the field," he said. "I was cheering for him running to third. It was amazing."
According to the catcher, it couldn't happen to a nicer guy.
"He's a very good person," Sciarrotta said. "He's always gonna want to become better and he wants to make people better around him as well. So as he's working hard he's pushing for the seniors to work harder too."
Sciarrotta knows a little bit about busting one's butt as well.
"He's a very hard worker and just puts all that work into becoming a better baseball player," Nitti said. "Just seeing him work behind the plate, he never lets the ball go behind him. He was swinging the bat really good this year. That definitely made me feel good (when he gained the starting job)."
Unlike his buddy, who learned he would be the starter after the fall season, Sciarrotta had to ease his way into the lineup.
"We had planned to bring Gio along slowly in the beginning and increase his time as the season progressed," Gawlak said. "Catching at the collegiate level is difficult because there is a lot of responsibility and you have to be a field general. We wanted him to learn from our older guys and grow and develop through the opportunities he earned. "
When injuries started to hit the Ospreys catchers, Gawlak turned to the freshman. "It forced him into a more prominent role earlier in the season," the coach said. "To his credit, Gio worked hard and was ready for the challenge."
Sciarrotta finished sixth on the team with a .318 average, which was pretty impressive since he needed to focus on his work behind the plate. And really impressive considering he hit just .240 his senior year at Steinert. Nine of his 28 hits were for extra bases, and he drove in 17 runs.
"I was never really a good hitter in high school and travel," Sciarrotta said. "I knew I needed to improve that for college if I wanted to play and start because that's the main part of the game. So that's what I usually just worked on all summer with my dad in the batting cage. I'd go with Jordan to the batting cage and we just hit, hit, hit. Then I'd go to the gym to get stronger. As I started to see more pitching it started to click and I felt comfortable at the plate."
A catcher has to take charge of his pitchers, and it's not easy for a freshman to go out and talk tough to a senior.
"At first I was a little shy, because obviously these guys are like 20, 21, and you have to be the one to tell them what to do," he said with a laugh. "Who am I, some 18 year old, to tell them what to do? But after I got to know all the guys they're all really cool. I could bust their chops on the mound and tell them that they're messing up. Once we got into the conference season, I felt more comfortable with the guys and they trusted me more."
And since a catcher often contributes to his pitchers' success, Sciarrotta can take pride that the Ospreys staff set a school record for strikeouts in one season.
"Gio still has some work to do, as all freshmen do, but he has established a very nice foundation of skills to build off," Gawlak said.
Sciarrotta, whose family moved to Barnegat after he graduated, committed to Stockton first, and Nitti decided on the same shortly after, as both players are fans of Gawlak. The Ospreys struggled to a 16-23-1 record this year but had a lot of young players in the lineup and will return five regulars who hit over .300 this year. Their top two starting pitchers are also back.
"I feel like we're not gonna miss the playoffs anymore," Nitti said.
"I think we're coming up and people are gonna be surprised when we're at the top," Sciarrotta said. "We have a lot of young guys who got experience this year and they know what to expect next year."
Two of those guys just happen to be best friends from Steinert.