Tommy Ditta knows how to make a good point with just a few words.
Asked what it was like playing for the Sunnybrae Little League All Stars the past five years, Ditta said "It's just been fun. Even when we didn't win, it was fun."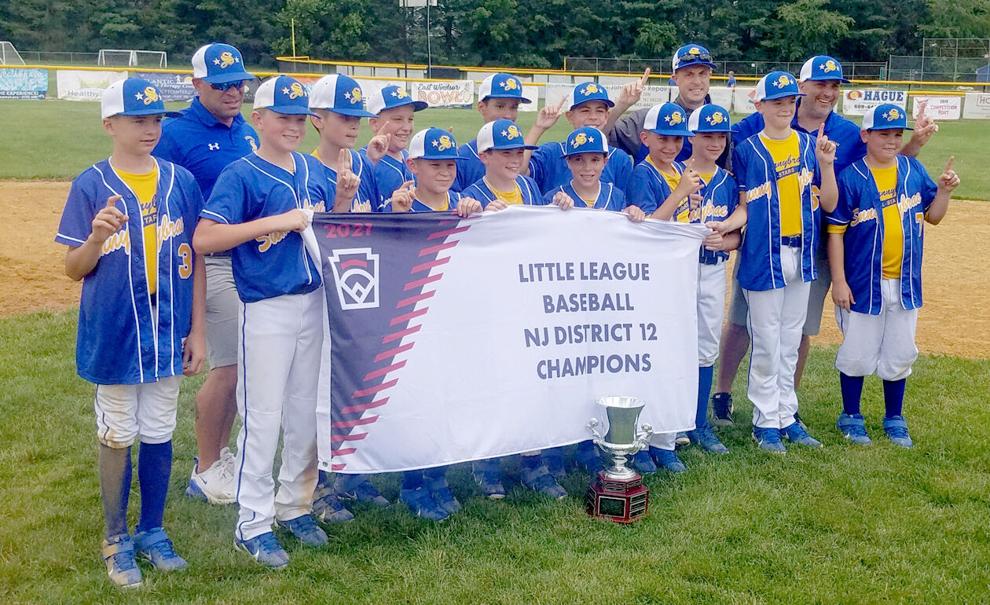 And now that his team is the first group of Sunnybrae 12-year-old All Stars to ever win a District 12 tournament in the 64-year history of the league?
"It's gonna be more fun!" Ditta exclaimed.
Of course it is.
One merely had to observe the celebrations all around the field to see just what Ditta meant. Kids, senior citizens and every age in between ran onto the East Windsor PAL diamond to celebrate history after The Brae topped Robbinsville, 7-4, in the title game held on July 10.
Sunnybrae blew threw the districts with four straight wins to move on to the Section 3 Tournament.
"Before the game I pulled them aside and we talked nothing about baseball," said Rob Riley, who has been the team's manager since they were 8. "Thirteen kids were crying, four men were crying. It was all about how they wanted to play for each other and end it with a championship banner. There's been more talented teams at Sunnybrae by far, but there hasn't been a team that plays for each other like this. You saw it the other night, down 3-0 (against Robbinsville), the dugout never stopped. They just kept coming. They played for each other.
"There are no superstars here. We don't have any. It's easy to beat one kid, it's hard to beat 13."
The game Riley alluded to was the key to the title. It was the winner's bracket final and both teams had won their first two contests. The victor would get two days off, a chance to preserve pitching, and only had to win one more game. The loser would have to win three straight.
Surprisingly, Robbinsville touched Brae ace Quino Gutierrez for three runs in the first three innings. Jonathan Posivak entered and pitched 2.1 scoreless frames to give his team a chance to rally.
"I had a big job, I had to contribute to my team," Posivak said.
Sunnybrae took advantage of Posivak's work. In the fourth, Dominick DeFrancis walked and Gutierrez singled. Things looked bleak when the next two batters were retired, but Cullen Bressler walked to load the bases and DeFrancis and Gutierrez both scored on wild pitches.
Still trailing 3-2 in the sixth, Gutierrez drew a leadoff walk, went to third on a wild pitch and scored on Ditta's ground out. Two walks later, JJ Bucchianico delivered the game-winning single.
"Everyone was down in the second inning," Posivak said. "We started getting hits and just racked up the runs and JJ hit the walk-off and everybody went crazy."
DeFrancis felt the triumph was the key to the title.
"Winning that was huge," the centerfielder said. "We didn't want to put ourselves in the losers bracket because we would have to pitch people every day. Robbinsville had almost no pitching (in the championship game)."
Ditta added, "That was a big win; probably the biggest win we ever had."
"Robbinsville played the winner's bracket game perfect and just didn't win the game," Riley said. "They burned Yabo (pitcher Gavin Yablonowitz) hoping to get to (the championship) game and they would have had more pitching.
"We knew the only pitcher they had (for the championship game) was (Gavin) Hopkins. We went up there and we were gonna make him throw strikes. We were gonna make him beat us. If he beats us, he beats us. If not, we're gonna run his pitch count up. We get walks, Jonathan comes up with a timely hit (a two-run single) and we take advantage on the bases."
Riley came back with Gutierrez — who threw a 4-inning perfect game against Nottingham in the district opener — in the title game and he bounced back from his previous sub-par outing against Robbinsville. Gutierrez responded with 5.2 innings, allowing four hits and four runs while striking out 10. Yablonowitz was his biggest problem as the slugger belted two home runs, but the right-hander was masterful against the rest of the lineup.
Gutierrez said was the difference from his first start against Robbinsville was that "I threw more strikes."
Catcher Joey Riley confirmed that, saying, "He threw strikes. He hit his spots. It's hard to hit him when he's pin-pointing his spots."
Posivak, who got the final out, said Gutierrez was "Amazing. There's no other word. He did a great job."
Asked how it felt to be the winning pitcher in a historic game, Quino said, "It's a big deal. It's the first one. We're a hard team to beat, you have to beat 13 people."
That was evident by the offensive attack in the title game. Riley, Posivak, Ricky Bender, Ditta, Raffa Tramo and Bucchianico all scored runs, while Posivak, DeFrancis, Bressler and Tramo drove in runs to give Sunnybrae a 7-0 lead.
When Yablonowitz sparked a comeback with a three-run homer, things got a little tense for the Yardville Gang.
"It got real thick in here," Rob Riley said. "Yabo hits one out, it's 7-3, it was the first time they started to get a little tight. There's been a lot of talk. We have people who come out and talk to us, these guys know it's been 64 years. They're 12-year-old kids, when it's four or five outs away they get tight, they get a little nervous. But at the end of the day, we got it done."
And they did so while carrying the burden of trying to make history.
"They know, they hear it, and we didn't shy away," Riley said. "We had great crowds. Alumni started showing up, text messages, stuff like that. It was better to tell them 'Hey it's been 64 years.' There were a couple kids on the team last year that thought they would win it, and they didn't. So I said, 'You can go in favored to win the tournament, that don't mean nothing. Sunnybrae's had favorites before. But you gotta get it done.'"
Get it done they did, with a nucleus of eight players who went undefeated at the 8- and 9-year-old level and won the District 12 Tournament as 10s. There was no 11-year-old tournament last year due to Covid 19.
"I thought we could do this," DeFrancis said. "We're usually the top team in our district age group, so I thought we had a shot. We just said 'Let's just go out and have some fun.' We did our best."
Joey Riley agreed, saying, "We were always the best team around. We won eights, nines and 10s so we felt pretty good about this year. This feels great. We're such close friends, to finally come together and do something that's never been done is great.
Posivak played on the 12-year-old team that lost two straight after reaching the winner's bracket final in the fall, and had a different feeling about this year.
"Last year we just didn't have the team chemistry," he said. "This year we knew we had the chemistry. We came out every day in practice and just knew what we could do. Going into it I knew we'd make history. It's just insane."
Rounding the out the team are John Kemler, Nick Richter, Alan Elliott and Jayden Tirado, while Jason Ditta and Benny Tramo served as Riley's coaches. In looking back on the long road to the title, the manager could not give enough praise to all involved, including the league, the players and, especially, the parents.
"We have 13 kids that generally get along and parents that generally get along," Riley said. "I never had one parent ever say 'My kid should play.' Never. The group of eight who have been with us the whole time is the most infectious group. They take the new kids and make them feel at home. We had a new guy who took someone else's spot. The parent didn't care, the player didn't care. You don't get this other places. You don't get a team that wants to be around each other all the time. If any team deserved to break this curse, it was this team."
Riley was right. Too often when a parent is unhappy with their child's situation, they find other places to play. And with travel ball dominating the youth landscape, a lot of kids forsake Little League All Stars to play in showcases.
But the kids of the Brae were there to stay.
"It was just a group that's fun to be around," Riley said. "It starts with parents. You get a group of 13 kids and their parents that never questioned me, that rubs off on the kids. These kids want to be friends. When parents get involved that's when teams break up and stuff. These parents wanted to keep these kids together since they were eight. They could have gone and played travel somewhere else, but all the parents said 'No, we want to stay together for 12 year old districts and finish it off.' These parents are special, these kids are special."
What they accomplished was very special, and will live forever in the annals of Sunnybrae Little League.
* * *
The Brae's memorable season came to an end in the Section 3 Tournament, but the Yardville Gang still represented itself well in its first-ever 12-year-old sectional.
Sunnybrae opened with 2-0 and 10-2 wins over Milltown and Tinton Falls before falling to tournament favorite Toms River East, 5-1, in the winner's bracket final. Sunnybrae stayed alive in the elimination bracket final by scoring four runs in the top of the sixth for a 10-7 win over Point Pleasant Beach.
But TRE lived up to its pre-tourney hype with a 3-0 victory in the championship round.