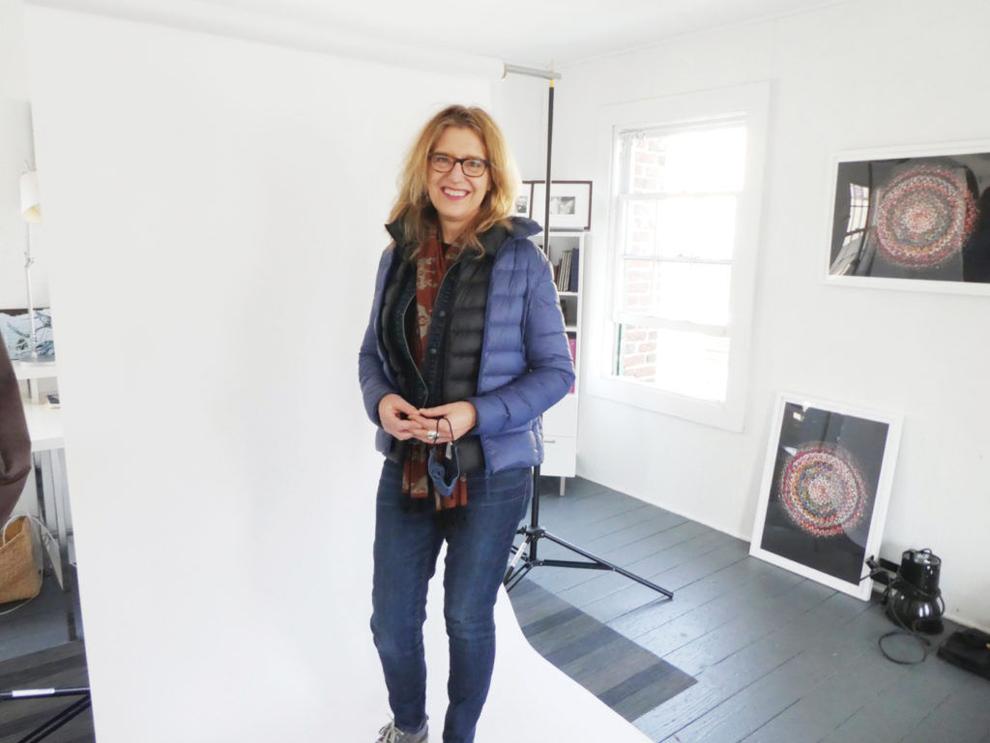 Arts Council of Princeton artist-in-residence Robin Resch says she likes the idea of using Nassau Street's Dohm Alley as the setting for her upcoming photographic exhibition, "Taking Pause."
That's because the name is also a desired reaction, for residents and visitors to take a pause to view her collaborative visual meditation that asks subjects and viewers to reflect on objects that are personally essential and irreplaceable.
Resch says the exhibition on view through October is based on a three-level approach. One is the image of the person. The other is of the object that the individual selected. And the third is a personal statement about the object.
"From the beginning, I was spending time with people, and there was a conversation. So I thought it was important for each person participating to have their own voice to it. I didn't want to translate them. It gets down to voice. How someone writes is their voice. It is their participation as well.
"It was very important to me as I stared to work on this that each person is not a passing subject. They are a participant. They're engaging in this project and engaging on few levels. Their voice is so important to me."
She says the idea for a series featuring a "meaningful portrait of a person through something that matters to them" came from a personal experience.
"My mother has an old maritime painting that I love — crashing water and energy. It is something that will never be mine. So I thought how can I make it mine?"
Although she used photography, she says, "I deconstructed (the work) in a way, took moments from it, created other versions of it, and put it together on panels. Images were wood panels covered in caustic wax. So it doesn't look like photographs. It looks different. This process became important to me."
The approach also provided her with a method where she could work on a portrait that would convey "the depth of subject."
"It isn't 'What is important to you?'" she says about communicating with the subject "But, 'What is irreplaceable to you and if there may be something that represents it?' Not everyone thinks about the question."
She calls the result a triptych: "person, object, and statement."
The project began in 2018 when the Princeton-based professional photographer "reached out to a few people in town and bounced the idea off them. A few of those early people were my first participants."
Eventually, she says, she had developed a criteria for subjects or participants, "not a client, not a close friend, someone out of my comfort zone, not in my reach. I stared with about eight people in here, New York, and Pennington and I asked each person to help me" to find participants.
The project eventually grew to include a four month trip across the southern portion of the United States.
When she returned home, she says, "I was looking at what I did and what could happen and then the pandemic hit. That put travel on hold, to put it mildly."
Originally from Connecticut, Resch came to Princeton to study architecture.
Describing her progression to an established commercial and fine arts photographer, Resch says, "Photography came first. I always had a camera since I was 16. I was given a camera by my dad and I was always passionate. But architecture was something I wanted to study when I was younger. My father was an architect and thought it was difficult professional. My mother thought so too. Architecture was always something I wanted to do."
With a photography practice that includes weddings, family portraits, corporate promotion, and fine arts, Resch attributes her ability to invest in each as, "I ebb and I flow. I am a curious person. And I am a visual person I respond to certain moments . . . People trust me to see what they're not seeing and bring that to them."