Trenton Water Works Treatment Plant Superintendent Taya Brown-Humphrey says during her daily drive to the Route 29 facility she has two thoughts on her mind. "Hopefully treatment is okay" and "There is no major catastrophe."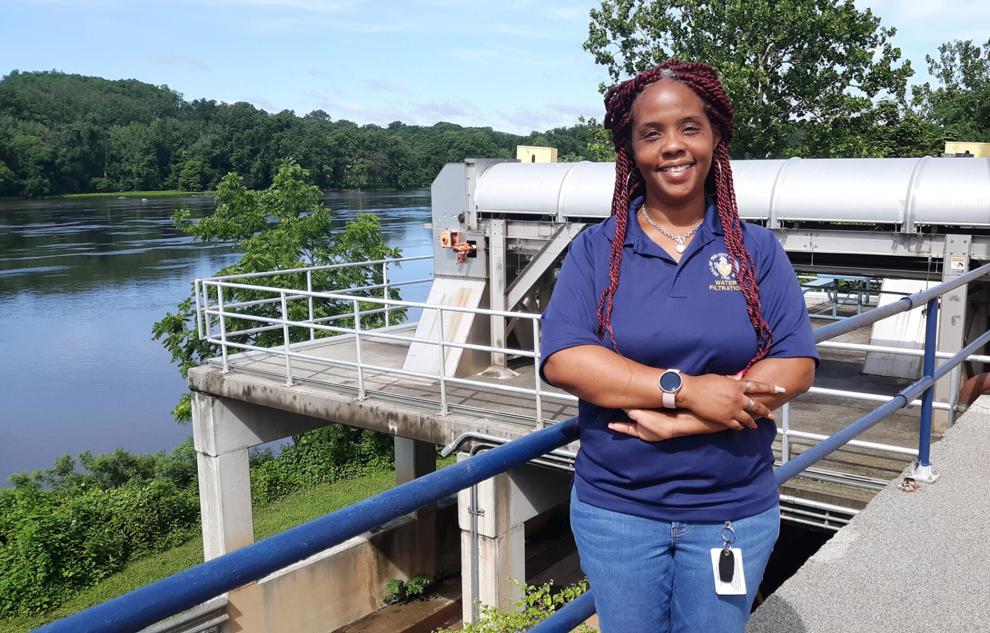 "Usually after a rain storm the river tends to go up," she says during a recent interview in her second floor office in the building sandwiched along the banks of the Delaware River, the provider of the facility's water.
"Sometimes the water level goes up slowly," she continues. "But if it goes up fast, we have to worry about making the chemical changes. Recently our pumping stations had water rushing out on the street at 5 a.m. Our operators had to operate pumps."
Then she shares the bottom line. "I need to make sure we're meeting the water quality [standards] for customers."
Describing her duties, Brown-Humphrey says, "I'm in charge of plant operations, which includes operation maintenance and laboratory, and I am responsible for storage systems and three pump stations. We have a pump station in Ewing, Hopewell, and across from the reservoir (in Trenton)."
With the TWW subject of numerous news articles and community health concerns over the past several years, Brown-Humphrey understands and points to one of the biggest challenges she has faced in assuming the position almost three years ago. "For so many years, a lot of projects weren't done here. So we're playing catch-up now."
Without mentioning names or dates, Brown-Humphrey evokes the era when Mayor Douglas Palmer hoped to sell distribution tanks and pump stations outside of Trenton to American Water Company to provide cash for the city.
That talk in turn delayed maintenance, and TWW suffered further under the interest or lack thereof during the subsequent Mack and Jackson administrations — with the former notably criticized for lack of planning and indictments of several employees, including the mayor's half-brother for misconduct, theft, and bribery.
The lack of upkeep, budget restraints, and lack of action by subsequent city councils prolonged the problems until potential water quality problems hit home — or homes.
The TWW has 63,000 metered customers. That translates to providing water for approximately 225,000 people in Trenton and portions of Hamilton, Ewing, Lawrence, and Hopewell.
"What was in the news was the disinfection byproducts," she says, referring to the New Jersey Department of Environmental Protection's citations related to state-approved levels of disinfectant and mandatory boil-water advisory, even though the water was safe to drink.
Using the example of one potential problem, she says the Water Works realized a potential problem and notified the community. "Usually with a water boil advisory, we send (water) samples out to be tested. It takes 18 to 24 hours to be read. People are alarmed because we have the water advisory on our website, but we can't lift it until the DEP gets back with us."
In the instance of water having a purplish or pink tinge, she says there was an issue with a chemical used to check a flow-related issue with a pump that had escaped. "It isn't harmful, but it's so alarming," she says.
Currently meeting all the standards for the year and "catching up with the new state regulations that change constantly," Brown-Humphrey says that over the "past three years we've had a lot of major projects that have taken place that have been completed. Chlorine content basins were new equipment, and that was essential to the disinfect byproduct (levels of chlorine), and we've had our filters replaced, and the booster pump station was upgraded."
She says that the city council and city administration have demonstrated their support of the TWW as an "extremely important" resource for the city and region and supported the above efforts and increased staffing.
Asked to describe herself, the 20-year TWW veteran who supervises 35 to 40 people reflects before saying, "Smart, responsible, and try not to carry burden whether it is here or at home. And I feel obligated to help or do something."
A lifelong Trenton resident and married mother of two, the Trenton Central High School graduate and member of Shiloh Baptist church is the daughter of a state civil engineer father and a Helene Fuld Hospital nurse-turned-state health department employee mother.
She says her career path to the position that pays approximately $115,000 started after studying chemical engineering at the New Jersey Institute of Technology.
"For the first year or so I worked at a temp agency and a startup company making valves. Then I had an opportunity for either (the cosmetic company) L'Oreal or here. I didn't know much about water at the time, but it seemed interesting to me. I decided to take it. People always need water."
Happy about her choice, Brown-Humphrey says, "I started as a senior environmental engineer. Most of my job was doing calibrations on equipment and doing different studies. I also learned the operators' jobs, computer systems, and lab testing. As people left, more responsibility was thrown on me, and I became sort of a lab manager at one point and did that. I had a supervisor who taught me a lot. When people left I decided to learn. Over the years I learned each aspect of the job."
Looking over her years at the TWW, Brown-Humphrey says, "One of the most difficult times was when we were short staffed. Not only was I doing my job, I was doing an operator's job because there were only four operators. Although we were short staffed we were trying to maintain. Sometimes we feel like we get the reputation that we don't care and aren't putting in the effort. But some things are out of our hands. Some things have to be approved by the council, and there are delays. When you're a municipally owned facility, it isn't easy. But we did what we had to do." Additionally, she adds, "Our value wasn't appreciated at times. Now it is."
She says other positive changes occurring over the past three years include moving the Trenton Water Works and sewer department from the city's department of public works into its own department; public programs to inform the public and help the department be more transparent; the lead remediation and lead pipe replacement programs; and the launch of an operation certification program offering classes to provide "the opportunity for our staff to get the training and take the (various water system certification) exams. It's been a great thing" that "improves the knowledge base" of the operation.
Although she brings a vast institutional knowledge and experience to her position, Brown-Humphrey says, "There are always new (aka disruptive) things happening, and I don't necessarily know how to address them. As supervisor, I just want to see things done, but I listen to all the staff and consider how to address a situation. I'm very quiet at times. I listen more than I talk."
Brown-Humphrey says a lot of times people do not understand what it takes to run the water works. What she doesn't say is that many don't realize that it is also unique in that three women lead the operations.
"We're one of the largest facilities in the state. Three females in a management capacity is unique in a male-dominated environment," she says.
In addition to Brown-Humphrey, five-year staff member Theresa Ponella is the environmental engineer and Diasia Brooks, a seven-year veteran, is the chief chemist running the testing laboratories and rose "organically" through the ranks.
"The amount of projects we've gotten done over the past three years has been satisfying," Brown-Humphrey says. That includes developing "an open line of communication" with the DEP. "We've been trying to work with them to correct whatever needs to be corrected. We've gone above and beyond to meet them. There is an open line of communication.
"When I first started there had been a lot of people who had been there for years. But a lot of new people came in who did not have the same experience, and they had a different approach they brought. Those people have developed an understanding of what it takes. It's tough to teach people all the information you have learned over the years."
Brown-Humphrey says currently, "We're doing a lot of testing. Some required, some not. We work hand-in-hand with the water distribution plant. We give that side (of the operation) information if there is chlorine residual (or levels). We're required to do the lead testing. That's made more impact. Lines changes and zinc phosphate treatment. We've been below the acceptable level for the past two years."
Asked if there is something she'd like the community know, she readily says, "People need to understand: We diligently do everything to meet regulations regarding water quality. Our consumers come first. I live in the city, and my family lives in city, so it isn't like we take (water safety) lightly. There have been decisions I made that weren't popular with the TWW management, but my concern was for the customer. We have to do everything we can to protect the customer."