Prior to the 2019-20 basketball season, there was optimism on the Robbinsville High girls' basketball team that senior Maya Johnson could team with a bunch of talented sophomores to make good things happen.
Unfortunately, Johnson suffered a season-ending injury in the preseason, taking away a key part of that equation.
And yet, good things still happened.
After a 6-9 start, the Ravens won nine of their final 11 games to finish 15-11 and emerge as the Colonial Valley Conference's surprise team.
A big reason for that was the ability of Vanessa Sabol to take over Johnson's role at point guard. All the 10th-grader did was lead the Ravens in rebounds (204), assists (78) and steals (51) while finishing second in scoring (7.8 ppg).
That comes on the heels of a freshman campaign in which Sabol led the team in scoring (11.1 ppg), 3-pointers (32) and steals (64) and was second to Johnson in rebounds (103) and assists (44).
For anyone looking to stump coach Joe Washington, just ask him what Sabol can't do.
"That's true," he said. "Her freshman year we knew we had something. We knew we were going to have growing pains as teams began to figure out who Vanessa was during her freshman year. Going into last year when she got the majority of defensive pressure with Maya getting hurt, she realized she had to do some other things. She found other ways to contribute when she wasn't able to score because of the defensive attention she was getting."
It was a case of role reversal for Sabol, who went from receiving kick out passes from Johnson as a freshman, to kicking it out last year.
"I was driving and penetrating a lot more than when I was a freshman," Sabol said.
Probably her most impressive feat is leading the team in rebounding as a 5-foot-6 point guard.
"I can jump pretty high, it's just aggressiveness, just passion," Sabol said. "I know that most of our points will come on transition and I know getting the rebound and pushing it up is huge. Half our points are from transition."
It's a role that Sabol has slowly learned to fit into.
"I think I sort of evolved," she said. "I was always a shooter and I was usually the smallest person on the court so I wasn't really ever getting the rebounds. But since last year we didn't really have anyone tall or a lot of presence underneath, so I just tried to get every rebound I could and help our team underneath."
Washington was satisfied with how Vanessa ran the point last year, and plans on entrusting her with more freedom as a junior.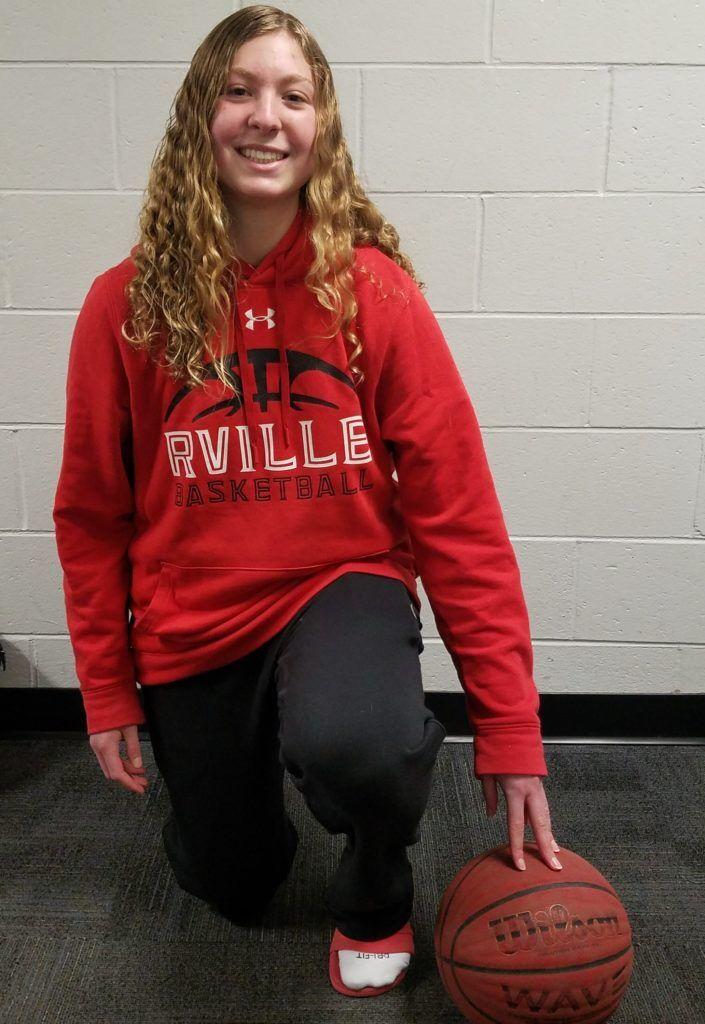 "I want to be able to give her the keys a little bit more now," the coach said. "I want her to be more verbal out on the court, which she started to do in practice. I just want her to take the next step with the mental aspect of it with two years under her belt already."
She actually has more than that under the belt, as Sabol began playing basketball at age 5 under the watchful eye of her dad, Mike.
"For as long as I can remember I've played a lot of basketball and I've had a lot of influence from my dad," Sabol said. "He was my coach all throughout middle school and elementary school, right up until I got to high school and I transitioned to AAU. He's had a big influence on just teaching me how to play."
Vanessa also plays softball and soccer, but devotes most of her time to hoops and has drawn interest from Susquehanna and DeSales, Division III schools in Pennsylvania.
She began by playing in the CYO grammar school league, moved on to Robbinsville recreation and joined the newly formed Robbinsville Rage travel team, which she played with from 4th to 8th grades. After a year of AAU with the Mavericks, Vanessa now plays with the AUF Hawks.
Upon arriving on the varsity at Robbinsville, Sabol and her classmates faced an uphill climb as Johnson was the lone returning player with varsity experience.
"Freshman year was tough for them," Washington said. "It wasn't just a tough experience for them, I was very tough on them as well. But I think going through it was good for them."
Sabol wouldn't argue either point.
"It was definitely tough, we had a lot of growing pains, but it helped," she said. "Most of the (freshman) girls had been playing on a travel team together, so it helped we already had a lot of chemistry. We couldn't do any of it without each other."
Her fellow freshmen included Becky Blitz, Giana Bonfanti, Alexa Davidoff, Allie Neumann, Kailey Pacifico, Emily Reagan and Eve Sahaya. All returned last season and have formed the nucleus of a team that has some promising potential. Neumann led the team in scoring at
nearly 10 per game and in 3-pointers with 25. Pacifico had 22 threes and was second with 108 rebounds and the others were all contributors in the rotation. To get 15 wins without Johnson was a sign of just how solid this year's junior class is.
"We're all growing at the same time but the chemistry is building every year," Sabol said. "It was definitely tough but we're all thankful we got to play at such a young age and that we got that experience. It helped us a lot."
The Ravens showed just how serious they are about the season after COVID-19 shut down official off-season workout activities.
"What they did since last season has been pretty amazing," Washington said. "We kind of went from the end of the season right into the pandemic. We did as much as we could as a team, going on Zoom meetings and staying around it.
"But they did the work themselves staying in shape. That was kind of a question mark going into (the off-season)—how good of a shape we'd be in going into the year. We were in as good a shape as we've ever been going into the season."
The question remains—as it does for all schools—will Robbinsville play a full season with the pandemic lurking in the corners of every gym?
"We're definitely hoping to get through it," Sabol said. "We've been waiting this whole time to play. We're so thankful to be here. The bond we have is something we didn't want to give up. We want to play as many games as we can and do great things."
And that all starts with a solid point guard running the show.