Nicolas Valenza is a Hamilton-based, sculptor, painter, makeup artist and prop maker. He uses molds to fabricate sculpture, props and pretty much anything he can dream up.
A comics and horror movie fan, Valenza is fascinated by the parts that make the movie scary. By day he is a painting and patina supervisor at the Johnson Atelier in Hamilton, but by night, watch out. Don't go in the basement!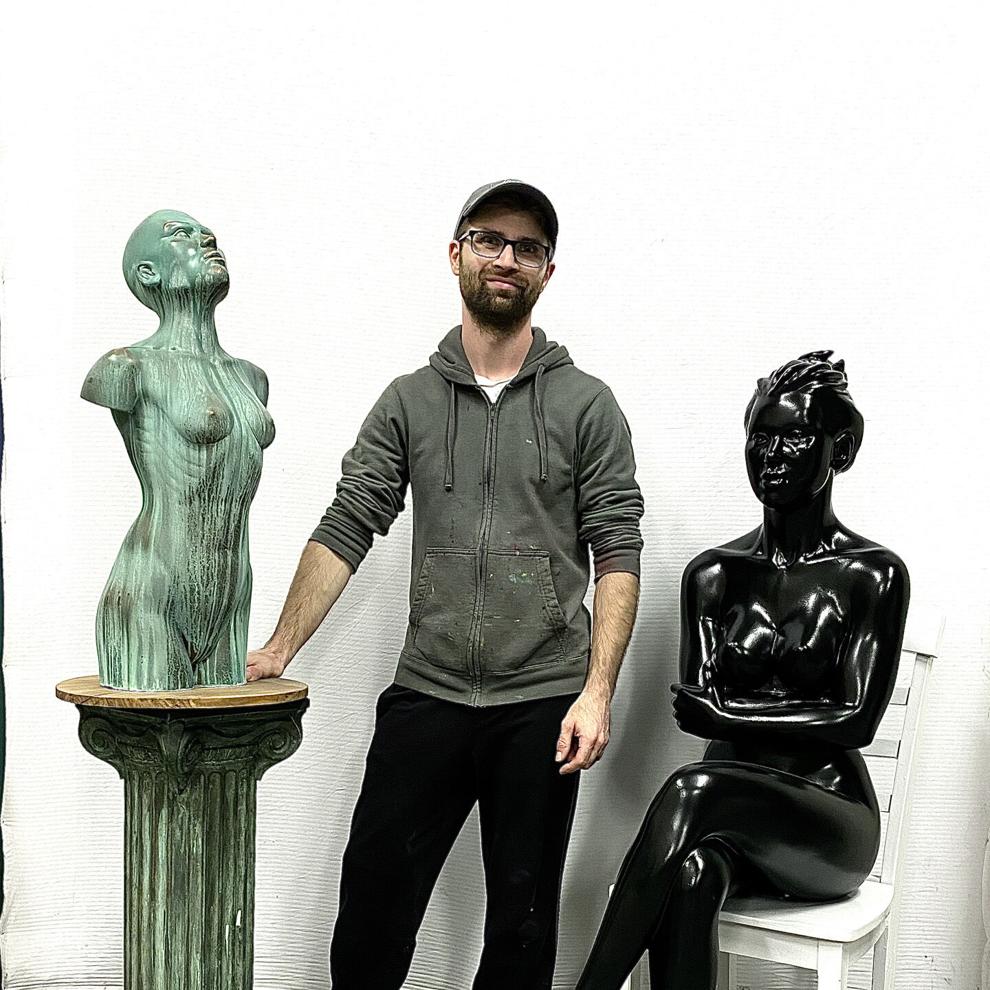 How did you become interested in the arts?
For me, art has always run through my blood, my family is very gifted, especially my mother. She has a background in hairdressing and painting. She was a professional painter at Boehm Porcelain for a time.
She always jokes that I was born with a pencil in my hand, she encouraged me to draw, paint, sew, and sculpt and many other creative things from a very young age.
Who were/are your artistic influences?
I'm a huge movie and comic book nerd, so most of my influences came from those great artists. The earliest effects artist I remember drooling over is Stan Winston — he did the dinosaurs in Jurassic Park, made the Terminator, and worked on Aliens.
H.R. Giger designed the original alien and has always been a huge inspiration with his extremely unique style. Tom Savini was an innovator in the horror genre, hence why I attended his special make-up effects course.
Comic artists such as J. Scott Campbell and the late Michael Turner have influenced me with their dynamic interpretation of the human form.
Does it all start with you drawing?
I started drawing very young, as most artists do. Most of my art was drawing, which led to painting then to sculpting. Now I mostly work in figurative sculpture and sometimes sketch out my ideas before starting.
What inspires you to create the sculptures?
The film industry led me to work more in fine arts. I went to school for special make-up effects. There they taught us most anything done physically in film.
Even though I didn't pursue a job in that field it did give me the foundation I needed to start making sculpture. I do a lot of female figures and still work in some prop-making.
Of the different subjects, which comes easiest, and which are more challenging?
Everything is challenging. If it comes too easy, Why do it? That's how I look at process.
I like to push myself when it comes to my sculpture. It wasn't until a few years ago that I did my first life-sized figure. She was definitely a learning experience for me. I didn't want to do any life casting. I wanted to sculpt her completely with my own hands.
Is most of your work done by request?
No. I have a side gig of propmaking, a few specific reproductions of film props. Those are mostly done by request now, but started because I made them for myself.
But all my figurative sculptures are of my own making specifically for me, for the process and the challenge.
What fight/struggle do you have regarding your art?
I think my biggest struggle at the moment is balancing my art and life. Time is always a something to fight for. Supplies are another challenge: the silicone rubbers and urethane resins I use can be pricy, which is why I have the side gig of prop-making on top of my full-time job.
I've never cared too much about the recognition because for me art is very personal. It's an expression. It's self fulfilling.
How do you know what to work on next, do you have a list of projects?
I never know what I'm going to work on next. I make things as the ideas hit me. Sometimes it's a new prop, and sometimes it's a sculpture that I'll dabble with for years.
How long will you work on a particular project?
It's hard to say how long I work on any particular project. If it's a prop, I usually have a time constraint, so I can make them in a matter of weeks. My figures can take months, if not years, because I have no deadline.
What were some of your favorite projects?
I'm very proud of my prop chainsaws based on a very famous film and TV series. They tend to be fan favorite in the horror movie community.
As for my figurative work I really enjoyed working on my life-size female figure, "Body Language."
Where can we see your work?
My work is not on display anywhere now, but can be seen all over social media. I have a studio at the Grounds for Sculpture and often participate in the Artist in Action event. This allows visitors to tour our personal studio space and view our art.
What is most fun about being an artist?
Being an artist means you can create anything that your heart desires. That's most fun for me. Once I learn some specific skills, with a little hard work there are no limitations.
What do you do to relax?
The most relaxing things for me are spending as much time with my wife and daughters. They keep me happy and grounded. As for the hobbies that relax me, I love watching movies, all kinds of movies.
I'm also a collector, I collect physical copies of movie and comic books. These hobbies are all directly connected to my art, they keep me inspired and give me drive.
What is on the horizon?
In my professional life I recently taught a resin workshop at the Seward Johnson Atelier. I'm looking forward to teaching the next workshop on latex maskmaking in October. It'll be a fun creative experience in preparation for Halloween. As for my personal work, I have quite a few ideas in the works, it's just a matter of finding the time to create.
---
Nicolas Valenza can be found online via Facebook and Instagram.