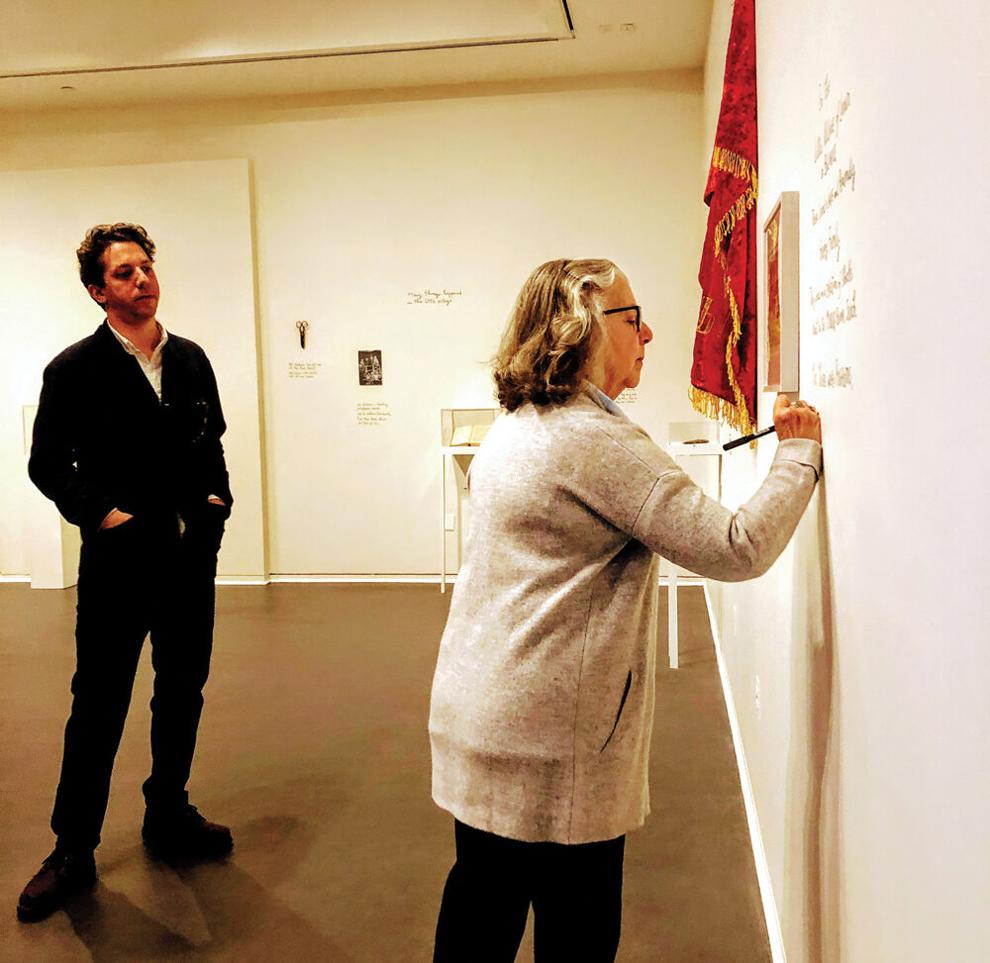 Recent visitors to Philadelphia's Independence Mall may have noticed a woman's closet encased in glass and gazed at the shelves of meticulously pressed linens, neatly hung blouses and pants, and even folded white bras and underpants.
Those familiar with the artist Maira Kalman and her son, Alex Kalman, will recognize this as "Sara Berman's Closet." They may also connect it to the exhibition "Sara Berman's Closet: a small and monumental story," on view through September 1 at the National Museum of American Jewish History, also in Philadelphia.
In addition to the arrangement of garments the exhibition includes new paintings by Maira Kalman, Berman's daughter, and sculptures by Alex, her grandson, and will include occasional interventions — a type of performance-like engagement — as well as in-person appearances by the Kalmans throughout the run.
Previous iterations of the installation appeared in New York City's Mmuseumm (founded by Alex in a repurposed elevator shaft in lower Manhattan), in the Metropolitan Museum's American Wing period rooms, and in the Skirball Cultural Center in Los Angeles.
Who was Sara Berman, and why should we care so much about her linens and things, which have been making their way around the world? How does her closet fit in Philadelphia's Independence Plaza, where our nation's independence is portrayed as coming from the accomplishments of men?
Born in Belarus, Berman (1920-2004) left Europe for Israel, where both Maira and her sister were born. In 1980, at age 60, Berman left both her home and her husband, taking one suitcase into the night. She moved to a studio apartment in New York's Greenwich Village, where she was happy in a room of her own.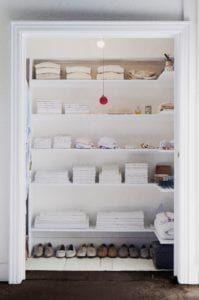 Wearing white was her personal expression. She starched, ironed, folded, and stacked her minimal belongings with precision and loving care. Sara's closet represents the universal pursuit of creating beauty and order and finding meaning in the everyday, say the curators. When Berman died, her family saved the contents of her closet, knowing that one day it would become an exhibition.
Filled with her fastidiously organized personal effects, Sara's closet tells "How a life is formed. How meaning is found. How mistakes are made. And how we have the courage to go on," as the Kalmans write in the recently published book, "Sara Berman's Closet," published in 2018 by Harper Design, and a 2019 National Jewish Book Award finalist.
The closet is not just about an eccentric old lady's obsession with order and with white, but a story of finding independence at the age of 60 (and that's why it fits in Independence Plaza — the closet represents Sara's liberation. It puts her humble 20th-century immigration story on par with that of the Founding Fathers). Berman had lived to sew, press, cook, and clean for her family members ever since her childhood in Belarus. Finally, at an age Maira once considered "old" — in fact an age similar to Maira's was when she first began this project — Berman was reveling in the joy of doing these things for herself.
Berman's objects tell not only the story of Sara, but of us all. Says Maira: "Sara taught us that you don't have to be bound by what is correct, but by imagination and humor."
For those who have seen the closet in previous incarnations, this exhibition offers much more. Based on Maira and Alex's book, "Sara Berman's Closet" unpacks more of Sara's story, starting with her childhood in Belarus. "Yes there were Pogroms. Yes there was deprivation. But Life was not all bad." Children ran wild in the blueberry forests. They ate cake (ornately decorated cakes are a Maira Kalman trope, representing a kind of the-hell-with-it-all happiness), sang, and danced. Sara had a grandfather with a six-foot-long beard who used it to rescue her from the muddy river Sluch. (The exhibit includes a bottle of water labeled as being from the Sluch.)
"Men were fine but women were Wondrous." They took care of everything and everyone. People weren't trying to be creative, it was just the way they lived, Maira said about their embroidery, their hut building (there's a hut replica built for the show, with white feathers covering the floor), their cooking and baking. There's even a wall of white coats that visitors can borrow to experience what Sara experienced.
One day Sara's cousin was sitting in his shack and was struck by lightning and killed. "And still, life goes on. Just like that." Sara and her family lived every day thinking that something might happen to take their lives.
On the journey from Belarus to Israel, all that survived without breaking were three white plates, shown in the exhibition. These are the objects that survive us, including her father's embroidered shirt. It's the type of stuff people discard, and yet here these things are, reminding us of our own past, the things we threw away, and what they meant.
"The objects that we choose to place in our homes, those that follow us through our daily lives, carry our stories," says NMAJH Director of Exhibitions Josh Perelman.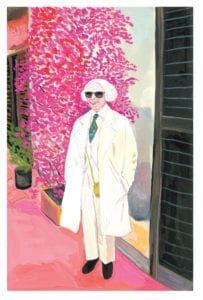 Maira Kalman was born in Tel Aviv in 1950 and moved to New York with her parents when her father decided to expand his diamond business in 1954. The family resided in Riverdale in the Bronx. "We didn't have money to buy books, so we went to the library and I started reading everything beginning with A. When I got to L. for Pippi Longstocking I decided to be a writer."
She studied art at the High School of Music & Art, now LaGuardia High School, and at N.Y.U. After her parents moved back to Israel, Maira remained in New York and married designer Tibor Kalman, with whom she founded the design company M&Co., creating work for Interview magazine, Talking Heads, and the Museum of Modern Art. Tibor died in 1999 at age 50 from non-Hodgkins lymphoma.
Maira published her first children's book in 1985, "Stay Up Late," which illustrated the lyrics of musician David Byrne. A frequent contributor to the New Yorker magazine, where she has created covers, Kalman has published more than 28 books, including "The Elements of Style," and has designed stage sets for theater, dance, and opera.
Alex Kalman is a designer, artist, curator, and director of Mmuseumm. "I have been collaborating with my mother since the day we met," he says. "If I was bored as a child she would say 'write a book.'" He remembers visits to his grandmother's apartment where "we sat in small chairs and threw around an inflatable globe. She was singular, tough, smart, and funny."
This exhibit includes not only Maira's illustrations of Sara's life, but ceramic objects Maira made for this show: an orange that Sara saw for the first time while on the boat to America (it was the only story that survived the boat ride); the white mole Sara's sister brought into their house ("which made everybody crazy"), placed on a white lacy tablecloth in the wooden hut; the potatoes her father loved — "He burnt the potatoes in the pot."
"The ability to digress — that's the best part of the story," is another bit of advice from Sara.
Maira describes her mother as "courageous, funny, and ravishing," and according to this exhibit and the book, everyone was madly in love with Sara. "Gandhi was GAGA for her…KaFka was KRAZY about her… Toscanini proposed marriage (a pair of Toscanini's pants, purchased at auction, hangs here)… and Miss Gertrude Stein thought she was SUBLIME." Menachem Begin hid in their apartment and chased Sara around the couch. (Sara had a flair for telling a good story, whether or not she let the truth get in the way. "Everything here is true… mostly," says Maira. "Things that bend truth are part of the family lore.")
When Sara left her husband to come to the U.S., she packed everything into a single suitcase (also here). She edited out of her life the useless distractions. She cherished the small, sweet moments. Every action was done with care; every day was filled with precise and brilliant actions. She ate herring (emblazoned on the museum's elevator doors). "There was a place for everything, and everything was in its place." And as minimalist as she was, she wore three watches at once, all designed by Tibor's M&Co. Time mattered. Her motto: "Don't look back."
The closet out on the plaza has "The Great Gatsby" and other books on the top shelf (as a child Sara loved to read the classics), an aluminum pot amid the linens, a recipe box with "Ann Landers world famous meatloaf," Chanel No. 19. "The closet was an expression of something that went back to her life in the village of Lenin. (There's a sample of moss from Lenin.) A way to create a life of beauty and meaning…"
When Alex was studying film at Bard, he took his camera on a family visit to Israel for the high holy days. Presented here as a three-channel video installation, we see Sara hugging her sister Shoshana and singing songs with her. "It was an enchanted night." But the next morning Sara did not come down to breakfast. "Her end had come in a whisper."
Says Maira: "We think she's hovering over, laughing, incredibly delighted."
Sara Berman's Closet, National Museum of American Jewish History, 101 South Independence Mall East, Philadelphia, Pennsylvania. The exhibition includes an installation on the Museum's Kimmel Plaza outdoors, and inside on the Museum's 5th floor special exhibition gallery. Tuesday to Friday, 10 a.m. to 5 p.m., Saturday and Sunday, 10 a.m. to 5:30 p.m., $12 to $15. 215-923-3811 or www.nmajh.org.
Postscript
When my own mother died and left behind a precisely organized closet, composed of carefully curated mostly white clothes and rows of polished oxford-style shoes, I never imagined that anyone else would find these interesting, and yet it is through "Sara Berman's Closet" that I can mourn my mother. She is a maternal archetype: a generation that was, in Maira's words, too devoted, too self-sacrificing. "It's complicated to figure out how to make your own life."
Thinking of my mother's closet, and her clothes I gave away to a homeless shelter, I wonder: what did I lose? Why didn't I hold on to these precious mementos of my mother? I continuously search for my mother and other ancestors in the things other families left behind in antiques shops. Here, in Sara's closet, I find her.