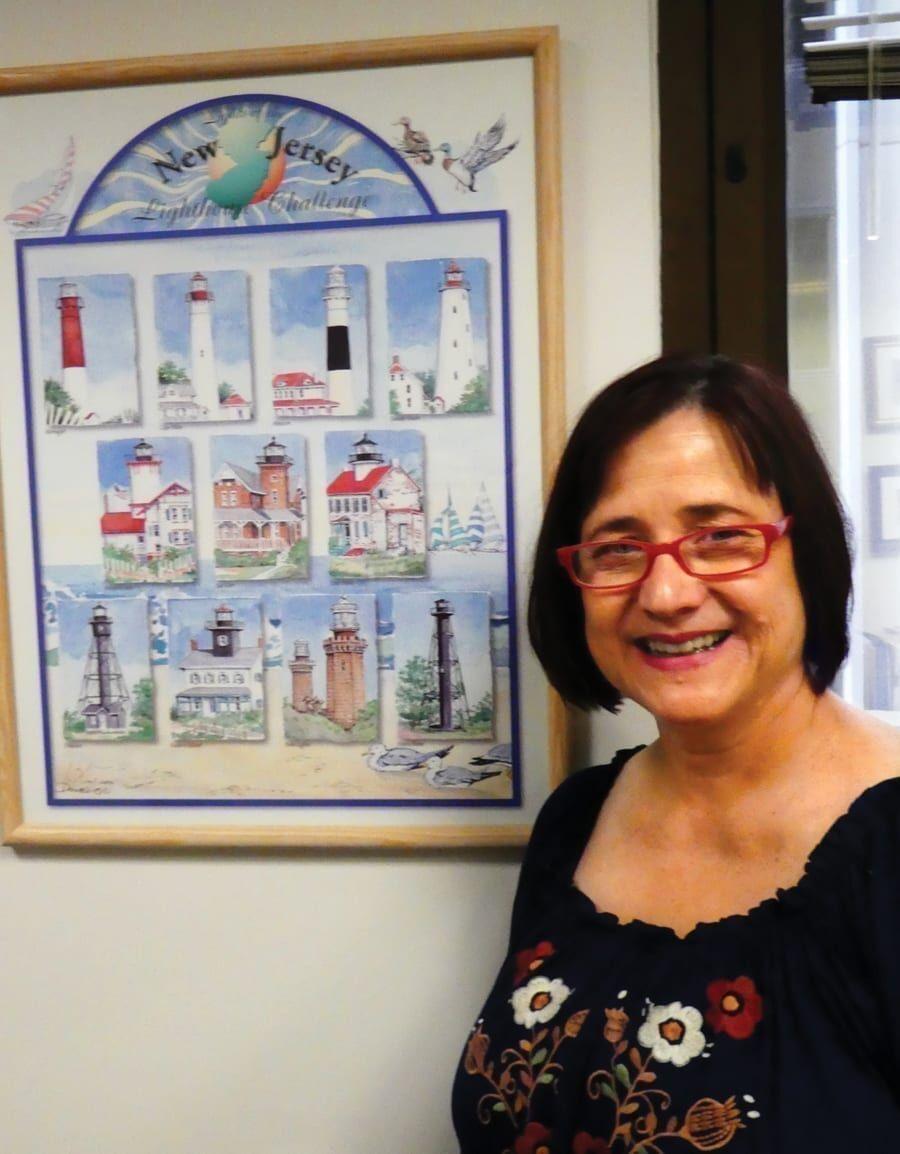 The framed picture of New Jersey's lighthouses does more than decorate New Jersey Historical Commission Executive Director Sara Cureton's office at 33 West State Street in Trenton.
It is a daily reminder of her past role as the lighthouse keeper of one of New Jersey's emblematic Jersey shore structures: the Absecon Lighthouse in Atlantic City.
"I am very passionate about New Jersey's maritime history," she says sitting down in front of the image to discuss her experience and the annual Lighthouse Challenge of New Jersey. That's the annual event that celebrates NJ's lighthouses through open houses, tours, and a contest to visit as many as possible in one day. This year's event is set for Saturday and Sunday, October 20 and 21.
"I think New Jersey's maritime past often gets over looked. People think about other things. They think of the Revolutionary War, industrial past, Thomas Edison, and the development of television — about what happened on land. But the reality is that the history of New Jersey is a maritime history."
"Of course lighthouses in New Jersey are important," she adds. They are "a visible and tangible part of our history.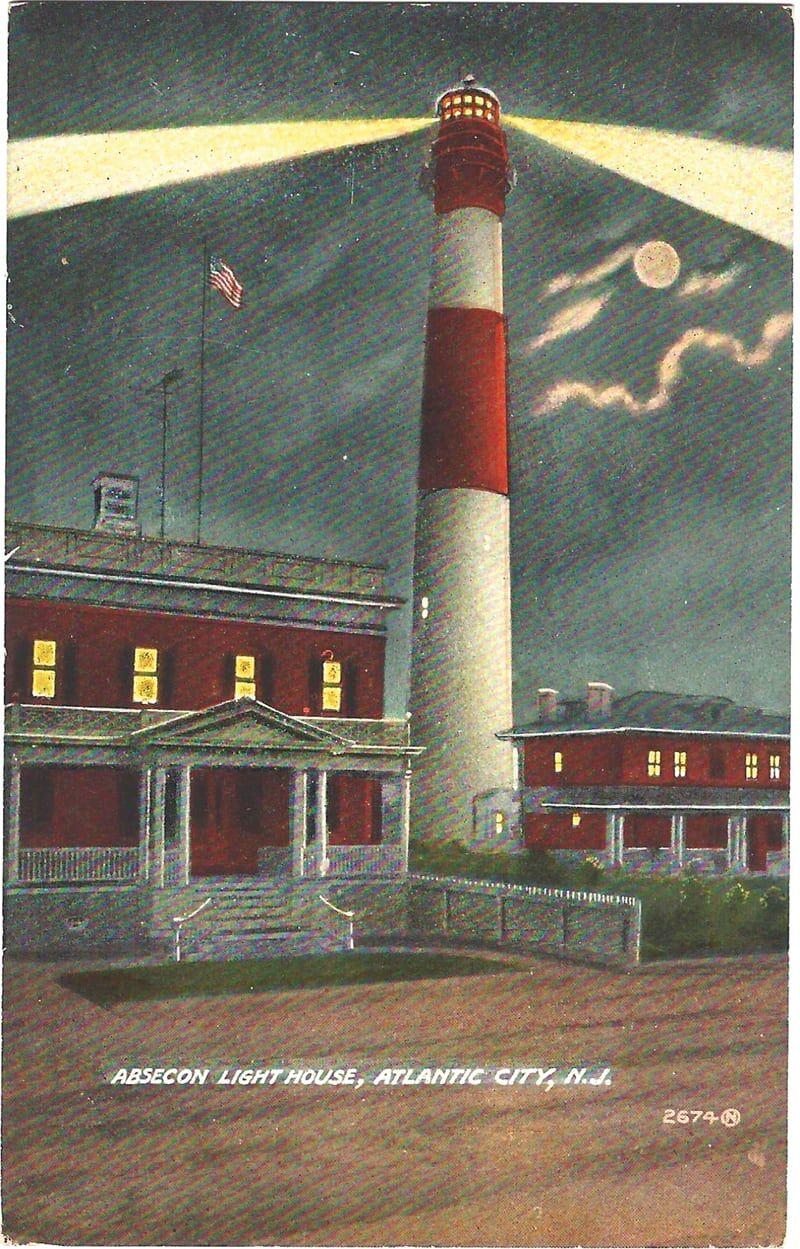 "Our collection of lighthouses is very diverse of itself. From an historical and architectural aspect they're fascinating to explore."
Cureton then takes an inventory, starting where Monmouth County juts into Hudson Bay. "Sandy Hook — it is the oldest continuous lighthouse — started pre-Revolutionary War. Well over two centuries. And a connection to our early part of New Jersey and United States history when transportation by ship was critical. Sandy Hook was constructed out of great need that merchants saw."
She then moves to the 19th century and the tall cylindrical lighthouses built by civil engineer George Meade, later the Civil War Union general who defeated Robert E. Lee's troops at the Battle of Gettysburg.
"They were built in alphabetical order: Absecon, Barnegat, and Cape May," says Cureton. "They reflect the importance of the state's seacoast and protecting ships." The Meades were built by the federal government and reflected the trend to modernize and standardize lighthouse keeping."
Then there are the small lighthouses built in the Victorian era with lanterns built right into the house. They can be found along the coast at Sea Girt and North Wildwood and on the Delaware Bay.
"They are all unique in physical appearances, and that's on purpose," says Cureton. "The shape and color were called the day marks (to help mariners navigate). Then at night each light had a unique pattern."
About her own involvement with lighthouses, she says, "I was the lighthouse keeper. I was the person in charge."
Yet that charge was more than just turning on the light. "When I came on board it was in need of care," she says. She was hired by the nonprofit Inlet Public/Private Association in 1995, when it decided to re-open the 171-foot-tall lighthouse, the tallest in New Jersey and the third tallest in the nation (Cape Hatteras Lighthouse in North Carolina is the tallest). "Inlet" refers to the northern and lesser known section of Atlantic City.
By the time the association took on the project, the State of New Jersey-owned lighthouse that began operating in 1857 and was decommissioned in 1933 was on its way to becoming a victim of neglect.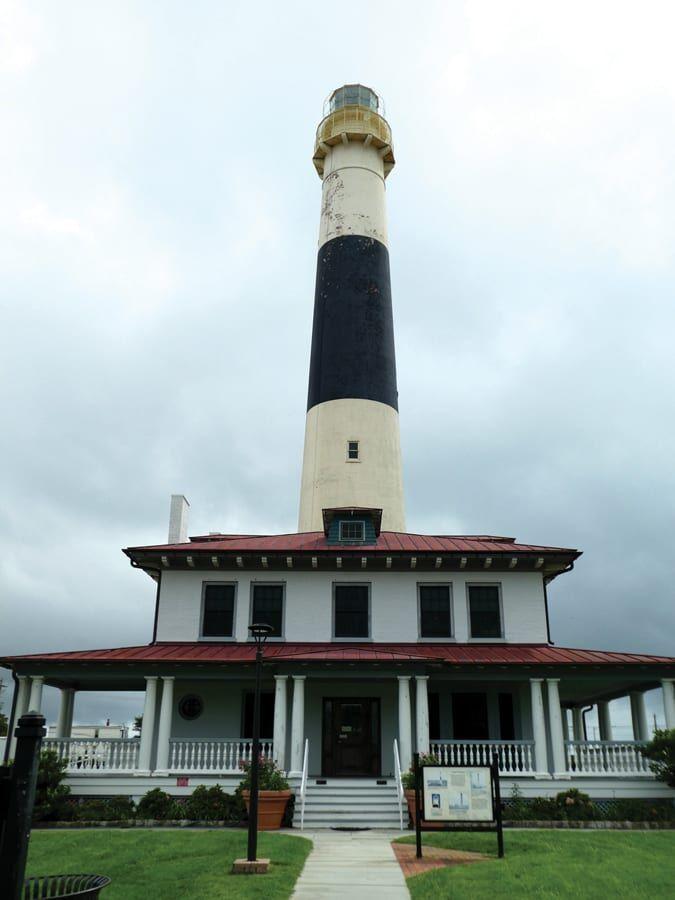 "Buildings along the coastline have a special need. It is a challenging environment for the building. If the paint coating is failing that means moisture is getting in and eating away at the structure. That is why lighthouse keepers were needed. They painted (and protected) the buildings. When I was Absecon we did a restoration of the lighthouse. We restored the tower," she say, part of the plan when the association brokered a lease-agreement with the state.
She also helped restore one of the building's most historical elements, its original first order Fernel lens was made in Paris especially for Absecon. Illuminated by kerosene flame, the lighthouse light could be seen 19.5 nautical miles from the coast.
"For the first time since it was installed it was cleaned and reinstalled," she says.
The tower project involved Watson & Henry Associates, the New Jersey restorers of the Meade lighthouses in Cape May and Barnegat. The reconstruction of the keeper's house was led by the New Jersey-based Westfield Architects and Preservation Consultants, which had also renovated the famed Lucy the Elephant building outside Atlantic City. The project was funded by Atlantic City, New Jersey Historic Trust, Casino Reinvestment Development Authority, and, since a lighthouse is part of the federal transportation system, the United State Surface Transportation Act.
Thinking back on the project, Cureton says, "The reality is that it is hard to get a grant. The challenge is to spend money wisely and productively. In the case of these projects we looked for contractors who had success. We have to go through a process of being prequalified to show they have the expertise to do the job."
About her own education as a lighthouse operator she says, "I had certainly visited lighthouses before but I had never been a lighthouse keeper."
What she is a "public historian by training. My background was in history and museum education. I was at the Old Barracks during its restoration. Not only did I have the background in history, I had a background in restoration projects."
Originally from Seattle, Washington, Cureton connects her love of history to her family. "My dad was an attorney, but he loved history. So I firmly believe my love of his history was sparked by him. Our specific interests were not identical. He was fascinated by military history. He loved Winston Churchill. He was fascinated by the Civil War. Later in life he became more interested in Revolutionary War history. My mother was not a history enthusiast. She loved current events. If there was an election or state of the union address she was watching it. I carried that with me, too."
She says she came to the East Coast to attend Harvard, then moved to the University of York in England, and then to the museum education program at George Washington University.
Ironically Cureton's journey to New Jersey began in York, where she met her husband, Kevin Cureton, a fellow M.A. in medieval studies who had been accepted to Princeton as a doctoral student. The two moved to Princeton, where her husband took a position at ETS. The couple and their two sons — now 23 and 27 — lived in the Trenton-Princeton region for years. They moved to Medford when Cureton took the lighthouse position and wanted to shorten the commute to Atlantic City.
As the first woman to run Absecon Lighthouse, Cureton says the distinction was not that meaningful. "It was the 1990s. We're talking about an era when restoration was in full swing. And many women were in involved with historic restoration. I don't think it was unusual. If we're talking about the 19th century, then it was primarily was male. Although there are some stories that women were lighthouse keepers, but historically they were men."
Cureton, the New Jersey Historical Commission's executive director since 2010, says she loved working on the lighthouse. "(It) was beautiful, and the history was rich. I think the biggest thrill was during the restoration of the tower. We scaffolded the whole tower. We would have regular meetings, climb up the scaffolding, and be right there — a front row seat in the process.
"The biggest challenge was funding and resources, having enough dollars to care for the site and have enough staff to tell its story. If we want to save these structures we have to take area of them and we have to maintain and the reality is that is always going to coast money."
About the Lighthouse Challenge, Cureton smiles, points at her lighthouse picture, and says, "We have this wonderful and diverse collection of lights in New Jersey. If you visit all of them you'll get a taste of our history and maritime history — and an opportunity to get out doors and enjoy the fall weather."
For more information on the New Jersey Lighthouse Challenge or the state's lighthouses: lhchallengenj.org or www.njlhs.org.