Dan Zimmerman reads a lot, plays music, draws, illustrates, and paints. But what separates him from most from other artist is the amount of insight and thought that goes into his work. You do not have to know Zimmerman well or speak to him long to realize that he is a very deep thinker — a painter who pauses before a brush touches the canvas or a pencil touches the paper.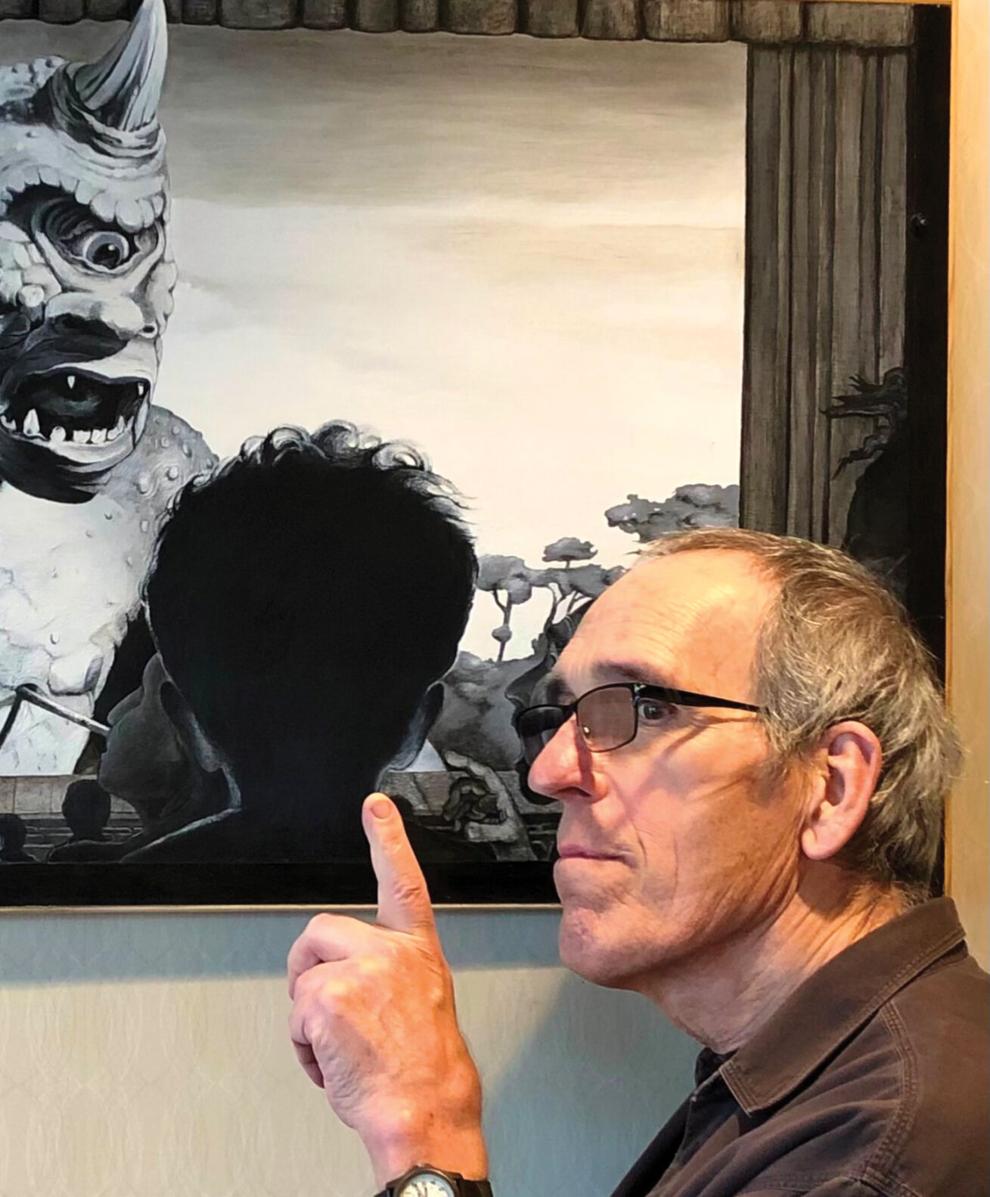 Zimmerman has a small series of paintings up now through December 1 at Barnes & Noble in Princeton MarketFair on Route 1. It includes paintings based on black and white movie stills. Monster movies, science fiction, and other off-center movies are a leaping in point for Zimmerman. Many of us who grew up on these old films will feel a hint of nostalgia for the simpler times when a Saturday matinee or late night television viewing session would include movies like these.
These movies, even though about monsters or mythic figures, always point out the human virtues, moralities, frailties, weaknesses, and an eventual triumph of spirit, bravery ,and honor — in both the humans and the "monsters."
Zimmerman, now of Hamilton, was born in 1948 and grew up in Southern California. His father was a Methodist minister, and the artist remembers his early childhood as "being bathed in the light of stained glass windows and immersed in soulful church music. Sitting in a church pew listening to my father's baritone voice is a strong memory."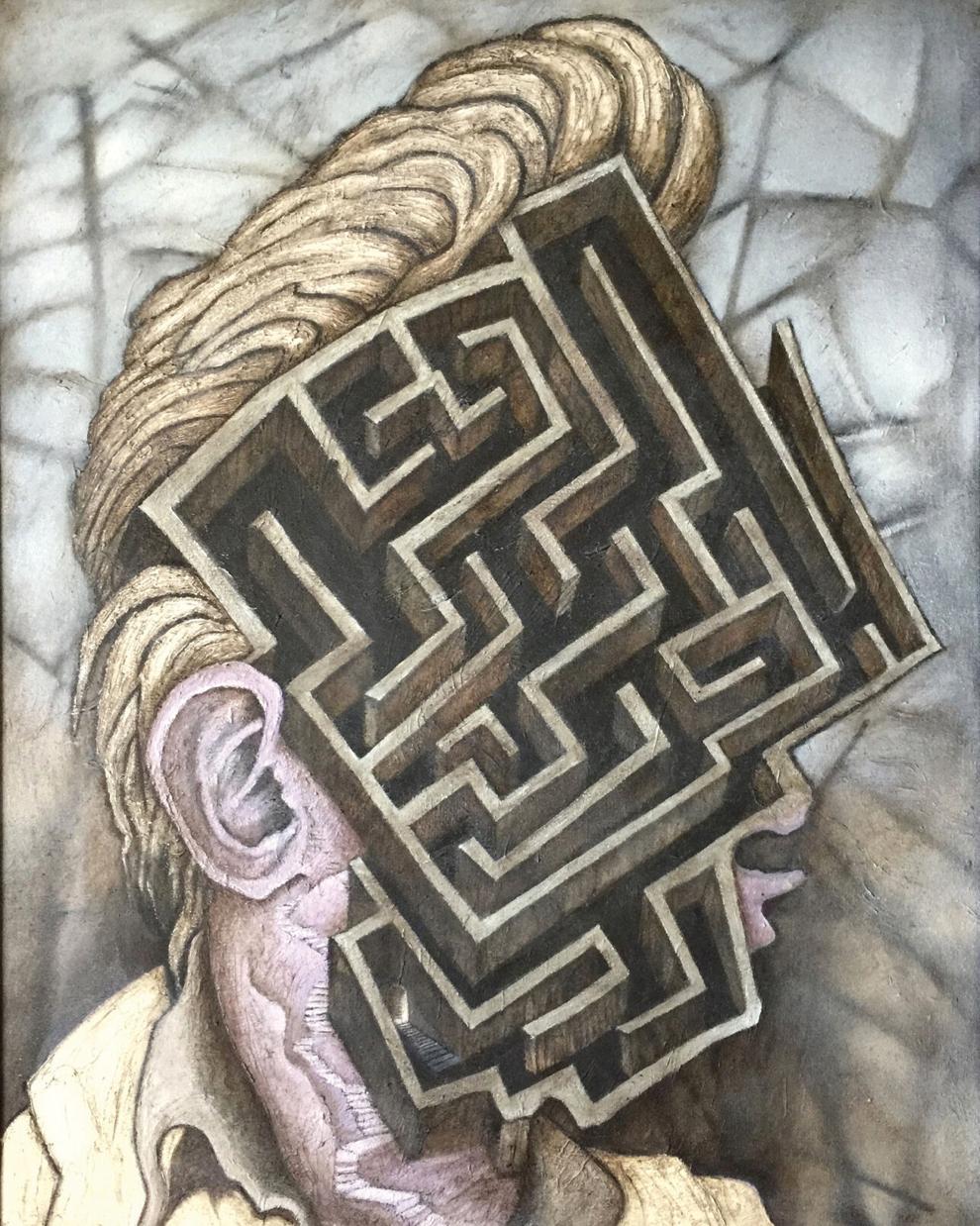 "Growing up in Southern California, close to Hollywood and Disneyland, the movies were a big business, and people were very interested in how they were made. We moved around a lot in the Southwest, when I was a kid, due to my father's profession, before ending up in Tucson, Arizona. My father and his beliefs were a huge influence on me. His last church was in Tucson."
Zimmerman's work would be categorized as expressionist. This means realism and its bounds are substituted and exchanged for subjective outlooks and emotions. While his monsters and otherworldly images are a normal way to describe the human quest for truth and understanding, he uses symbols, allegory, and curving compositions to achieve a highly personal style.
When started drawing as a youngster, he says his parents were very supportive. They thought maybe he would move toward medical illustration for textbooks or arts education. He attended Syracuse University in New York State and majored in painting. "I minored in art education and was recognized as being very good, but I never did end up teaching. The late 1960s, when I was in college, was a very tumultuous time. There was the war, the social upheaval, drugs, and music. Everything seemed to be disassembling, to be coming apart."
"A short trip from Syracuse to New York City during the height of the '60s was quite an eye opener — all the excitement, seeing the museums, especially the Museum of Modern Art. It blew my mind."
Zimmerman says his influences include 20th century Russian expressionist Chaim Soutine, 20th century American fantastic-nature painter Charles Burchfield, 20th century American regionalist Thomas Hart Benton, and 19th century post-impressionist turned expressionist Vincent Van Gogh, who, he says, "was 'The Guy.' What he brought through the canvas was spiritual."
The artist adds that seeing an extensive Vincent Van Gogh traveling exhibition in San Francisco in 1971 was a turning point. "I was traveling from Tucson to San Francisco to see my mother, who was living in the Bay Area at the time. I was traveling, playing guitar, and making drawings. I got a job at the California Palace of the Legion of Honor Art Museum as a security guard. When the Van Gogh exhibit came to town, I was transformed. I mean this was expressionism. As an employee I could cut the long lines and see the paintings at any time. I was transfixed. It changed my life."
Zimmerman's art all starts from drawings. He uses a charcoal pencil to get the black and grays he likes. He makes drawings that are finished pieces unto themselves and drawings as a leaping in point for painting.
"I go back and forth between the monochrome black and white and color paintings. I work in oil paint, like to do collage, and also use acrylic paint. I can spend more than 150 hours on a painting. I have a desire to change the 'limited' in the strongest way possible. I wish to cause the viewer to have introspection. I want them to focus and think. I wish for the viewer to be a participant and use their imagination.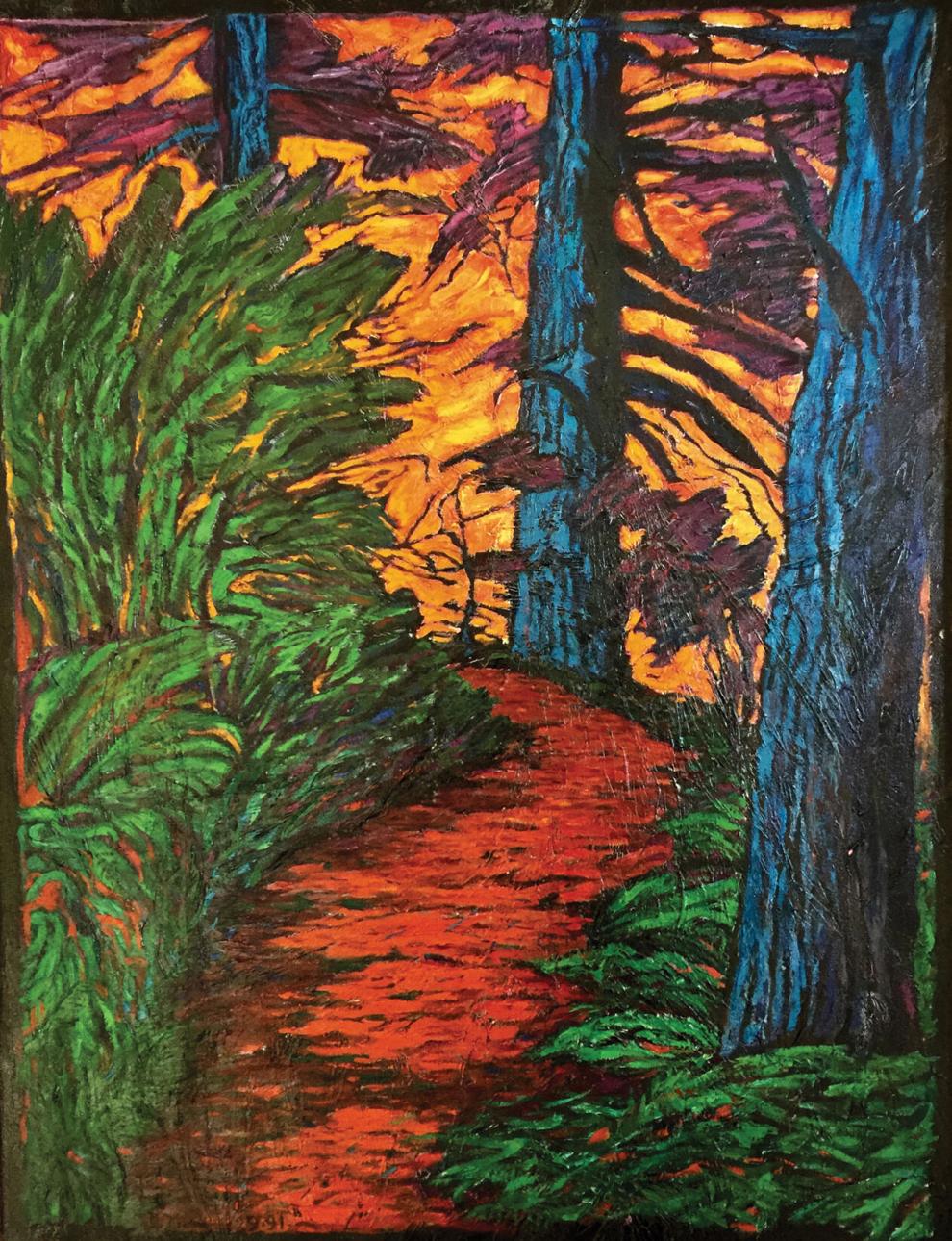 "I keep all my drawings. I keep them in boxes, visit and revisit them for painting ideas. I draw every day. One of my favorite things is to sit under the umbrella on Island Beach (State Park) and make charcoal drawings of the ocean and sky. I will save the good ones and parts of others. Then I will spray them with fixative and place them gently in a box," he says.
Another important moment for Zimmerman at Syracuse was meeting his wife, Robin, at a freshman mixer. They now both work at Barnes & Noble, Zimmerman himself for more than 20 years. This makes perfect sense as he is an avid reader. Barnes & Noble giving him an opportunity to show case his artwork is a mutual benefit. The paintings liven up the café area, and Zimmerman is met with compliments from bookstore regulars.
The Zimmermans have a grown daughter and son who both live in Oregon outside of Portland.
"I read for at least an hour every morning when I drink my coffee. I read biographies, history, and philosophy. I am currently reading about abstract expressionist Jackson Pollock. He had a fascinating life. I am actually currently reading five books on Pollock, as I wish to understand different viewpoints."
Zimmerman is also a musician, a guitarist, singer, and songwriter who fronts the band The Torquebillies. They have played locally at various venues including Small World Coffee in Princeton and the Knitting Factory in New York City. Sample his work on YouTube.
While he always has a painting in progress, Zimmerman keeps an organized schedule to work on his many long standing projects. "That's a painter's nightmare really, the 'last painting' and not having another one started. I work on three or four at a time. I really think them through. I wish to see the work's impact on people. I am searching for the emotional, the new myth, as a way to move people, to make them reflect."
Zimmerman says, "Right now, I am working on a large scale painting based on a photo I took right after Hurricane Sandy, nine years ago. It is of the Jet Star roller coaster that ended up in the ocean. It will be a sad painting in subdued colors. Of course I went down there the day after the hurricane, a cop was telling us to get back, but I had to see. I had to see this iconic structure sitting in the water. To me it truly symbolized the destruction of pleasure, so expressive.
"My wife says I need to have more fun. She says let's go to the movies. For me to have fun is to keep my artistic rhythm: writing, drawing, illustrating, playing music, and painting. This is fun for me, working really hard on a piece. Coming down to my studio the next day to see if it is still looking good as I remember it should be. That is fun for me."
"My roots are still from Southern California. My influences are the films I saw as a kid, reading Mad magazine, monsters, the moving around and being the new kid in town. These were my origins, my beginnings that I am still realizing. The quest is a continuing one."
Paintings by Dan Zimmerman, Barnes & Noble, Princeton Market Fair, 3535 Route 1, West Windsor. Through Wednesday, December 1. Free. .For more on the artist, visit www.danmakesvisible.com.