A scene that takes place about three-quarters of the way through the Bristol Riverside Theatre production of Douglas Lyons' play, "Chicken & Biscuits," shows both the promise of the piece and why the BRT staging doesn't quite fulfill it.
Lyons' play is about family, its squabbles, its love beyond the squabbles, and its constitution at a time when all things are not always what they appear on the surface to be. At its best, "Chicken & Biscuits" is an amiable piece that gently and amusingly goes about its business in proving, despite one character's sentiments, that blood does have an advantage over water.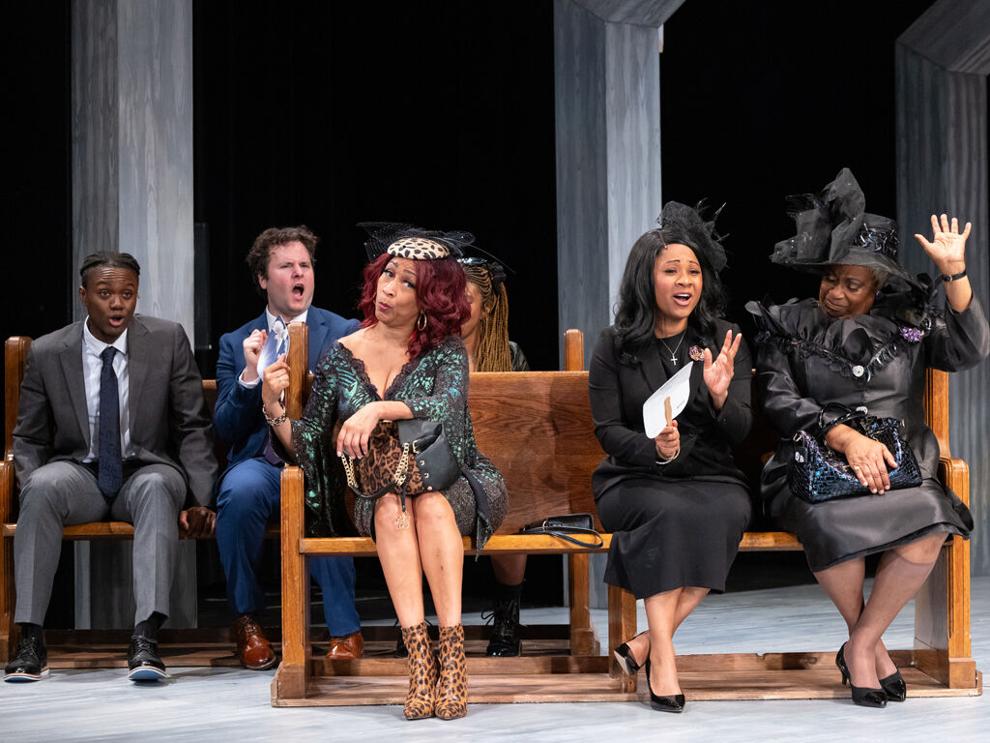 In the scene being cited, two among several sets of siblings are in a church basement following their grandfather's funeral, the reception for which is in progress above them. They are a brother and sister who have demonstrated some prickly resentment towards each other, sibling rivalry leaning towards terminal estrangement, but they are now leveling with each other about their choices of partners, one successful, one scuttled by unforeseen factors. The brother is gay, with a white partner and doesn't exactly find welcome from his alleged nearest and dearest. The sister canceled an engagement when she found her intended dallying with another woman, also white, which was part of her gripe against her brother.
The sequence is different from any other in Tyrone L. Robinson's staging because it is quiet and sincere, a sharing of revelations between two people who should be close but let childhood nonsense and disapproval of each other's choices, including of partner, impede chances for friendship or peace.
Adrian Baidoo, by far the best performer in Robinson's cast, the only one who never strikes a false note or resorts to overdoing in his portrayal, and Ashley Nicole Baptiste, another who stabilizes the show, have a moving, sincere talk that clears a lot of air and is refreshing because it registers as being so real and a catalyst to healing deep-seated wounds on the sister's part. Seeing this scene, one wonders more that happens in Bristol's "Chicken & Biscuits" isn't as sharp, affecting, effective, and so attuned to all Lyons provides.
The answer is Robinson's troupe acts on different levels. Each performer seems to be ably doing what it is asked. The problem is some characters seemed muted while others surrender the reality of their characters by going for large takes bordering on cliché and slapstick rather than staying within some bounds that would make Bristol's staging more touching and realistic.
Sure, "Chicken & Biscuits" is a comedy. Lyons, currently on Broadway as an actor in the revival of "Parade," has generously supplied jokes, retorts, and observations to keep laughs coming. It is not, however, a farce. Some of the antics of the bigger or more flamboyant characters might earn laughs, but they are often cheap or forced instead of incidental. They make certain characters, a sister who comes from Atlanta to her father's rites and the white gay partner, oversized and ultimately unsympathetic. I'm gay, and all I could think about watching how annoying Alex Brightwell makes his character is "Your mother's right. Dump that guy."
P.S. The mother is not supposed to be right, and we should want the gay pair to stay together.
To be fair, many in Bristol's opening night audience greeted the broader segments with enthusiasm. That's because Gabrielle Lee is entertaining in her largeness and knows how to please a crowd.
I kept hoping for some subtlety that would bring Lee's performance to a more human, more malleable scale, but I can see from the response why she and Robinson might be encouraged to go for the all-out raunchy rather than give the character some poise and control within her sexiness.
Lee is excellent in doing as directed. She is especially fine, without reservation fine, in a knockdown drag-out fight scene, but I think she took the easy way out in not giving her character more facets that would have added allure and respect to the character's salacious and rebellious ways.
By contrast, Miche Braden, a favorite actor whose work I've admired for decades, plays down the conservative sister, a Ph.D. and pastor's daughter and wife who wears her dignity and lives her standards with pride, so much so she can't compete with the broader performances surrounding her.
Braden's Baneatta is supposed to be a prig. Lyons writer her to disapprove of her sister's conduct, her son's homosexuality, and her daughter's independence. Baneatta is a character who needs to change as "Chicken & Biscuits" progresses. She does, but Braden makes her so austere at the start, she can't catch up as Baneatta works to put family first and correct some of the problems she's created in her sternness.
The result is "Chicken & Biscuits" never takes off. It's as if it's being done scene by scene as opposed to with a mind to leading from one place to another evolving along the way.
Robinson's production is, by turn, under hatched to the point of being dull or overdone to the point of seeming silly. It is only in the scene between Baidoo and Baptiste that it shows any depth, grandeur, or proportion.
Later scenes are better. Once Nellesa Walthour arrives as a surprise character, Braden and Lee demonstrate more texture as women who prefer to make the best of a situation rather than sabotaging the family even further, perhaps to the point it can't be repaired.
Among the more satisfying parts of Robinson's production is how, through all the miscues en route, he brings Lyons' show to a warm, desired, and moving end, one that emphasizes the value and composition of family.
Adrian Baidoo makes a difference the minute he appears on the Bristol stage. He, among all of the actors, finds the perfect balance between comedy and having to deal with adversity. Baidoo exudes charm and a streak of common sense the other characters lack. He finds the right tone between Braden's restraint and Lee and Brightwell's over-the-top plunges. It is always a relief to see him come on stage. He's the only one who seems natural in any situation.
Walter DeShields also acquits himself well as Lyons' raisonneur, a man taking over his late father-in-law's pulpit while trying to mediate between his wife, the late pastor's daughter, his sister-in-law, and his children.
Maya Imani knows how to walk the fine line between comedy and farce. Her character is one who speaks without thinking and expects people to do her bidding because she's the family's youngest and cutest. Imani keeps control of the bigger moments required. She provides comic relief. If her character is irritating at times, Imani keeps the annoyance aligned with Lyons' script.
Nellesa Walthour seems to bring discipline to the proceedings as both an actor and a character. Her no-nonsense approach to her role becomes contagious. Everyone improves in scenes with her.
Lee, Brightwell, and Braden are all capable of toning down or amping up their performances. Perhaps they might find their Goldilocks zone before "Chicken & Biscuits" closes on June 4.
Chris Haig makes the most of sparse set, using slide-in pieces to suggest specific settings. Each character looks right in Ramaj Jamar's costumes.
---
Chicken & Biscuits, Bristol Riverside Theatre, 120 Radcliffe Street, Bristol, Pennsylvania. Through Sunday, June 4, Wednesday and Thursday, 7:30 p.m., Friday and Saturday, 8 p.m. , Saturday, 2 p.m., and Sunday, 3 p.m. $39 to $52. 215-785-0100 or www.brtstage.org.