American sculptor Bruce Beasley is the both the subject of the current Grounds For Sculpture retrospective and the organization's next publication — a series of works highlighting contemporary sculptors exhibiting at the nationally known sculpture park based in Hamilton.
The book's opening essay, "Bruce Beasley: Innovation and the Primacy of Form," is an insightful reflection on the artist by GFS' former chief curator Tom Moran, also nationally known as the New Jersey State Council on the Arts longtime director of public art programming — with whom I worked for several years.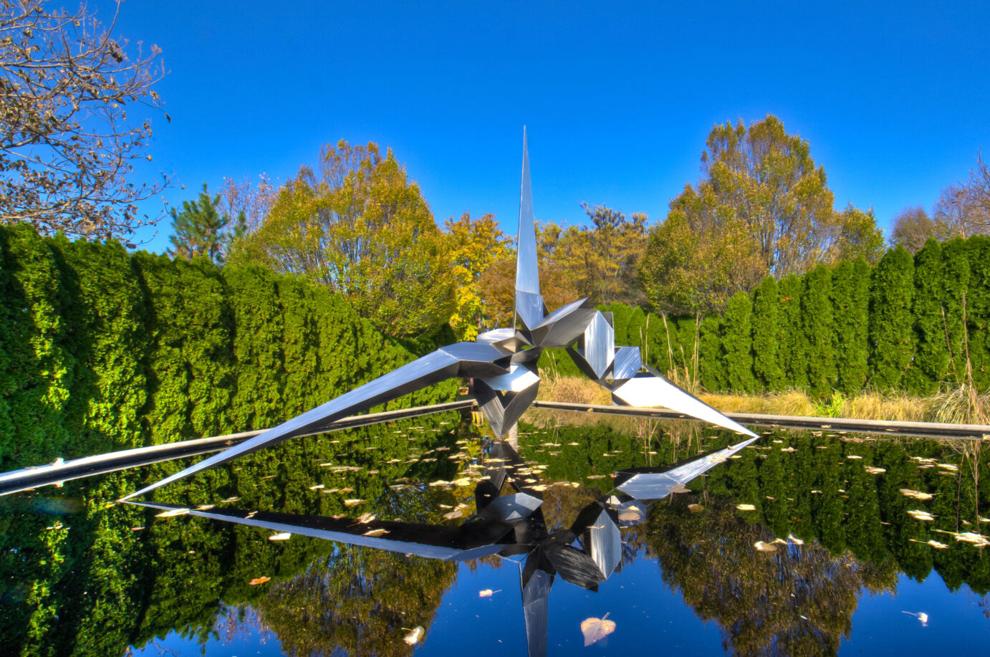 While the book is still in production, a pre-printing copy of Moran's essay puts the artist and the exhibition in context, as do his following excepted comments:
It has indeed been an honor for me to work with Bruce Beasley on his sixty-year retrospective exhibition. Over the course of the three years, we met in Oakland often so I could study his amazing sculptures, which allowed me to select a distinct and comprehensive presentation of this six-decade period. I am also thankful that Bruce was so willing to fabricate several new pieces for the locations I had in mind at Grounds For Sculpture. Spending long hours over days talking about the works allowed me to gain a comprehensive understanding of his work and the processes he developed to make it. When we met for the first time in the 1980s, I had no idea that the future would set the stage for such a rewarding endeavor and friendship between us.
Bruce Beasley occupies a highly relevant place in the field of abstract modern sculpture and is linked to the principles of Modernist abstraction. He traces his legacy to the works of historical predecessors, among them David Smith, but particularly Eduardo Chillida, the renown Spanish sculptor who became not just an artistic colleague to Beasley, but also a very dear friend.
Beasley rejects the notion of a signature style, but strives to make sculptures that possess only the essential elements that to the artist comprise the totality of the form. This of course includes material, color, texture, light and surely the most essential to his expectations is the emotional language of shape.
(His) works have been included in over 200 exhibitions, and he has had works commissioned for the City of Oakland, the State of California, the 2008 Beijing Olympics, Stanford University, UC Berkeley, and other locations nationally and internationally. His many large-scale projects for public commissions and private collections have resulted in rich collaborations with fabrication experts in the United States, Britain, and Asia.
Sculpture Calls. The choice of sculpture as Beasley's calling in life had not been in his sights at Dartmouth College in 1957. He had been pointed in the direction of rocket engineering by college counselors because of his intellectual curiosity and a background in building hot rods. Understanding that his fascination was for shape, not necessarily science, he took an art class. He discovered his dislike for drawing in two dimensions, so he convinced his professor to allow him to submit five sculptures instead fifty drawings for the final exam. Of note is that he completed the sculptures without ever taking an art course prior to Dartmouth.
(In) the fall of 1959, Beasley transferred to UC Berkeley as an undergraduate sculpture major. On arrival, he was required to take an entry level class in clay modeling. While he was quite disdainful of this requirement, he finished his final project in clay, but outside of class, cast it in lead (a far more challenging medium) just to prove to himself he could, and this he submitted as his final project.
The First Cast Iron Sculptures — 1960. While Beasley was still a student, he rented a small space off campus where he could engage in uninstructed, freer experimentation, and as he was out one day searching a local scrapyard, he noticed a huge pile of interesting shards and shapes made from old, discarded plumbing. He purchased a load of the shards and brought them back to his studio where he dumped them on the floor, enthralled the intricate drama of formal relationships. This early working method helped define Beasley's career approach to making sculpture: he finds rather than pre-conceives work. In the process of making the cast iron works, Beasley felt a true sense of discovery and joy combined with his goal of activating a viewer's emotional recognition of shape.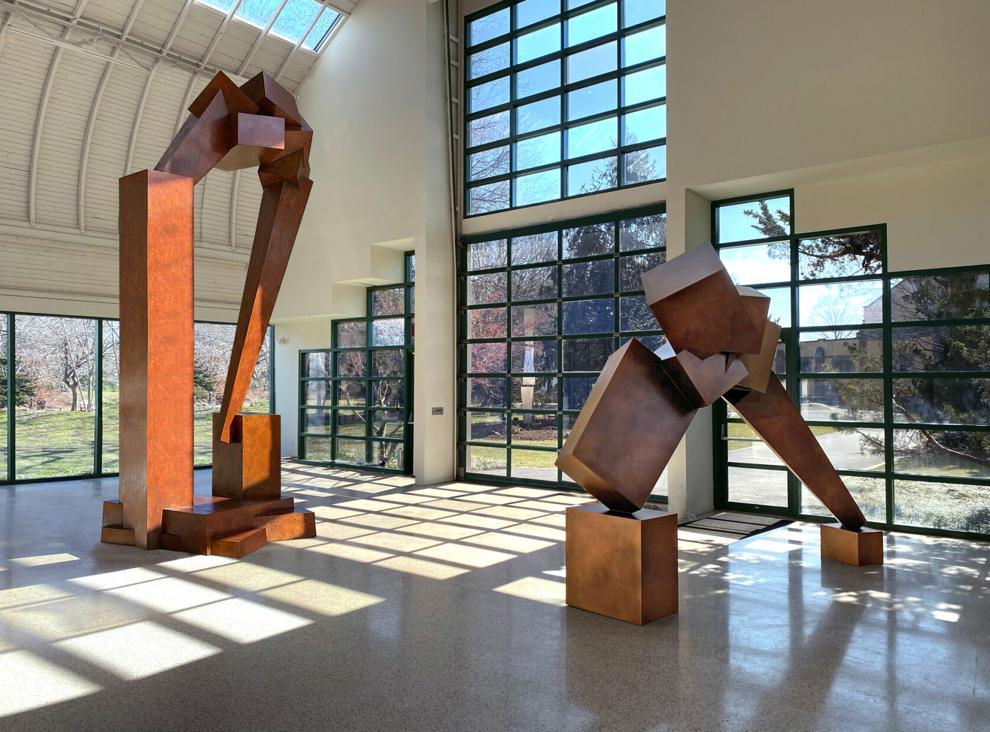 Beasley submitted several powerful cast iron works to an open juried show for an exhibition at the San Francisco Museum of Modern Art (SFMOMA). They were seen and greatly admired by the guest juror and the very influential Dorothy Miller, then Chief Curator at MOMA in New York City. The works made it into the SFMOMA exhibition and Miller contacted MOMA's co-curator, William Seitz about Beasley's sculptures. Seitz selected one of the welded cast iron works, "Tree House" (1960) for the upcoming "Art of Assemblage" show. Suddenly, Beasley was exhibiting with Picasso and other legendary artists. His work "Chorus" was subsequently acquired by MOMA and Beasley became the youngest artist in the museum's internationally renowned collection.
The Studio and A New Foundry. In the early 60s, Beasley worked out a system to make molds in which he could cast large pieces within a ceramic shell, maneuvering the process alone. He was the first sculptor to accomplish this method of casting. At the time, it was unheard of for a sculptor to have built his own foundry and cast his own work. Icarus, one of Beasley's' iconic cast aluminum sculptures was exhibited at the Paris Biennale in 1963 and received the purchase prize.
The Aluminum Pieces - 1963. Beasley had accumulated a vast amount of Styrofoam packing; Beasley was attracted to the peculiar shapes, voids, and appendage-like forms intended for safe transport, but certainly not for art. He began cutting fragments, completely altering each and then scattering these hundreds of pieces across the studio floor (and) built out the compositions farther, segment by segment, in gesture-like extensions that appeared at times to be limbs or skeletal fragments. With these constructions, Beasley began the theme of the extended and segmented gesture, producing works that surged wing-like out into space. Eventually, Beasley cast the finished constructions in aluminum at his foundry.
The 1970s: Light and Transparency. Beasley recounts several dreams where he envisioned sculptures which were completely transparent. He wondered how he could create a sculpture which would capture and hold light without using an internal light source built into the piece.
Beasley set out to find the right material and his research concluded that acrylic was the only material that is truly transparent. He contacted DuPont, the manufacturer of acrylic under the trade name Lucite, and was told during a meeting with the engineers that what he wanted to do was impossible. The material cast in sizes beyond 4 inches thick had been known to unpredictably crack and bubble. Undaunted the artist began investigating how to overcome the size limitations of acrylic.
Then, out of the blue, Beasley was selected by a distinguished jury of museum directors to be one of four finalists who were invited to submit a proposal for a monumental sculpture intended for two new state buildings in Sacramento, the first state government public art project in California. Beasley used his fascination with light and cast acrylic to produce the two-inch-thick, pedestal-scaled sculpture for the jury, now titled Stamper's Lighthouse, and included in this show.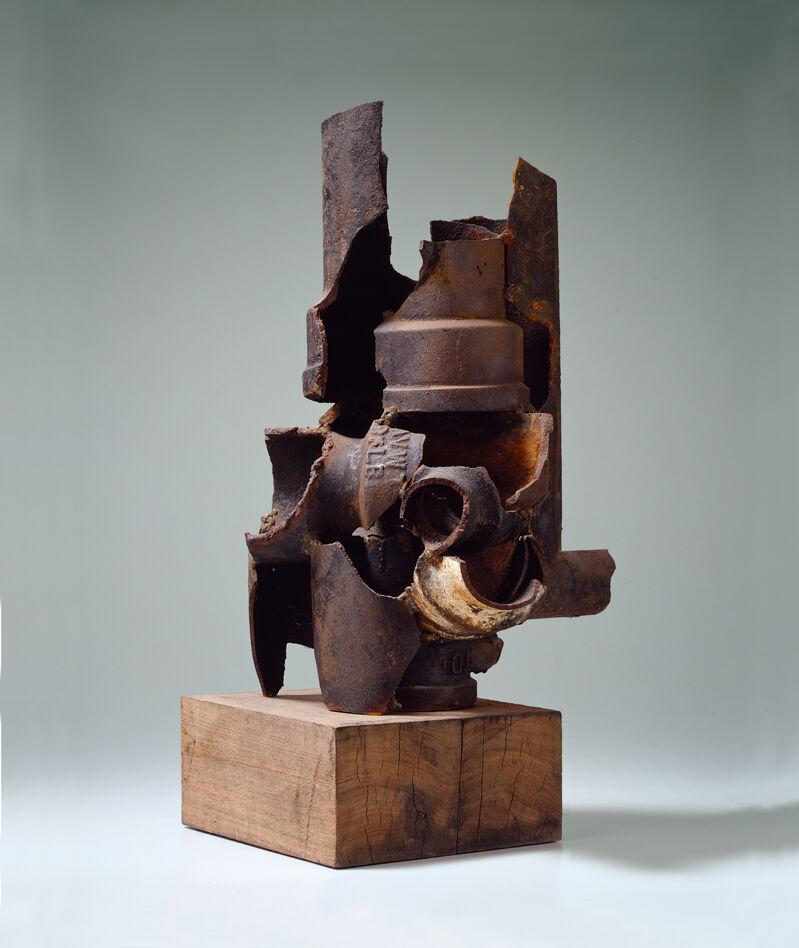 Impressed by the complexity and beauty of Beasley's proposed project, jurors asked if he was sure he could actually make such a piece in acrylic at the public scale he was proposing. The artist assured them that he could, but as he left the room that day, he did not actually know . . . So, he flew to Wilmington to meet directly with the DuPont engineers. Again, they told Beasley that it was impossible. Intrigued by his convincing small scale achievement, DuPont agreed to help him by providing all the materials he might need, but they could do no more because they really did not know how to achieve his goal themselves. Soon enough, truckloads of raw materials began to arrive at Beasley's studio. Beasley knew that solving the issue of trapped air pockets and random shattering required finding a way to control the pressure of the material while it was curing.
Over the course of a few months (he) was able to carefully witness and then correct the specific event — a chemical reaction occurring at a precise temperature, pressure, and time — that accounted for the anomalies and which all the chemists had missed. That observation allowed Beasley to make the proper adjustments and solve the curing problem with the acrylic.
The resulting large scale and groundbreaking clear acrylic work, titled Apolymon was installed in the state capitol in 1970. Generations of architects and artists have benefited over the decades from Beasley's refinement of acrylic. Beasley observed, "I have always felt that the hoopla over my having discovered a process that industry considered impossible was less important than what I felt was my real discovery — namely, giving a new voice to sculpture by capturing light."
Stainless Steel and Aluminum in the 1980s. In the 1980s, the artist began working with a new material and a new series of large scale sculptures where the ideas of spatial extension and light could be studied through faceted compilations of flat multi-sided stainless steel planes. The sculptures from this series are like complex geometric puzzles that suggest molecules, or the junctures of joints. Surely, Beasley's scientific background and love of nature was one guiding inspiration here. This series demonstrates Beasley's refined buff grinding, which captures and controls surface texture and reflected light with such precision that both properties do not confuse and compete, but rather unify each works' cohesive vision.
"Dorion," one of the most successful large works from the series, was exhibited and acquired by Grounds For Sculpture; as part of the museum's permanent collection, the piece seems to hover in a perfectly proportioned reflecting pool that optimizes the work's reflective beauty. Dorion is one of the centerpieces of Beasley's retrospective and the artist himself considers its installation one of his finest.
Computer Modeling in the 1980s and Onward. Beasley has been widely recognized in the field as the first sculptor to use computer design (CAD) capabilities to investigate aesthetic solutions. He began his research in 1988 by working with the earliest 3D computer solid modeling software which he saw potentially as a game changer in the way he could explore his sculptures. But the early versions of the computer software were very laborious and difficult to learn because they were command based. Making a simple cube in the early programs took hours. In 1990, Hewlett Packard (HP) came out with a new version of its computer and new high-end 3D modeling software relevant to Beasley's goals. The earliest HP software and the hardware it ran on were very expensive; HP became aware of what the artist was doing and free of charge provided Beasley with their newest tech, affording the artist more spontaneity and freedom to explore (and) eventually developed the means to create the patterns required to fabricate sculptures in bronze.
Beasley's distinctive series of bronze works in small and large scales based on infinite iterations of cubic shapes were enhanced by his growing facility with CAD. But finished pieces are anything but mechanical and instead invoke Beasley's love of nature, geology, and landscape. The delicate handling removes the works from any industrial reading; these seem more like natural forms, collected after some mythical expedition. Horizon II, 2010, a remarkable piece from this series was already planned for inclusion in the retrospective exhibition, when it was purchased by a generous donor for Grounds For Sculpture's permanent collection and installed on a lush earthen mound alongside a beautiful pond.
The Granite Sculptures. Beasley discovered master stone carvers during his travels to China, and by the mid 2000s his facility with CAD and 3D printing produced powerful work in granite, such as the quiet, stunning grouping of four Duende sculptures featured in this retrospective. Using CAD programming to "find" the most resonant compositions, Beasley then carved all granite works first by hand using no computer assistance at all. Once careful, artistic hand tooling rendered the exact work he was after, then 3D modeling technology permitted the artist to produce fully accurate models which were sent to the best international stone carving studios in places such as Portugal, Italy, and China for the execution of larger-scaled one-of-a-kind finished pieces.
What is truly evident is that no matter what technology Beasley is engaging in, his focus is not linked to the seduction of technology for its own sake. His effort remains squarely purposed on developing shape and extending the form in three-dimensional space and in materials that are uniquely attributable to the experience of sculpture.
When the Beasley book appears, it will be the latest in a handsomely produced hardcover series that includes the 2020 publication "Michael Rees: Synthetic Cells: SITE and (PARA)SITE)."
The Trenton-based Moran also curated the exhibition and wrote the opening essay for the book on Rees, a William Paterson University, New Jersey, sculpture professor who uses both physical materials and digital mediums, as well as "Masayuki Koorida: Sculpture," the 2018 book that accompanied the exhibition of the Japanese-born artist.
But for now, think of the above and read Moran's exhibition text to explore the life of an artist who helped forge the advance of American sculpture.
Bruce Beasley: Sixty Year Retrospective, 1960-2020, Grounds For Sculpture, 80 Sculptors Way, Hamilton. Monday, Thursday, Friday, Saturday, and Sunday, 10 a.m. to 6 p.m. Timed entry reservations required, $18. www.groundsforsculpture.org.