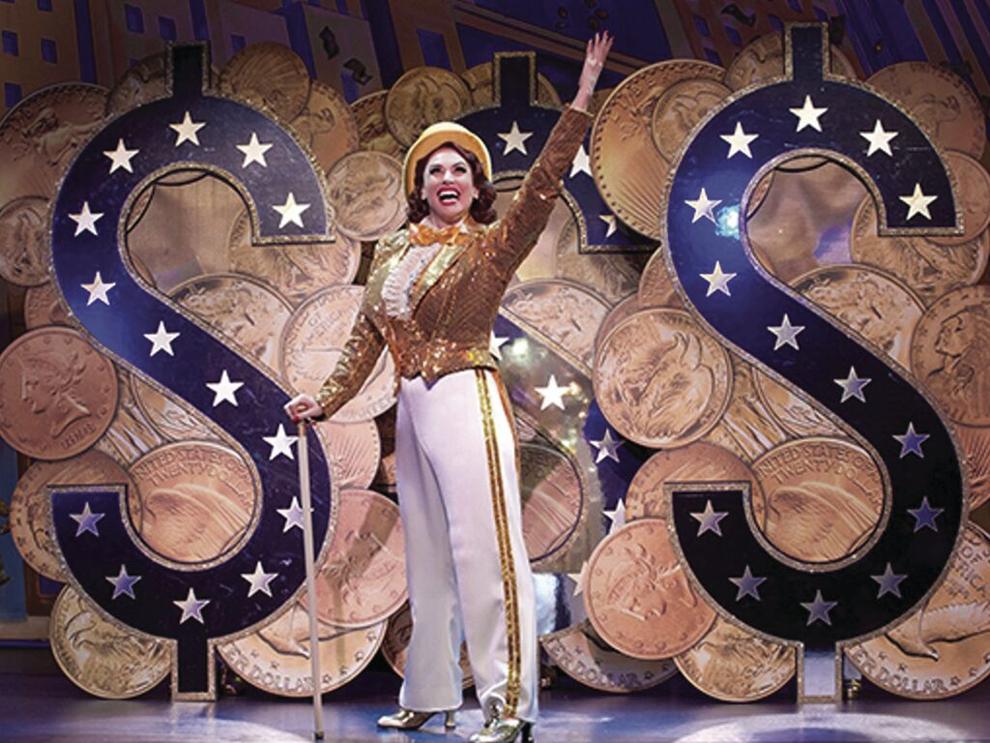 Randy Skinner's production of "Dames at Sea" at New Hope's Bucks County Playhouse defines the notion of good old summer stock.
On every level, Skinner's witty, frothy staging is light, bright fun provided by a talented attractive cast that Is adroitly aware of how to combine big comic performances with enough personality to keep you interested in the characters and their myriad comic plights. Lesli Margherita, Daisy Wright, and company can keep you laughing while showing some heart. They turn intentionally paper-thin material into theatrical gold as they pay tribute to movie and Broadway musicals of the 1930s while making you love and admire the moxie of each and every one of them.
The drift here is "Dames at Sea" ain't no "King Lear," or even "Kinky Boots," but in New Hope, it's pure fun. Silly, smart, unadulterated F-U-N.
"Silly" because "Dames at Sea" is a spoof. It's a takeoff on "42nd Street," "Dames," and other 30s-era Busby Berkeley directed movie musicals that married melodramatic corniness with wisecracking zingers and dancing that will have folks cheering from Broadway to Honolulu and beyond.
"Smart" because wordsmiths George Haimsohn and Robin Miller knew their craft while Jim Wise's score is not only tuneful but derivative and original at the same time. The brilliance in Wise's music and Haimsohn and Miller's lyrics is their songs serve well as satire and arch commentary on an individual scene's situation but, in most cases, can be removed from "Dames at Sea" and work as ballads in a cabaret or concert performance. "Dames at Sea's" opening number, "Wall Street," would be welcome in any musical anywhere. The song, "It's You" has travelled from the show to be heard several places.
"Fun" because Randy Skinner and his troupe of troupers, without fail or anything near it, make it so.
The irrepressible, and irrepressibly shrewd, Lesli Margherita can turn any stage into a party. Her belting, egoistic, man-catching diva, Mona Kent, is a delightfully oversized but loveable Gorgon who can devour everyone around her but makes you want her to prevail.
Dazzling though she is in the numbers "Wall Street," "That Mister Man of Mine," and "The Beguine," each a parody and each a chance Margherita gladly accepts to shine, the scene I enjoyed most is Mona being told her name is spelled wrong on a theater marquee, then seeing Mona march the breadth of the stage in a strong, determined upstage cross holding a ladder.
Margherita's bravura pizazz contrasts with Daisy Wright's subtly demure turn as an ingénue, Ruby, straight off the bus from Centerville, Utah, and ready to make headlines as a dancer on Broadway.
Wright provides pathos and quiet while demonstrating without question that Ruby has the stuff to carry a show and be the rival Mona cheers on while noting she wants Ruby to be "so good, she'll hate her for the rest of her life."
While Margherita sets the world around her on fire by simply raising an eyebrow, Wright exudes naïve innocence and easily bruised sensitivity with songs like "Raining in My Heart," one of those spoofs that could stand alone and be romantic in another context.
In their individual ways, both Margherita and Wright achieve several theatrical ends with a single move.
When Margherita opens with "Wall Street," you see her roll her eyes as she takes a dance move from stage left to stage right after just doing it in the other direction. At one point in the number, she it almost looks as if she's yawning.
That's when you realize you're seeing Mona, allegedly an international name, in rehearsal for a Broadway opening and not in an actual performance. The touches, immediately comic, transfer in category from quirky to cunning and give clues to the hundreds of comically sly tools in Margherita's well-equipped arsenal.
Wright is excellent at conveying the ambition of a small-town girl diving headlong in a world that is definitely not Utah while maintaining the simple values of her home region, particularly where love in concerned.
Haimsohn, Miller, and Wise include romance in "Dames at Sea" as deftly as they sweetly skewer the old-time musical. Love is an ongoing theme as characters pair off, Mona with every man in sight, to form couples with all the musical-comedy implications involved. This is where the authors veer a little from Berkeley and head into territory chartered by songwriters Betty Comden and Adolph Green's 1949 film musicals "On the Town" or dancer chorographer Gene Kelly's 1945 film "Anchors Aweigh."
Lesli Margherita and Daisy Wright are great, but they are not alone on the Bucks County stage, and the "Dames at Sea" cast, an ensemble with six stick outs who can sing, dance, parody, and be plain old human with the best of them.
Julie Kavanagh is as marvelous as the leads in the Ginger Rogersish role of the seasoned chorine who sees through everything and everyone and has a wisecrack, hug, or both for any occasion.
I mention Ginger Rogers, but the star Kavanaugh kept reminding me of is 1940s era dancer Ann Miller, who played Mona in a 1970s television version of "Dames at Sea." She had Miller's brass, can-do expressions, and ability to tap at a machine gun pace.
Kavanaugh was also adept at playing the raisonneuse who understands the heart and show business and is skilled at negotiating through both. Her character, Joan, also finds a love interest with one of the sailors that populate "Dames at Sea."
Daniel Plimpton is a sweet, naïve sailor named Richard and called Dick — read 1930s singer and dancer Dick Powell — who has had a crush on Ruby from their days in Centerville when she barely knew he existed and a yearning to be the Broadway composer Mona promises to make him. For a dividend, of course, a dividend that wounds Ruby and her notion of true love.
Drew King is aces as Lucky, Dick's shipmate who's tied with Joan, and is as quick as her to keep matters on an even keel.
Byron St. Cyr scores in two roles, as the producer trying to score a Broadway hit as creditors are tearing down his foreclosed theater, and as the captain who knows Mona from one of pasts she had before she was a star, a fiery fake Latina called Consuelo.
St. Cyr matches Margherita is his ability to be coy and funny while keeping his character believable.
A 21-gun salute to Randy Skinner, set designer Anna Louizos, witty costumer David C. Woolard, lighting designer Kirk Bookman, and musical director Jeffrey Campos along with Skinner's cast.
One thing I love about Haimsohn and Miller's book and lyrics, and about '30s musicals, is how adult they can be in showing guys making passes, women responding back, and letting romance take its course. If "Dames at Sea" was new, flimsy and harmless though it is, the neo-Puritan McCarthyists that plague today's theater would be having self-righteous fits. Good for the authors to get their work done when the world had perspective and proportion.
Dames at Sea, Bucks County Playhouse, 70 South Main Street, New Hope, Pennsylvania. Through Sunday, September 11, Tuesday and Thursday, 7:30 p.m., Friday and Saturday, 8 p.m., and 2 p.m. Wednesday, Thursday, Saturday, and Sunday, 2 p.m. $70. 215-862-2121. www.bcptheater.org.