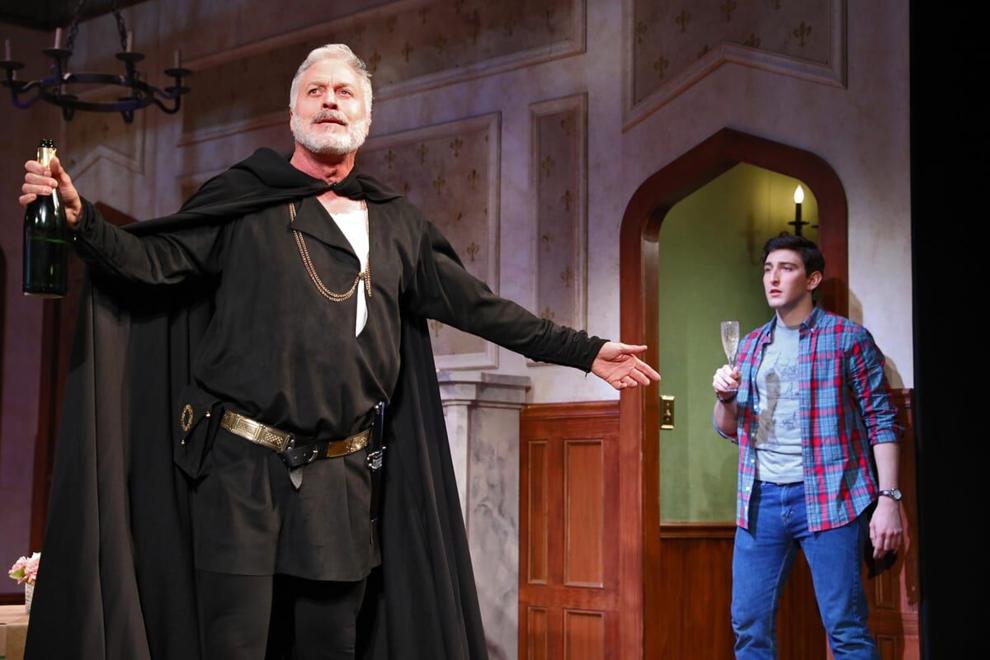 'I Hate Hamlet" has one primary purpose, to entertain. It has no great theme. It offers no poignant moral. It contains no trenchant character study. It pretends to no depth. It's out for laughs and earns them via intelligence, sarcasm, and wit.
Heaven bless this antidote to all the preachy, topical, or supernatural-laden comedies that lose themselves in message or weirdness and don't know the simplest and most basic service to an audience — to amuse it.
In a way, heaven has blessed Paul Rudnick's 1991 flapdoodle by putting it in the hands of director Marc Bruni and a marvelous cast who, with assured skill, wring every ounce of humor and every soupcon of merriment from it at New Hope's Bucks County Playhouse, where "I Hate Hamlet" generates fun through Saturday, December 1.
Rudnick starts with a simple premise. An actor, popular for an undemanding role in a television series, comes from L.A. to New York to star in a summer, outdoor production of "Hamlet," which may be beyond his range of capability. Meanwhile, a Manhattan real estate agent who would rather gargle with nails than sit through an evening of Shakespeare, has the great idea of lodging the actor in the newly available rooms once occupied by one of the great Hamlets of all time, John Barrymore.
In crafting his diverting comedy, Rudnick forgoes the ghost in Hamlet for the ghost of Barrymore, granted time as a phantom on Earth to try to get the unprepared, unconfident TV star ready to achieve greatness in one of the theater's most difficult roles.
Between the badinage of some deliciously misanthropic characters and the lessons, including one thrilling fencing exercise, the determined Barrymore devises to whip the actor into Shakespearean shape, and the Bucks County audience is treated to sophisticated jokes and comic insight in the working of show business.
These jokes, in the form of snappy one-liners, facial expressions, and neurotic character traits, are the crux of "I Hate Hamlet." There's a story, but it's not as important as the actor dressing up as Hamlet — when he's off-stage; his girlfriend preserving her chastity; and a TV producer who can't fathom why anyone would choose live theater.
Bruni hit the jackpot, or knew exactly whom he needed, with the Bucks County troupe. To a person, this cast has its acts down and its gimmickry engrained. You see great comic performing because all is meant to be funny, and nothing seems forced or overdone. All seems real.
The leading roles in "I Hate Hamlet" are shared by the spirit of Barrymore (Tom Hewitt) and the actor seeking a challenge (Ben Fankhauser).
Hewitt is phenomenal. Tall, sturdy, and handsomer than John Barrymore, he towers over his scenes and remains an influence even when he's not in one.
A graceful comedian, he can pull a moue once in a while or hammer a joke, but it's always in keeping and timing with his general persona as Barrymore, the assured star, lover, and bon viveur who acknowledges he drank and lazed away some of his promise but that he had one good time doing it and has a lasting reputation, mostly heroic and positive, because of it.
Hewitt is also an accomplished Shakespearean. A riveting highlight of this "I Hate Hamlet" is hearing him deliver Hamlet's directions to the players, tenets to fine acting and lifelike portrayal, with total clarity and perfection.
Fankhauser is a comic gem who deftly blends a welter of traits, neurotic and straightforward, into a likeable portrait of a normal, everyday man who happens to be actor beset with some problems, such as tackling a part that's beyond him and a girlfriend who refuses to have sex.
You want everything good for Fankhauser's actor because he seems down to earth in spite of his profession. You root for him to succeed even though he seems doomed as Hamlet. You enjoy his weighing a TV job with a $28 million purse against continuing as Hamlet in Central Park, with a draw of maybe $2,500 a week. You are willing to work with the actor through all his angst, complaining, and lack of romantic compensation, because, like Hewitt, Fankhauser knows how to keep his character human above all else.
Fankhauser's gifts are verbal and physical. He capitalizes on the actor's quick wit. He moves about the stage with energy. He takes to fencing with some gusto. He maintains his poise and cynical, but likeable, attitude through all situations. Fankhauser plays a complete person, and these days, that is a feat.
As the amusing dragons in Rudnick's story, Elizabeth Ashley and Janine LaManna play two different kinds of agents, each with a personality the size of Manhattan and each with skill that makes you love every moment of her work.
Ashley proves there are no small roles. She shows style and energy as the talent agent who has brought her TV client to a classic role in a park. Ashley is the consummate pro. See how, at age 79, she can be glamorous, alluring, and receptive to overtures from a ghost she knew carnally while he lived. One of the show's great moments is when Ashley's agent comes to Barrymore's apartment and finds a hairpin she left there during a tryst 50 years earlier.
LaManna knows how to blend crass with urban sophistication. Her real estate agent knows the score, every score, and is so wonderfully shrewd and relatively honest, some of her more Philistine pronouncements land as especially funny and endearing.
Steve Sanpietro keeps the reality going as the producer who can't understand why anyone would work in New York when Hollywood and its cash beckon. Liz Holtan is delightfully ditzy as the actor's girlfriend.
Kudos to Alejo Vietti for perfectly designed costumes and possibly the best Hamlet outfit I can remember. Anna Louizos creates another great set for BCP with her conception of Barrymore's dwelling.
I Hate Hamlet, Bucks County Playhouse, 70 South Main Street, New Hope, Pennsylvania. Through Saturday, December 1. $45 to $80. 215-862-2121 or www.bcptheater.org