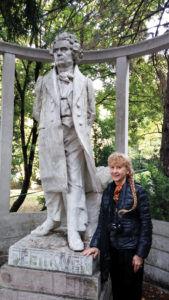 Instead of burning candles for his 250th birthday cake, Ludwig van Beethoven has been under fire for igniting elitism and white supremacy.
The online magazine Vox caused the spark in September with the article, "How Beethoven's 5th Symphony Put the Classism in Classical Music."
The writers' argument was that Beethoven's work required people to listen and reflect and thus became an aristocratic "gatekeeper" that excluded lower classes, women, and people of different racial backgrounds.
The social practice then continued to unwelcome the already mentioned demographics along with people who identify as LGBTQ.
Critics with other internet publications immediately fired back with headlines shouting "No, Beethoven, Classical Music, And Etiquette Aren't White Supremacist," "Roll Over, Beethoven — Vox Says You're a White Supremacist Now," and "Then They Came for Beethoven," — with "they" being as sinisterly vague as "gatekeeper."
Obviously, U.S. 1 has written about the composer and his place in the western music tradition — including a 2019 article that also explored the phenomenon that Asian countries were embracing classical music while American and European interest in it was waning.
Other articles related to the entire topic could have easily explored the reality that women are often the major ticket holders to live art presentations, people of various races are performing classical music, orchestras and conductors have been "opening up" musical presentations for more inclusion, and, as the annual Day Without Art shows, how many LGBTQ people are in the arts.
Another online and print music critic with some strong thoughts about Beethoven is Linda Holt, a Bordentown resident whose regular reviews can be found in the Philadelphia-based Broad Street Review. (She has also contributed to U.S. 1.)
In addition to being knowledgeable about the composer's artistry, Holt has also written two novelized accounts of Beethoven's life.
The first is "The Black Spaniard," her 2016 story of Beethoven's personal and artistic struggles (see excerpt below). The other is the 2019 "Invictus," tagged as "How a young musician overcame prejudice to become an international phenomenon."
The reference to prejudice and black are connected to Beethoven's dark complexion and the suspicion that he had Moorish or African blood — and while genealogy studies disprove the notion, the intrigue continues.
Recently, as Beethoven's official December 17 birthdate approached, Holt engaged in a series of questions and answers on Beethoven, her interest and background, and about the recent charges of white supremacy.
How did you get interested in Beethoven?
Oddly enough, it wasn't through music. I was 11 or 12 and bought the first volume of a child's encyclopedia at the Acme (in Bordentown) and was flipping through the alphabetical sections: apples, Asia, Babylon. Then I turned the page, and there was Beethoven! I still have the book.
The illustrator depicted Beethoven as a blond, believe it or not, but everything about the entry thrilled me: Beethoven conducting, Beethoven playing the piano, Beethoven walking alone in nature, Beethoven facing down the storms of life. I took one look and thought: "That's me! That's someone who thinks and feels about life the way that I do!"
I already had a passion for music and would improvise on the piano at my father's foster parents' home whenever we visited them in Allentown. We didn't have money for a piano and lessons, so I had to learn to read music from library books until I reached high school.
Did you study music?
I studied violin and oboe in high school, read books on theory (e.g., [George]Chadwick) and music history and sang in the chorus and choir. I became a big fan of [classical guitarist Andres] Segovia and taught myself to play classical guitar on an instrument my dad picked up for $10 at Fort Dix where he worked. (I liked the pop stars of the time as well; I won't date myself by saying which ones!)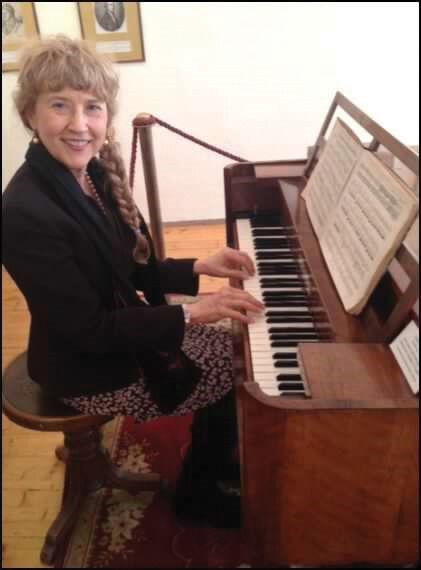 I began saving up for college and bought a decent classical guitar on the installment plan at Smith's music store on Farnsworth Avenue I worked myself through college (now known as Rider University) where I majored in fine arts, a program in which I was able to focus on music and criticism, studying theory, history, piano, opera, and related subjects (I would have gone to Trenton State, which is known for its fine music education program, but couldn't meet an important entrance requirement: I couldn't swim!)
I worked full-time at the Register-News before starting college, then continued to work there, and later at The Trentonian, while I earned my degree. The Trentonian was a very exciting place to work journalistically at that time, and I was critic-at-large for four years before that position ended.
When did you pick up on Beethoven again?
I continued to play and study music as I worked in PR for some years (I was married and had a child, Vanessa, who was an editor for the Princeton Packet chain and now works as an editor in Houston, where she lives with her husband and cats).
I had the opportunity to give a talk at the University of Innsbruck in Austria, followed by similar engagements in Prague and Vienna, which threw me head-first into the world where Beethoven lived.
I started my own business teaching humanities courses and writing music features and reviews full-time about six years ago and have taken two in-depth Beethoven tours with the American Beethoven Society, a trip on my own to Bonn where Beethoven was born, and a trip a few months before the pandemic to Paris and Vienna.
I knew many years before that I would write a fiction book about some aspect of Beethoven's extraordinary life and wound up with two books totaling about 600 pages in length. I am also interested in Chinese philosophy and music, am the co-editor of a book on Daoism (a Chinese philosophy), and recently was filmed as a subject matter expert for a documentary produced by the Beijing music conservatory.
Why is Beethoven extraordinary?
I consider Beethoven's life story one of the great motivational epics in world culture. It is a story of someone who rose from poverty, obscurity, and abuse to unimaginable success as a musician in Vienna, the glittering music capital of the western world, only to lose, at an early age, the one sense he depended on most: his hearing.
Driven to depression, despair, and thoughts of suicide, he sacrificed his own self-interest to continue to bring music to humankind, not just for the moment, but for all time, and in doing so, changed the course of western music forever. Today he is one of the most beloved composers around the world and is especially appreciated in China, where millions of people study the piano, and classical music is enjoying a rebirth.
Beethoven was the first surviving child of a poor couple in Bonn, which was part of the Holy Roman Empire. Reports of people who saw or knew him as a child and adult commented on his dark skin, his stormy eyes, his untamed hair. He did not look like your typical, blond northern German. I think this is why stories began that he may have been of African ancestry.
Of course, there is no proof or evidence in the official genealogy records. But records do not tell all the story. We do not even know for certain on which day he was born, though there is evidence that he was baptized on December 17, 1770, usually the day after a child's birth at that time, which is where my story begins.
What about Beethoven's artistry?
Beethoven lived in a time which many people in our region can identify with. There are many historical markers in New Jersey and Philadelphia from the Age of Revolution, including Independence Hall in Philadelphia, the Old Barracks in Trenton, and the Thomas Paine and Joseph Bonaparte residences in Bordentown.
This was an era in which royalty was toppled and replaced by democratic rule by people of reason. It was an age in which the morality of slavery was challenged and banned in many parts of the world (sadly, not in ours until decades later). Women's voices were beginning to be heard (Mary Wollstonecraft, polemicist and mother of Mary Shelley, the novelist).
Beethoven was part of this societal movement toward freedom and equality. He refused to stand to the side or remove his hat when aristocrats were walking down the street. He championed what he thought was the liberating spirit of Napoleon until the French leader crowned himself Emperor, when he denounced him as a tyrant. Even his 6th Symphony, the Pastoral, is a celebration of common people living in harmony with nature.
Musically, Beethoven burst the boundaries of staid classical music. Think of a scene from a Jane Austen movie in which partygoers are dancing the minuet. That is not Beethoven. He was the man who turned the polite minuet into a thrilling scherzo, expanding the range of harmony, the use of loud and soft dynamics, giving voice to people's deepest passions and most profound convictions.
Think of his music that most people have heard or heard of: The Moonlight Sonata (Kobe Bryant's favorite "song"), the Fifth Symphony (da da da DAH!), the Ode to Joy (the anthem of the European Union), even little "Fur Elise," a short piece whose opening measures anyone can learn to play on the piano.
And speaking of the piano, manufacturers actually had to expand the number of keys as Beethoven's music demanded bigger instruments. Remember when it was thought that 386SX was a lot of computer memory? Compare that to the gigabytes we use today. So it was with the piano. When Beethoven was a child, his piano was the equivalent of a 386SX but by the time he died in 1827, he was generating multi-gig sounds that couldn't be understood for decades to come.
The composer Igor Stravinsky said Beethoven's music (specifically the Great Fugue) was not only contemporary for our time but would stay contemporary forever. If Beethoven had never written anything after his Opus 1 (the first published works, which were three trios he published in his early 20s), he still would be remembered as a great composer.
Think of the 32 piano sonatas he composed during his lifetime which, outline the process of molting the old classical skin and releasing the infinite possibilities of human imagination. Think about the 9th Symphony, which lasts more than an hour and ends with a chorus that has won the hearts of people around the world. Beethoven could not hear it as he co-conducted that final symphony, and a member of the choir had to turn him around to see the cheering and applauding audience.
What about the recent controversy about Beethoven's music being an artifact of white supremacy?
I totally understand the desire to disassociate western culture from white supremacy, which did so much harm in the past and continues to limit the rights of people in our own time. But the principles of music are universal. Past discrimination against black and brown people, women, and the LGBTQ community is now being recognized by teachers and providers of western art music.
While insisting on more equity and opportunity, we must not throw out the musical baby with the white supremacy bath water. Great music evolved for many reasons: to worship God, for group and individual self-expression, and even to encourage the development of the human brain. And let's not forget beauty! Beauty is not just in the visual world around us. It lurks in the world of sound, the architecture of music that can take your breath away.
Even at his most bombastic, Beethoven composed some of the most sublime and tender sounds the world has heard: the Pathetique and Moonlight sonatas, any number of slow movements from his string quartets, the Seventh Symphony, and so many others. This one man alone, who is so relevant to our time, composed hundreds of works that can be experienced by the widest possible population thanks to the Internet, libraries, TV, radio, and other resources.
Beethoven is not part of the white supremacy problem. He is part of the solution. He is "one of us" whoever we may be, someone who stood on the shoulders of suffering and, instead of giving in, paved a pathway to the stars. Whatever his appearance, timeline, or ethnicity, Beethoven lives on in his music and his life story. Even during a pandemic, he gives us something to celebrate.
Explore Beethoven more through Linda Holt's novels, "The Black Spaniard," $17.99, 208 pages, Unsolicited Press, and "Invictus," $22.95, 296 pages, Harvard Square Editions. Both are available online.
'The Black Spaniard' Speaks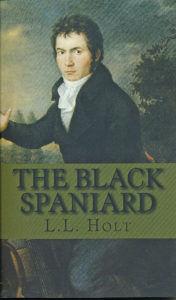 Author and music reviewer Linda Holt's "The Black Spaniard" is a novelized account of 18th century German composer Ludwig van Beethoven's struggle to create a new world of music — despite going deaf. It is also the story of a human being struggling to become an individual.
Here, in the following excerpt from the novel, the composer, aka Luis, realizes his hopes in Napoleon creating a more equitable Europe were misplaced, reviews his often painful existence, and makes a choice:
Luis sat alone on this beautiful May morning, his hearing more than half gone, but his other senses sharp and alert. The world made a peculiar sense, for the first time. He realized with utter clarity that one could not put their trust entirely in man, any man. His thoughts drifted from the world of politics to his own life.
Why was I Black in a White world? Why did I have typhus and small pox, and why did I survive and others not? Why was I short and smaller than others? Why was everything destroyed in the fire and the flood? Why did I have a cruel father who beat me? Why did my mother die? Why was I gifted when others were not?
What does it mean to be alien in one's own land, by an accident of birth and then, no accident, but deliberate ostracism and sometimes persecution and sometimes abandonment into the incomparable aloneness of the Self?
When I stood in the woods beyond the vineyards, when I stood and thought how simple it would be to lie down — never to rise, to let starvation and thirst remove me from the torments of a life of difference — when I had in that manner considered ending my life, it was not because of deafness, it was because I had given up the struggle to overcome the sense of otherness that followed me since birth.
The whispers about an earlier child born with the same name, the racial ambiguity, the lies about my age. An infant has no defense against a judging world and all its creatures pass judgment and want to block out this oddity from the predictable flow of things, the natural order. A mother, or midwife, intervenes, but the other does not disappear. Indeed, the only recourse is to embrace the alien Self.
I have been shipwrecked in a foreign land, and it was the land of my birth and the land to which I fled. Estranged from man, from God, from all Creation, I am cast out in unfamiliar waters to fend for myself, and, despite the best efforts of all, I have not failed. I have not failed!
Like the master of a martial art, I have turned the force of my opponents back upon themselves until it is the status quo that trembles. Has this occurred before? I would be self-centered to think so. But for me — no, it has not occurred before — and so this is something entirely new — the strangeness of my music, of this particular symphony, of my own identity.
For now I see who I am, I see it written on these sounds I can barely hear but which will ring out for all eternity. I am engraved on every invisible note and encoded in every silent chord. And still it is a kind of heroism, but not in the realm of politics or art: it embodies the moment when the odd man out confronts his destiny and says to the legion of those who would obstruct him, "I have taken Fate by the throat! It will not bend and crush me."
"The Black Spaniard," Unsolicited Press, $17.99, 208 pages.