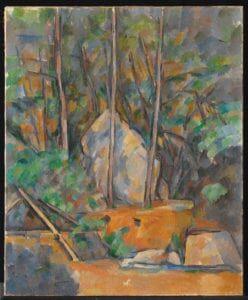 Editor's Note: We had gone full speed ahead with reporting on the 2020 spring arts season. And, like everyone, we saw a national crisis bring regional and national arts institutions alike to their metaphorical knees. That includes the Princeton University Art Museum's exhibition on one of the world's greatest artists. A feat in preparing and highly expensive venture, it waits silently in the museum's galleries until the State of New Jersey lifts its social-distancing orders and allows the museum to open. We had prepared the article to help our readers prepare for the exhibition and direct you to the images on the museum's website.
Though having departed this world more than a century ago, Paul Cezanne (1839-1906) is still a rock star. Specifically, he is a rock star at the Princeton University Art Museum, where "Cezanne: The Rock and Quarry Paintings" was scheduled to be on view through June 14. For the exhibition's opening and an accompanying conversation with curator John Elderfield and the artist Terry Winters, Cezanne fans clogged Washington Road, filled all the parking spots, and queued up outside McCosh Hall to flash their Eventbrite scan codes for admission.
If Cezanne's spirit were hovering, he would have felt the love as the hordes poured out of McCosh and filled the museum (supplementary coat racks brought for the occasion were overflowing) to get a view of his magnificently colored planes of light.
Interest in geology was all the rage during Cezanne's youth. Amateurs and professionals collected fossils, and young people attended lectures on the subject. Cezanne shared this interest. The young artist and his friends hiked among the windswept rocks and grottoes of Barre des Rochers on the Mediterranean coast and visited caves that had been used as prehistoric dwellings.
While with Antoine-Fortune Marion, who went on to become a noted geologist and paleontologist, Cezanne found his subject matter in the rocks. It was here that, in the mid-1860s, Marion had made some of his most important discoveries of prehistoric human habitation. A special display case shows the diagrams Marion drew in Cezanne's sketchbooks.
Informed by these early experiences, Cezanne would explain that, when painting a landscape, he had to understand its underlying structure, its geological foundations. Of the 400 or so landscapes he painted in his career, about two dozen took rocks as their primary subject. "Cezanne: The Rock and Quarry Paintings" features 15 of the most important of these, as well as selected watercolors and related documentary material, demonstrating the artist's fascination with geology and how those reflective planes of light drove his artistic practice.
With its rocky terrain, quarries and ancient stone caves, the landscape of Provence had been a subject for plein air painters for more than a century before Cezanne began working outdoors there. His own interest in depicting geological formations dates to the mid-1860s, a period when changing theories about the evolution of the earth were under consideration.
Three of the principal areas of France in which Cezanne painted landscapes are rife with rocky terrain: the Forest of Fontainebleau, southeast of Paris; L'Estaque, a village in Provence on the Mediterranean coast immediately above Marseille; and the area around Aix-en-Provence, his birthplace.
"It is rare for art historians or curators to be able to see the actual subjects of paintings made in the past," writes curator Elderfield in the museum's magazine. "However, a number of Cezanne's landscapes continue to have a strong enough resemblance to his canvases to do so."
In organizing the exhibition, Elderfield, who just ended a four-year stint as curator and lecturer at the museum and was formerly chief curator of painting and sculpture at New York's Museum of Modern Art, was able to visit two of these sites.
Cezanne first began painting at the Bibemus Quarry in 1895, storing his supplies in a rustic cabin there. Despite the growth of bushes and trees, the quarry — built by Romans but abandoned by Cezanne's time — remains pretty much as it was in the 1890s. Elderfield found that the deeper the quarry was mined, the older the rocks the quarrymen reached. "When he set his easel there, Cezanne, with his knowledge of geology and his love of seclusion in his later years, may well have imagined himself having traveled down into a distant past: he worked there in deep silence, except for the buzzing of cicadas and some echoing distant sounds." He continued to paint at the location for the rest of his life, enjoying the seclusion.
Elderfield also visited Chateau Noir, a manor house where Cezanne rented a room to store his painting supplies. In nearby grottoes Marion had discovered primitive tools and prehistoric animal and human remains, including evidence of cannibalism. The hilly terrain, Elderfield found, was difficult; he had to clamber over clumps of grass and patches of clay. "I am not surprised that Cezanne is said to have gone on hands and knees for parts of it."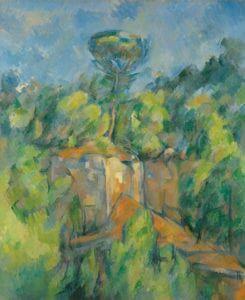 There has been no shortage of Cezanne exhibits at PUAM, with this one being the third in five years. In 2018 an exhibition of landscapes focused on works in paper in the museum's collection, and in 2015 "Cezanne and the Modern" focused on the post-Impressionist "Father" of modern painting's influence on the development of modern art. Indeed, the museum's website lists 40 Cezannes in its collection, although the works for this exhibition were borrowed from other museums and institutions.
As can be seen here, Cezanne reduced the visible world into basic, underlying shapes, and his faceted brushstrokes reconstructed nature through painterly forms. Picasso declared Cézanne "my one and only master," and Matisse called him "father to us all."
Born to a wealthy banker in Aix-en-Provence, Cezanne was a close childhood friend of the novelist, playwright, and essayist Emile Zola. To comply with his father's wishes, Cezanne attended law school at the University of Aix, but working with his hands suited him more than working as a lawyer. (The family did not approve of Cezanne's marriage to Hortense Fiquet, with whom he had a child, either.) Encouraged by Zola, Cezanne moved to Paris to pursue his artistic passions. He hooked up with Camille Pissarro, August Renoir, Edouard Manet, Claude Monet, and Alfred Sisley, and was included in Impressionist exhibitions in 1874 and 1877.
Wielding his palette knife to apply thick paint strokes, Cezanne was seen as a rough-hewn maverick, brash and unkempt, who flouted the artistic and critical establishments. He used the still life to forge his artistic identity as a path breaker, but his still lifes were also landscapes: the table becomes the land, the fruits and bowls are mountains, and a draped tablecloth is a reflective sea. Cezanne believed inanimate objects had lives. The brush strokes were intentionally visible because he wanted to underscore that these were paintings, not attempts to imitate the real thing.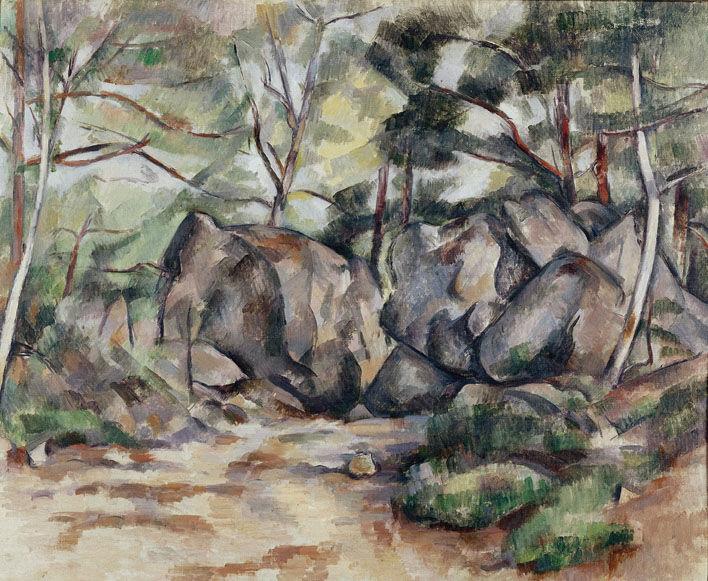 Some viewers say they see human faces, mouths, or eyes in Cezanne's rocks and draperies. "I want to propose that these were likely effected with the help of instincts and intuitions of which the artist was not necessarily conscious," writes Elderfield in the exhibition catalog. "I would go further to say it is highly unlikely he was fully, deliberately conscious of many such intimations that are to be found in his art."
Elderfield quotes Samuel Beckett: "What a relief … after all the anthropomorphized landscape. Cezanne seems to have been the first to see landscape and state it as material of a strictly peculiar order, incommensurable with all human expressions whatsoever."
Cezanne was interested in creating a harmony parallel to nature, noted Terry Winters in his conversation with Elderfield. It was not a representation of nature, but a re-enactment.
"The landscape thinks itself in me, and I am its consciousness," Cezanne is quoted as saying.
Cezanne: The Rock and Quarry Paintings, Princeton University Art Museum. artmuseum.princeton.edu