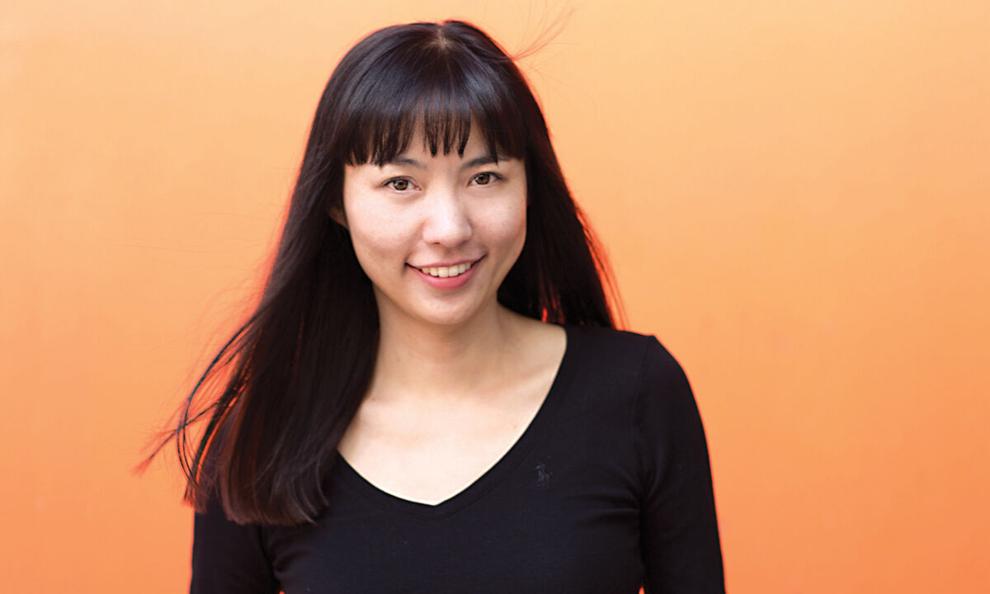 In the notes for her newest composition "Lost Songs," Juri Seo, the composer and Princeton University composition faculty member pictured at right, writes, "We live in cycles, with birth and death being the primary conditions of our existence. The simple act of breathing encapsulates the cyclic nature of life."
"Song does too, though perhaps in a more abstract way. In song, a call awaits a response; in song, silence is broken and inevitably restored," she writes.
This new piece for violin, clarinet, and piano, was written for a handful of musicians from the Los Angeles Philharmonic. Commissioned for Princeton University Concerts' 125th anniversary, "Lost Songs" will be presented as part of Gustavo Dudamel's Artist-in-Residence series. The premiere of the piece will be Monday, January 7, part of a program titled and themed "Art and Faith."
In addition to Seo's composition, the January 7 concert has the Mozart Clarinet Quintet on the program, as well as a work by Estonian composer Arvo Part. The Youth Orchestra of Los Angeles (YOLA) will play in a pre-concert performance at 6 p.m.
The early evening concerts will be followed by a discussion moderated by Dudamel, the charismatic music and artistic director of the Los Angeles Philharmonic, who also recently made his debut with the Metropolitan Opera. All January 7 activities will take place in Richardson Auditorium on the campus of Princeton University.
Seo is looking forward to hearing "Lost Songs" live in rehearsal since the pieces of the musical puzzle have been put together via the Internet and other long-distance technologies.
"I want to see (the musicians from the LA Philharmonic) rehearse at least once; I haven't worked with any of them before," says Seo, speaking by phone from her home in Lawrenceville. "I sent if off in October, which was unusual — they wanted it way early."
PU Concerts director Marna Seltzer reached out to Seo last year as the anniversary celebration was being planned and invited her to write a new piece for this particular event.
The composer has also received commissions from the Tanglewood Music Center, the Fromm Foundation, and the Barlow Endowment, as well as a Koussevitzky Commission from the Library of Congress — just a few honors the native of Seoul, South Korea, has enjoyed.
Seo says the two main materials of "Lost Songs" are breaths and the songs of the now-extinct 'o 'o bird (pronounced "ooh-ooh") of the Hawaiian island of Kauai.
Seo was struck by the poignancy of a 1976 recording from Cornell University's Macaulay Library capturing the last call of the species, presumably that of a lone male looking in vain for a mate.
"It is a beautiful recording," she writes in the composition notes. "The 'o 'o sings with a distinctive flute-like tone." In fact, she might have preferred to write for the flute rather than the clarinet, but clarinetists were coming to play the Mozart Quintet, which determined the instrumentation.
"This was the ensemble that was coming to play, and this was the instrumentation that was given to me," Seo says, noting that she hasn't written for the clarinet previously and felt a little concern.
"It's not so much the difficulty of the music, but the fact that I used micro-tones and semi-tones, some of which might not be possible for the clarinet, but it's all part of the process," she says.
Seo has been interested in bird song for quite some time and used recordings of birds in her string quartet "Infinite Season (2017-2018)," based on the cycles of nature.
"For this concert, the theme of 'art and faith' got me thinking about death, sorrow, and loss," she says. "I was researching bird calls for something separate from this pro­ject, and then when I started this piece, I thought about faith, and all of it came together magically. In the call of 'o 'o birds, I could deal with death and faith."
She began "Lost Songs" by transcribing and simplifying the 'o 'o's songs, and then extracted fragments from her transcription and treated them as musical motives.
"These song fragments are juxtaposed with breaths, tolling bells, and other gestures that evoke feelings of time and sorrow," Seo writes in her composition note. "While I found it necessary in this piece to confront darkness, in the end I was more interested in celebrating life."
Born in Korea in 1981, Seo says her mother was an amateur pianist and piano teacher, while her father worked in banking. Both parents always loved music, and her now-retired father is learning drums and saxophone.
There were rich soundscapes outside the household, too. Seo recalls mountains and natural places to explore near the city and says she gravitated to a host of environmental sounds, including the noisome Korean cicadas she has recorded for use in some of her compositions.
Only half-jokingly, she says the birds in and around Seoul are also quite loud since the city itself is so very noisy. "I think that's why bird song is different than it is here, why they're more aggressive," she says.
After earning a bachelor of music degree from Yonsei University, Seoul, in 2004, Seo took a year off to study English and teach music before coming to the United States. She also holds a doctor of musical arts from the University of Illinois, where she studied with composer Reynold Tharp.
Seo joined the composition faculty at Princeton University as an assistant professor in 2014, moving to central New Jersey with her husband, percussionist Mark Eichenberger. She had previously taught at Washington University in St. Louis.
"I was mostly in Illinois between 2005 and 2013," she says. "I did both my masters and doctorate there in addition to lots of teaching, coursework, summer festivals, and just being a grad student. The only time I was not living in Illinois was 2011, when I lived in Rome to study with the Italian composer Ivan Fedele."
In addition, since 2009, she has been a composition fellow at the Tanglewood, Bang on a Can, and SoundSCAPE festivals, as well as the Wellesley Composers Conference and the Atlantic Center for the Arts.
Seo has also been busy in the recording studio and released her debut album, "Mostly Piano" (Innova Recordings), in 2017.
If this wasn't enough activity, Seo is studying jazz piano with multi-talented Pascal Le Boeuf, a PhD candidate in music composition at Princeton University, with a slew of honors to his name, including a 2018 Grammy nomination for "Best Instrumental Composition."
She says her introduction to jazz was the funk-fusion of groups like the Brecker Brothers, but she has also come to admire jazz keyboard legends such as Earl Garner and Art Tatum.
Departing slightly from talk of music and composition, Seo mused on another phenomenon of the "lost song" of the 'o 'o bird. The fact is, many songs and sounds of other avian species are being silenced by climate change, not just the call of this one exotic bird.
Whether or not these Earth changes have been precipitated by humans, such creatures as the 'o 'o cannot not sustain their existence with the alteration of our atmosphere.
Seo ponders this and reflects that art and music, such as her composition "Lost Songs," may be a way to heal this unfortunate aspect of natural demise.
"If the last calls of the 'o 'o went unanswered in the forests of Kauai, in my music, they are not only answered, but transformed and multiplied into a choir of birds," she writes in her composition notes.
"In this depiction of a paradise, I sought respite from a recurring sense of loss," she says. "Loss may be complete and permanent to our physical world, but not to our memory, nor to our music."
Art & Faith, Richardson Auditorium, Princeton University. Monday, January 7, 7 p.m. $30. 609-258-9220 or tickets.princeton.edu
For more information on Juri Seo, visit www.juriseomusic.com