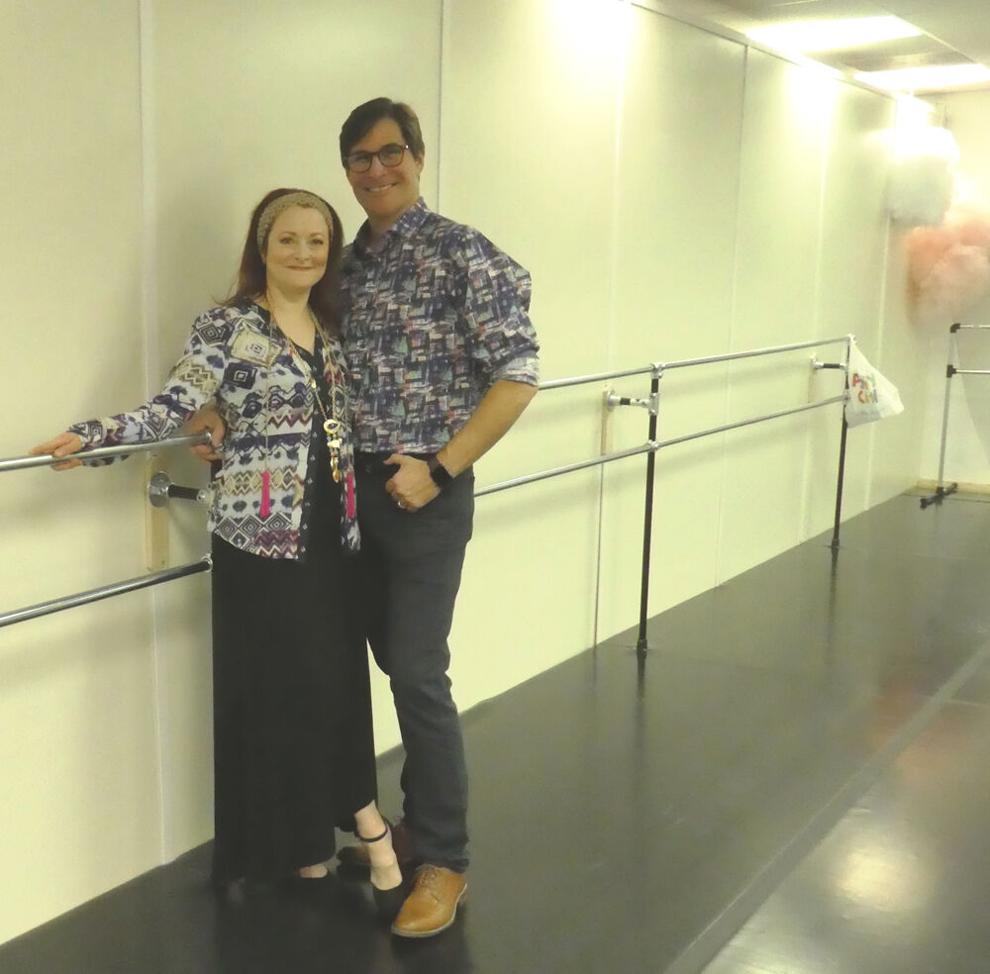 What is the next step for a longtime dancer facing a new beginning? If you are dancer and choreographer Douglas Martin, you join with some experienced colleagues, take the leap, and open a school.
The Martin Center for Dance opened this month on Princess Road in Lawrenceville, in an unassuming business and commercial park. Relying on reputation, not on a large sign, former students have been reaching out.
Joining with Martin are Mary Barton, Mary Pat Robertson, Maria Youskevitch, and Kirk Peterson, all familiar names from the American Repertory Ballet (ARB), Martin's former company.
Martin's connection to ARB abruptly and unexpectedly ended when an ARB press release last summer announced he "was pursuing other opportunities."
He says the occasion prompted him to think beyond his 25 years teaching, choreographing, and directing at the ARB-affiliated Princeton Ballet School.
And, after a week of being relieved from his duties, he decided on a ballet school. With the support of the above-mentioned colleagues, he embarked on setting up the nonprofit Martin Center for Dance. "The real decision was there," he says. Yet, he adds, "Starting a school is a daunting process, especially finding the space you need."
But he found the 5,000-square-foot open space big enough for two studios: The Warehouse Performance Space that can be converted to a black box-style space, and the Princess Studio for younger dancers. Martin, who spent years helping to build scenery and working with set designers, did much of the structural improvements himself, including setting up dressing rooms and installing the bounce deck floors. Some ornate tutus grace the walls, as well as photography and art from some friends.
"We wanted an open space so audiences can come in, and we found one. I don't know another school that has a studio to use as a black box," he says.
A resident of Lawrenceville for 17 years, he constantly passed by Princess Road. He marvels at the accessibility from Route 1 and I-295. "Seven minutes from anywhere," he says. "We looked at shopping centers, and usually kids are crossing large parking lots. This is a perfect location." He adds that "the acoustics are great."
The fact his name is recognizable in the Princeton area has been helpful, he says. "We've generated interest. People who know us check us out. They know us from our years in the area."
Martin has been a dancer and director for 25 years, and Mary Barton, to whom he is married, is a former dancer, choreographer, and teacher. "When you work in an area for 20 to 25 years, we trained a major portion of the of dance students, and we are the exact faculty who trained dancers from the area who are dancing professionally."
Martin and Barton came to New Jersey in 1995 after international careers as principal dancers with the Joffrey Ballet and joined ARB as principal dancers. They also joined the Princeton Ballet School faculty, led at that time by Mary Robertson, who joins them at Martin Center for Dance.
From 2010 until recently, Martin was artistic director of ARB. During those nine years he and Barton choreographed works such as full-length versions of "Pride and Prejudice," "A Midsummer Night's Dream," a new "Nutcracker," and an updated "Rite of Spring."
Barton, who had danced with Dayton Ballet before joining the Joffrey Ballet — as a youngster she was Joffrey's first Clara in his "Nutcracker" — has choreographed more than 40 ballets. She has also served on the dance faculty at Princeton and Rider universities.
Robertson came to the Princeton area in 1980. She choreographed more than 50 works for Teamwork Dance, which she founded in 1981. A choreographic fellowship recipient of the New Jersey State Council of the Arts, she was commissioned by Opera Festival of New Jersey and Opera New Jersey to choreograph dances for more than a dozen operas. She was director of Princeton Ballet School for 30 years until 2016 and managed its moves to the Princeton Shopping Center and Main Street, Cranbury, during a time when enrollment and summer programs expanded.
Master teachers Maria Youskevitch and Kirk Peterson have worked with this team for more than 20 years, choreographing new works and staging classics, and will join Martin to teach classes.
Classes will accommodate youngsters through adults, with a strong emphasis on personal growth and safe training techniques. Safe training, Martin explains, is "about instructors understanding what they are teaching — human physiology, not pushing bodies — but gradually, turning out, stretching your leg up without strain. It's about understanding technique. Working with muscles and ligaments can change the shape of bones, but this happens over several years. Safe training does not push."
Martin says the staff teaches ballet technique to professionals and professionally oriented youths, but also to those "new to ballet looking to enjoy this art form as audience members and recreational participants." Classes range from Zumba to advanced and beginner ballet for adults: a Saturday young music and pre-ballet classes and age-segmented ballet classes for children up to age 10; and traditional student ballet classes including pointe.
One unusual class is a contemporary dance class for those over age 50, taught and developed by Robertson. "I was living in London for a year and took an over 60 class for beginners. I liked the idea. It is geared to the age group that, when you visit a doctor, you are told to work on your balance, or work on your strength. But dance, by its very nature, does that." In ballet she adds, the teacher has more of a feeling for how the foot works against the floor, for example, and whether to forego deep knee bends.
For dancers from the children's advanced level and above, there will be a presentation in May. Each class will demonstrate what they have learned this semester. For younger classes, a special celebration class will be presented, to which family members can attend.
The dance center will also act as a community arts center, with some scheduled events, including jazz and art and photography exhibitions, craft displays, and poster memorabilia, include posters of Maria's father, Igor Youskevitch, a celebrated dancer with American Ballet Theater.
Martin looks forward to the studio teaching all levels, not just pre-professional levels. "Ballet needs an educated audience," he says. Also, a specific scenario for the future is never guaranteed. "I can't tell you how many times a weaker student becomes a professional in the business. You don't know what's going to happen. So many kids who had talent chose not to have a dance career. You never know.
"We teach people to dance and the language of dance. We are about people. I have been teaching adults for a long time, since 1978, and in Princeton for 25 years. Every part of the community is valuable."
"Dance is innate in all of us."
Martin Center for Dance, 11 Princess Road, Suite G, Lawrenceville. 609-937-8878 or www.MartinBartonArts.com.