Fall colors are showing themselves in three arts events going on in the region.
First, noted Bucks County artist Robert Beck is showing a wide range of his works in two area venues.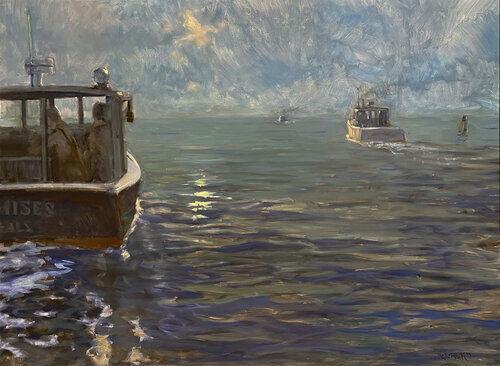 The closest venue is the Morpeth Contemporary in Hopewell. It is where his "Recent Works" show just opened and remains on view through October 31.
The other is at the Michener Museum in Doylestown, Pennsylvania. His "It's Personal: The Art of Robert Beck" is on view through to the end of 2021.
The Michener Museum materials put the artist and work into sharp focus with the statement that "for the past three decades, Robert Beck has been an integral part of the Bucks County art scene. He paints what fascinates him, whether it be on land or sea; in Bucks County, New York, Maine, or around the world. His documentary style of plein air painting captures the vitality of everyday life, even if that life is on the set of Good Morning America, the annual High Heel Drag Race in New Hope, or in a village in Senegal. He challenges himself to create memorable works in unusual situations and this creative tension is distilled in paint."
The exhibition provides an overview of Beck's work and is accompanied by an illustrated catalogue and a collection of essays written by the artist for ICON magazine, titled, "A Thousand Words: Essays and Art by Robert Beck."
Beck describes his paintings and writings as a "descriptions of a personal encounter. It isn't enough for my subjects to be recognizable. I try to eliminate the detail and noise that obscure the identity, and discover visual clues that will trigger the viewer's recollection of a shared experience — that understanding we have in common. My subjects are living moments, not isolated, static entities. There is a before and after, and the viewer should sense that in my descriptions of them. Depicting people eating breakfast at the counter in a diner isn't enough; I want you to hear the clatter of plates. When you notice the boots next to the fisherman in his recliner, I want you to know how it feels to put them on in the morning."
And that "the majority of my paintings are done directly from the subject in one sitting. They depict where I am, what catches my interest, and what it feels like to be there … The reason why I was drawn to a subject became part of the image. It got very personal."
Robert Beck grew up in Bucks County, Pennsylvania, and left a career in the business world at the age of 40 to pursue painting. He attended the Pennsylvania Academy of the Fine Arts in Philadelphia. Beck currently maintains studios in New Hope, Pennsylvania, and New York City.
Robert Beck, Recent Work, Morpeth Contemporary, 43 West Broad Street, Hopewell. On view through October 31, Wednesday through Saturday, 11 a.m. to 6 p.m., and Sunday noon to 5 p.m. 609-333-9393 or www.morpethcontemporary.com.
It's Personal: The Art of Robert Beck, Michener Museum, 38 South Pine Street, Doylestown, PA. On view through January 2, 2022, Thursday, 10 a.m. to 8 p.m., Friday and Saturday, 10 a.m. to 5 p.m., and Sunday noon to 5 p.m. $5 to $15. 215-340-9800 or www.michenerartmuseum.org.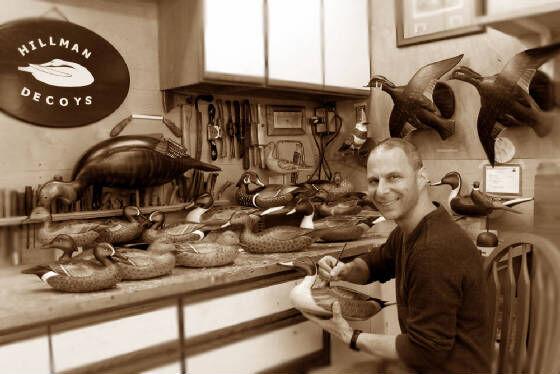 Morven Museum & Garden will be presenting "The Art of Deception Duck Decoy Workshop" with New Jersey master decoy carver Jode Hillman.
The outdoor class scheduled for Sunday, October 17, is part of the programming centered around the museum's current exhibition, "In Nature's Realm: The Art of Gerard Rutgers Hardenbergh."
Like the New Jersey-born and raised Hardenbergh (1856-1915), Hillman also mixes a love of nature with a love of art, and the workshop will cover the techniques and theory of creating a three-dimensional black duck silhouette decoy.
In an online statement, the Mullica Hill-based carver says, "I began working with wood at the age of 12 beside my Dad in his cabinet shop. This helped instill in me a deep appreciation for handmade goods, and the efforts that go into making them.
"When I began carving my own decoys, it was to augment my hunting rig. I dabbled intermittently with various media and forms for a couple years, until I discovered the historical decoys from my local area. Thereafter I focused my efforts on the Delaware River style decoy, which has a long and revered history in the area I call home."
The carver quickly adds that "the grace and simple beauty of the Delaware River style cannot be overstated. I count it a privilege to follow in the footsteps of some of the greatest carvers in history and to make this style of decoy with my own special flair and artistry."
Although he says for a number of years he enjoyed entering competitions, earning many awards, including Best of Shows, he eventually moved away from "the competitive arena, preferring to work based on creativity and imagination, rather than a set standard.
"Today I continue to evolve my carving style and take inspiration from both the natural and artistic world. In addition to waterfowl I carve many other species. Folk art, paintings, and other unique pieces also come from my workshop.
"I do the lion's share of my carving with old, but very usable hand tools, many of which were passed down to me from my father and great-grandfather. Carving decoys with the traditional techniques I use is a joyous retreat. The efficient use of drawknife and spokeshave is a relaxing and time-honored method of producing decoys. All my decoys are made from clear kiln-dried white cedar, which lends itself well to these methods.
"For painting, I choose the traditional approach once again. My decoys are hand painted, by brush, using only the finest quality oil paint. Oil produces a luster and patina unmatched by any other media.
"This traditional approach has worked well for me, with my decoys growing in desirability and value with each passing year."
The Art of Deception, Duck Decoy Workshop with Jode Hillman, Morven Museum, 55 Stockton Street, Princeton, October 17, $200 general public, $175 Morven members, includes class, supplies and materials, and Brick Farm Market Lunch. 609-924-8144 or www.morven.org.
The Arts Council of Princeton opens the exhibition "Talk to Me," featuring the art of Janet Filomeno and Katherine Parker, on Saturday, October 16.
Both Filomeno and Parker are painters of large, expressionist works. According to the ACP, when the two met in Hoboken in 1991, "both were grappling with the challenges of finding new language to reinvent and personalize the ideas of abstract painting for their generation."
They also "felt an immediate affinity" and found themselves in a "conversation started between the two friends that has continued over 25-plus years. Each woman has continued to paint and show extensively in the New York/ New Jersey area. The visits to the studio which have unfolded over the years have been an important touchstone for each, a means of trying out and sharing new work, of examining challenges. A trusted voice is paramount as this process takes place."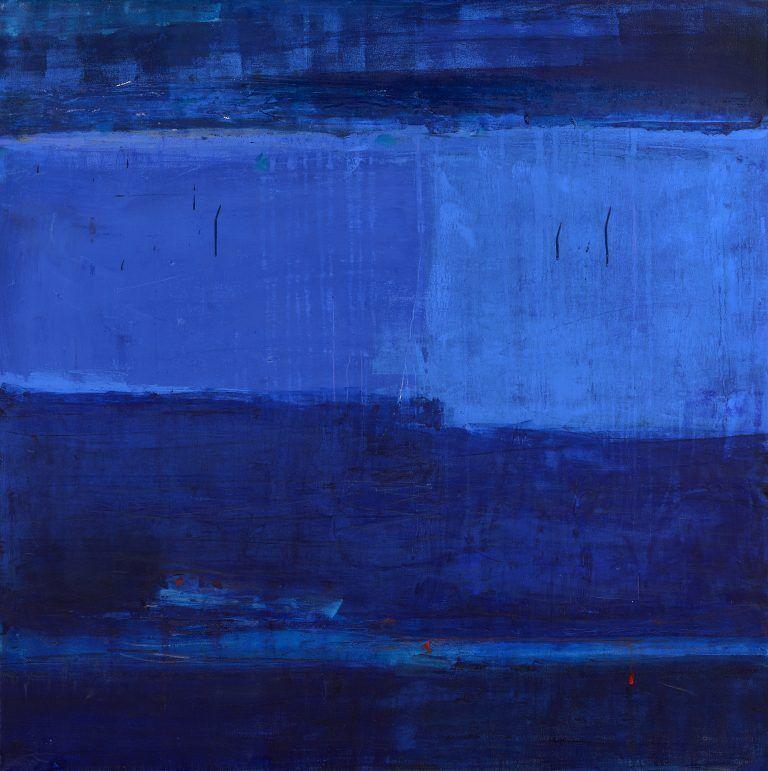 Parker's works address the themes of memory, time, and loss, and are "conceived slowly by adding layer after layer of thin oil paint, the forms and marks appearing and receding as the finished painting emerges."
An artist who has said she is interested in the "impermanence of memory, the passage of time, and most crucially the contrasting coldness and warmth of loss," also says, "One of the reasons I love to use oil paint is it holds the memory of each color, layer, and brushstroke. Sometimes a shape or form can live under the surface and stubbornly inform the direction of a painting, suggesting itself over and over.
"As always when I paint I learn and relearn the same lessons. The first lesson is that the answer is there if I have the patience and faith to stay with the process. The more I try to exert a preconceived form onto the piece the more I lose the truth of the painting. The second lesson is it always takes failure to reach success. The beauty of this kind of painting is embedded in the journey, and like all beauty it is elusive and must be discovered."
The Hoboken-based artist has shown at MOMA/PS1, Newark Museum, Jersey City Museum, Spanierman Modern, and other venues in New York and New Jersey. She is also the recipient of the Yaddo and Edward Albee fellowships and a New Jersey State Council for the Arts grant.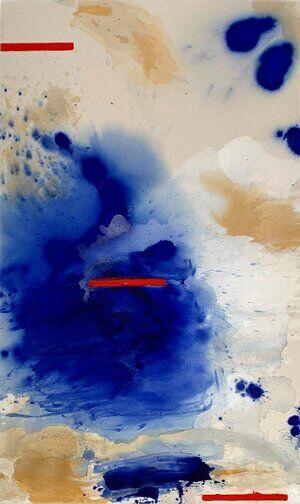 The ACP notes that New Hope, Pennsylvania, based Filomeno is best known for her large-scale gestural, abstract paintings that employ the use of a variety of materials such as ink, mica, shellac, acrylic paint, graphite, charcoal, paint markers, and at times, collage. And that "by the use of her physical action such as pouring, flinging, and throwing colorful liquids onto the stretched canvas on the floor, she is able to reenact the movement one might sense in oceans, rivers, and other bodies of water."
Born in a New York City Italian family and raised in New Jersey, Filomeno says that she was influenced by a "New Jersey life centered around family, church, music (opera and Frank Sinatra), glorious family recipes, and seatings of 20 or more for Sunday dinners."
In an artist statement for another exhibition, she says, "In my work I see the influences of Catholicism: the saints, the Mass, churches filled with religious relics and icons, shrines, altars, the physicality of the body, the mystery of life. The numerous trips I have taken to Italy allowed me to view the masterpieces: the Caravaggios, Michaelangelos, Berninis, Titians, Giottos, and the paintings of Artemisia Gentileschi — and with them a heightened sense of drama, emotive use of color, the physicality of the gesture, the use of metaphors and narratives on a heroic scale, the baroque, the grandness of it all."
Her work is represented by the Walter Wickiser Gallery in New York City and Posner Fine Art in Los Angeles, California, and included in various museums, included in various museums, and private and public collections.
Talk to Me by Janet Filomeno and Katherine Parker, Arts Council of Princeton, 102 Witherspoon Street, Princeton. October 16 through November 20, Monday through Thursday, 9 a.m. to 5 p.m. and Friday and Saturday, 9 a.m. to 4 p.m. Free. 609-924-8777 or www.artscouncilof­princeton.org.