The region's theater community — including two Tony Award-winning venues — has been waiting in the wings over the past year to resume its important role in serving the central New Jersey community. Now that the pandemic seems to be in a more controlled phase, the region's presenters and performers are stepping out and offering the following new season:
McCarter Theater
McCarter Theater in Princeton is putting its guest artist series center stage while it readies its own season of award-winning productions. Here's what's coming up:
David Sedaris, the popular humor writer and raconteur, returns to Princeton with fresh tales and to share some thoughts on his new book, "The Best of Me," a New York Times "best read" recommendation. Tickets range from $55 to $80. Tuesday, October 12, 7:30 p.m.
The Moth, the New York City group that hosts live storytelling events around the world, is set to share stories and "celebrate the ability of personal storytelling to illuminate both the diversity and commonality of the human experience." $45 to $65. Friday, November 5, 8 p.m.
"National Geographic Live: Secrets of the Whales" one of the publishing organization's "immersive storytelling events," features New England-based explorer and National Geographic photographer Brian Skerry's work and insight to explore the science of whale families and their human parallels. $35 to $45. Sunday, November 7, 3 p.m.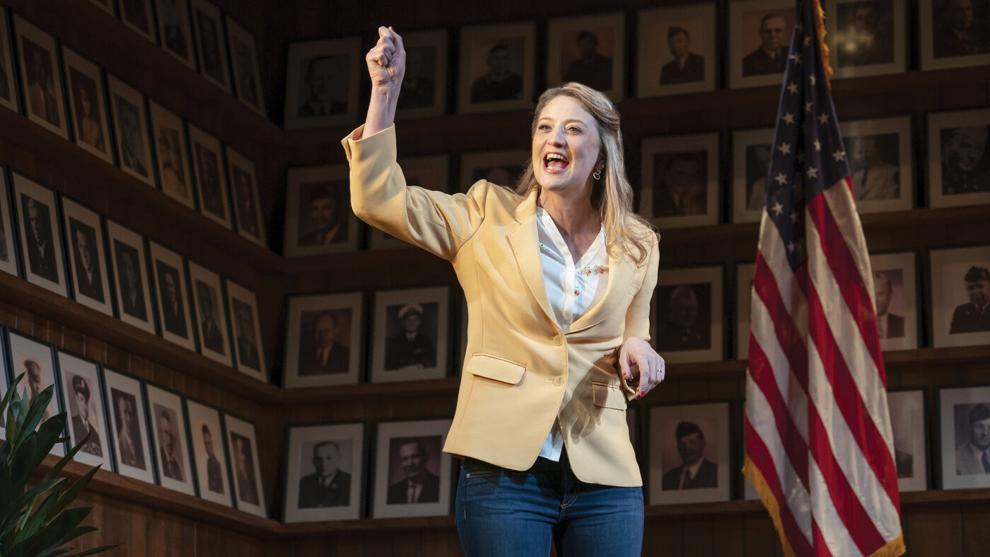 And "What the Constitution Means to Me" is Brooklyn-based writer Heidi Schreck's 2019 semi-autobiographic Broadway stage work that uses a young woman's exploration of the Constitution to open the mind to shaping the future. The Tony-nominated work-turned-Amazon streamed movie features New York stage and screen performer Cassie Beck. $50 to $80. December 7 through 12.
McCarter Theater, 91 University Place, Princeton. 609-258-2787 or www.mccarter.org.
Passage Theatre
Trenton's only nonprofessional theater, Passage is presenting a "Trenton Makes" season of works created by artists and residents of the Trenton community for the Trenton community.
"Not only are all of the shows set in Trenton, but they are all world premieres that were developed at Passage over the past several years. Each show is completely different, but they all reflect the heart and hope found in this community," says Passage Theatre Artistic Director C. Ryanne Domingues.
The company demonstrates a cautious approach to returning to live theater during the current stage of the pandemic.
Its season opener is a Writer's Roundtable, a "behind-the-scenes" look at the season led by several of the playwrights creating it. That includes the nationally noticed Bordentown playwright David Lee White. Donation requested. Saturday, September 25, 7 p.m.
Then it's the annual holiday-season fundraiser performance. This year's stage event is "A Christmas Carol" performed by only two Passage Theatre performers and a box of props. $50. Saturday, December 11, 7 p.m.
Passage Theater, Mill Hill Playhouse, 205 East Front Street, Trenton. 609-392-0766 or www.passagetheatre.org.
The Seuls en Scène
The annual French Theater Festival at Princeton University marks its 10th September season with digital presentations.
Seuls en Scène brings celebrated French actors and directors, as well as promising early-career artists, to Princeton University and the local community to present their work, introducing American audiences to contemporary French productions, performers, and creative artists.
With the worldwide pandemic, this year's festival will be a virtual offering developed with the 50th edition of the Festival d'Automne in Paris and include a week of HD screenings of new works featuring a roster of "renowned French artists including Dorothée Munyaneza, Tania de Montaigne, Marion Siéfert, David Geselson, Gisèle Vienne, and Pascal Rambert, among others."
The free screenings will be held in Princeton University's Lewis Art Complex's Wallace Theater and are open to Princeton students, faculty, and staff. September 17 through 19.
arts.princeton.edu/frenchtheater
Hopewell Theater
The performing venue off Hopewell's main street is getting back into presenting with live theatrical performances and standup comedy. Here's what's on tap:
"Salami's East Coast Comedy: Living Legends of Laughter: Featuring Anita Wise." Joining the Mercer County based Tonight Show, Evening at the Improv, and "Seinfeld" regular are national stand up headliner Mike Eagan and impressionist, musician, and a comedian Gary Delena, a former Hopewell resident. $30-$35. Thursday, September 23, 7 p.m.
The 50+ Comedy Tour of popular comedians over the age of 50. Hosted by Paul Anthony, a regular New York comedy presence, the Hopewell stop features Robin Fox, a Bridgewater resident who, after spending "17 years as a full-time mom and dieting," became a comedian and carries some weight in the New York and national comic clubs. $31. Thursday, September 30, 7 p.m.
"The Lion Sleeps Tonight" is internationally active Lambertville playwright and director Stephen Stahl's two-character psychological journey through past conflicts towards self-discovery. $30. Saturday, October 2, 8 p.m., and Thursday, October 28, 7 p.m.
"Unsinkable Women: Stories and Songs from the Titanic." New York City-based performer Deborah Jean Templin brings the story of the Titanic disaster alive through the voices of witnesses found in diaries, letters, and interviews. The production features costumes, characterizations, and original music. $25. Sunday, October 10, 3 p.m.
"Dudes Interrupted" is a night of comedy featuring Brian Cichocki and Marc Kaye. In addition to his standup comedy career, Cichocki is also an actor and film director. He was raised in Trenton where, according to his bio, he "gained a broad education in human behavior as he moved in and out of many circles filled with mixed cultures and observing varying degrees of racial/ethnic tension." Kaye is an East Coast comic circuit regular whose topics include "growing up differently," child rearing, marriage, and divorce. $25. Friday, October 15, 8 p.m.
"Anybody!," presented by the New York based hip-hop improv team North Coast, mixes rap and improv comedy and relishes riffs on historic figures from Nikola Tesla to Louisa May Alcott. $32. Saturday, November 13, 8 p.m.
"The Quickest Thinkers in Comedy: Baker & Mark" is the New York improv duo focused on a "never insulting or attacking" brand of humor. They bring their show honed in Atlantic City, Las Vegas, and on cruise lines to Hopewell. $32. Friday, November 26, 8 p.m.
"Your Stage at Any Stage" is Hopewell's "90-minute all-acts-welcome open mic on the third Thursday of each month hosted by songstress and storyteller, The Peasant Grill's own Michelle Klein." Performance time slots, arranged by a first-come, first-served online signup form, include ten minutes for music, five minutes for comedy, and seven minutes for spoken word/poetry, and storytelling. $15. 7 p.m. Visit the website for more details.
Hopewell Theater, 5 South Greenwood Avenue, Hopewell. 609-466-1964 or www.hopewelltheater.com.
George Street Playhouse
The longtime professional theater in New Brunswick returns to its home at the New Brunswick Performing Arts Center with two warm-hearted productions.
"Ken Ludwig's Dear Jack, Dear Louise" gets live stage productions rolling again in late October. This offering by the noted creator of "Lend Me a Tenor" is World War II-era love story of a young GI courting a young Broadway actress. October 26 through November 21.
"It's Only A Play" by the late Tony Award-winning playwright Terrence McNally arrives in November. The 1982 "valentine to the theater" uses a novice producer's opening night party as the set piece for theatrical entrances and farce. November 30 through December 19.
George Street Playhouse, New Brunswick Performance Art Center, 11 Livingston Avenue, New Brunswick. 732-246-7717 or www.gsponline.org.
Crossroads Theater
"When Day Comes" is the September opener of the Tony Award-winning company's Crossroads Festival Theater at the New Brunswick Performing Arts Center. Created by Crossroads founder Ricardo Khan and the internationally known singing group Sweet Honey In The Rock, the company calls the new work "a spirited, poetic, and musical journey through our most recent times amid the people's uprisings against racial and social injustice in America, while facing the challenges of quarantine and COVID-19."
The piece was inspired by the poem "The Hill We Climb," created and read by poet Amanda Gorman at President Biden's 2021 inauguration. $20 to $65. September 22 to October 10.
"EMERGENCY!" takes the stage in late September. Written and performed by Obie Award-winning playwright and past Russell Simmons Def Poetry performer Daniel KOA Beaty, the work uses the voices of more than 40 characters, all played by Beaty, to unearth the meaning of freedom for Black America from the first slave ship on the Hudson River to contemporary times. $20 to $65. September 29 to October 10.
Crossroads Theater Festival's Community Reading Series of new works presented nightly. Free but registration required. September 22 through October 9.
Crossroads Theater, New Brunswick Performance Arts Center, 11 Livingston Avenue, New Brunswick. 732-545-8100 or www.crossroadstheatrecompany.org.
State Theater New Jersey
The lively New Brunswick performing arts venue is presenting a series of new traveling stage shows and revivals that include:
"Escape to Margaritaville" is the Jimmy Buffet-infused musical comedy written by television screen writers Greg Garcia ("My Name is Earl") and Mike O'Malley ("Shameless") and featuring a score of classic and original music. $40 to $98. October 8 through 10.
"Million Dollar Quartet" is the popular, Tony Award-­winning musical inspired by the legendary recording session that brought together rock 'n' roll legends Elvis Presley, Johnny Cash, Jerry Lee Lewis, and Carl Perkins for their first session. The musical features the hit songs "That's All Right," "I Walk the Line," "Great Balls of Fire," and "Blue Suede Shoes." $40 to $98. Tuesday, November 2, 8 p.m.
"Summer: The Donna Summer Musical" tells the story of the 1970s "Queen of Disco" through more than 20 of her classic tunes, including "Bad Girls," "Hot Stuff," and "Love to Love You Baby." November 26 through 28, 2 and 8 p.m.
State Theater New Jersey, 15 Livingston Avenue, New Brunswick. 732-246-7469 or www.stnj.org.
Bristol Riverside Theater
"Murder for Two," the musical whodunit, gets the professional theater's season rolling. The titular two refers to two actors. One plays a detective, the other takes on the role of 13 suspects, and both take turns accompanying each other on the piano. $48 to $55. September 21 through October 10.
"Skeleton Crew" is up next and takes the audience into the lives of four Detroit auto workers whose futures are challenged and loyalties put to the test with the rumors of a factory closing. The piece was written by MacArthur Foundation Grant recipient and Detroit native Dominique Morisseau. $45 to $50. November 2 through 21.
Bristol Riverside Theater, 120 Radcliffe Street, Bristol, Pennsylvania. 215-785-0100 or www.brtstage.org.
Music Mountain Theater
The Lambertville community theater project built on the legacy of the famed music circus on the mount continues its momentum of live theater with the following fall offerings:
"The Drowsy Chaperone" is the 2006 Tony Award-winning musical take off on 1920 show romances as seen through the drowsy eyes of a Broadway enthusiast. $25. September 10 through 21.
"American Idiot" is the 2009 Tony Award-winning rock musical based on Green Day's 2004 album and follows three young men looking for meaning in the new millennium. $25. October 1 through 10.
"The Mystery Of Edwin Drood," the 1986 Broadway musical whodunnit, is distinguished as both an adaptation of Charles Dickens' unfinished mystery novel of the same name and the first major musical to offer audiences the chance to select one of five endings. $25. October 15 through 31.
"The Rocky Horror Show" returns to Music Mountain and promises to "pay homage to this cult classic in all its raucous interactive glory!" $25. Friday, October 29, 8 p.m., and Saturday, October 30, at midnight.
"Elf," the stage musical based on the film of the same name, follows the exploits of Buddy, the baby who hitched a ride in Santa's bag on Christmas Eve and grew up the tallest elf in the workshop. $25. November 5 to 21.
Music Mountain Theater, 1483 NJ Route 179, Lambertville. 609-397-3337 or www.musicmountaintheatre.org.
Rider University
Rider University hits the boards with two October presentations.
"Pippin The Musical" is composer Stephen Schwartz's popular Tony Award-winning piece presented by Westminster College of the Arts students and reset in the world of social media. $20 to $25. October 15 through 17.
"Pride and Prejudice," Jane Austen's spirited and witty 1813 novel, was transformed for the stage by noted American director and founder of the Louisville Theater Festival, Jon Jory. Passage Theatre director Ryanne Domingues directs the cast of Westminster College of the Arts students. $15 to $20. October 29 through 31.
Bart Luedeke Center Theater, Rider University, 2083 Lawrenceville Road, Lawrenceville. www.rider.edu.
Bordentown Historical Society
Harrowing History, the popular series of the true-life crime and passion stories, returns on Saturday, September 18. After the success of last year's crime-series debut, the creative team led by BHS's director Kristi Kantorski is again offering six tales "of mayhem, murder, and mystery." Presentations take place at Old City Hall on Crosswicks Street. $20 (must be reserved online). September 18 through November 6.
www.bordentownhistory.org/harrowing-history
Princeton Public Library
"As the Dust Settles" is a staged reading of former Mercer County playwright Jason Immordino's play of unresolved grief, healing, and renewal following the World Trade Center attacks. The presentation directed by veteran Trenton-based theater director Maureen Heffernan marks the 20th anniversary of the 9/11 terrorist attack. Discussion with playwright, director, and ensemble follows. Free. Registration required. Thursday, September 9, 6 p.m.
Princeton Public Library, 65 Witherspoon Street, Princeton. www.princetonlibrary.org.
Cure Insurance Arena
"Blippi The Musical" brings the popular children's YouTube sensation to Trenton. The all-ages production features skits, dancing, and the singing of 13 family-friendly songs. Tickets for the from-screen-to-stage show are $28 to $68 (plus fees). Friday, September 17, 6 p.m.
Cure Insurance Arena, 81 Hamilton Avenue, Trenton. 609-656-3200 or www.cureinsurancearena.com.
Theater Updates
Kelsey Theater at Mercer County Community College in West Windsor says it is preparing for a November return. www.kelseytheatre.net.
Actors' NET in Morrisville, Pennsylvania, is also planning to announce a new season. www.actorsnetbucks.org.
Bucks County Playhouse in New Hope, Pennsylvania, hopes to resume its stage presentations as soon as it can. www.bcptheater.org.