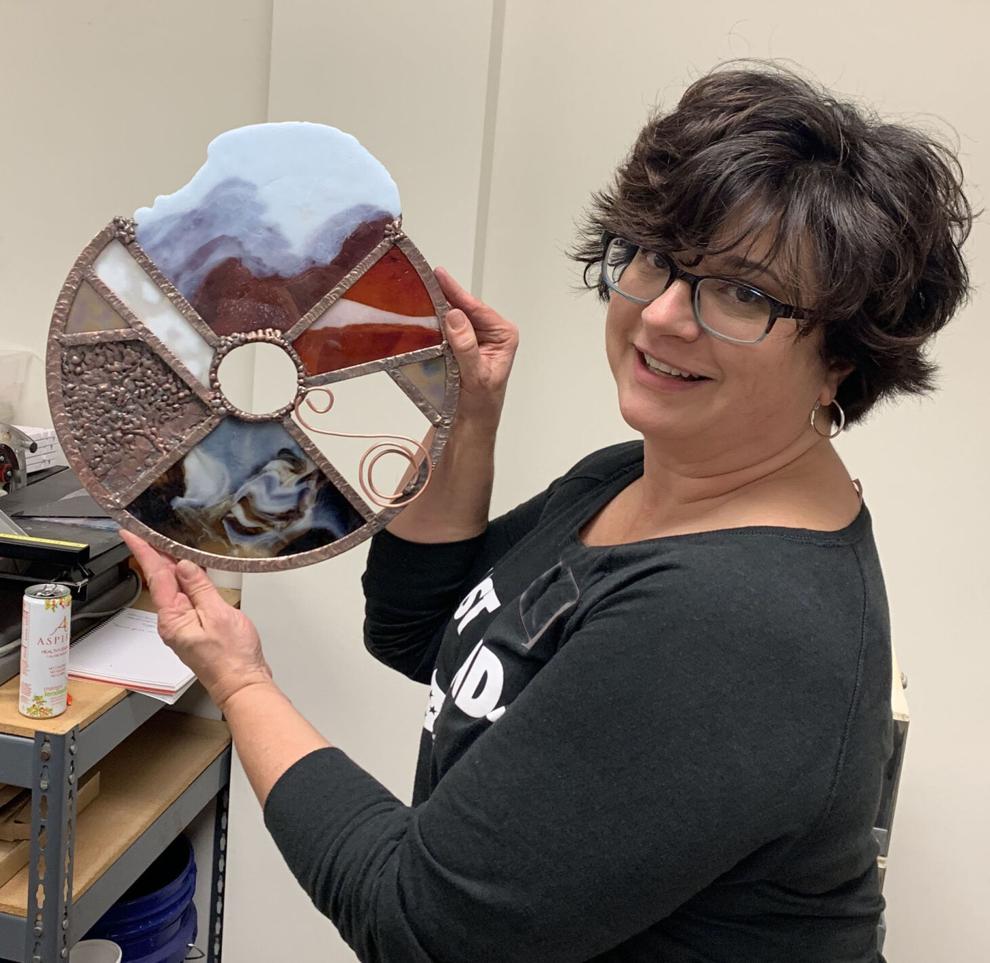 Colored glass has its origins in ancient Egypt and Rome. It has been an instrumental architectural element in Catholic churches for centuries, bridging the gap between Earth and heaven with colorful illustrations of the bible and the lives of saints.
Susan Kelly (no relation) makes colorful abstracted glass art into 3-D sculpted pieces by fusing it in an oven and more traditional two-dimensional work with more traditional stained-glass techniques. Living most of her adult life in the Groveville and Hamilton Square sections of Hamilton, Kelly's graphic design background is apparent in her solid glass designs and bright colors.
What media do you work in and why?
My favorite media to work in is glass. I make stained glass panels, sculptures, wall art and fused glass functional art. Many people assume that glass art is blown glass, but glass is a very diversified medium.
How does you work as a graphic designer figure into your glass artwork?
Composition is an integral part of my art, as both a graphic designer and glass artist. I use software such as Glass Eye, a program specifically made for stained glass design, and Adobe Illustrator to turn my ideas into patterns. My experience and adeptness using these programs enables me to adjust the design where necessary to meet the parameters of the engineering and the installation of the piece.
What fight/struggle do you have regarding your art?
One of the biggest struggles I face regarding my art is the cost of supplies. Glass is a very expensive medium, and costs keep rising. I am very lucky to live within driving distance of a large supply house as shipping costs are astronomical.
Walk us through your process.
Much of my work is commission-based, so the client already has a need. My artistic process starts when I have a conversation and possibly a site visit, with the client about what they are looking for and what they intend to do with the piece. I then explain my process, the time involved and set the expectations.
The next step of my process is to let ideas bounce around in my head, sometimes for several days, until I have built the piece in my mind. During visualization, I always start with the final product and work backwards. Working the project from the endpoint allows for the engineering aspects to be included into the design. A lovely piece of glass art will be of no use if it is not built correctly.
Now that I have an idea of what it will look like and how to build it, I make a rough drawing, determine the cost of the materials, and estimate the time it will take me to make it. Following the timeline that I set during the client conversation, I make a presentation of the design to the client to discuss any changes and get approval to begin.
Delivering the art is usually bittersweet. While it makes me happy to have created something that the client loves, it is sometimes difficult to part with a creation that formerly had no existence. Whenever possible, I build a few days into the timeline so I can "live" with the art before it goes to its new home. My heart genuinely sings when the client sees their art in person and is overwhelmed by the fact that I interpreted their vision beautifully.
How do you decide which colors or shapes to use in your work?
I let the colors and shapes of the glass determine the direction of the piece. For example, I use what is called 'head glass' in many of my pieces. Head glass is the first part of the glass that comes through the rollers during manufacturing. Head glass is beautifully misshapen, crimped and rolled over. I might look at a piece of head glass and see a mountain or an ocean or an arrowhead, then I let the glass guide me where it wants to go.
Where is your studio and do you work with others in collaboration?
I have taken over the living room of my home as my office, and my studio is in the basement. My space is bright with worktables, equipment and colorful glass all around me. It is always clean and organized at the beginning of a project, and a wonderful, chaotic mess during the project. I often have several projects going on at once, so my studio space has spilled over into other parts of the basement, forcing my family to carefully weave through makeshift tables and such. I love it!
Where did you learn to work with glass?
I became infatuated with glass at a very young age. I was 7 or 8 years old when we lived across the street from a stained glass studio, Pyramid Stained Glass, in New Egypt. I used to visit every chance I got, and once drew a Snoopy cartoon for the artist/owner, Woody Miller. Woody showed me how to turn the drawing into a pattern and cut the glass for me, and I helped him solder it together. I interned at the studio when I was in high school, designing projects and learning all that I could in between school and sports. There was a revival of the stained-glass movement in the early 1980s and Pyramid has some large commercial projects that I was a part of.
Where can we see your work?
Examples of my glass art can be found on my website, Instagram and Facebook. While I will continue doing commission-based work, I am currently building a line of functional art, and a line for galleries and art shows.
What is on the horizon?
I am looking forward to expanding my business into boutique stores and art galleries, and converting my website into a retail site. I will be taking advantage of the learning and networking opportunities at the Stained Glass Expo in Las Vegas in March; I hope to teach a class or two there in the future. Lately, I have been craving collaboration in an artistic network, so I plan on joining some local organizations and initiatives.
Facebook, Instagram and LinkedIn: @SuziQartGlass.