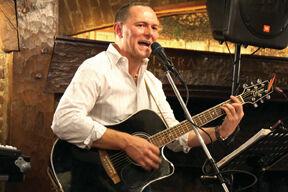 "Is there a doctor in the house?" That question has been asked frantically at entertainment venues when a member of the audience or cast has suffered a medical emergency. On Saturday, April 27, from 5 to 8 p.m. (and probably later) at the Nassau Inn's Yankee Doodle Tap Room, there will be a doctor in the house — on stage, in fact — entertaining at a fundraiser for a Nassau Inn employee currently undergoing treatments for leukemia.
The doctor-singer is Marco Funiciello, a physiatrist who practices physical medicine and rehabilitation with Princeton Spine and Joint Center. Funiciello first performed at the Tap Room in June of last year, and most recently appeared in a duet with his bother on St. Patrick's Day. Funiciello will donate his fee to the fund supporting the front desk manager, Kyle Damm, and Princeton Spine and Joint Center will match the amount. The Tap Room is also committing a share of its proceeds to the cause and will auction off various items to raise more money.
Funiciello is familiar with both medical fundraising and entertaining. He recently hiked to the summit of Mt. Kilamanjaro and helped raise money and medical supplies for a local hospital in the process. He previously hiked to base camp at Mount Everest. Later this year he will travel on a medical mission to Haiti.
Originally from Carlstadt, New Jersey, Funiciello took piano lessons as a kid but fell into singing when he drove a high school friend to an audition as a vocalist for a rock band. The band didn't like the sound of the friend, and Funiciello asked if he could try. He joined that band, took guitar lessons, and continued his music — playing in bands, doing solo gigs, and appearing with his brother — in his spare time at the University of Scranton and while earning his doctor of osteopathy degree at the University of Medicine and Dentistry of New Jersey.
Funiciello moved to Princeton in 2010, and took a break from performing until last year, when he started to play shows at the Nassau Inn's Tap Room. "I sing and play acoustic guitar and perform a mix of alternative, rock, reggae, classic rock, Irish, and Italian," he says. "It's an eclectic mix and you never know what you will get."
But with a doctor in the house, you might also get some insight into modern medicine. Funiciello notes that blood and platelet donations, such as those needed by Kyle Damm, are in short supply in New Jersey. Damm's transfusions, in fact, have come from the Washington, D.C., area. People wanting to help but unable to make a monetary donation could support that cause by making a blood donation to any New Jersey blood bank.
Funiciello also puts in a word for physical fitness, particularly ultimate frisbee "because it is a wonderfully athletic sport that can be played well into one's advanced years and incorporates both men and women and people of all different ages," he says. One of the original frisbee leagues is the Broadmead Ultimate Frisbeeheads (frisbeeheads.org), which meets Sundays at 3 p.m. at the corner of Broadmead and Western Way in Princeton. If you show up the day after the Nassau Inn benefit you may find the same doctor on the field who was in the house the night before.