"According to my mother I was always an artist," says Makoto Fujimura during a recent interview at his Belle Mead home and studio.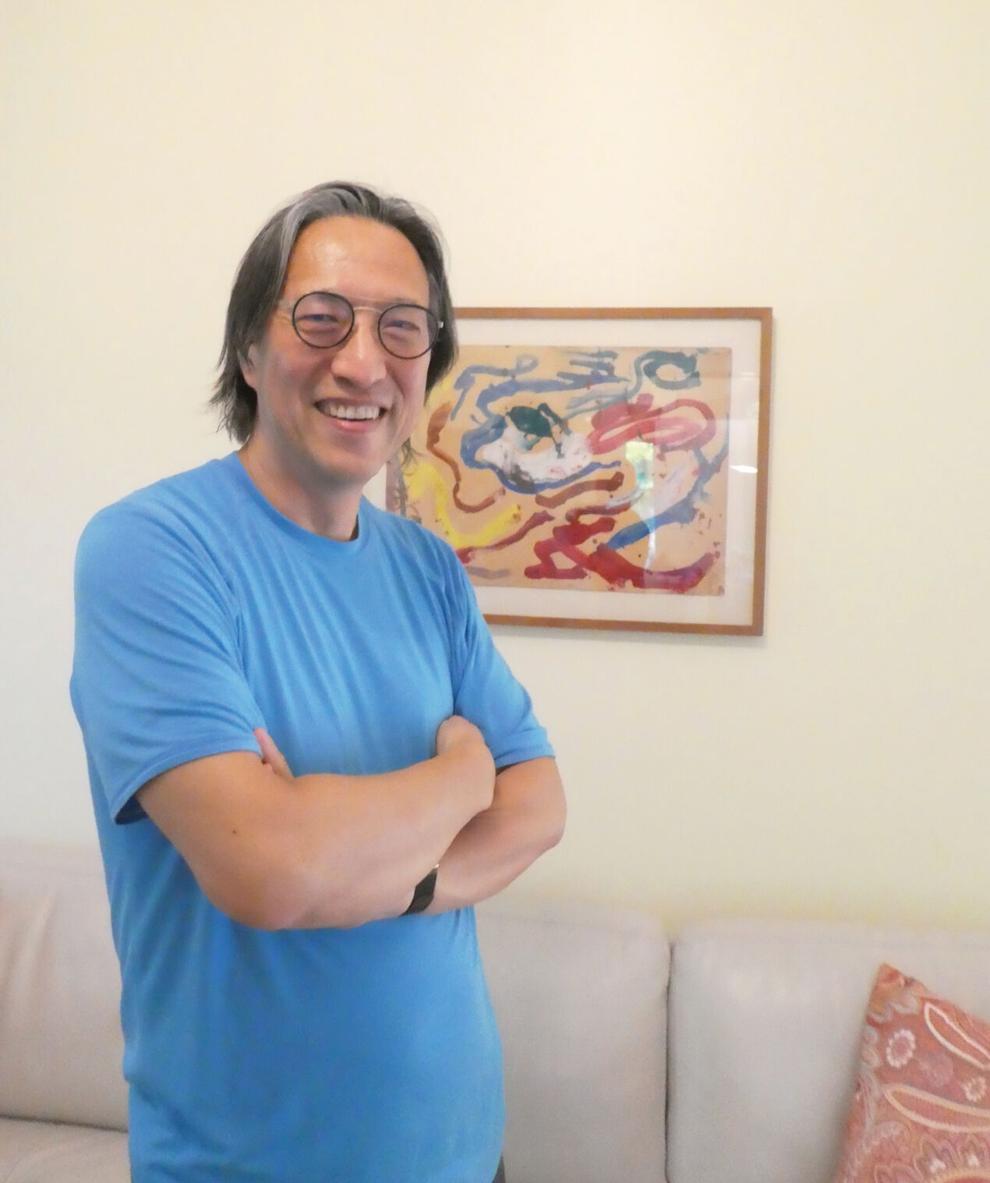 Currently showing several works at the Morpeth Contemporary gallery in Hopewell, the internationally known painter and author continues sharing details of his life. "The story of my journey has been between the U.S. and Japan. I was born in U.S. and moved to Japan when I was young. I went to Bucknell University and found that I had to make it as an artist. I am grateful for that, work on my pieces in my studio every day, and exhibit all over the world."
That work — seen in galleries and museums in New York City, Tokyo, Hong Kong, Vienna, and elsewhere — is informed by at least three currents: American abstract expressionism, the nihonga art tradition, and strong Christian beliefs, topics he freely shares during the interview in a parlor room where one of his works glistens on the wall.
"It was the Guggenheim exhibit of Arshile Gorky in the 1980s that put me over the edge," he says of his calling to art.
"There is something so sublime in his abstraction, lyricism, nature," he says of the ground-breaking American abstract artist of Armenian heritage — whose family witnessed the Armenian genocide. "He was looking at nature and processing trauma to describe a time and move beyond it. An invitation of something that is rich and alive and it's not an endgame, the end is a beginning. Gorky is a window to new world.
"I remember being profoundly affected as a young person. It was unforgettable. I can't name, it is something I can't figure out. How did his work influence me and others? It's because of that exhibit that I became an artist.
"I was in Venice two years ago, and the museum there had a Gorky retrospective, and many of seminal pieces were there. Again this encounter was transformative."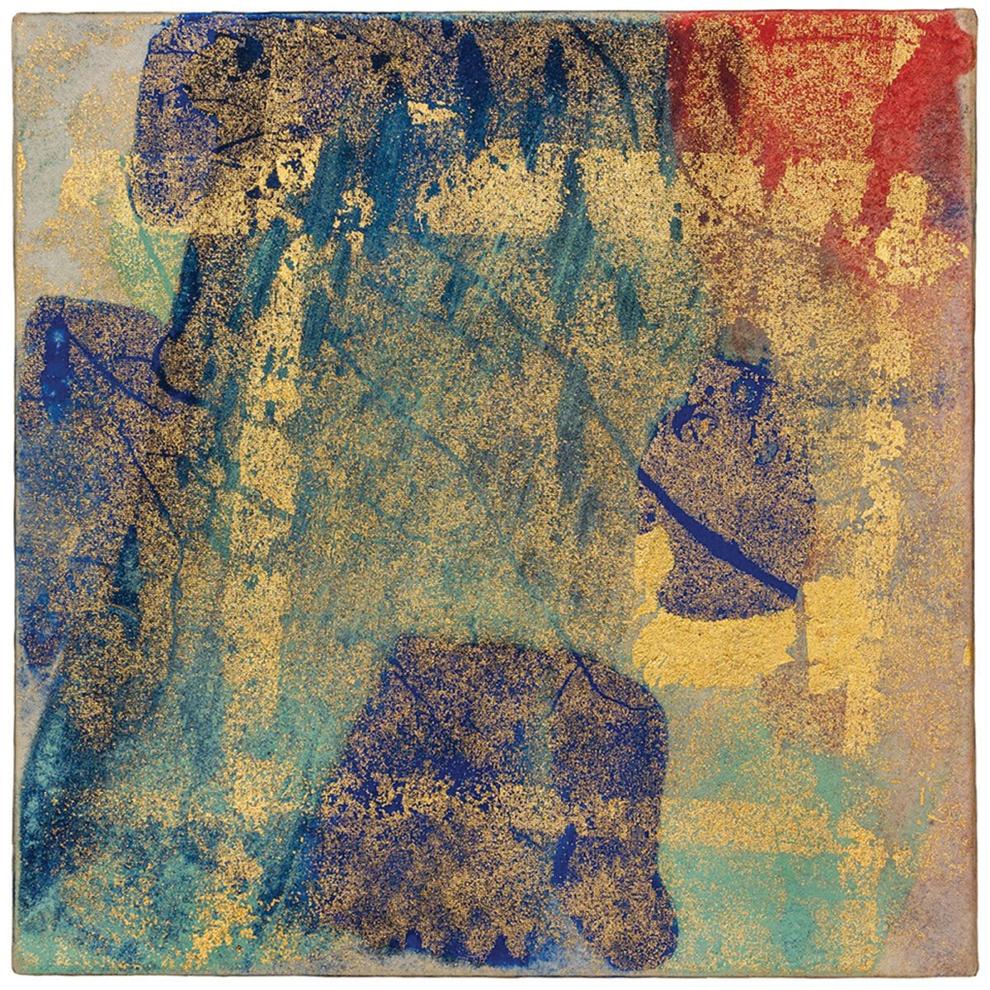 Fujimura adds that an image of the face of Gorky's mother — one haunted by what she had seen — inspired him to use a similar approach to capture the visage of his grandfather. "He experienced Hiroshima. He was a scientist sent two days after (the dropping of the atomic bomb). I never heard him talk about it."
Moving to the next topic, Fujimura says he encountered nihonga art when he visited the Boston Museum of Fine Art and saw works assembled by late 19th and early 20th century American scholars of Japanese art, including the influential American Asian art expert Ernest Fenollosa.
Literally translated as "Japanese painting," the name nihonga was coined in the early 20th century to distinguish the style from Asian-influenced European and American art.
Nihonga uses a water-based medium that incorporates pigments from a variety of natural sources, such as stones, shells, precious metals, and even ash.
"It is also characterized by the time it takes to create — from pulverizing materials into millions of sand-like pigments to waiting for each of up to 100 layers to dry before painting the next," says Fujimura in a statement prepared by the Morpeth Contemporary.
"Just as I did with Gorky, I felt something calling me," the artist says. "So I applied for a Japanese scholarship, without knowing anything (about the art and the school that produced it). I just wanted to learn about it and find out why I was interested. I learned nihonga by being enrolled in the program."
Fujimura says he was intrigued to discover that Fenollosa was one of the founders of the school he attended, Tokyo University of the Arts.
According to one of his biographies, Fujimura not only received an M.F.A. from the school but his thesis painting was purchased by the university, and he was invited to attend the college's Japanese painting doctorate program, becoming the first non-Japanese citizen to attend and graduate.
Regarding his spirituality, the artist says, "I was not a Christian when I came to faith. I was in Japan on a national scholarship.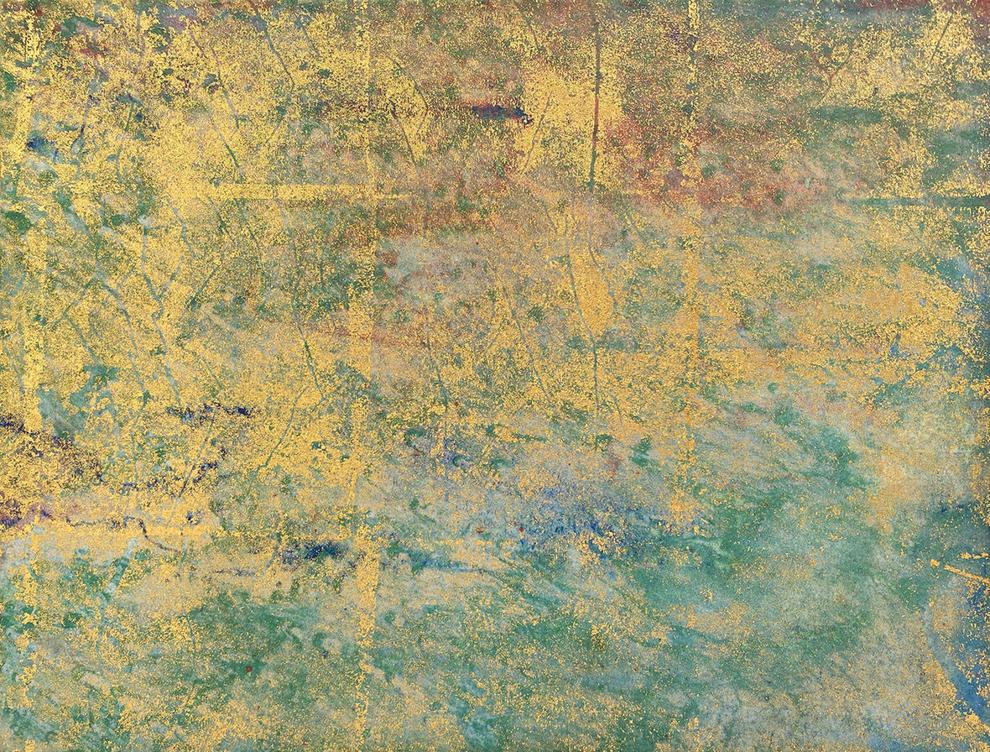 "Why would you go to Japan to discover Christianity? There is a historically rich history of hidden Christians. The 'Good News' is the story about redemption and to me it is about recreation."
According to the progressive Christian publication Sojourner Magazine, the artist's interest in Christianity was also connected to his encounter with fumi-e, small bronze Christian images introduced in the 17th century and placed in front of Japanese citizens suspected or accused of practicing Christianity. Those who refused to renounce the religion by stepping on the image were often killed.
The Japanese persecution of Christians was also the subject of American director Martin Scorsese's 2016 feature film "Silence," which lists Fujimura as "special advisor."
Referencing his conversion and belief, Fujimura mentions the Sermon on the Mount and says Christ asks listeners to create. As the artist puts it, "We are makers, and we can make atomic weapons or we could make things of beauty or communities or families."
That idea also appears in his newest publication, "Art and Faith."
"This book has been an interesting journey," he says. "I've gotten interest from people who are not religious. Or Christians of other faiths. And it seems to make sense to them too, that the creator has given us something to create.
Realizing that both organized religion and the art community can be restrictive and against things, Fujimura says, "Artists that endure do more than 'be provocative.' They're creating something more enduring.
"Van Gogh would be a great example. He wanted to be a preacher, and the church wouldn't let him, so he started painting. He was in the coal mines and among the oppressed. His paintings are sermons. (The painting) 'Starry Night' — with light from a church to the sky — that's a sermon. He was transgressive. (But) if he only depicted that, he would not be 'Vincent van Gogh.'"
"Emily Dickinson wouldn't be Emily Dickinson if she just wrote about her loneliness. Her poems are generative. They give birth to a new world. We read her poems and how much she saw. Her tenderness is an invitation to partake in a journey.
"And T.S. Eliot's 'Four Quartets' is a great example. He admits in the poem that he has failed. But he describes failures and is able to create something that speaks to us today."
Eliot's poem also an inspiration for Fujimura, who in collaboration with composer Christopher Tehofandus, theologian Jeremy Begbie, and artist Bruce Herman created the internationally presented multi-arts piece "Qu4rtets: A response to T.S. Eliot in Word, Image, and Sound."
Returning to his early days, he says father — noted Japanese physicist, phonetician, and linguist Osamu Fujimura — had come to Cambridge, Massachusetts, to do his doctorate work with famed linguistics scholar and philosopher Noam Chomsky. His mother, Yoko, was originally an educator but later worked with the International Center – New York City where she helped Japanese women accompanying their businessmen husbands to adjust to America.
Fujimura says, "(My mother) had two uncles who were artists. My interest in art comes from that side. She understood the importance of creating beauty."
She demonstrated that support by keeping a painting her son created when he was three and presented to him when he graduated from Bucknell. It now hangs in his house.
After Fujimura's birth, the family moved to Sweden, Japan, and then back to the United States. In 1972, his father took a position at Bell Labs in Murray Hill and the family settled in New Providence, New Jersey.
Although Fujimura eventually established himself as a New York City artist, the Sojourner story reports that "in the '90s, his paintings sold quietly — and since they do not include obvious symbols, most buyers were unaware of the role of Christianity in their inspiration. He became a leader in a movement to reconcile evangelicals to contemporary art, but it was small."
During the interview, the artist says his life with his wife and children in lower Manhattan suddenly changed on September 11, 2001.
"My former wife was traumatized by 9/11," he says about the start of his journey to Belle Mead. "A friend of mine was teaching at Princeton Theological Seminary. We would take weekends out of New York City. (His friend's wife) said, 'You need to be in Princeton.' I was looking on (the real estate website) Zillow and the house came on the market. It was at a ridiculously low price and I thought someone was wrong. But it was just old. And the previous owners were interested in beauty. They didn't want to sell it to people who didn't understand. I feel really blessed that I am here — in this old house."
Asked to elaborate on the concept of beauty, Fujimura says he subscribes to the Japanese idea of beauty being related to silence and that attempting to describe it in words "would ruin it."
"Because of the western imperialistic definition, (the idea of beauty) has become associated with power. I was told not to mention that word in art galleries, but I did talk on beauty just to be transgressive.
"Many artists are thinking about why is beauty out. I think it has to do the state of darkness, wanting to be honest about our condition. (And the sense is) you can't do something beautiful because it's sentimental and not true to our experience.
"But (Renaissance artist) Fra Angelica could have said the same thing during the Black Plague. And Shakespeare, the same thing. Why did these people create and write? So it was kind of a trap that we were led to believe that beauty is no longer relevant because modernism has made it irrelevant.
"There is a world view that you have to destroy to be honest. I never felt that it captured the whole truth, and it was a kind of escapist notion of reality. It wasn't honest enough. (Artists) talk about honesty, being courageous enough to face reality, but it wasn't courageous enough."
The move also eventually generated some changes in Fujimura's personal life. He recently married lawyer Haejin Shim, principal of Shim & Associates, based in New York City and Fort Lee, and CEO of Embers International, a nonprofit devoted to breaking intergenerational cycles of exploitation, including human trafficking.
Professionally, Sojourner notes, "Today, Fujimura is the most successful serious artist of openly evangelical faith in the U.S., and probably in the world. His larger paintings sell for up to $400,000 and defy the secular art establishment's unspoken commandment: Thou shalt not reward an artist who claims explicit Christian inspiration."
In addition to his work as an artist and writer, Fujimura launched two initiatives.
One is the International Arts Movement (IAM), which, according to its website, "creates a new paradigm by lovingly tending to cultural soil and caring for artists as pollinators of the good, true, and beautiful."
He says IAM was founded in the 1990s when he was exhibiting in Japan and felt isolated as an artist and as a follower of Christ from people who would talk about art and faith. "I launched it just by faith and here we are 20 years later. I released a movement but refused to create an institutional structure. It is kind of self-perpetuating. People come and go. They could be curators and businessmen, they could be anything, but they somehow create communities and conversations and collaborations and it has continued."
The other organization is the Fujimura Institute "to honor my father" and involves a network of scholars and supports a fellows program and activities that "stress integration of disciplines and ask why culture care is needed." The term "culture care" comes from the title of his 2017 book that calls for cultural stewardship.
After a short walk from the artist's house to studio, he points to two sets of works for his upcoming New York City shows.
The first is opening on September 20 at the Chelsea High Line Gallery, and commemorates the 20th anniversary of 9/11 and will feature works that "will deal with trauma." In addition to the attack on New York City, the exhibition will also include the Columbine shootings and the current pandemic. The second show in December, he says, will be aimed toward the future.
Currently, one doesn't need to wait or travel to see Fujimura's work. The artist created four sets of four-piece sanctuary panels for All Saints Church in Princeton. The pieces using traditional liturgical colors are rotated throughout the year to represent Advent, Easter, Pentecost, and the Trinity.
There are also the works at the Morpeth Contemporary in Hopewell.
Fujimura says he came across the "beautiful gallery" while visiting area antique shops, discovered Morpeth's "really high level" of framing, and began to use the gallery's service for New York shows.
Then during the pandemic shutdown, he and Morpeth began talking about showing his works there.
The show "Candid in May" serendipitously opened on May 8, the same day New Jersey Governor Murphy lifted state restrictions. It was extended and after the gallery's summer break is currently reopening with additional works on view through August 31.
"The name comes from Emily Dickinson," he says of the show. "It opens up in a way, something that connects to the deepest well and roots. I'm using traditional materials to reconnect. I had a lot of work I painted during the shutdown."
Then sitting back in his chair at his home, he says that while he exhibits around the world, he is pleased to see his works in Hopewell.
"(This area) is my home. This is my neighborhood, so it's important for me to supply beauty. And as private as I am, it is time that I should let people know that I exist."
Makoto Fujimura's "Candid in May," Morpeth Contemporary, 43 West Broad Street, Hopewell. Through August 31, Wednesday through Saturday, 11 a.m. to 6 p.m., Sunday, noon to 5 p.m. Free. 609-333-9393 or www.morpethcontemporary.com.