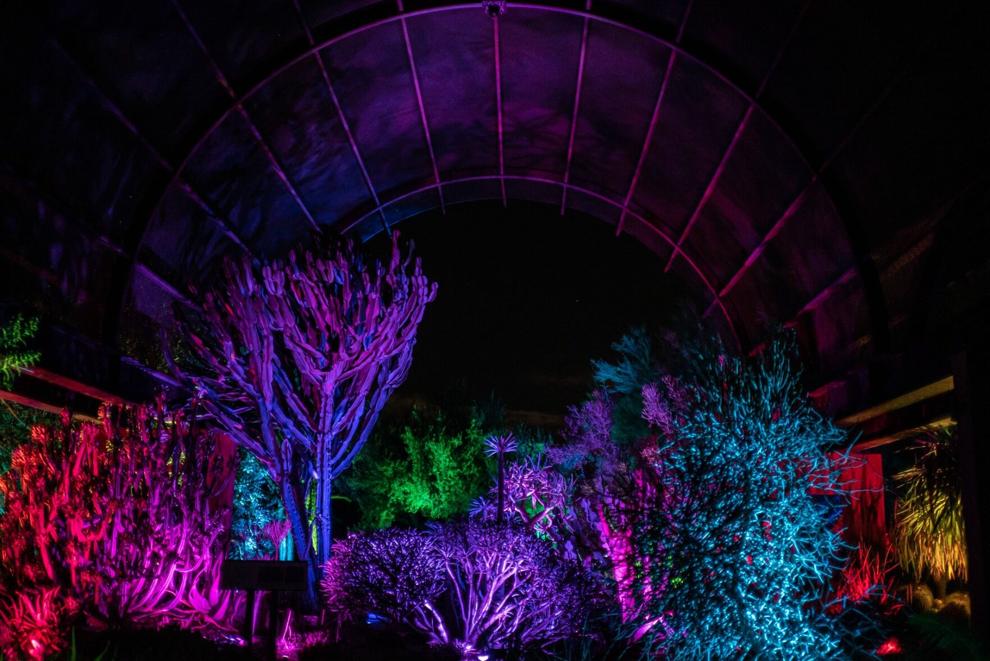 It's a chilly evening at sunset and the Klip Collective's Ricardo Rivera comes to the podium set up for the press unveiling of "Night Forms: dream loop" at Grounds For Sculpture.
"We have just finished the installation, and I'm a bit beat up," he says about finalizing and testing a suite of 12 stations of dramatic lighting, video, and music that GFS commissioned and presents after daylight.
"The nature of installation is never realized until it is installed. All the planning and preparation is on paper until you put it up," he says, squinting as a bright light for a television camera shines in his face.
"We used the space as a canvas," continues Rivera, whose other work has included a light and sound installation at Longwood Gardens in Pennsylvania and City Hall in Philadelphia. "The site specificality of our work drives what we do. The music and color are being driven by the sculpture. The conversation between the existing sculpture is paramount. That is the nature of this work. We did the research and looked at the intent of the work. The music and color are being driven by the sculpture."
Then he nods, and the group of reporters walks into the night and into Rivera's dreams.
"Klip collective is just a production company," Rivera says a few weeks later at the company's studio in the Bok Building, a renovated industrial art school in South Philadelphia. "I'd like to call it adhocracy, which means we build our teams per project and pull the rest of the resources we can for the project."
Rivera says while he is the creative force behind the company, it is supported by a core team that includes his coordinating director and wife, Michelle, as well as a studio assistant, sound technician, and producer.
"It's like a movie studio," he continues. "They don't have cinematographers and directors with them every day. The core group keeps stuff together. The studio is a place for me to experiment and develop products. It was established in 2003. We've evolved since then."
The 46-year-old father of two daughters grew up in Delaware. His Puerto Rico-born father ended his military career in Dover and then worked for the state and then federal government. His Thai mother worked in a factory.
He credits her with getting him interested in American music and film and creating homemade videos featuring burning toys.
The interest also took him to the University of Delaware. And while he says it wasn't the place to learn to make films, he got involved with theater and worked in a student-run production company where he taught himself how to use the equipment, launched a film festival, and "started having my own art shows."
Rivera says his interest in "all this production stuff" started when he and his college roommates rented a space of over a Chinese laundry and "had all this extra space and held art parties" and "hung out with really cool bands."
"One of the musicians was an electronic music producer, and all these DJs were coming (to his studio). He said he had a projector and asked if I wanted to show videos," Rivera says, adding that he had just finished his second film with original music and did some videos mixes to show.
The result was that Rivera learned that he was part of a new vanguard in the music scene, a video jockey or VJ, and he was also invited to illuminate shows and events in Baltimore.
"I wanted to be a filmmaker and also wanted to make art," he says. He thought about attending New York University film school but chose his own path when filmmaker Kevin Smith, the New Jersey-raised director of "Clerks" and "Chasing Amy," advised him to not pay thousands of dollars to create a film no one is going to see but to use a do-it-yourself type of approach.
Gesturing to his three-room studio, he says, "It all came from this weird ride — doing raves" and using video clips — the genesis of the company's name (with a K added to steer people away from thinking of the term "clip art").
"We honor where we came from," he says, adding that he met his future wife at the University of Delaware and then settled in her hometown of Philadelphia.
"I learned a lot all those years and developed an aesthetic and a vibe. My production soul was born," he says.
Eventually the vibe started getting him work in advertising, and his credits include work for Nike, Target, and Red Bull.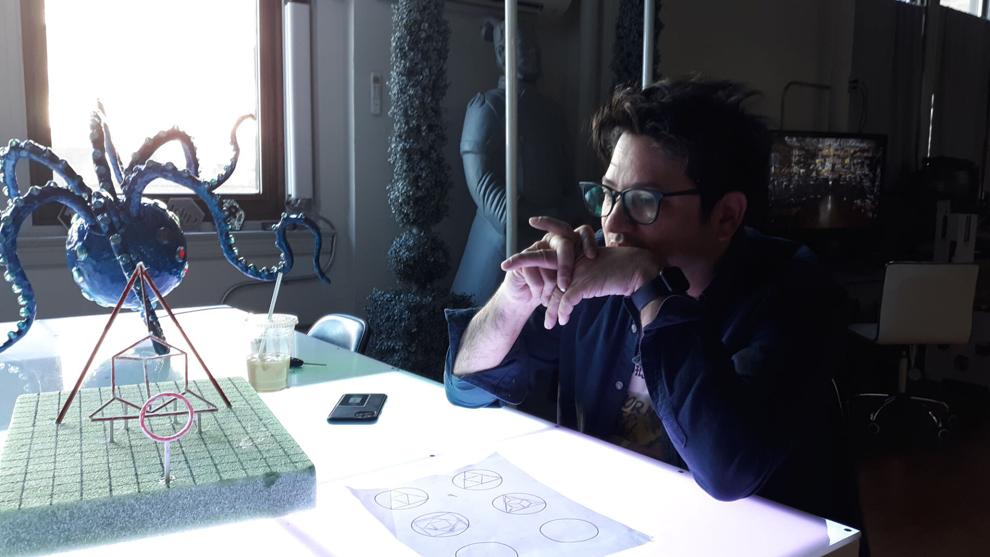 He says the advertising work provided him with the capital to finance the company and allowed it to both partner and work independently.
In one case, a Red Bull ad that used a video project on City Hall in Philadelphia turned into a partnership with the city to create the highly visible public annual holiday video installation on the landmark building.
Other public projects commissions were also realized, including the large-scale Longwood Gardens installation using nature, light, video, and sound. "It was one of those life changing experiences," he says.
His work in botanical gardens is a direct link to the Grounds For Sculpture installation, which is the first phase of a series that will be developed over the next several years.
Of his early discussion with GFS director Gary Schneider, Rivera says, "I said what do you want? Gary said, 'I want you to be you. Part of our mission is to push artists to do new work." And he gave me a creative blank check to create."
Rivera says the site-specific frame fits with his evolving aesthetic of working with nature and art to create video and light images for actual three-dimensional space rather than a screen.
"The way my process works is like a big puzzle. The first thing we do is create the puzzle. When I go in the space the first time I go through with people who know the space and ask them to show where people walk at night and is there the possibility of infrastructure and lighting. Then I get a map, a loop, like a film laid out in space."
For the GFS work, he says he "started conceiving a cyberpunk dystopia — but a beautiful one — and stared developing all this vibe."
The process is informed by a soundtrack created by Klip musical producer Julian Grefe. "We had a playlist of inspiration," Rivera says. "We're post-modern, so we communicate with music and imagery."
Other inspiration came from imagery from 1980-era films, including a film that used a dream of circuit boards that found its way into one of the GFS projections.
"It is hyper real. Add sound to it and you're walking through this psychedelic dreamscape. I am big fan of the surrealist movement. I'm really into dreams and that kind of subconscious reality — that space is really exciting and worth exploring.
"When people ask what is this show about: The narrative is anything they make of it. I'm just creating a vibe, and I'll lead you along the path, but you're walking that path. It's like a trail of breadcrumbs you have to follow. Narratives are cute but we make vibes."
However, creating a dream requires being alert, and Rivera says, "When we go in we need a technical infrastructure, power and light at places where there isn't power. I'm very specific with a project map.
"(GFS staff) went all out and made it happen. They spent a lot of time and resources. They put so much into infrastructure. It is always a challenge when we do these things, but they knocked it out of the park."
Rivera continues about the GFS project and several issues encountered during the four or five months of production. One included the need to change plans after a key sculpture needed to be removed for maintenance. "It was part of my plan and my loop — or bread crumb trail — to create a timed experience. There was a hole in my show. I had to come up with something."
Another included moving a design after that a particular site's ground water level would be risky for the equipment.
During the modifications of plans, Rivera says they decided to create a sculpture to fill an "empty canvas of space." It turned into the artist's "favorite thing in the show. It has sound, animation, and light. It's cool. The only thing missing is smoke."
Overall, he says the installation "ended up working out. Half my job is solving problems that I create."
Thinking over his choices, Rivera says what he is doing "goes back to the digital technology with nature — our weird shitty modern life. We're in a pandemic, we had a crazy leader, companies are running the world. We live in a cyberpunk dystopia, but where's the neon smoke I was promised (in the dystopian films)? We got the Walmart version."
And as for the future of "Night Forms" at GFS, "I'm excited about year two. We're going to keep the hits. What I'm adding is a layer of interactivity. I'm excited about two. There is going to be more discoveries.
Night Forms: dreamloop, Grounds For Sculpture, 126 Sculptors Way, Hamilton. Thursdays through Sundays through February, viewing sessions from 5 to 9:30 p.m., $14 to $28. Dinner at Rat's Restaurant and "Night Form" viewing packages are also available. 609-586-0616 or www.groundsforsculpture.org.